Pheon Decals | 32047: 1/32 Fokker D.VIIF
Reviewed by James Fahey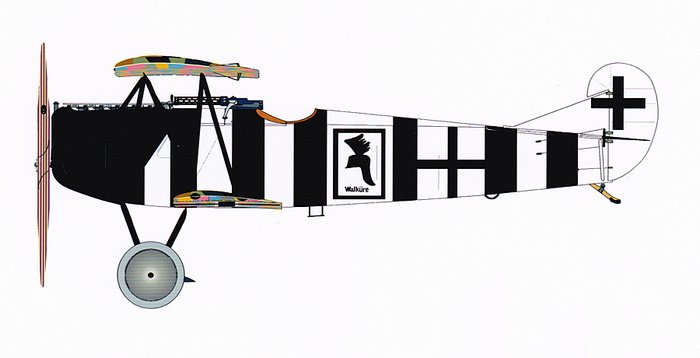 This release from Pheon Decals is intended for the Wingnut Wings Fokker D.VIIF and provides a generous seven markings options: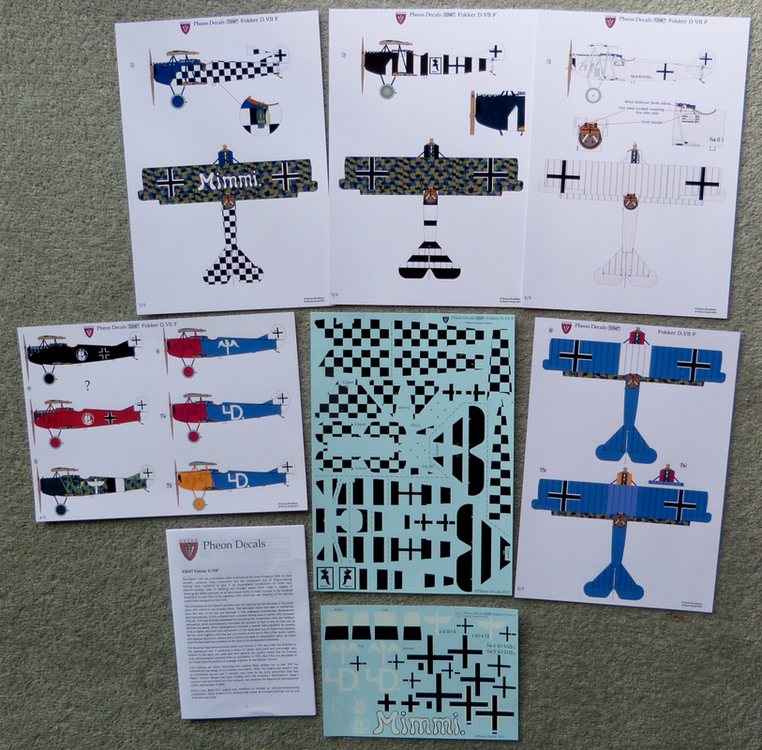 1) 505/18 Offz-Stv Wilhelm Hippert, Jasta 74, Sep-18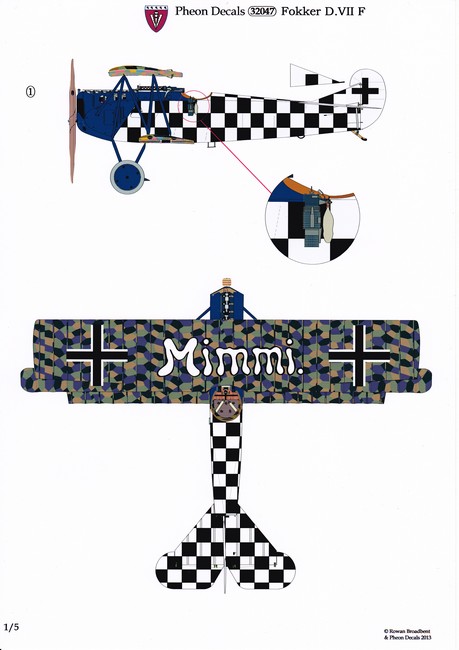 This is a very interesting aircraft, it would have to be one of the more colourful finishes from WWI and unusually the aircraft was fitted with an external liquid oxygen breathing gear for high altitude interception. Checkered markings are notoriously difficult to do unless using decals so thanks to Pheon for including it on the sheet. Pheon note they are working on a resin and PE model of the oxygen gear, but if you are a collector of Wingnut Wings kits you have may a spare one floating around (from the Gotha or the Rumpler CVII which has two).
2) Oblt Theodor Hermann Dahlmann, Adjutant JGIII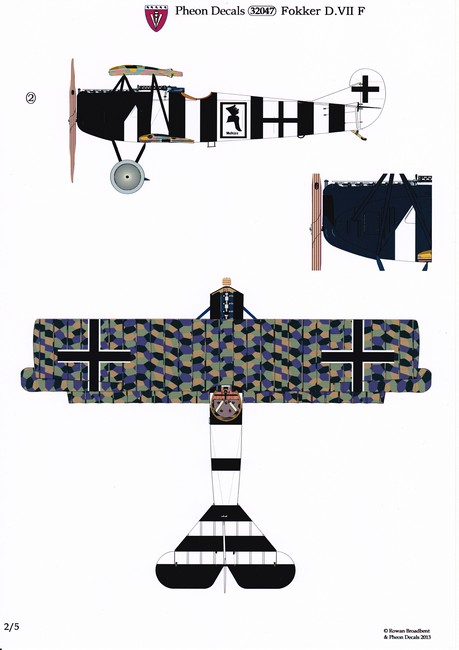 Dahlmann's black and white Wälkure (Valkyrie) emblem is the feature of this black and white striped JGIII D.VII. It seems like a cross between a biker gang headdress and a medieval knights helm, very eye catching and captured perfectly by Pheon. I was sure I had seen this marking somewhere else, as a young modeller.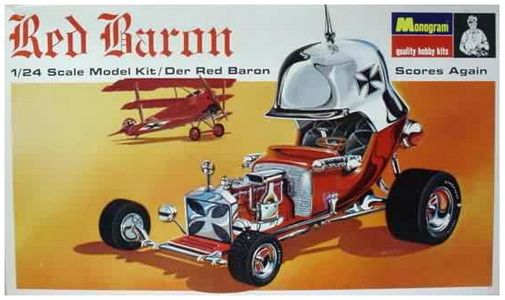 Woops sorry for that interlude.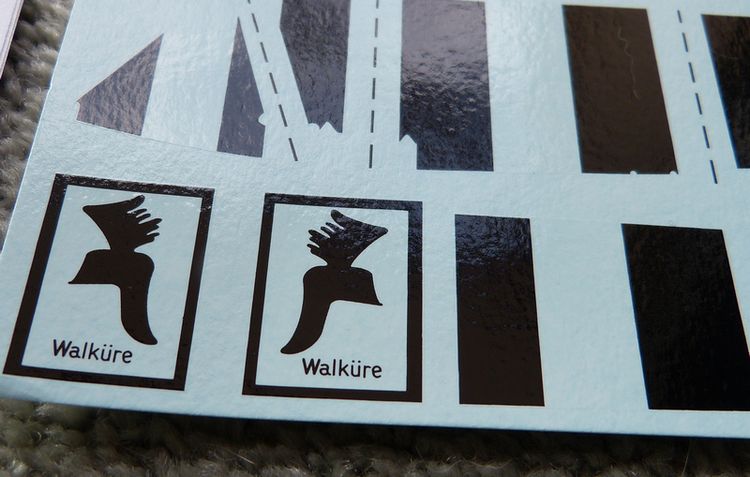 3) 5125/18, Oblt Herman Göring, JGI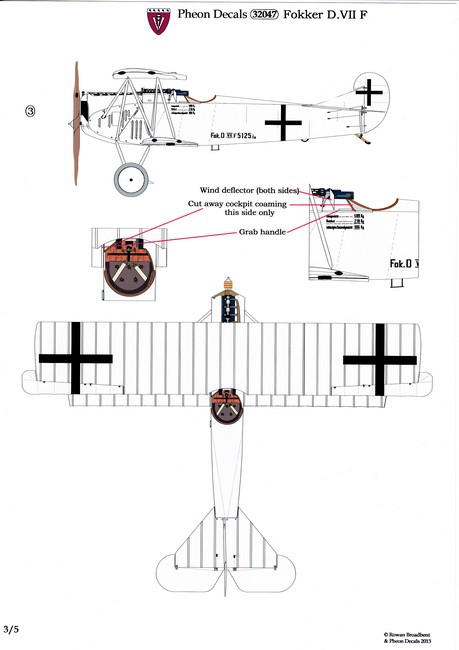 Göring's 'pimpmobile' has been a popular modelling subject in years gone by as it was not covered in camouflage fabric, but had an all over white finish applied at the factory. Göring made some field modifications to the aircraft: to make getting in and out easier due to his hip/leg problems he had the cockpit coaming cut away on the port side and fitted a grab handle; and the addition of sheet metal deflectors outboard of each gun to deflect spent ammo cases away from the cockpit. These mods are straight forward to make and are shown clearly in Pheon's artwork. The white finish will require some careful weathering to avoid looking toylike, bearing in mind the original photos show a very clean finish.
4) Ltn d R Heinrich Drekmann, Jasta 4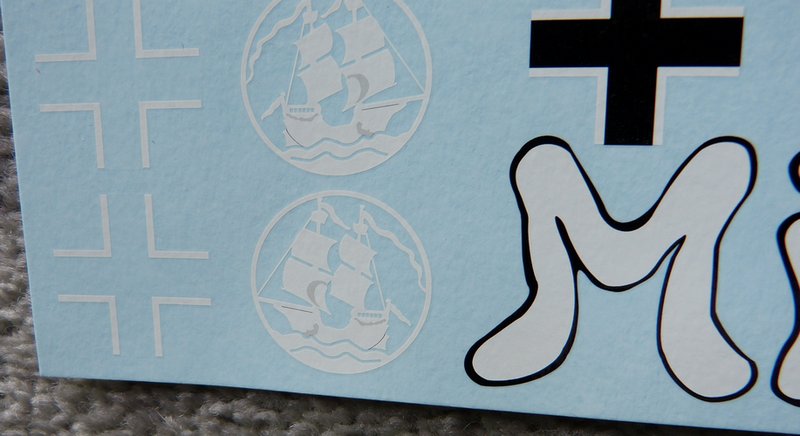 'Heinz' Dreckmann was Udet's 'wingman' and his D.VIIF sported an intriguing white medieval ship emblem linked to his home city Hamburg. The colour of the fuselage is uncertain - whether you go for the red or black, either way it will look stunning.
5) Vzfw. Willhelm Stör, Jasta68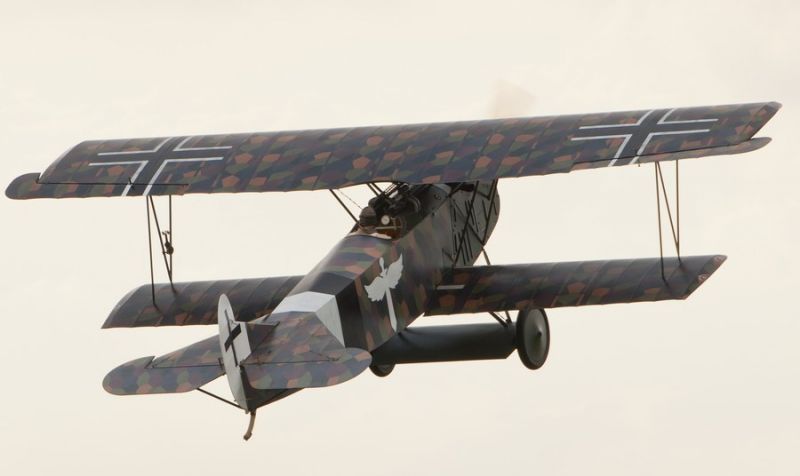 Mikael Carlson's superb DVII reproduction is finished in Stör's winged sword markings with black & white fuselage bands. Pheon note the original was more likely to have been covered in four colour printed fabric not five colour (at least for the fuselage). The photo above of Carlson's D.VII is from Wiki
6) Hptm. Rudolf Berthold JG.II, June/July 1918
Berthold's winged sword insignia is very well known although curiously there is no photo of this Fokker D.VII when Berthold was flying it, but it can discerned beneath the personal markings of a subsequent pilot, Ltn Oliver Freiherr von Beaulieu-Marconnay.
7) Ltn. Oliver von Beaulieu-Marconnay, Jasta 15, August 1918
'Beauli's" marking is also very well known, a stylised 4D which was a branding iron symbol used by the 4th Prussian Dragoon Regiment. Berthold's winged sword decal is applied first and then mostly over painted in blue before the 4D decal is overlaid. von Beaulieu-Marconnay was one of the younger pilots in WWI, becoming a Jasta leader at the age of 19 and was the youngest recipient of the 'Blue Max' just before his death in the last month of the war. There is another option with these decals, that of a yellow nose as used by after his appointment to Jasta 19.
What Comes in the Pack
Two decal sheets - one A4 carrying complete chequer and stripe markings for options 1 & 2, and an A5 sized sheet with the remaining markings
An 11-page A5 size instruction booklet that covers history of the D.VIIF, comprehensive references, decal application guide, and individual plane and pilot notes.
Five pages of colour artwork/decal placement guides printed on good quality glossy card
All packed inside a zip lock bag with stiffening card and then enclosed in a bubble protected envelope.
Available for purchase at https://www.pheondecals.com/32047-fokker-dviif-for-the-wnw-kit.html
Enquiries to: pheon@pheondecals.com
Shipping costs: http://www.pheondecals.com/shipping.html
Printed by Fantasy Printshop in the UK. Registration appears to be 100%.
Conclusion
Although the decals are all black and white, the aircraft finishes are all very colourful and striking. Whether you are looking for famous aces, interesting emblems, or colourful finishes, this set delivers with an excellent selection. That is what after-market decals are all about, so well done Rowan. I have no hesitation in recommending this excellent set to anyone who wants to finish their D.VIIF a bit differently.
Thanks to Pheon Decals for providing the decals for this review.
© James Fahey 2013, 2018
This review was published on Wednesday, February 07 2018; Last modified on Saturday, February 10 2018