Pheon Decals | 32043: Sopwith Snipe Post-War
Reviewed by James Fahey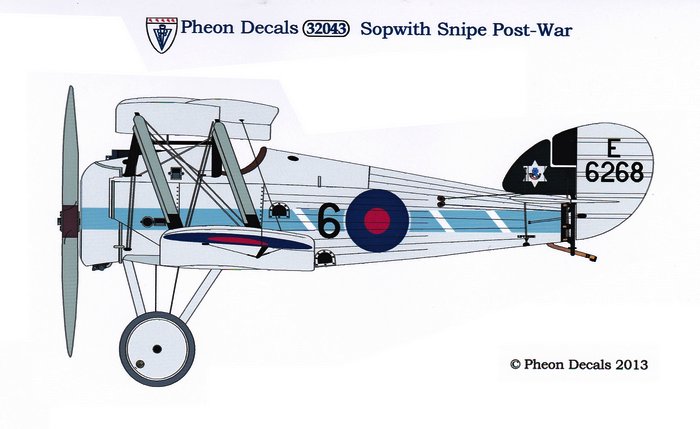 Rowan and Sabine released this set in 2013 which is designed for the Wingnut Wings Sopwith Snipe (Late).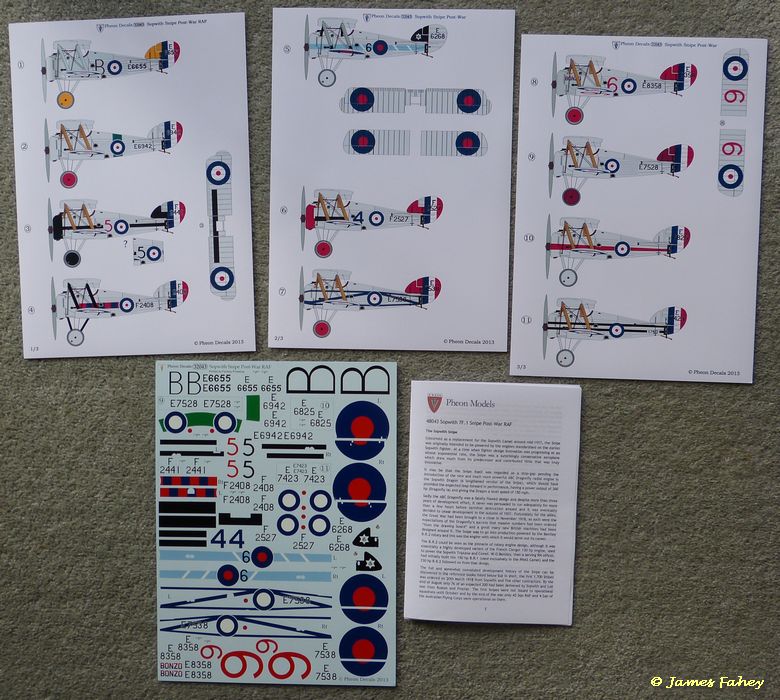 It's always like Christmas getting a set of Pheon decals, they are so nicely done.
In this set there are markings for eleven post-war Snipes as follows:
E6655, "B" Flight, 1 Sqn. Hinaidi, Iraq 1925. This is the same aircraft as the reproduction Snipe built by The Vintage Aviator Ltd for the RAF Museum
E6942, "A" Flight, No 3(F) Sqn. RAF Manston, 1924
F2441, 111 Sqn. Duxford, 1924
F2408, 23 Sqn. Henlow 1925/26
E6268, 32 Sqn. Kenley 1924 with red/blue night fighting roundels (although as Rowan points out, why the RAF would remove the white surround on the roundel when the whole plane is finished in silver is anyone's guess)
F2527, 111 Sqn. "A" Flight commander, Duxford 1924. Pheon note that due to an oversight the fuselage serials for this option were omitted. They are now being printed and will be sent out as soon as possible.
E7538, 19 Sqn. Duxford 1924
E8358 "Bonzo" No.1 School of Technical Training, RAF Halton 1923
E7528, 25(F) Sqn. San Stefano, Constantinople during the Chanak Crisis
E6825, 41 Sqn. Northolt 1923. Unfortunately, due to insufficient space on the decal sheet, the tapering red stripe must be masked and painted by the modeller for this option.
E7423, 25(F) Sqn. Hawkinge 1923/24. As with Option 10, the two black stripes will need to be painted by the modeller.
Things I liked
Wide selection of markings options which means less chance that you'll see many other modellers pick the same scheme as yours
Colourful options – beats the ubiquitous PC10
Historical research and reference list appears to be thorough
Excellent full colour decal placement guides, four A4 sheets
Well printed by Fantasy Printshop in the UK
Things that Could be Improved
Nothing of any significance. It would have been nice to have stripes as decals for options 10 and 11 but the masking needed won't be very onerous if either of those schemes were the one you wanted. If you can't mask and paint a straight line well there are only nine options to choose from.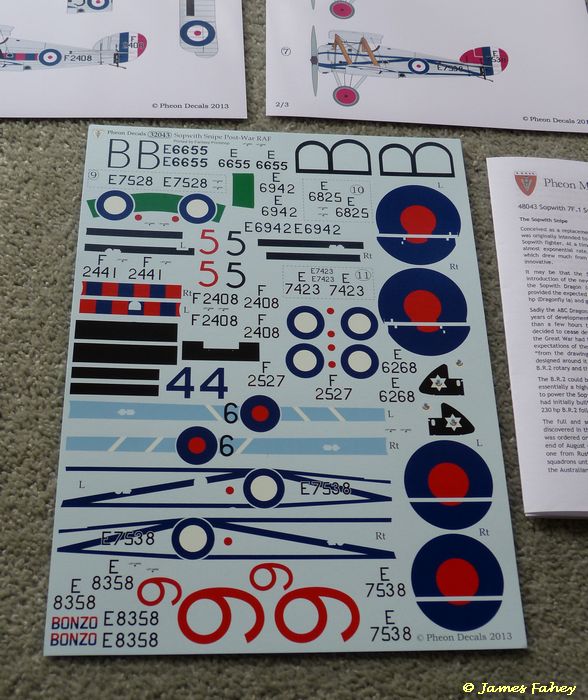 Availability
https://www.pheondecals.com/32043-sopwith-snipe-post-war-raf.html
Email Contact: pheon@pheondecals.com
Conclusion
Thanks Wingnut Wings for opening up the more glamorous 'silver wings' era to modellers and to Rowan for giving it the full Pheon treatment. RFC/RAF subjects have often been less favoured by modellers due to the relative lack of personalised markings so this set is a welcome addition to Pheon's ever expanding range.
After-market decals are all about inspiration and some of the markings on this set are just begging to be built.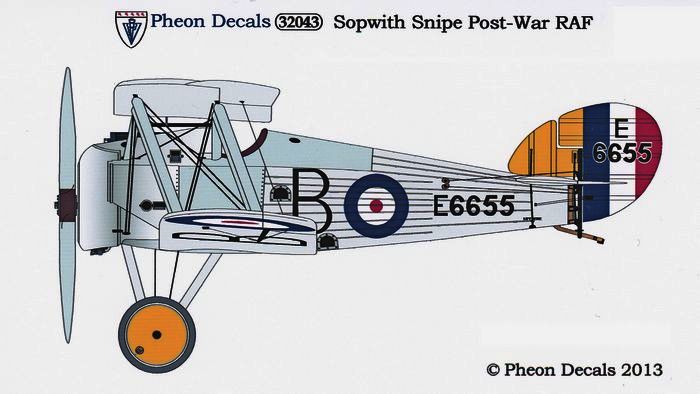 © James Fahey 2018
This review was published on Wednesday, February 07 2018; Last modified on Friday, February 09 2018