Pheon Decals | 32044: 1/32 Barker's Snipe & Canadian Fokkers (+ 4 Sqn AFC Snipes)
Reviewed by Mike Swinburne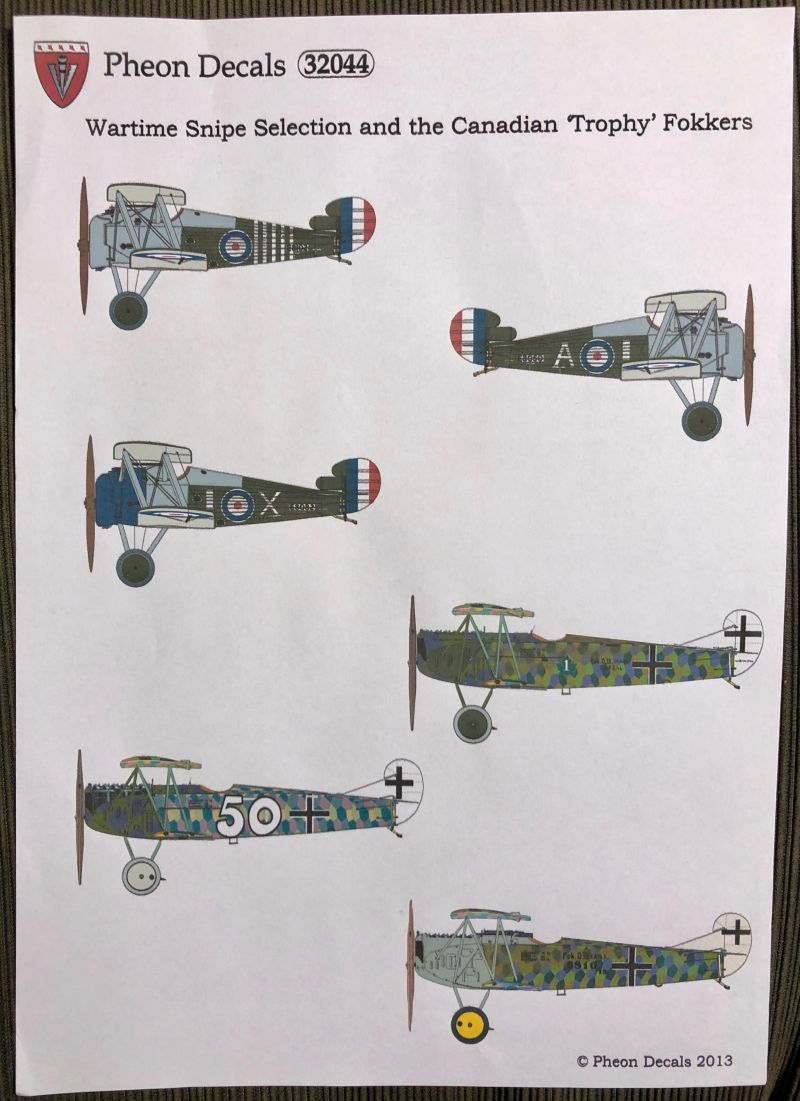 This release from Pheon Decals provides options for three well-documented Fokker D.VIIs "owned" by Canada after the end of WWI, as well as William Barker's Sopwith Snipe and two Snipes from 4 Squadron of the Australian Flying Corps. As always, Pheon has used Fantasy Printshop to print the decals and provides full-color profiles on thick glossy paper along with a small booklet on the history of the specific aircraft.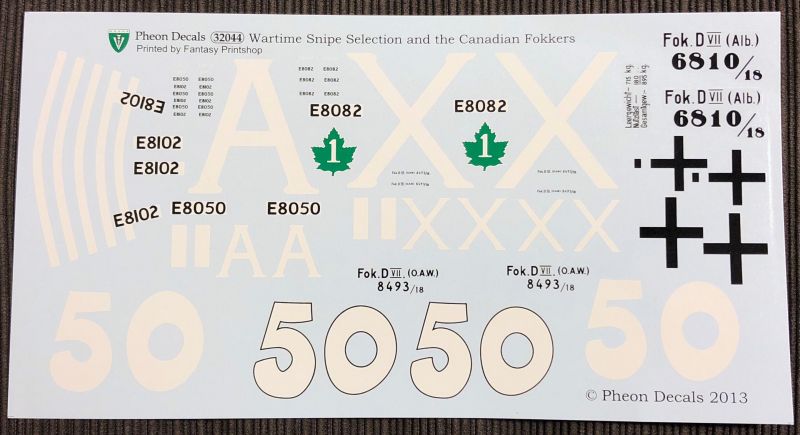 Six aircraft are provided in this set - three early production Sopwith Snipes and three Fokker D.VIIs wearing their post-capture markings in Canadian possession:
1: E8102, Maj. W.G. Barker, attached to 201 Squadron RAF, October 1918. **Builders can rob the photo-etch red devil "hood ornament" for the Vickers gun of this aircraft from the Wingnut Wings Sopwith Camel (Clerget) if not building Barker's Camel from that kit.
2: E8050 Capt. E.R. 'Bo' King, Commander of 'A' Flight, 4 Sqn. AFC, October/November 1918.
3: E8082 2/Lt E.J. Richards, 'B' Flight 4 Sqn. AFC October/ November 1918.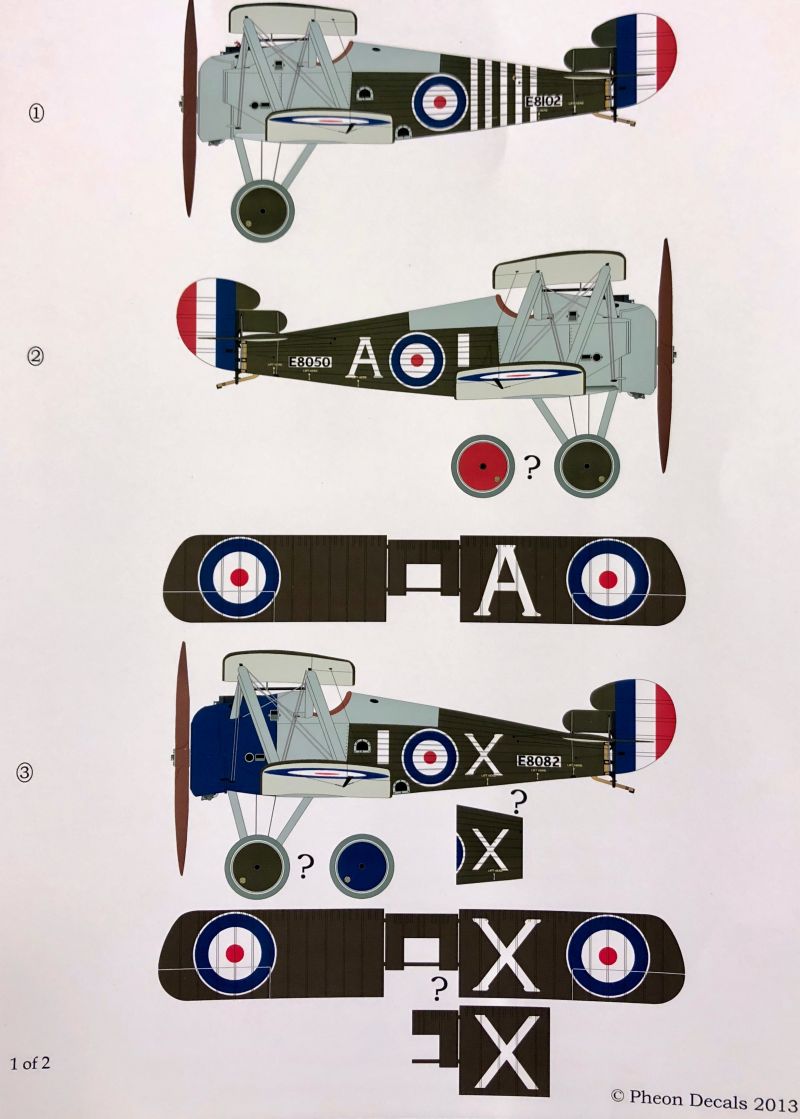 4: OAW-built Fokker D.VII 8493/18.
5: OAW-built Fokker D.VII, serial unknown. Flown by William Barker in the Toronto-New York Air Race of August 1919.
6: Albatros-built Fokker D.VII 6810/18 "The Knowlton Fokker".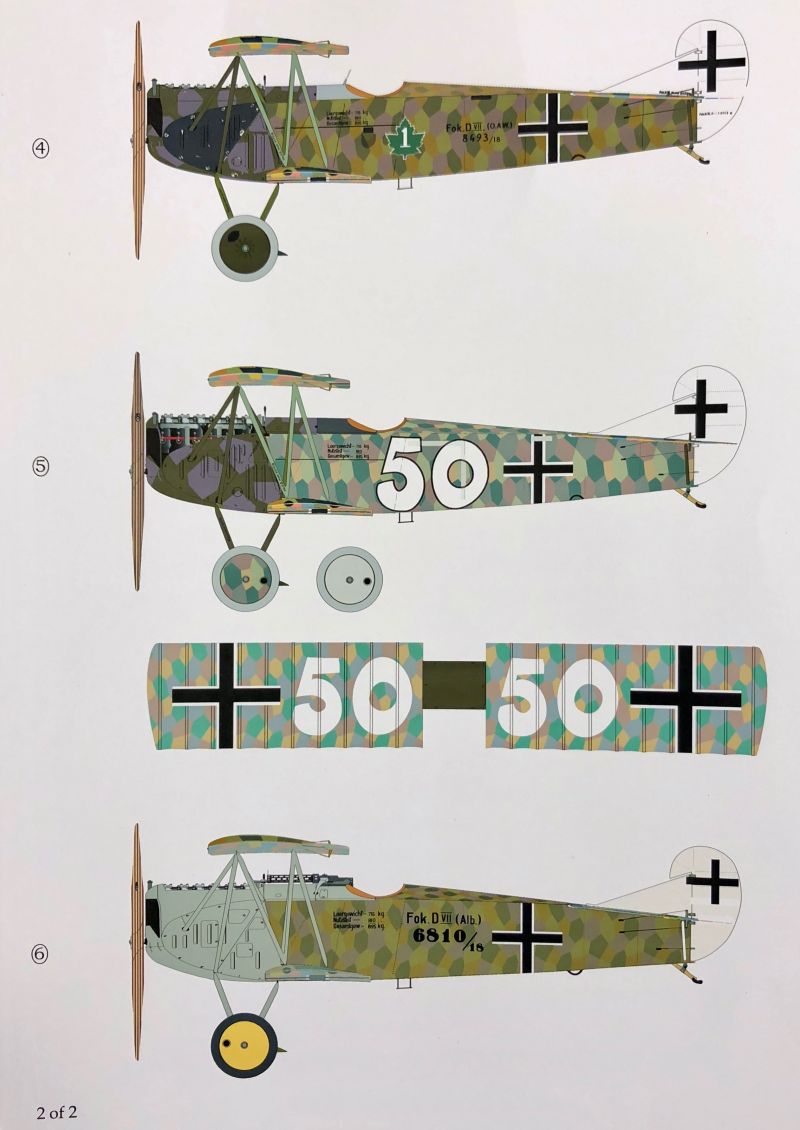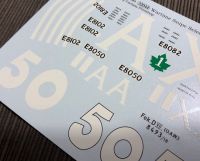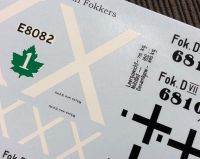 ---
The Canadians & Australians sheet (as I've been calling it in my head) allows the builder to depict some well documented and interesting marking schemes that have been neglected in the other releases. It is a fairly straightforward sheet which leaves little room for surprises, and as expected, the decals are perfectly printed in all respects. The decal sheet is available direct from the Pheon Decals website for GBP 7.50 plus postage and recommended for anyone interested in these subjects and Canadian aviation history. Review copy courtesy of my wallet.
© Mike Swinburne 2018
This review was published on Friday, March 30 2018; Last modified on Monday, April 02 2018