Bases by Bill | Aircraft Bases
Reviewed by Chris Nicoll
Bases by Bill
Many of us like to have something appropriate to put under our models, but not all of us have the skill, time or inclination to actually craft a base. One thing that opened my eyes at Scale Model World last year was just how many models had bases under them in Telford, compared to many of the shows I've been to in the US where many planes are just set on the table or perhaps a mirror.
At the January 2018 ModelCon in Chattanooga I came across a unique vendor, Bases by Bill with a table manned by Bill and Wes. They were selling a very wide range of handmade wooden bases with a variety of designs covering aircraft, ships, sci-fi and automobiles for multiple nations including the US, UK, Japan, Germany, and Russia among others. The bases seem to be appropriate for all sizes of models (OK, maybe NOT all: I didn't see anything that would sit a 1/32 B-17G but I have a feeling they would make one for you if you asked!). I am working with Bill to create a custom base for the 1/32nd Tamiya Mustang Duchess Arlene that I am building for Nationals next year, using the 100FS fighter squadron logo – custom designs are definitely possible.
The prices are reasonable, and the bases are relatively light by comparison – but I don't know how much international shipping would be. If nothing else, the wide variety of options is amazing. Definitely worth the time to browse through their website as I'm not going to be able to cover EVERYTHING they make in this review.
Bill and Wes use a wide variety of woods for their bases and can also stain or paint to match your needs. The wood work is very nice, both inlaid and joined wood, with different stained options. A very cool design element is the ability to do etching in the wood (there is an example below).
Here are a few of their design options from their website (there are links on their site):
Legends Series Plaques
Pre-War U.S. Aircraft Star
South Vietnamese Flag
Japanese Insignia Base
British Ship Base
Russian Stars
Greek Flag
American Stars
Norwegian Flag
Star Wars Bases (and Sci-Fi Series!)
Israeli Star Base
Chevy Logo (and Car Series!)
U.S. Ship Bases
Upcoming Releases!
Figures Series
Etched Plaques/Bases
German WWII Ship Base
Pour Le Merite/ Blue Max
Pilot Identification
One interesting option is to pair a base with a pilot's name plaque. I bought a package they had offered at the Chattanooga show which included the 1/48 Hasegawa P-39 kit, a star shaped base and the pilot's name of one of the planes available from the kit (Alexander Pokryshkin in this case). I'm almost tempted to paint the base red, but would hate to cover up their nice work.
A full list of available pilots is on their website.
---
Here is that base, with a 1/48 Mustang for size comparison.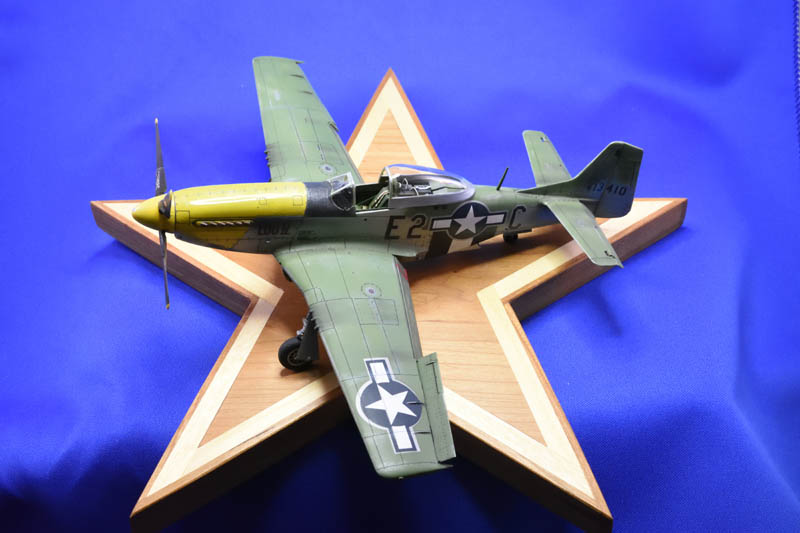 And a larger version of the star with Tamiya's 1/32 Mustang for size comparison.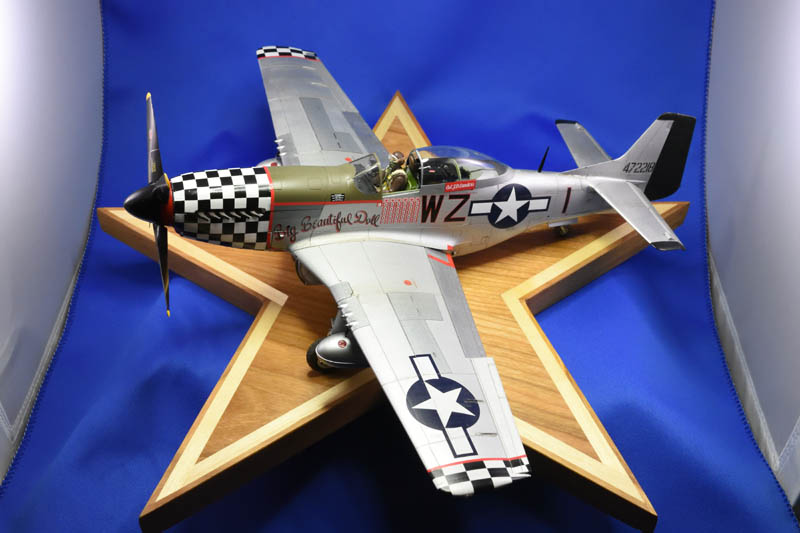 One of our club members bought a bunch of different bases – which I've photographed here. A few of the country insignia and manufacturer options are shown below.
---
A few of the manufacturers represented:
---
Here is a picture of the base with a 1/72nd scale Spitfire: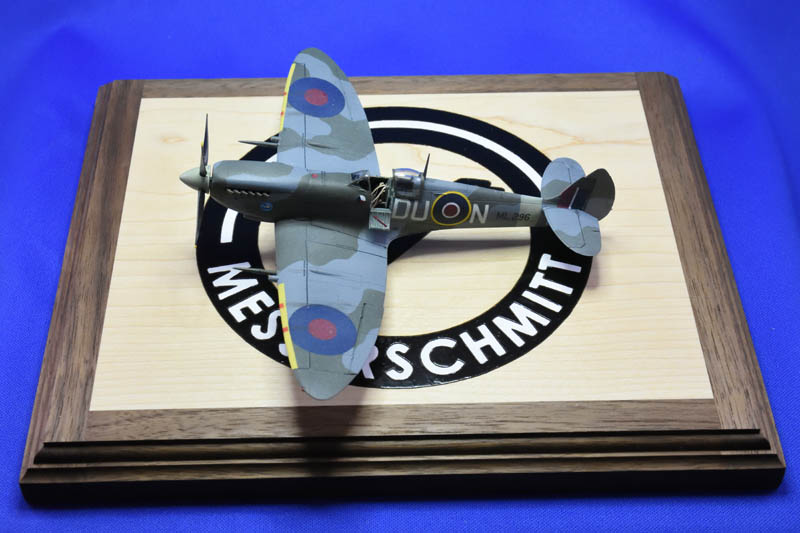 On the science fiction theme, here is a map from honestly I don't know where [Ed. note: Middle Earth from Lord of the Rings], but the detail is really something.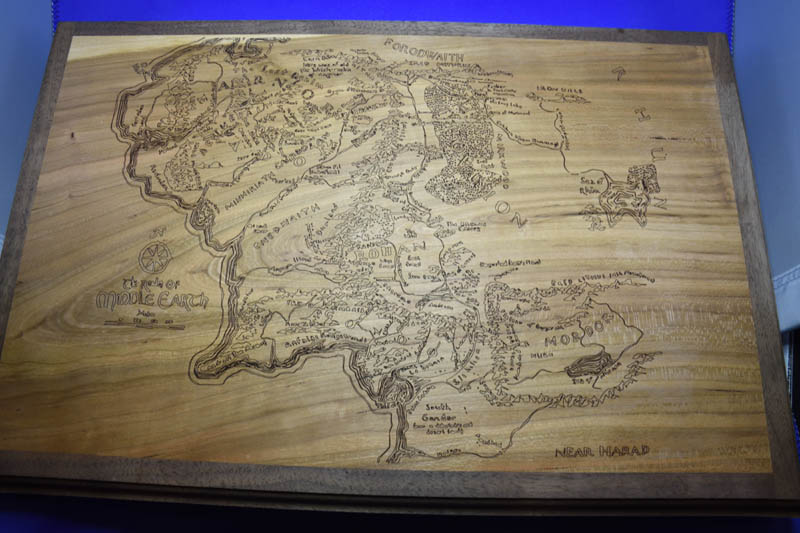 For my Duchess Arlene, Bill suggested etching the 100FS logo onto the US Star – an interesting idea!
These wooden bases definitely offer a range of options to display your work (be it plane, ship, figure, automobile, sci-fi – pretty much anything – the Ship cases they had on display were very cool), in a wide variety of sizes.
If you are looking for a wood base for pretty much anything you are building, definitely check out Bases by Bill.
© Chris Nicoll 2018
This review was published on Friday, February 09 2018; Last modified on Friday, February 09 2018