Glenn Hoover Plastic Model Builds | How To Build Kitty Hawk's OS2U Kingfisher Model
Reviewed by Mike Swinburne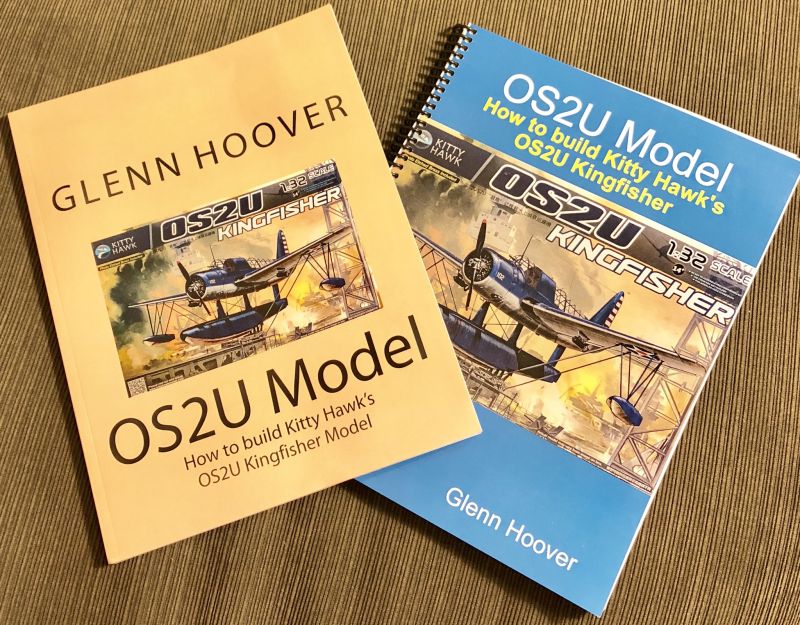 Glenn Hoover Plastic Model Builds LLC has released their first how-to-build book on a large scale plane, following a series of seven similar books specific to building certain 1/48 aircraft and helicopters. This book details the Kitty Hawk OS2U Kingfisher kit, and no, this is not "just another build book," this takes a completely different approach to building a model than I've seen from any other author/publisher.
Every how-to-build book I've seen to date follows a fairly photo-heavy approach showing detail painting, often weathering, and the like; of course there's nothing wrong with this and many of these are very well done in all respects, but such books are not always the best helper when the subject is known to be a bit of a tricky build.
The angle this book takes is one of a detailed assembly checklist, providing around 950 steps to the construction of the OS2U. These steps range from something as simple as glue piece A to piece B all the way up to a paragraph explaining the best-found way to complete the joining of a difficult assembly. Eduard photo-etch sets are integrated into the build, and steps using these aftermarket parts are highlighted yellow so that they are impossible to miss or easy to ignore. Instruction steps call out when to use, or not use, specific pieces depending on whether or not you're also using the detail sets.
---
Each step includes a box that can be checked when the task is completed. Diagrams and photos of particular steps in the build are included strategically. While painting instructions are included in the steps when appropriate, these do not address weathering, panel highlights, or other "advanced" finishing techniques as these are not the focus of the book. After writing the instructions, Glenn explains that he then follows these steps to build an example of the kit, and photos of this build are shown throughout the book as well, all the way up through final assembly and the completed aircraft.
One of the inclusions of the book that really stand out to me is a complete itemized list of every tool and paint used somewhere in the build, and this list takes up a good four pages. Of course, not every builder will need so many individual items, but it's still good to know what's out there and available. Also included in the book is a brief history of the aircraft, photographs of each sprue with accompanying part diagram, photos of the aforementioned Eduard sets, and some photos of a restored Kingfisher.
---
There are two options for the book and this is only in the binding. One is a standard paperback with matte paper (think standard printer paper and books published by Aero-Naut), and the other is spiral bound with a slightly heavier and glossier paper. The spiral bound book will be the one to consider if you'd be likely to want to have the book open and laying flat on your desk.
The Kitty Hawk Kingfisher kit does have some areas that can be difficult to assemble for less experienced builders, and reading over just a few pages, I'm convinced that this book will be a very useful aid for anyone building the kit regardless of skill level. The paperback version sells for $29.99 and spiral-bound version for $37.25, these can be purchased through Glenn Hoover Plastic Model Builds. My thanks to Glenn Hoover for loaning the review samples.
---
© Mike Swinburne 2018
This review was published on Tuesday, February 27 2018; Last modified on Tuesday, February 27 2018