MMP/Stratus | No. 6136: Lockheed F-104 Starfighter
Reviewed by Kevin Williams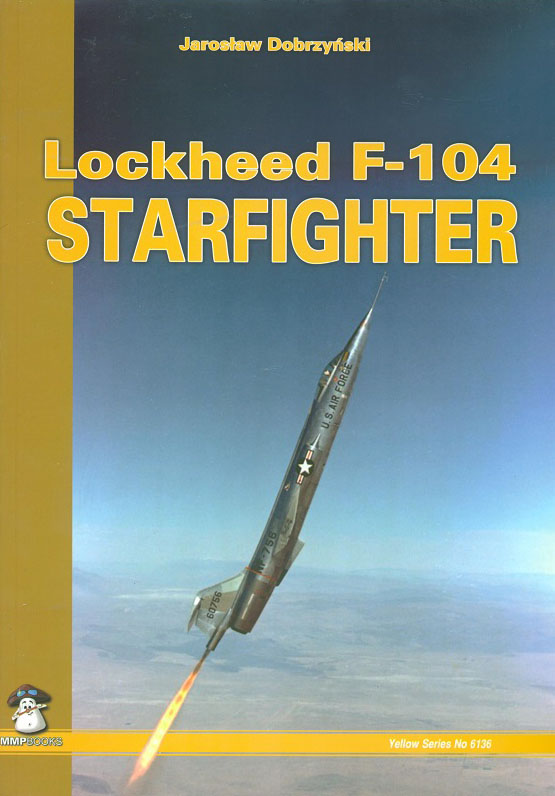 Publisher: MMP/Stratus
Author: Jarosław Dobrzyński
Publishing date: 2015
ISBN: 978-83-63678-39-5
I must confess that despite owning many MMP/Stratus (Mushroom) publications, I've never really understood the breakdown of the colors series at all. This particular volume falls under the heading of the yellow series, and is dedicated to the Lockheed F-104 Starfighter, "The Missle With a Man in it". This stubby winged fighter is known all over the world, and flown by many of the world's air forces.
This specific volume, deals in general with the aircraft as flown by various nations, with small sections dedicated to those air forces and photos of them. There are some very nifty "in-air" shots, illustrating the Starfighter flying in formation with various other types; F-4 Phantom, F-101 Voodoo, F-15 Eagle, etc. The book also touches briefly on the not too widely known bribery scandal, wherein Lockheed officials were found to have bribed certain foreign officials, in order to secure aircraft orders for Lockheed.
Chapters included in the book are as follows:
The birth of the Starfighter
The Starfighter for Nato
The ultimate Starfighter-F-104S
Operators
The F-104 In combat
Special versions
F-104G and F-104S technical description
Specifications
Flying the F-104
F-104 production
In Detail:
General view
Fuselage
Wing
Electronic systems
Cockpit
Radar
Cannon
Stores
Engine
Fuselage details
Undercarriage
Bibliography
Typical Photo/Illustration Excerpts
---
This publication is a nice blend of some black & white photographs, with very nice artwork, usually in the form of detailed elevation and plan view drawings of different versions (all in 1:72 scale), as well as many nice color profiles, with the occasional plan view thrown in, as well as many great color photos. All books in this series that I've seen thus far, are printed on good quality glossy paper, which I also consider to be a big plus in their favor, adding a great additional dimension to the overall appeal of the volumes.
Certainly the highlight of this volume (at least for me anyway), are the many splendid color photos in the "In Detail" section; some very nice stuff indeed.
Summation
Weighing in at a whopping 176 pages, with many, many of the photographs (really most) being in full-on color, this volume is seen by me to be a spectacular value, giving lots of information and photos that should make the average Starfighter fan jump for joy, and will undoubtedly come in handy when tackling the 1:32 Italeri Starfighter kit.
Many thanks to my own beleaguered wallet for the review copy.
© Kevin Williams 2018
This review was published on Tuesday, March 13 2018; Last modified on Tuesday, September 28 2021