ICM | 32030: Bücker Bü 131D
Reviewed by Iain Ogilvie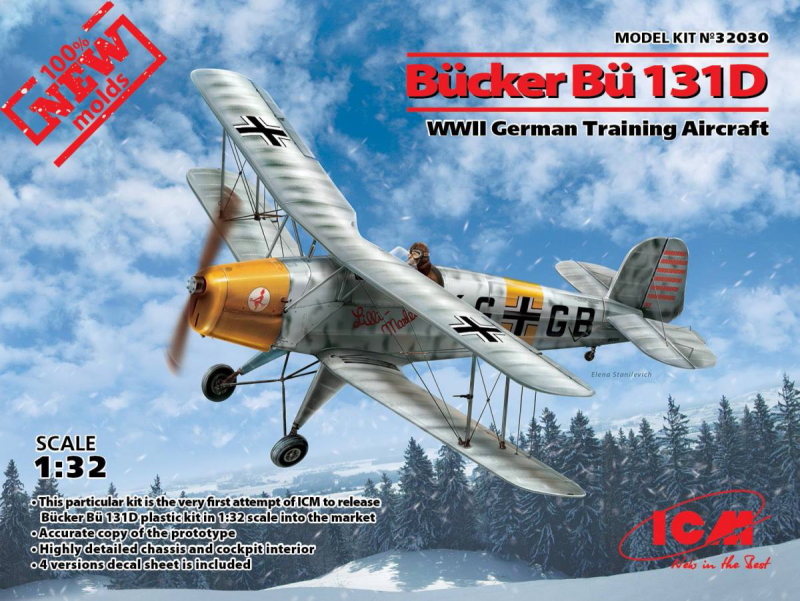 History
A basic trainer and contemporary to the Tiger Moth, the Bü 131 was widely produce and has served with a wide number of air forces, as well as civilian operators. An important machine in the history of aviation and a most welcome release in injection moulded, 1:32, form.
Sturdy and agile, the Bü 131A was initially delivered to the Deutscher Luftsportverband (DLV), with the Bü 131B (with minor changes as the 'D' from 1938) subsequently being selected as the primary basic trainer for the Luftwaffe. The type served with virtually all Luftwaffe's primary flying schools during the war, as well as with night harassment units such as Nachtschlacht Gruppen (NSGr) 2, 11, and 12. Yugoslavia was the main prewar export customer (400), followed by Bulgaria (15) and Romania (40).
Production licenses were granted to Switzerland (94), Spain (about 530), Hungary (315), Czechoslovakia (10, as the Tatra T 131), and Japan (1,037 for Army as the Kokusai Ki-86 and 339 for the Imperial Japanese Navy Air Service (IJNAS) as the Kyushu K9W). In Spain, production continued at CASA until the early 1960s and the aircraft retained as the Spanish Air Force's primary basic trainer until 1968.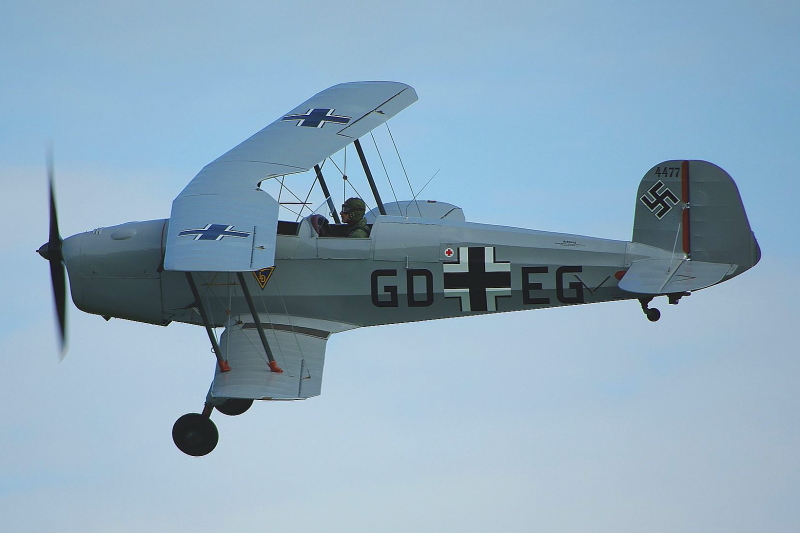 In the 1960s and early '70s the Spanish, Swiss and Czech governments sold their Jungmanns to private owners and approximately 200 Jungmanns survive to this day, many having been fitted with modern Lycoming O-320 (150 hp) or O-360 (180 hp) four cylinder engines, with inverted fuel and oil systems for aerobatic flight.
Current owners and pilots prize the Jungmann for its outstanding handling characteristics when compared to other antique bi-planes and even more modern aerobatic types.
In 1994, the Bü 131 was briefly restored to production using CASA jigs by Bücker Prado in Spain, with 21 aircraft constructed as the BP 131, while SSH Janusz Karasiewicz in Poland also started production of a version of the Jungmann based on Czech plans in 1994.
So, a lot of finishing options out there for this one!
The Kit
First thing that strikes you is the very nicely done, glossy, artwork (minus swastikas) - it implies a quality feel even before opening the box.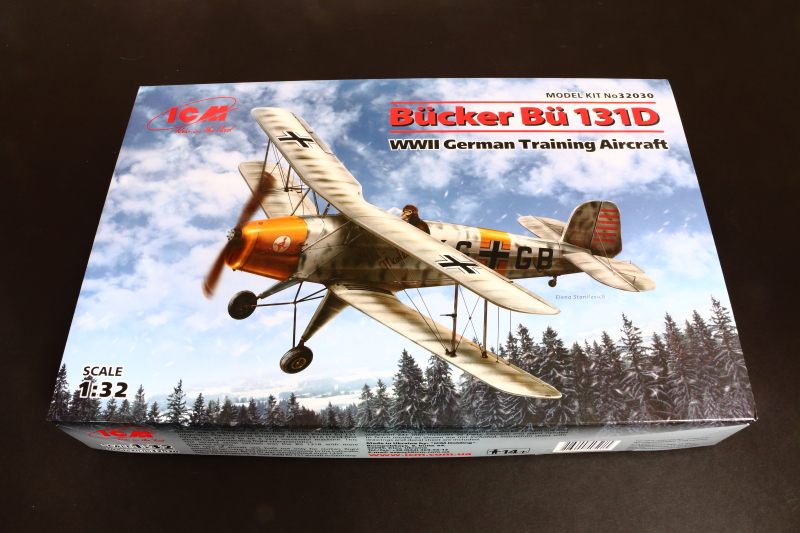 Sample side view on the side of the box:

On lifting the tightly fitting lid you're greeted with a quality corrugated card box with it's own lid - again, something that creates a further expectation of quality, as well as helping to protect the parts in transit.
Great packaging - Revell, please note! :o)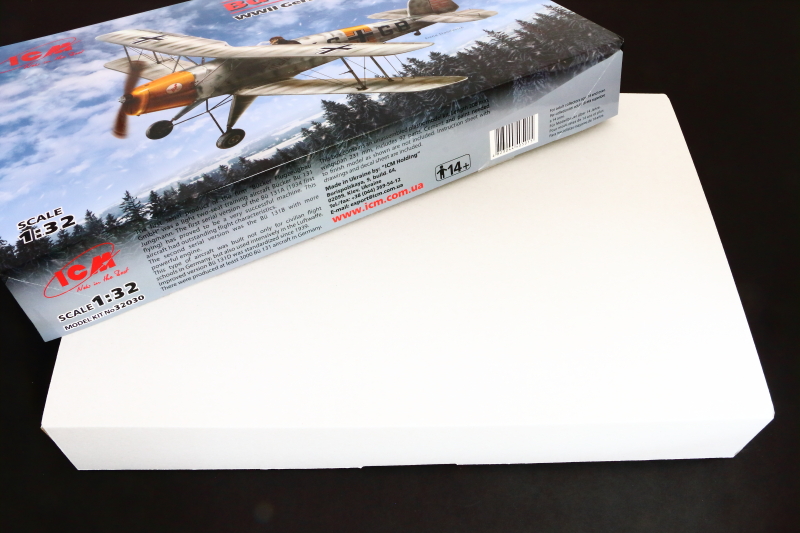 ---
Main Sprues
The kit comprises two main sprues, cleanly moulded in grey styrene, along with a clear sprue with windshields and instrument panels. Moulding is nice and clean, with sharp details and nicely restrained fabric 'sagging' between ribs and stringers. A full engine is provided, along with separate cowl panels, as are separate cockpit entry doors. Trailing edges look nicely thin and it looks like assembly should be pretty straightforward. Looking at the finesse of the parts it looks like the kit has been mastered using CAD technology.
The two main sprues are packaged is really useful re-sealable bag, with the clear sprue in it's own re-sealable bag to prevent damage. One engine half was loose in the bag and one wing half coming off the sprue, but I think that's more down to the ravages of our postal system than anything else. Some minor ejector pin marks are visible - the most noticeable being in the seat pans - should be an easy job to remove them. I'll leave it to the photos to do the talking:
---
Transparencies
Just four parts: the two windshields and two instrument panels, cleanly moulded and clear: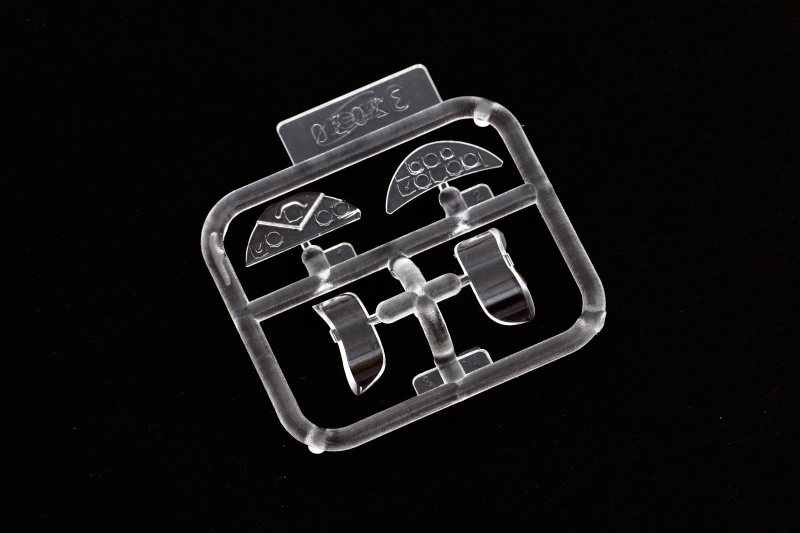 ---
Decals
A single, well printed, decal sheet is provided offering markings for four WWII Luftwaffe subjects. Colour and density look good, register is good and they look nice an thin. Good looking instrument dials are included on the sheet for use with the clear moulded instrument panels. The swastikas are missing and will need to be sourced from spares.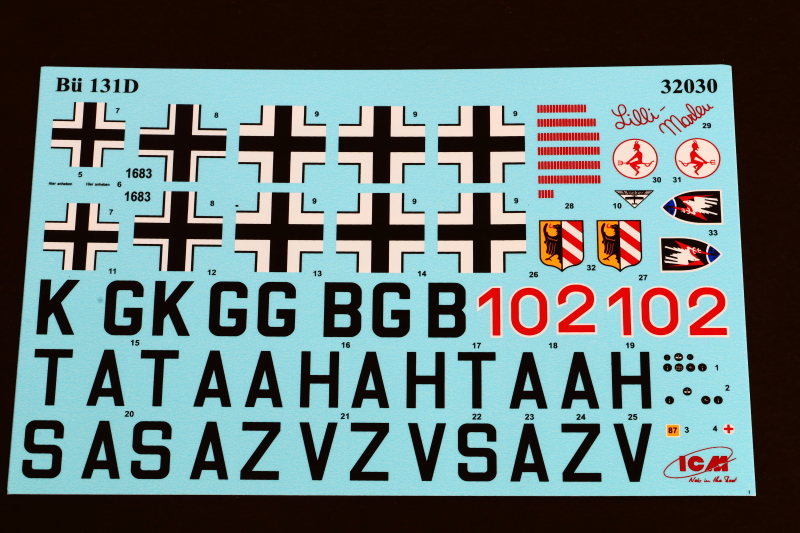 ---
Markings are provided for 4 options:
Bü 131D of 2./JG54, Russia, March 1942 in white distemper over Dunkelgrun RLM71/Hellblau RLM65 camouflage.
Bü 131D of 2./JG54, Russia, Summer 1942 in Dunkelgrun RLM71/Hellblau RLM65 camouflage.
Bü 131D of Stab III/NJG 1, Germany 1943, in overall RLM02 Grey (night fighter squadron hack).
Bü 131D training school Bad Aibling, Germany 1944, in overall RLM02 Grey.
---
Instructions
The instructions look clear and sufficiently detailed. Colour call outs refer to Revell and Tamiya paints, with relevant RLM matches listed where applicable.
---
Instructions also include a useful rigging guide, but anchor holes will need to be drilled in the plastic parts: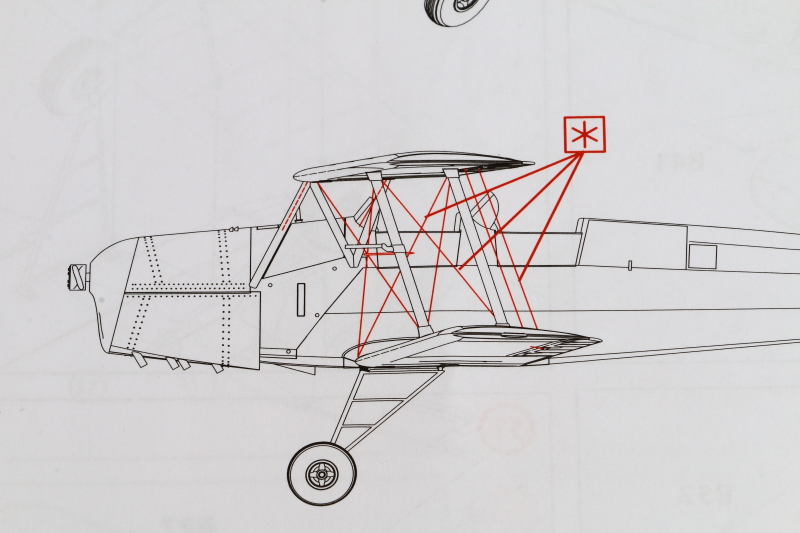 ---
Conclusion
Overall a superb new release from ICM - one that's shoulding 'build me now' (we'll see...). Would have been nice to have had some seat straps included as they will be a necessary (and very obvious) on the finished model. An earlier 'B' version is due for release later this year, but this reviewer is not fully aware of the differences yet - will report back!
I hope ICM do well with this one, it deserves to sell well and should please those with civil, as well as military, tastes. This new kit certainly augurs well for future releases from ICM and, with the Rata kits they've already released, it's great to see them entering the 1:32 arena.
Very highly recommended!
The Bücker Pages is a brilliant resource for this aircraft - as well as history there's lots of info on Bücker designs - and large image gallery!
Review courtesy of my wallet.
© Iain Ogilvie 2018
This review was published on Monday, March 05 2018; Last modified on Monday, March 05 2018