Hobbycraft | HC1696: F-105D Thunderchief
Reviewed by Kevin Williams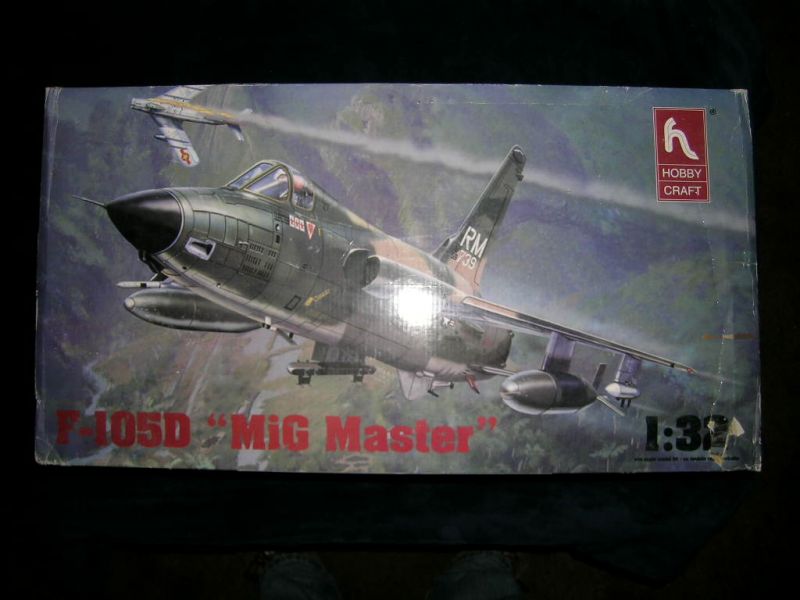 Having at one time owned both the D & G Thunderchiefs, I was anxious to add the D back to my stash, so when the opportunity presented itself (for a reasonable price), I snatched this Hobbycraft boxing of it. Since neither the Trumpeter nor Hobbycraft boxing had ever been reviewed here before, I thought I'd offer up a look-see at what's in the box.
Note
This will be an in-box review only, focusing on quantity and quality of parts depicted; accuracy issues, for the most part, will not be discussed here. Mostly, I'll let the images speak for themselves, and there are quite a few of them.
My overall first impression was one of shock at how large the aircraft really was, as several of the components; fuselage, main fuel tanks, etc., are really quite awe inspiring due directly to that large size.
As is all too typical for Trumpeter, ejector pin marks seem to inevitably show up in the most undesirable of places, an unfortunate trademark of this company; usually not insurmountable, just unnecessary and agitating.
(They say a picture is worth a thousand words, so I've presented you here with 190,000 words!)
Instructions
---
Instructions are nothing spectacular, but seem complete and in a reasonably logical sequence. One oddity though, is the markings schemes/decal placement guide is on the bottom of the box, a peculiarity of just this specific kit, or something unique to Hobbycraft in general, I do not know.
A two page layout of the parts trees arrangements is provided, and this is a very handy feature that I heartily approve of.
Decals
---
Markings are provided for the following three F-105s:
62-4284, 355 TFW, Viet Nam, 1969, typical SEA scheme
60-0504, 355 TFW, Viet Nam, 1968, typical SEA scheme
62-4301, 419 TFW, Hill AFB (AFRES unit), 1983, gray/green wrap-around scheme
Decals are provided for three different machines, and appear to be of very decent quality, with vibrant colors, good registration and looking quite thin. There's no hint as to who printed these, but I suspect that they would work out just fine, for those choosing to use them. Very few air-frame stencil decals are provided either (at least the majority of them are not), so again, these will need to be sourced elsewhere, if desired/required.
Parts
There are, by my count, 17 sprues of parts, some as duplicates (weapons, in particular). Sprues by count: A (1), B (1), C (1), D (1), E (1), F (1), G (1), H (1), J (1), K (1), L (2) and M (5). (This list does not include the P.E. fret, nor the clear instrument film for the IP.)
Photo Etch
---
One small fret of P.E. parts are offered, comprising the seemingly typical Trumpeter penchant for fiddly working flaps, rudder and such. I'll discard these (as I usually do), in favor of just gluing those flight control surfaces in place.
Clear Parts
---
I'm rather surprised (and pleased) to see that Trumpeter added most, if not all, of the formation/position lights found on the real THUD; two on either side of fuselage, underneath the vertical tail (blue), two on each side of the fuselage, under the 'pit area (also blue), as well as the upper anti-collision beacon and wingtip formation lights. The position light located on fuselage bottom, between the aft end of the nose wheel bay and avionics bay cooling intake, does seem to be missing though, but should prove an easy fix.
Fuselage
---
Fuselage proportions and detailing look perfectly OK to my old eyes. Many make reference to the "divots and trenches" of Trumpeter kits in general, but for a SEA scheme painted bird, such as this will most likely be, I see them as perfectly acceptable.
One area that's sure to be a problem for most, is the complete absence of any intake trunking at all. Though not impossible to deal with (I have a couple of ideas here), it certainly poses a real challenge, as the kit is large enough to make this area clearly visible, (looking "down the throat"). The fuselage intake duct, is molded with the forward end perpendicular to the fuselage side, and this too is incorrect, as it should form a sort of "sugar scoop" at the front end. Also completely missing, is the fairly prominent horizontal bar at the forward portion of the intake. One way to just avoid all of this unpleasantness, would be to slap on a set of AMS F.O.D. covers, which is probably what I'll end up doing in the long run.
The Real Deal (Intakes)
---
Wings
---
Yet another weakness of the kit, are the wheel wells, both main and nose. While an attempt has been made here by Trumpeter to represent the busy and complex nature of these areas, the detailing falls far short of accomplishing that goal. While wheel wells in general are not that important to some (myself), those wishing more "busyness" in these areas, would be well served to seek out one of the available AM replacement sets.
Tail
---
I've heard that the Trumpeter '105 vertical tail is off in some regard, but I'm darned if I can see it. Perhaps the micrometer squad are aware of a shortfall in this area, but without taking some serious measurements to confirm this, I'll probably be using it "as-is".
The Real Deal
---
Ventral Strake
---
Another feature that seems to also generally be considered as incorrect on this kit, is the ventral strake, but once again, I don't see the big issue here. Perhaps I'm just daft (a distinct possibility), but aside from possibly being too short in the vertical, overall proportions really look just fine to me, certainly not enough for me to fuss over, at least until I find evidence that it's really off in some major way.
The Real Deal
---
Refueling Probe & Bay
---
Refueling probe bay is a rather simplified affair (as one might expect by now), marred by what will probably be difficult to remove ejector pin marks. Probe itself looks acceptable enough, though not very detailed at all. Since my THUD will undoubtedly have this area closed, I'm perfectly OK with what's provided, but others may wish to detail this area better.
The Real Deal
---
The Cockpit
---
Cockpit is a bit of a mixed bag; side consoles look pretty decent, IP is not bad at all, and may turn out very nice, with some careful painting, 'pit sidewalls are also OK, but tub and rear bulkhead are very sparsely detailed. The ejection seat is a comical representation, at best, with molded on belts that look more like an afterthought than anything else, and really needs to be replaced, if one desires a reasonably accurate looking office.
Several areas of detail are lacking; the simulated covering for the coaming is one such example (image #67), with Trumpeter attempting to create a 3-dimensional effect, using 2-dimensional tooling methods, and as a consequence, it ends up looking rather silly.
All in all, I believe Trumpeter could have done much better here, as even in 1:48 scale, Monogram was doing very well in these areas, and many years ago, offering up highly detailed representations (a hallmark of many Monogram kits, and something they were very well known for), and there's no reason Trumpeter could not have done the same.
Instrument Panel Film
---
This film, once mated with the IP, might just end up looking pretty spiffy, and alignment with panel openings, looks to be a dead match.
The Real Deal
---
Landing Gear/Wheels/Tires/Doors
---
This may well be the major weak (literally and figuratively) part of this kit. While main and nose gear look OK to my eye, detail wise, I can't help but fear that they will not be able to sustain the entire weight of this model, once assembled, at least as far as the mains are concerned. There are no tie-down hooks depicted on the gear. Inner main gear door interiors are marred with pin marks in awkward locations, and back sides of these doors are completely bare, but as the outside of these doors rest against the fuselage sides, that's OK with me. Main gear outer door exteriors again look OK, but inner sides of doors are completely devoid of any detail at all.
To me, the nose gear looks perfectly acceptable, and should prove to be fairly sturdy. The exception here is the spindly little axle that passes through the nose wheel, and should probably be replaced with brass rod or similar. ILS cover and landing/taxi lights, also look pretty good to me. Nose gear door interiors are again plain, with no detail whatsoever.
The supplied rubber tires (which I don't personally approve of anyway) do not look very good. Fortunately for me, there was a new set of Fisher M&P wheels/tires included in the kit, so I now at least have that area covered.
Engine
---
The supplied engine (Pratt & Whitney J75), is comprised of many parts (in excess of 25), looks quite busy, and with just a bit of additional detailing, could really look quite nice, I'd think, if one chooses to leave it expopsed or depicting some sort of maintenance scene. (How accurate this engine may or may not be, I cannot say.) One problem area for some, may be the rear of the engine can; comprised of four separate pieces, each peppered with inappropriate pin marks, as well as four longitudinal seams, these issues may prove too much for some modelers (myself), and a suitable replacement item should be sourced.
The Real Deal
---
Exhaust Petals/Speed Brakes
---
All in all, Trumpeter did an OK job here, at least on the outside of the petals, if perhaps a bit overdone. The interior surfaces will need to have the ejector pin marks removed, but aside from that look OK to me, other than being completely devoid of an representation of rivets. The prominent lip on the aft end of each petal is also completely missing. All in all, while they look OK, I'll probably replace mine with any available AM items (if there are any), or detail them at least.
The Real Deal
---
Weapons & Fuel Tanks
---
Much is provided in the way of weapons and associated hardware; (20) Mk. 82s (with or without fuse extenders), (20) Mk. 117s (with or without fuse extenders), (2) napalm canisters, (2) AGM-12B Bullpups, (2) AGM-78 Standard ARM, (5) AGM-45A Shrikes, (2) ALQ-71 ECM pods, (3) TER's, (2) wing tanks, and (1) centerline tank (as well as the weapons bay fuel tank). There are no decals provided for markings on any of these weapons, so those will need to be sourced elsewhere. The TERs are not made really well, and are also incorrect (side mounted bombs are depicted as perpendicular to rack, whereas they should be at a downward angle), so TERs "liberated" from one of the excellent Tamiya kits (or similar), might be necessary. Much of the weaponry (air to ground missile stuff, specifically), was not routinely used on the D model of the THUD, as far as I know, but they're still nice to have for other projects that may require them.
Fuselage Weapons Bay
---
Also, much to my surprise, an attempt has been made by Trumpeter to represent the fuselage internal weapons bay (originally designed to carry a tactical nuke). Since this is an area of the aircraft that I've seen but very few photos of before, I cannot attest to how accurate it may appear, but given the generic nature of the detailing elsewhere, is most likely also incorrect/incomplete. A "shape" is provided to fit into the bay, but I cannot determine with absolute certainty if it's supposed to be a nuke (no fins), or the auxiliary fuel tank that was usually fitted there, but is probably the fuel tank. At least Trumpeter did include it (the bay), something most other THUD kits seem to omit, despite being completely without any detail at all on the sides of the bay walls.
Rotary 20mm Cannon & Bay
---
Here is another area that had marvelous potential, but unfortunately also falls short; the General Electric 20mm M-61 Vulcan rotary cannon and its bay in the nose, both of which are woefully under detailed, even if they did manage to capture overall proportions fairly well. Since the GE Vulcan (in various modified forms) is so widely used on American jets, it may be possible to source one from another kit, that would serve as a better basis to build upon.
Interesting enough, the 20mm ammo feed drum is also represented here, though given its position deep in the fuselage, it will never be seen, and again is an impression of the drum, rather than a well detailed version of it, however if one chose to model a cannon servicing scene, it would be very handy to have indeed, and could easily be additionally detailed by the modeler (better to have it and not need it, than need it and not have it). 20mm gun barrels are provided as six individual pieces (not hollowed on business end), so aluminum tubing or Master turned brass barrels would be recommended here.
The cannon bay itself is absolutely barren of any details, and this area is usually quite busy with electrical and hydraulic lines, rivet detail, structural elements, etc., so will require some additional detailing if this area is to seriously look the part.
Gun bay door(s) are provided as one piece, but these were in fact two separate pieces (possibly three), and Trumpeter has made no allowances for splitting this into multiple doors, though that would be a particularly easy task for most. Door interior(s) are again quite devoid of any detail, save for some unsightly ejector pin marks, a common theme with this kit. Piano hinge of doors is not represented at all here either, and would be quite visible on opened doors.
While rubber 20mm flexible ammo feed chutes are provided, and look pretty cool, they have one side of the chute completely opened (a real head scratcher), which is, of course, not correct at all.
The Real Deal
---
Figures
No crew figures are included, either sitting or standing, though a standing figure would have been most welcome, in order to get a sense of scale proportion with this big beast.
Miscellaneous Bits
---
Miscellaneous bits that I had no convenient category for.
Summation
By and large, if you're looking to do a single seat 1:32 scale THUD, this kit should work out just fine (not that there are too many other options). Overall, I'd rate it as a 6 (out of ten), and it is therefore certainly recommended. Soft and somewhat spurious details prevented a higher rating from me, but I still very much like the kit, and look forward to tackling it, plus, it's a 1:32 scale Thunderchief, and it gets some points just for that fact alone.
I'll close by saying that this big ol' Thunderchief is a very impressive model indeed. Despite some shortcomings in overall attention to detail here and there (much of which can be addressed with readily available good quality AM), it forms a very solid basis on which a truly awe inspiring display can be created. Having been a fan of the entire Century series of jets for a very long time now, I'm tickled silly to finally add the big THUD back into my storehouse of kits.
(With any luck at all, this kit may well be my entry in the 2019 national convention, I like it that much.)
Many thanks to my sad, sad budget for this review sample.
© Kevin Williams 2018
This review was published on Friday, April 13 2018; Last modified on Friday, April 13 2018