Pheon Decals | 32077 & 32078 Sopwith 5F.1 Dolphin Decal Collections Vol. 1 & 2
Reviewed by Mike Swinburne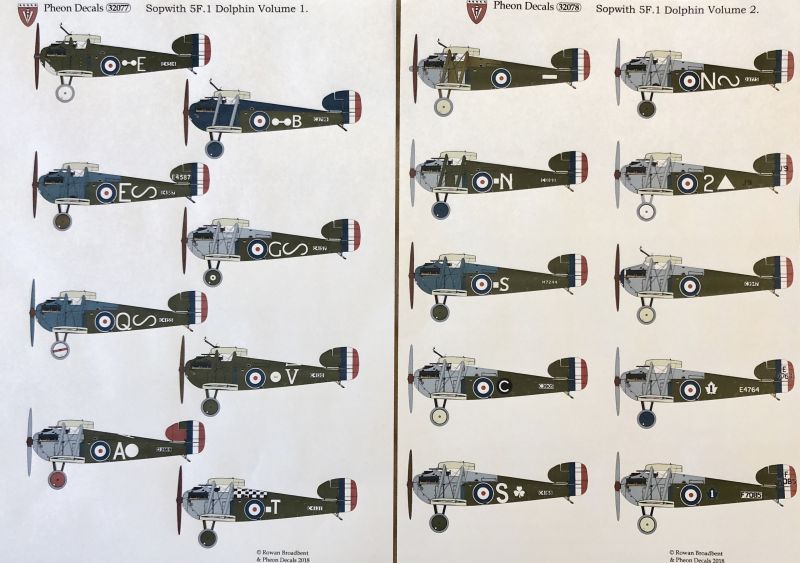 Pheon Decals has released two decal sets for Wingnut Wings' new Sopwith 5F.1 Dolphin, giving a total of eighteen additional schemes for builders not wishing to use the kit markings. The schemes given are all British, with the exception of two from the Canadian Air Force formed in September 1918.
Common with Pheon releases, full-color side profiles are included for each aircraft on glossy paper, along with exploded views and top/bottom views when needed for unique or optional markings and paint colors. A 12-page booklet is included with historical information on the aircraft's service, colors, historical blurbs of the specific aircraft and pilots included in the decal set, any other details unique to each selected aircraft to help the builder create the most accurate replica possible. When exact colors are debatable or unconfirmed, notes are included with as much information as possible to allow the builder to make an educated decision on which color(s) to use.
Volume 1 (Pheon #32077)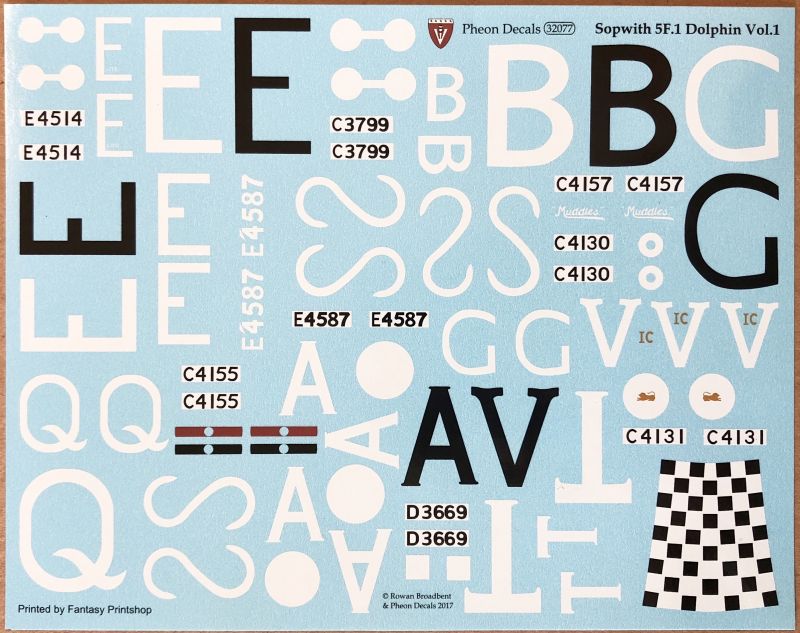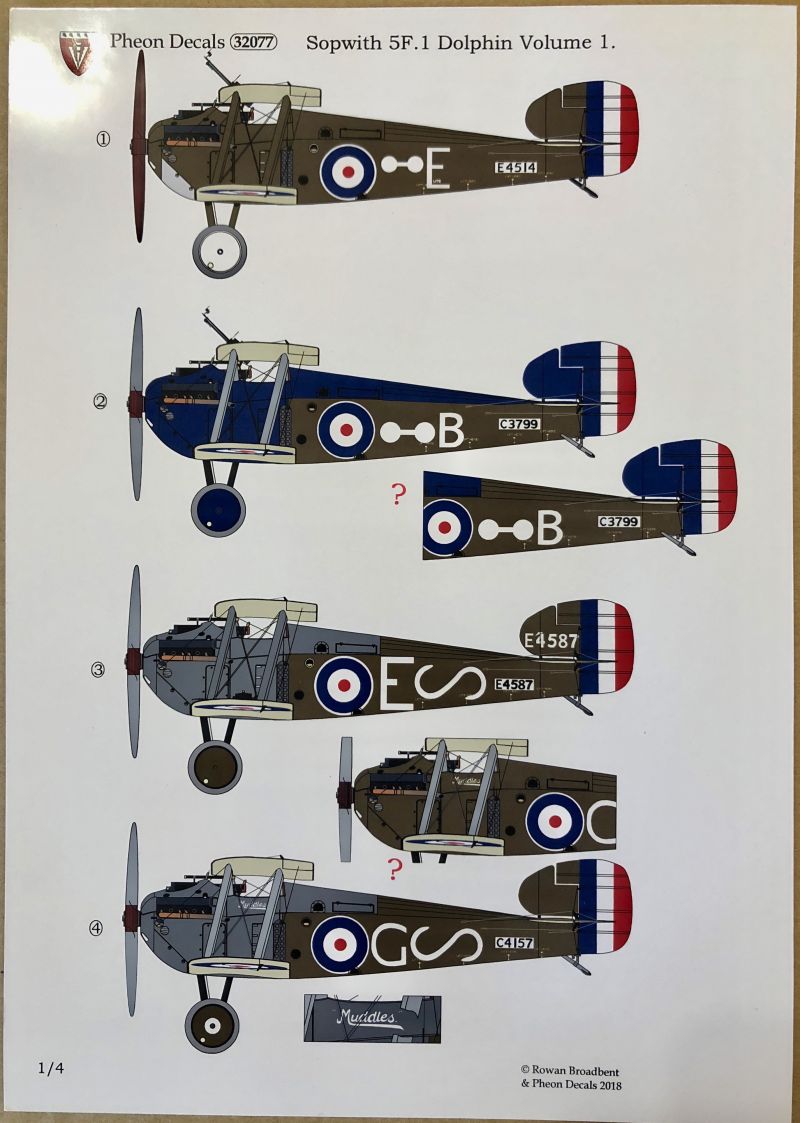 1. E4514, Lt C.M Moore July 1918. 19 Sqn.
2. C3799 Capt. G.B.Irving (Canadian) Summer 1918. 19 Sqn.
3. E4587, Pilot unknown. Twin Lewis on lower wings. 87 Sqn.
4. C4157 "Muddles", Lt.C.E.Worthington. August 1918. 87 Sqn.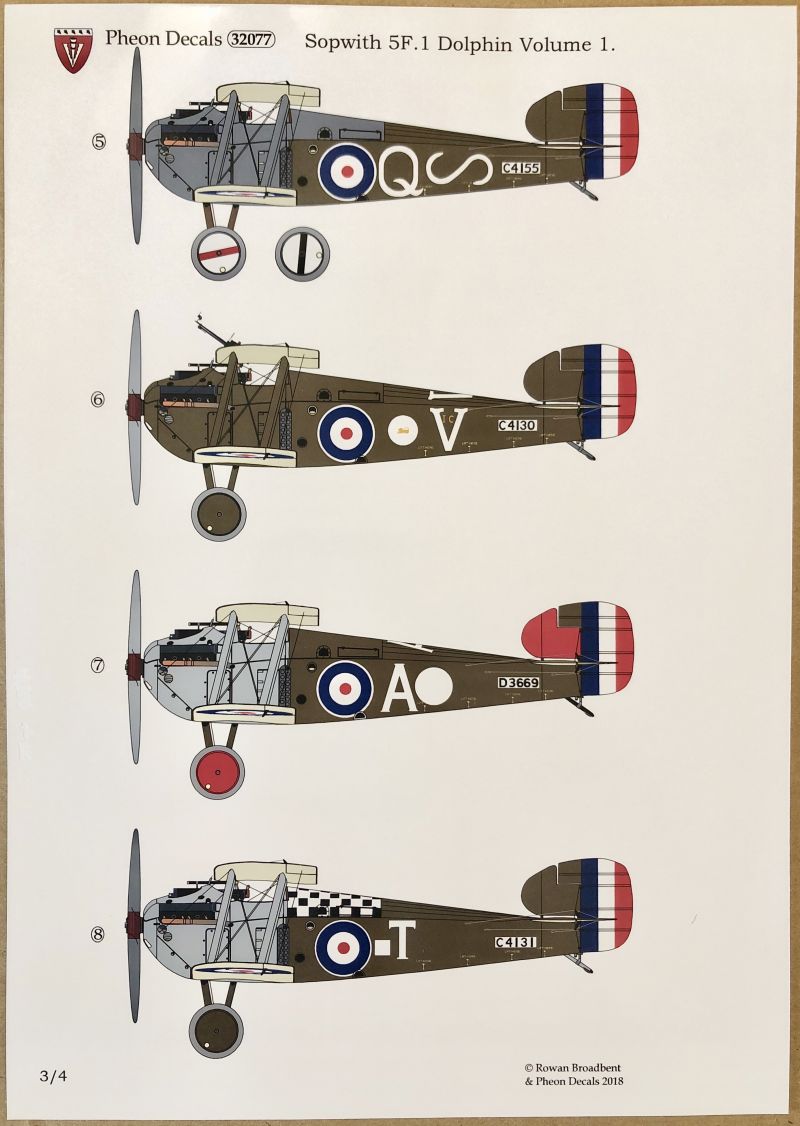 5. C4155 Lt.R.M.Macdonald (Canadian) September 1918. 87 Sqn.
6. C4130, "Vic" Lt.H.N.Compton, (Canadian) November 1918. 23 Sqn.
7. D3669 Capt.A.B.Fairclough, (Canadian) July 1918. 23 Sqn.
8. C4131 Capt.F.I.Lord (American), June 1918. Also flown by Maj.N.W.Noel, Capt.J.D.Canning all of 79 Sqn.
---
Volume 2 (Pheon #32078)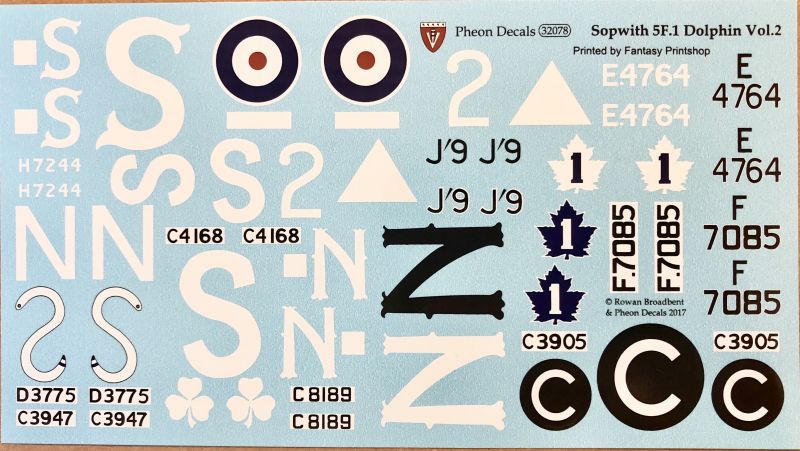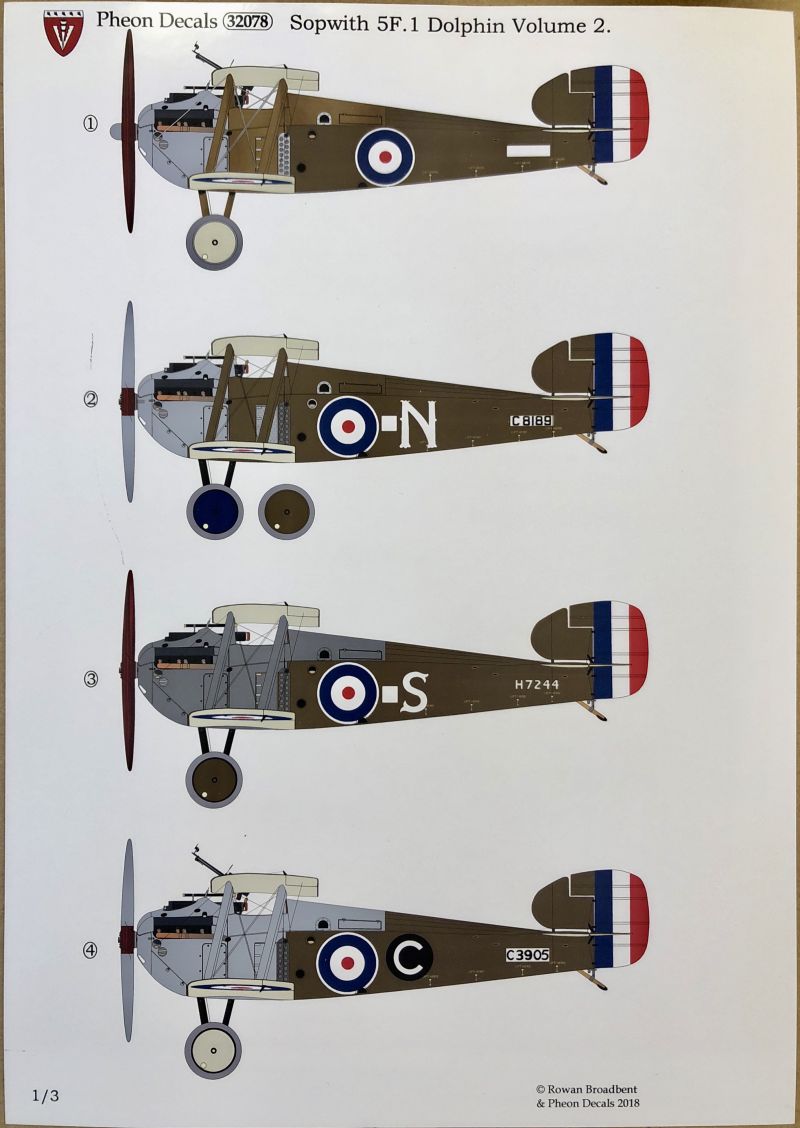 1. 4th Dolphin Prototype (initially without serial – later B6871), St Omer, France October 1917.
2. C8189, Lt.F.J.Stevenson. 79 Sqn.
3. H7244, Capt F.W.Gillet (American) 79 Sqn.
4. C3905, Lt.A.F.G.Clarke, March 1918 79 Sqn.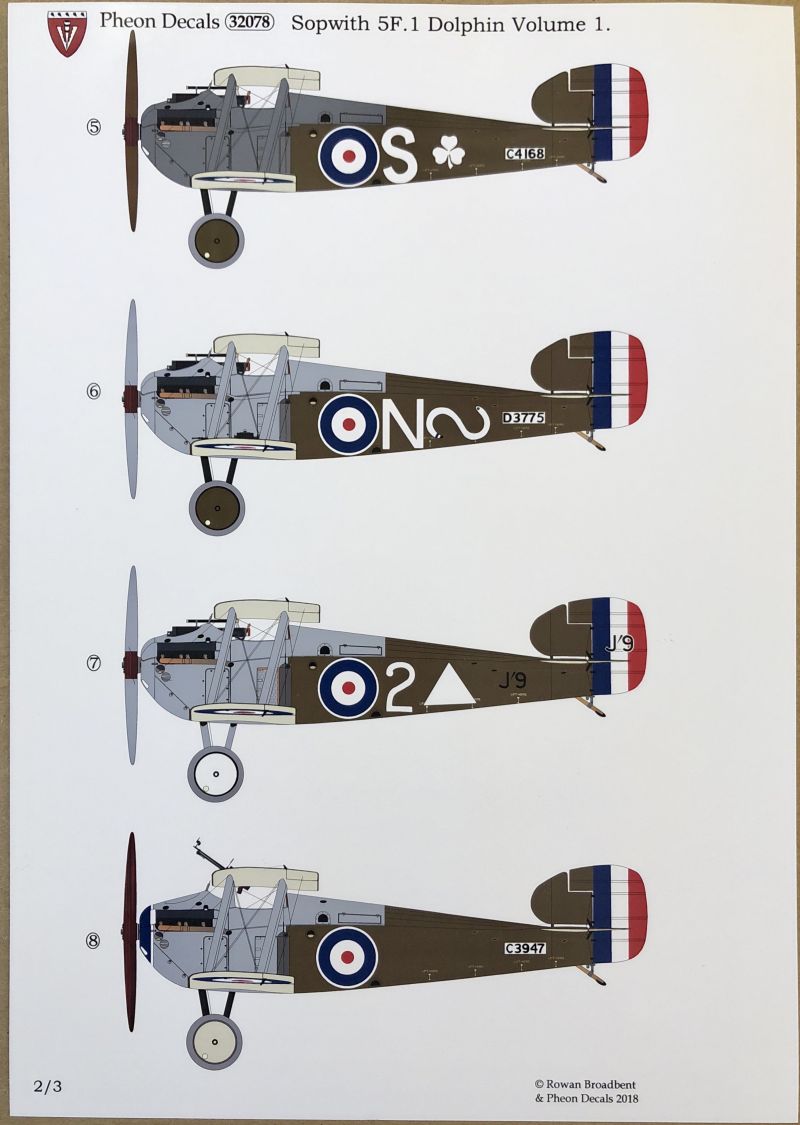 5. C4168 Maj J.C.Callaghan 87 Sqn.
6. D3775 Pilot not known 87 Sqn. Twin Lewis guns on lower wing.
7. J9 Pilot not known 93 Sqn. HE Kenley Aerodrome, Surrey, November, 1918.
8. C3947 Pilot not known 92 Sqn. HE Tangmere Aerodrome, west Sussex - armed with a single Lewis gun. May 1918.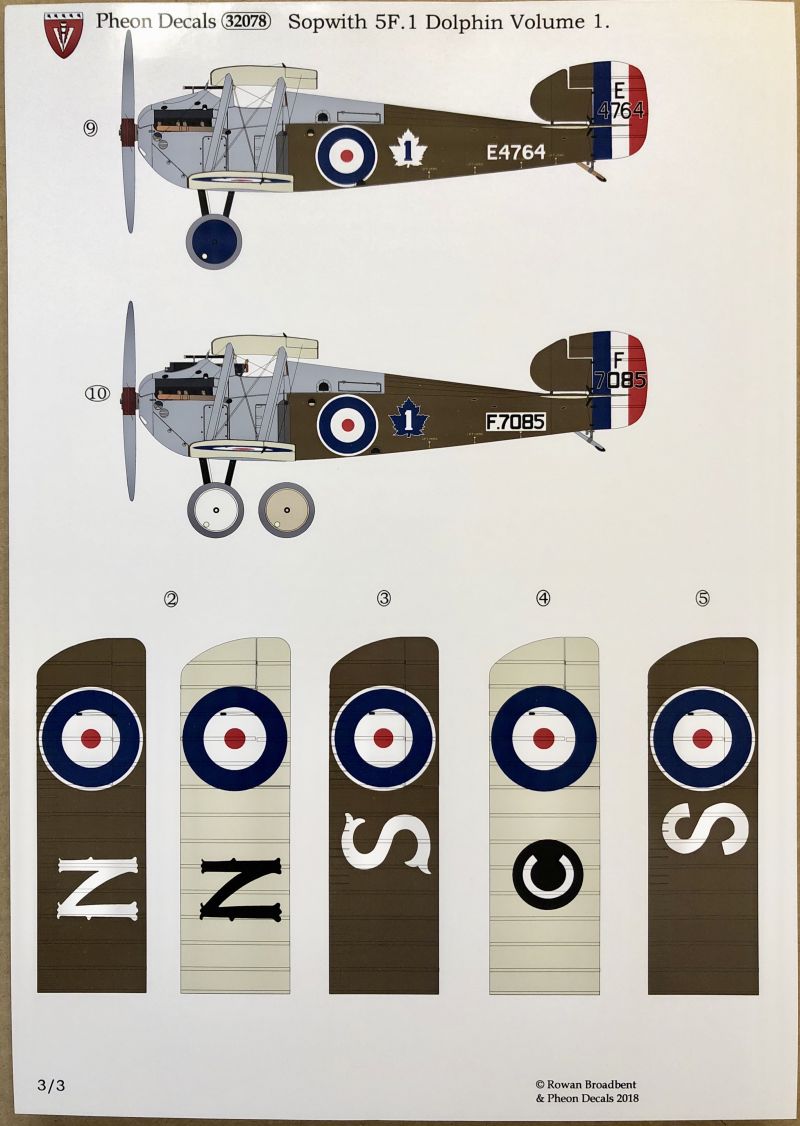 9. E4764 81 Sqn./ 1 Sqn. CAF.
10. F7085 81 Sqn./ 1 Sqn. CAF.
---
As usual, Pheon has used Fantasy Printshop for the decal printing, and the print quality is consistent with previous sheets: superb. Detail is crisp and colours are perfectly in register. The builder will need to use the kit roundel and "lift here" decals as these are not included in Pheon's sets with the exception of a differently-sized set of fuselage roundels destined for one scheme in Volume 2. It appears that enough unique decals are included on the decal sheets to be able to complete all of the options in the collection, including three seemingly identical pairs of the 87 Squadron sideways "S" decal in Volume 1.
The Sopwith Dolphin decal sheets are available direct from Pheon Decals; Volume 1 for GBP 12.75 and Volume 2 for GBP 10.50 plus postage. Review samples kindly provided by Rowan and Sabine at Pheon Decals. Very highly recommended!
© Mike Swinburne 2018
This review was published on Friday, March 30 2018; Last modified on Monday, April 02 2018