Philippe Jourdan | L'Aéronautique Militaire 1914-1918: Traditions & Héraldique
Reviewed by Kevin Futter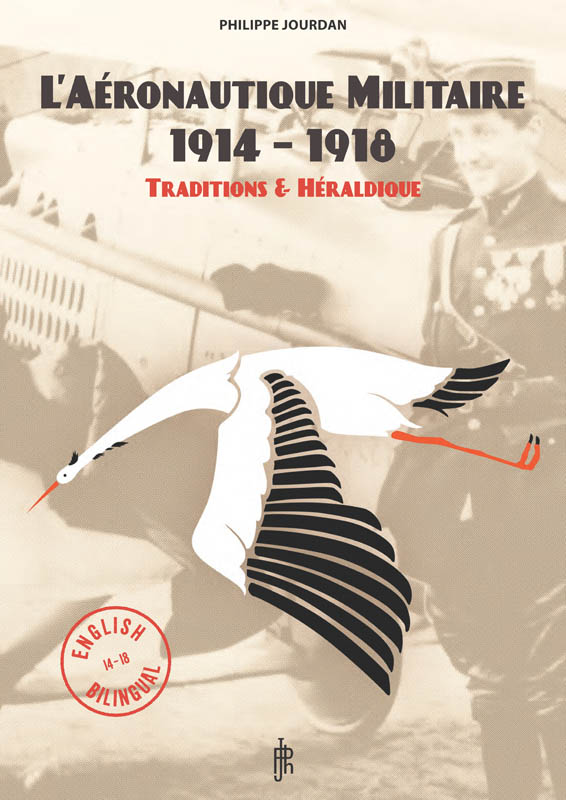 This rather esoteric book deals with the highly specific subject of the emblems and heraldry that adorned aircraft of the French air force during WWI. It's a bilingual affair, with the text duplicated in both English and French, and is self-published by Philippe Jourdan. This is clearly a topic of much passion for him, and he notes in his foreword that the book is the result of his own researches and discoveries as he collected what available material he could find:
That is why this new book was born, in a simple way at first, without any plan, just by compiling books and other sources on the various insignias of the French Air Force, adding to them without any organisation, then I began to put my discoveries in order on a computer. I went on sorting them more and more precisely, by period, style, design, photos, fuselage fabric etc. ... As I kept making discoveries I became fascinated by the history of the insignias of our aviation and after a few exchanges with friends it became obvious to me that a book just had to be written...
The book proper begins with a potted history of the development and evolution of the French air force over the course of the First World War. There is also a brief discussion on the constantly evolving numbering system employed for the Escadrilles from 1912 until war's end.
The bulk of the book's 118 pages is taken up with a mind-bogglingly comprehensive treatise on the various emblems and insignia worn by aircraft of the Escadrilles during the period covered. Each Escadrille is given its own panel, with a rendering of the relevant emblem, and a bilingual description (see the sample pages below for examples). I am in no way qualified to assess the information provided, but it's impressively detailed and fastidiously presented.
A smattering of period photos and colour profiles is also included, which helps lift any potential monotony in the presentation.
Sample Pages
---
Conclusion
If you have any interest at all in French aviation of the First World War, then you will find this book fascinating. It certainly functions as a handy reference on the topic. The English translations are not perfect, but perfectly understandable; the artwork is nicely done, while the included photos are nicely chosen.
The book currently sells for a promotional price of 30 € with worldwide shipping included, and is accompanied by an Ex-Libris and a personalised dedication. Payment by check or PayPal to philjourdan@aol.com.
Philippe Jourdan
79 faubourg du moustier
82000 Montauban.
France;
Mail: philjourdan@aol.com
Tel: 06 60 82 63 53
© Kevin Futter 2018
This review was published on Tuesday, April 17 2018; Last modified on Tuesday, April 17 2018