Wingnut Wings | 32065: Junkers D.1
Reviewed by Kevin Futter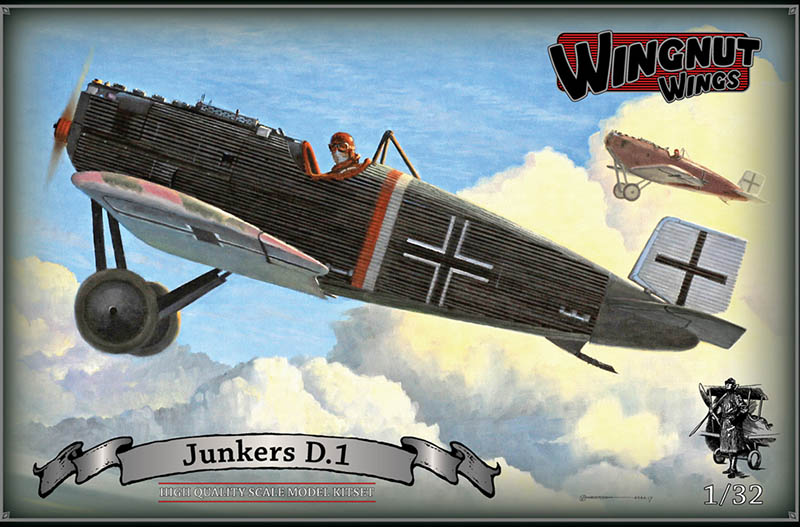 New Zealand firm Wingnut Wings continues its prolific release schedule with the ungainly-looking Junkers D.1. Reflecting the rudimentary nature of the prototype design, this is one of the simplest kits that Wingnut Wings has released.
Quoting from the Wingnut Wings website:
High quality (extra thin) Cartograf decals with markings for 5 colour schemes - 124 high quality injection moulded plastic parts - Optional fuselage spine corrugations, foot steps, propellers, Daimler-Mercedes 180hp D.IIIa & 200hp D.IIIau engine details and "wings removed" diorama display option - Authentically reproduced corrugated Duralumin surface details, lapped panels & hatches and raised rivets - 11 photo-etched metal detail parts - No interplane struts and (almost) no rigging makes this model the perfect introduction to First World War aircraft modelling.
The full contents breakdown is as follows:
4 grey plastic sprues;
1 small photo-etched fret;
1 large decal sheet;
1 instruction booklet.
The Plastic Sprues
All of the 124 plastic parts are contained on three large sprues, supplemented by a smaller runner containing the company's generic Mercedes D.III engine. Of the other three sprues, one contains mostly wing parts, another contains mostly fuselage parts, and the third houses all the detail parts.
---
The quality of the mouldings is everything we've come to expect from Wingnut Wings, being crisp and flash-free.
---
One of the hallmarks of early Junkers designs is the heavily-corrugated metal skinning employed on the airframe, and the D.1 is no exception. Wingnut Wings has done an admirable job capturing this feature, though it remains to be seen what effect his has on cleaning up the wing and fuselage joins.
---
There are even some appropriate corrugation details on the inside of the fuselage parts: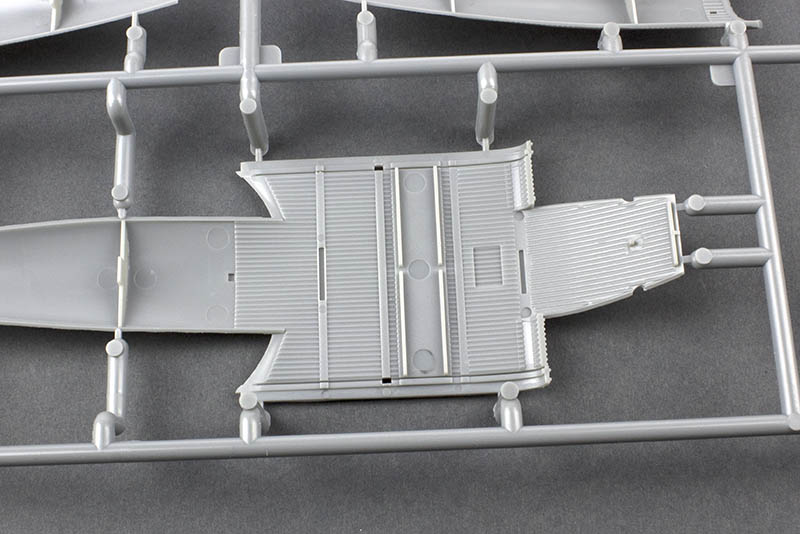 Note that there are two alternative parts included for the fuselage spine, with each featuring a subtly different arrangement of the corrugations. This is not only an admirable level of accuracy from Wingnut Wings, but also a fair indication of the depth of the company's research.
Note also that there are no clear parts included in the kit, as befits the prototype aircraft.
Photo-etched Fret
As is usual for Wingnut Wings kits, a small photo-etched fret is included. It's confined mostly to a set of seat belt parts, and a pair of cooling jackets for the Spandau machine guns.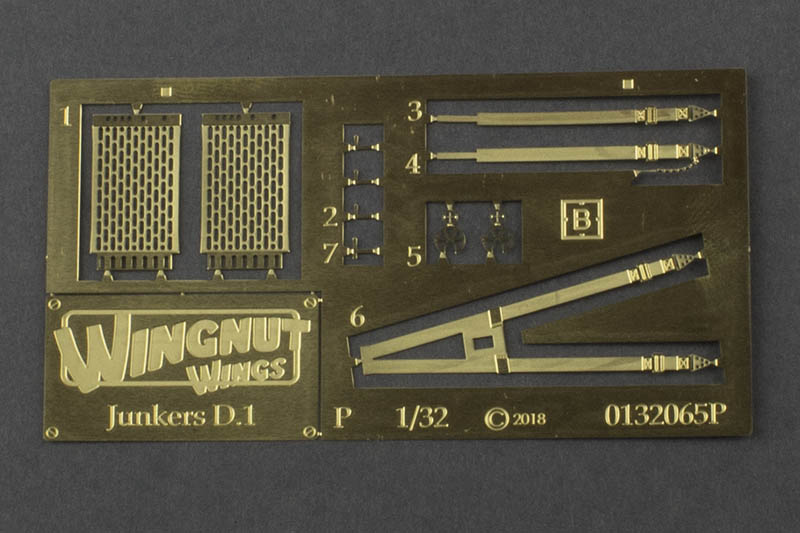 Decals and Markings
A single decal sheet is included with the kit, containing all the applicable aircraft markings and stencils. As usual, it's beautifully printed by Cartograf, with perfect registration and good colour density.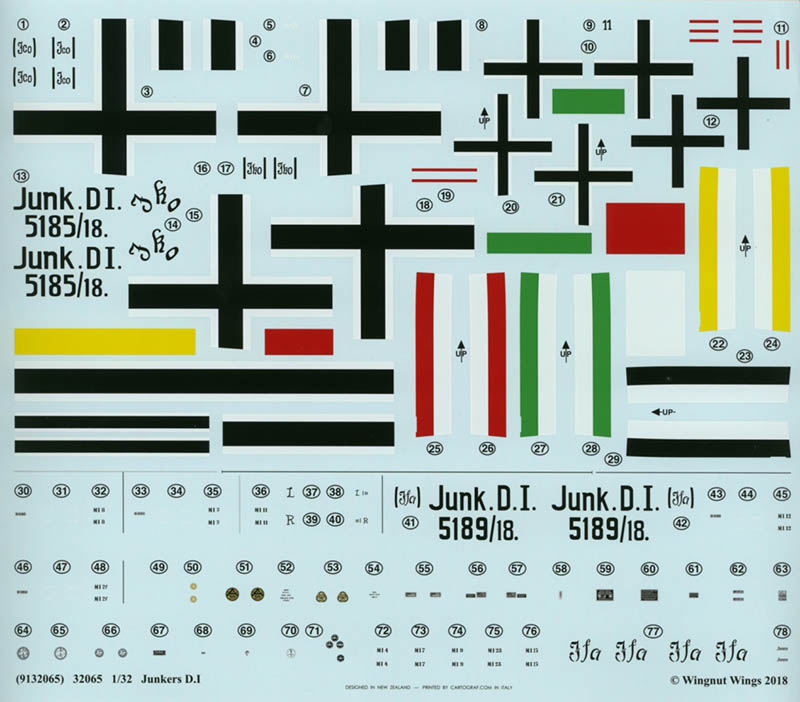 Markings are included for the following five aircraft:
Junkers D.1 5185/18, Adlershof, October 1918
Junkers D.1 5185/18 "Bänder", Hombeek, MFJG, November 1918
Junkers D.1 "Weisser Schwanz", Hombeek, MFJG, November 1918
Junkers D.1 5188/18? "11", October 1918
Junkers D.1, Gotthard Sachsenberg? (31 victories), Theodore Osterkamp? (38 victories) & Josef Jacobs? (48 victories), FA 416, September-October 1919
---
Instructions
The instruction booklets supplied in Wingnut Wings kits have become legendary, and with good reason. The production values are equivalent to a glossy magazine, and to refer to them as mere instruction booklets does them a grave disservice.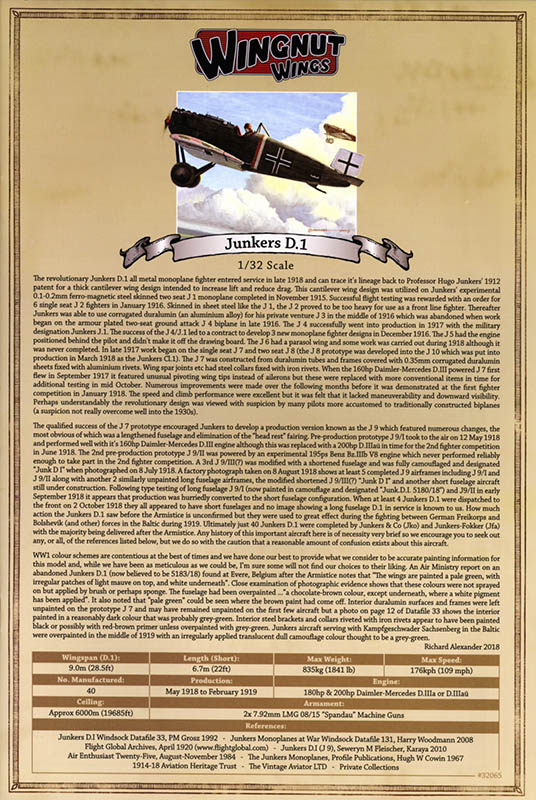 The cover features a potted history of the type, and a specifications table at the bottom. This material is also available on the Wingnut Wings webpage for the kit.
The content features colourful and highly-detailed annotated assembly drawings, complemented by captioned reference photographs and painting instructions.
---
Conclusion
This release represents everything we've come to expect from a Wingnut Wings kit: exceptional moulding quality, excellent detail, superb decals and industry-leading documentation. And as befits the subject matter, it also represents one of the simplest kits the company has yet released, with a relatively low parts-count, simple parts breakdown, lack of an upper wing, and practically no rigging. This makes it an ideal first kit for the WWI modelling novice, and is highly recommended.
Thanks to Wingnut Wings for the review sample.
© Kevin Futter 2018
This review was published on Tuesday, May 01 2018; Last modified on Tuesday, May 01 2018