Pheon Decals | 32003: 1/32 SE.5a Nightfighter Decals
Reviewed by Mike Swinburne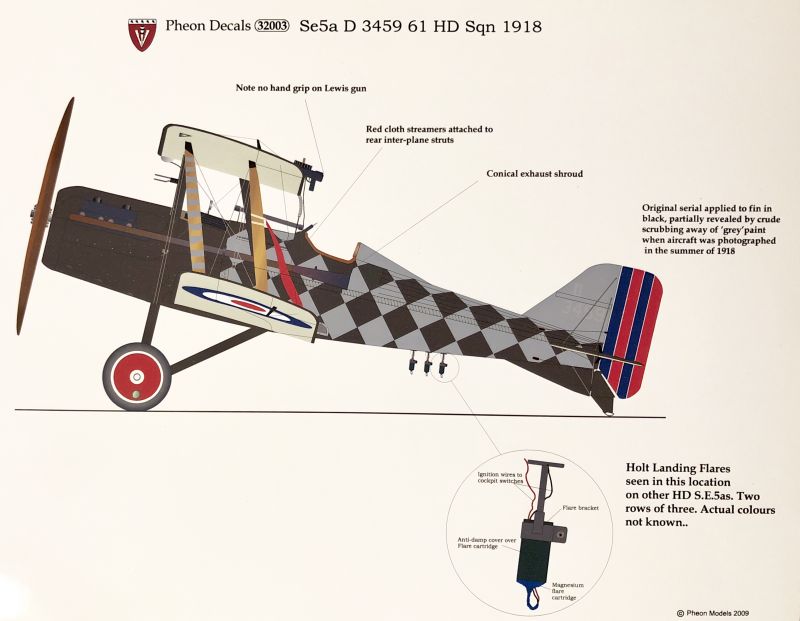 The grey-checkered SE.5a nightfighter was one of Pheon Decals' original releases in 2009, and has finally been reprinted in the Spring of 2018 for the many modellers who missed their chance the first time around. The sheet depicts a single aircraft from 61 HD (home defense) Squadron in 1918, with grey diagonal checkers covering most of the fuselage and upper surfaces of the tail and wings. Both the Wingnut Wings and Roden SE.5a "Hisso"-engined kits are suitable to use with this sheet.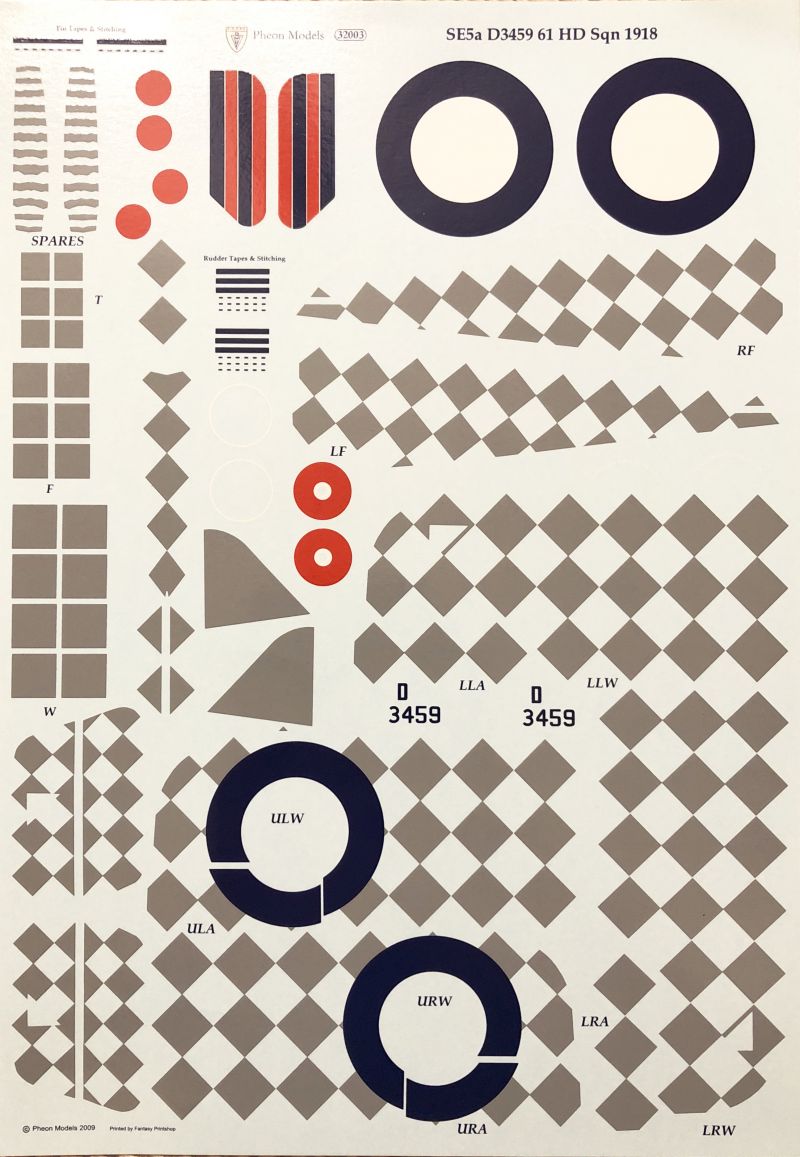 The decals come on one large sheet, printed in full colour by Fantasy Printshop, and everything is sharp and in register. The grey checkers are printed as single pieces for each of the areas where they will be applied. There is VERY little carrier film linking each diamond to minimize/eliminate chances for silvering, and quite logically, Pheon very highly recommends that the builder cut these large decals into sections and applies them in stages. Extra grey diamonds are included on the decal sheet in the event mistakes are made in application.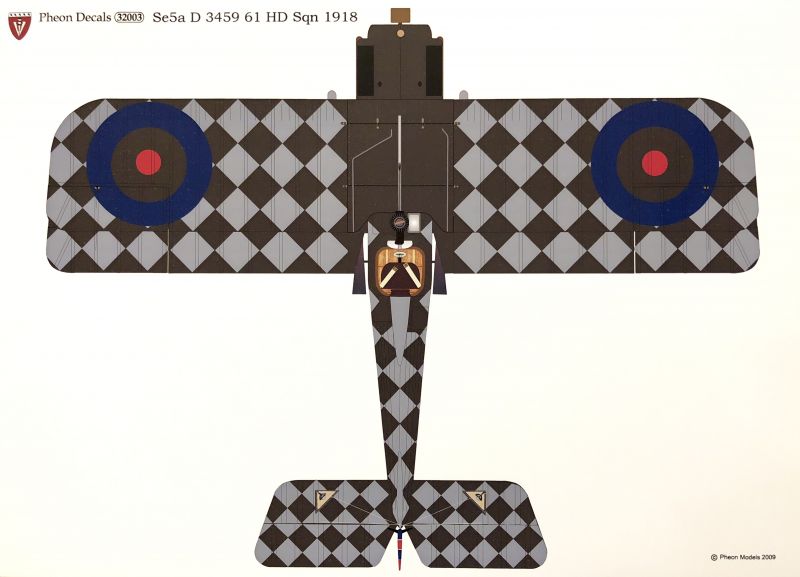 The decal sheet also includes the unique style of red/white/blue tail striping this aircraft wore, grey painted squiggly bands on a forward wing strut, appropriate wheel trim, tire lettering, and also the D3459 tail number as decals. One photo of the aircraft shows that at some point, the grey paint on the tail had been scrubbed down, likely in an attempt to have the aircraft's serial number show through. Pheon additionally includes decals as an attempt to address the absent rib tapes on the tail and rudder of the Wingnut Wings kit. As a side note, should this not address the missing rib tapes to the builders satisfaction, replacement parts with stitching are available in resin from Brian Fawcett.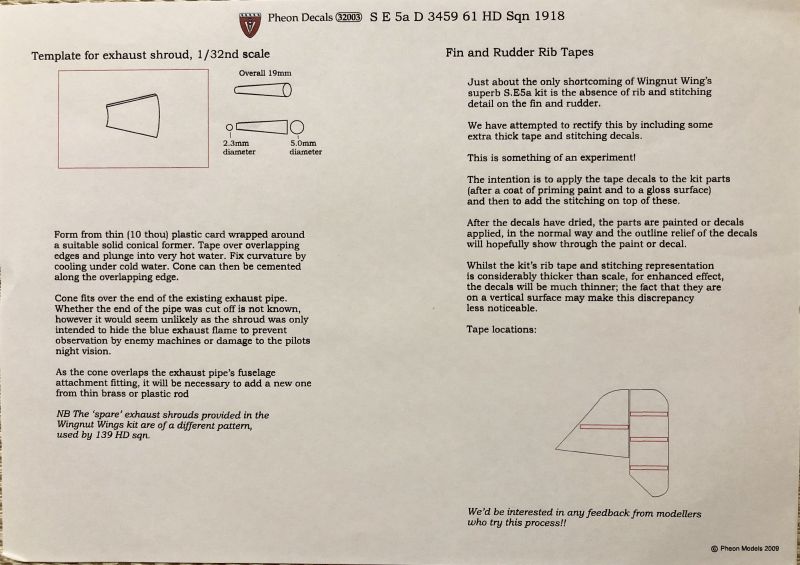 Some modifications will be needed to fully depict this aircraft in it's operational mode, and these are all addressed in Pheon's set. Most noticeable are the addition of six Holt flares under the rear fuselage and conical shrouds at the end of the exhaust pipes. A paper template is included so that the builder can easily make the exhaust shrouds from thin plastic or metal, and the Holt flares can be robbed from several sources including Wingnut's RFC Accessories sprue, FE.2B (late), and Bristol F.2b kits. Red pennants / streamers were also attached to the rear wing struts and these will need to be added by the builder.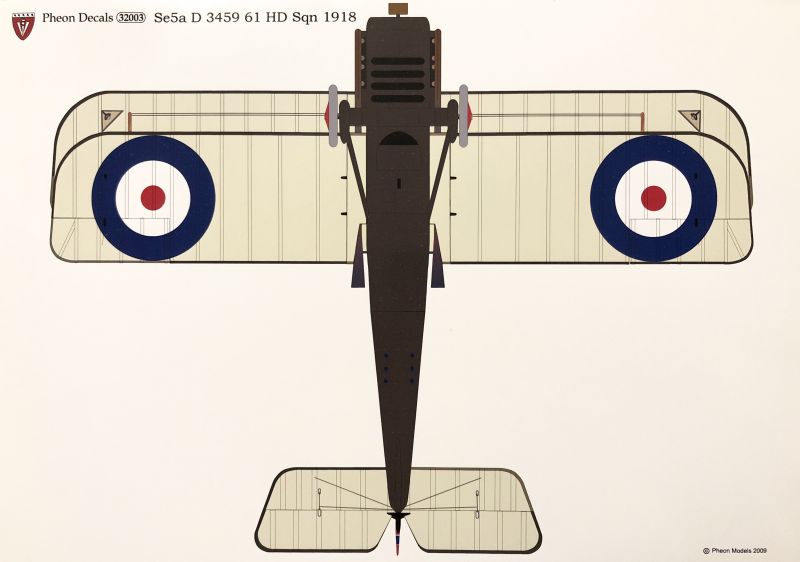 Another winner from Pheon, one of their original winners really, and it's great to see it available again. I highly recommended for builders interested in the aircraft. Remember to take your time when applying the sections of grey checkers to avoid unnecessary headaches and you'll be rewarded with a stunning model. Review copy was purchased from Pheon Decals and is available for GBP 17.50 plus postage.
© Mike Swinburne 2018
This review was published on Saturday, May 12 2018; Last modified on Saturday, May 12 2018