Sparmax | SP-540 Airbrush
Reviewed by Mitko Nikitov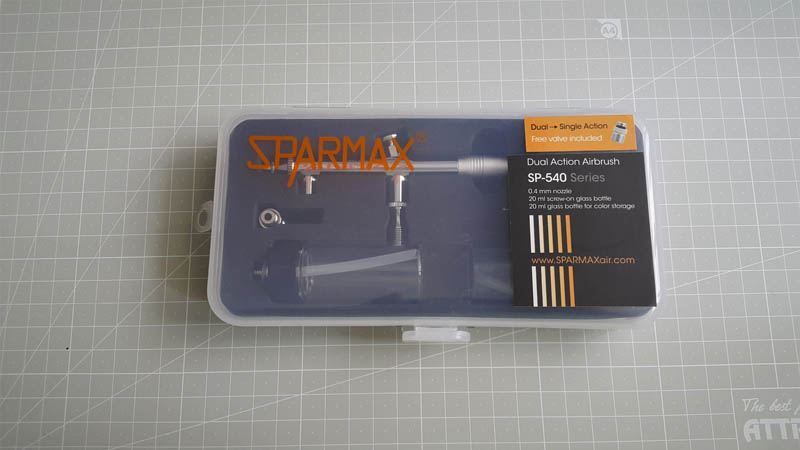 Introduction
Most of the online reviews that one can find regarding airbrushes are about the high-end ones. Usually, the top of the line and the newest items on the market get all the glory and for the rest of the tools, information is either sparse completely missing.
That doesn't mean that airbrushes that are cheaper are bad. Actually, they do give you more value for the buck. In other words, top of the line airbrush can do 10 things. Regular and lower priced airbrush can do 6 or 7 of them and that is usually for 1/3rd or even quarter of the price. The math is pretty simple here.
If you are not a highly devoted airbrush user with high demands, and you do your airbrushing for large scale applications, the tool we are going to talk about here is perfectly suited for you. On top of that, it comes from a company with 40 years of experience in airbrush production and a company that manufacture tools branded for other companies well established and respected among modelers.
Contents
Sparmax SP-540 is an airbrush oriented towards the general public. In other words, good for a beginner user or for general purposes. But not only. That is what the dual-action airbrush was designed for from the get go. The results it can give you are rather surprising.
The boxing is simple plastic clamshell with transparent appearance. It holds the airbrush, a wrench, a dual-to-single action transition valve, one screw-on 20ml bottle and one additional bottle, exactly like the first one, but meant to be used for color storage. There is also an instruction sheet on the bottom and a cleaning brush, made from blue plastic and synthetic material, great for cleaning the tip or paint residue on the needle cap.
The clamshell has a hanger outside and a foaming material inside, so you can easily hang your airbrush on your tool wall and be sure that nothing will fell from its pre-determined position. All this is rather light in weight. In total, everything described above weights 193 grams. The airbrush with the bottle weights the surprising 91 grams and without it – only 72 grams.
---
SP-540 Design & Purpose
Sparmax are famous for their top feed airbrushes. SP-540 is a bottom feed one. It has the classical shape of such a tool and the biggest benefit from my point is the screw on bottle. The bottom feed airbrushes with non-screwing paint containers are very risky in my eyes. Spills are possible, but worst of all are the chances of loose attachment of the paint cup. Even though that can be predicted, sometimes accidents happen. With the screw this is impossible.
There is a simplistic and odd looking tail covering the back end of the needle. It is not made from polished metal and does not have a tail stopper. By itself, this is the only thing that gives out the idea of this airbrush being at the lower end of the Sparmax tools. It doesn't look that posh.
However, even though SP-540 was contemplated as a starter or general purpose tool, in the hands of experienced painter, it can do a lot more. The needle is .4mm, which is exactly the same as the Sparmax MAX 4. The latter one is considered a high-end tool though. Of course, it is also sold as MAX 3, which has .3mm needle/nozzle set-up, but still one can get the idea.
The other things that gives out the design ideas implemented in SP-540 are the 20ml color bottles. They are way too big for precise work. Those combined with .4mm on the other hand are perfect from priming and varnishing a model, especially one from the Large Scale realm. The nicest thing about the bottles is that they are made from glass, not plastic. Plastic ones tend to fog with time and the real paint color and sometimes even level are hard to be seen. Not here.
The single-action transition is also something that can be used in priming/varnishing direction. Especially with Alclads or any other metalizers or clear coats, where the amount of medium needs to be as even as possible.
Ergonomics
SP-540 is pretty light as mentioned above. That – according to one's personal preferences – might be good or a bad thing. I personally prefer more sturdy airbrushes, especially pistol-grip ones. Bottom feed ones though, are good for my hand when they are light. The balance is slightly different, mostly because when the bottle is more than half-full, the airbrush weights to its front and it is different compared to when you just hold it in hand and without the paint container.
The trigger is light and comfy, typical Sparmax, which is a benchmark in the airbrushing by itself. Overall, SP-540 is small, but not unpleasantly. It is cozy airbrush, and after a few sessions with it, a regular airbrush user can quickly master this tool. The .4mm needle/nozzle combo dictates that the airbrush is meant to be used with general paint applications, which corresponds to the weight and balance mentioned above. When you manage to master it though, you can easily perform precise paint sessions and achieve results that are exceeding the expectations by far. That is due to the fine trigger and performance consistency typical for Sparmax products. The brand and its reputation are of great importance in this particular case and elevate the results with a level or two just because they are present.
Conclusion
Sparmax SP-540 might've started as the idea of being starter airbrush and one that is to be used for general applications. Engineers have to work in that direction, which is important part of a brand's catalogue. However, in this case, with the SP-540 Sparmax managed to provide more.
In my opinion this is not because of the successful design and general idea behind the tool. It is due to the Sparmax experience and overall quality. Bottom feed airbrushes looking like SP-540 are in the past. But this is valid only for some. Definitely, SP-540 is different. This airbrush is somehow refined and a pleasure to work with. It is cheap by any standards and the value that you get for your buck is higher than expected. It performs as a good tool, can do a lot more than expected and it is reliable.
It is nice to have such tool even if you do own a high-end airbrush with extremely fine needle. It is just like owning and old pick-up truck that you trusted all your life, even though you now have a very good brand new wi-fi equipped self-parking car. Why? Well in some days, often most of days, you do prefer to jump in the old pick-up and just drive and do your work, without worry too much. It is something that you own and use, not a tool that owns you.
Highly recommended!
© Mitko Nikitov 2018
This review was published on Friday, June 01 2018; Last modified on Friday, June 01 2018