ICM | 32010: 1/32 Polikarpov I-153
Reviewed by Andrew Birnie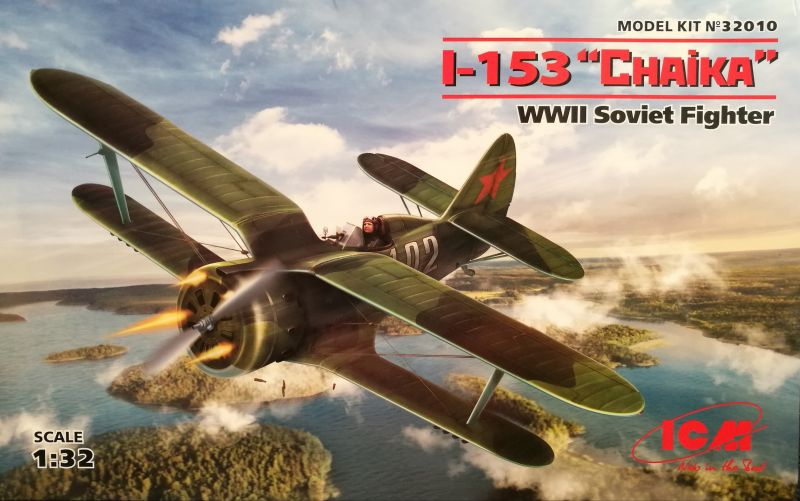 ICM's had their first foray into 1/32 last year with their superb Polikarpov I-16 Type 24, they've followed it up with a Bucker Bu 131D, and a further variant of the I-16 the type 28, with a type 29 to follow later this year, and now we have the third new subject the Polikarpov I-153 "Chaika".
The I-153 was developed from the I-15 as a consequence of the I-16 being outmaneuvered by the Fiat CR.32 during the Spanish Civil War, and so in order to combat the Italian biplane Polikarpov went back to their earlier biplane design.
The kit comes in a sturdy box featuring a late I-153 operating in the Gulf of Finland, contained within are four sprues; three large in grey plastic, and a small clear sprue.
Sprue A contains the fuselage, lower wings, cowl sides, wheels, propeller, instrument panel amongst others.
---
Sprue B consists of the upper wing, tail planes, rudder, engine, front cowl, ailerons, and seat.
---
Sprue C provides further engine parts, undercarriage legs, weapons, and cockpit parts.
---
Sprue D is the clear sprue made up of the windscreen, three lights, and a piece for each of the centre of the wheel bays.
---
The surface detail is superb, it's a very well designed kit - the cockpit sidewall frames are on sub-sprues, which would best be removed from the main sprue, before the parts are removed, I would advise placing tape over the fragile parts first to prevent damage.
The holes for the guns in the front cowl are just shallow recesses, and would benefit from drilling out, as would the exhausts, though this will be more tricky.
The lower wings have four mounts for the rocket rails, which were only applicable to the later in service aircraft - decal option 4 - and removing them would be problematic.
Like the I-16, which I previously reviewed, there are no seat belts provided, however there will no doubt be some in time from usual suspects.
The instructions are clear and concise, though where the rigging goes isn't provided to any satisfaction.
---
Four decal options are provided:
---
70th IAP (Fighter Regiment), Khalhin-Gol, August 1939.
15th IAP (Fighter Regiment), Lithuania, June 1941.
72nd SAP (Mixed Regiment) of Nord Fleet Air Force, Vaenga, 1941.
Flown by Major P. I. Biskup, 71th IAP (Fighter Regiment) of Baltic Fleet Air Force, Lavansaari, Summer 1942. This aircraft had it's undercarriage doors removed to save weight.
Another wonderful kit from ICM, fingers crossed a 1/32 LaGG-3 will be coming their way before long.
Kit courtesy of Piggie Banque.
© Andrew Birnie 2018
This review was published on Tuesday, June 12 2018; Last modified on Tuesday, June 12 2018