Tvorenicko | Modeling Stand
Reviewed by Alan Alaine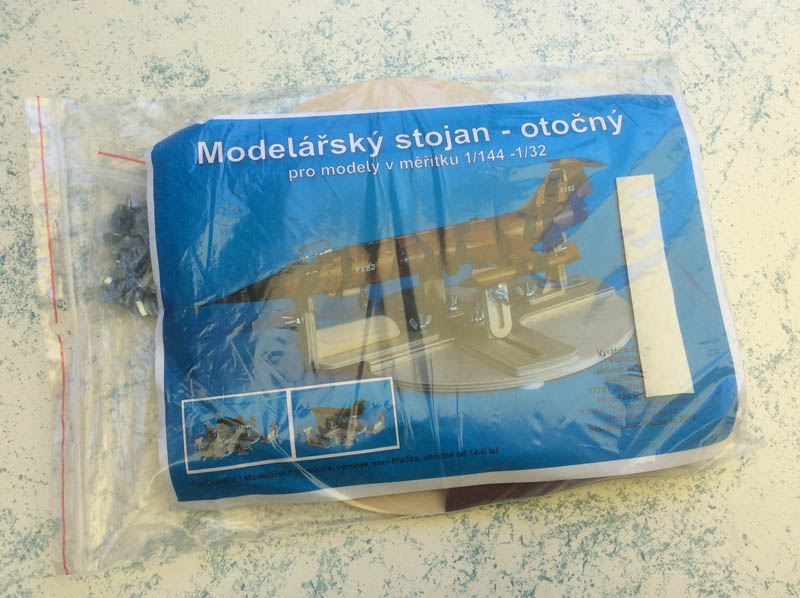 Once in a while you come across something in this hobby that really stands out. After seeing several amazing builds from our very own LSP member Miloslav from Prague, I noticed that he is using a really neat little wooden construction stand to build his single-engine 1/32 aircraft. I enquired with Miloslav and he informed me that the wooden construction stand is manufactured in the Czech Republic by this little company:
https://www.tvorenicko.cz/Modelarske-pomucky-c20_0_1.htm
I noticed unfortunately that this company does not supply any information in English, so I had mine ordered by a friend in the Czech Republic. Upon receiving the order for two wooden construction stands I got to work checking the parts inventory against the easy-to-interpret instruction manual (which unfortunately is only in Czech). The parts inventory provides a generous amount of various shaped saddles (cradles), which support the fuselage, empennage, and wings of any single-engine 1/32 aircraft model. Appropriate hardware is included (butterfly nuts, threaded bolts, washers and rubber mounting feet etc) as well as a small sheet of 240 grit sandpaper and a small tube of wood glue, which I thought was a nice touch! There are a base plate, slotted mounting cross, several arms with adjustable saddles (cradles).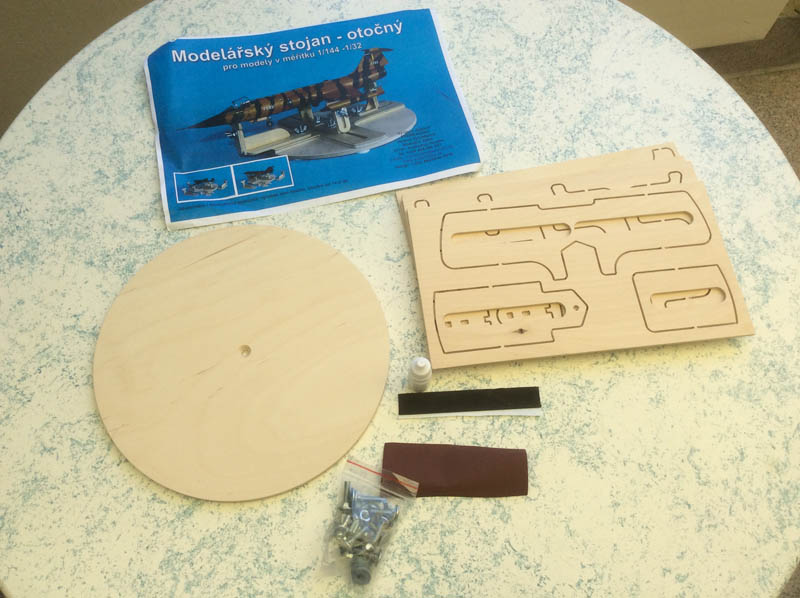 I began construction by cutting the wooden parts out using a fine tooth razor saw. The parts are all CNC-machined from high grade three-layer plywood, so cutting the parts out was relatively straight forward. Once the parts were liberated from the wooden sheets, I followed up with some light sanding using the provided sanding paper. A little clean-up in the various slots using a jewellers file allowed for a seamless assembly. Two types of adjustable support arms are included, three more heavy duty arms for heavier models and four smaller arms for smaller models. I elected to use the three heavy duty arms for the empennage and wings and to use one of the smaller arms for the forward engine support.
---
Perfection in construction was achieved by taking the time to test fit all the parts prior to applying glue. Once the glue was dry, I sanded down all the parts and gave them a nice varnishing using a water-based polyurethane clear coat, followed by another light sanding and another clear coat. Once the various parts were dry I assembled both construction stands. I decided to go the extra mile and glue down some rubber band strips to create a scratch-free barrier, and to provide more grip and cushioning to the model surface during construction and transport. The nice thing about using these wooden construction stands is that you can attach a model to the stand by wrapping an elastic band around the saddles as they are keyed to accept a rubber band. As well, various fuselage lengths and wingspans can be accommodated easily by adjusting the various arms to the most suitable position.
I'll let the various photos speak for the utility and ingenuity of this unique product!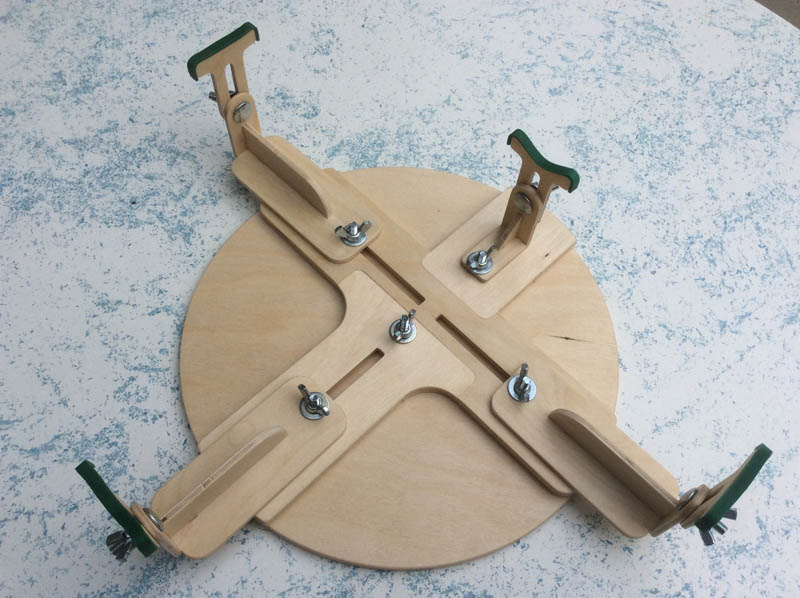 ---
Conclusion
This stand is a simple, robust and elegant construction aid. It was fun to build and will provide much needed support during the various stages of construction during current and future aircraft builds. I am extremely happy with my purchase and highly recommend this well designed and manufactured modelling tool! In the future I will mount this wooden construction stand to an Ikea revolving stand (otherwise known as a Lazy Susan) to increase the utility and to give the stand a solid foundation.
© Alan Alaine 2018
This review was published on Monday, July 09 2018; Last modified on Monday, July 09 2018