Elan13 Miniatures | 1/32 WWI RFC, RNAS, and German Pilot Figures
Reviewed by Mike Swinburne
Elan13 Miniatures is manufacturer of resin figures out of the UK, and while many of the figures and busts are not related to large scale aircraft or even aircraft in general, there is a line of 1/32 scale pilots from World War I as well as several 1/32 Second World War pilots. For the WWII fans, make sure to check out "Scramble" with the running RAF pilot! But I digress, Robert Lane at Elan13 was kind enough to send over some of the WWI pilot figures for review and these are the subject of this article. Additional figures are available and not reviewed here including WWI American and French pilots.
Each of the resin figures comes in a red plastic case well padded with packing peanuts. There are several pieces in each release, with smaller parts enclosed in a small ziplock bag which is sealed inside a larger ziplock bag with the body of the figure. Throughout all of the figures reviewed here, the castings are very well done with no defects, and there was only one item that suffered minor damage (noted below). The figures sent for review have all been sculpted by Robert; while he is not the only sculptor of Elan13 products it appears as though the WWI line is all his work.
#EL49 - German Naval Pilot WWI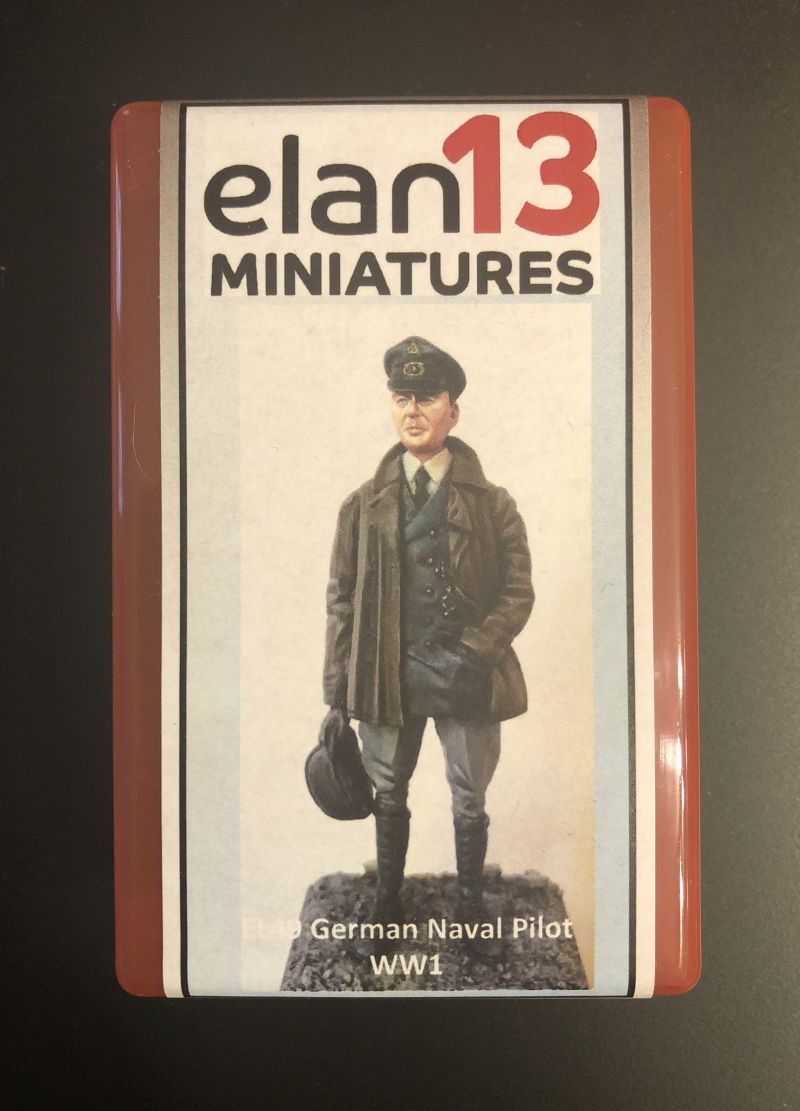 The German Naval Pilot has been sculpted wearing his uniform and cap, with leather jacket over top and holding his pilot's crash helmet. This figure is the only one where there was a bit of damage - one foot was broken off in my sample, at what appears to be a narrow / weak point between the wrappings on the lower leg. Where the break occurred, it's evident that this can be reattached without any potential loss of detail unless you're totally careless. Details are present inside the crash helmet which is a very nice surprise. I do not know if these internal helmet details are given in other products on the market; if they are, I have not noticed them before.
---
#EL73 - Jasta Pilot WWI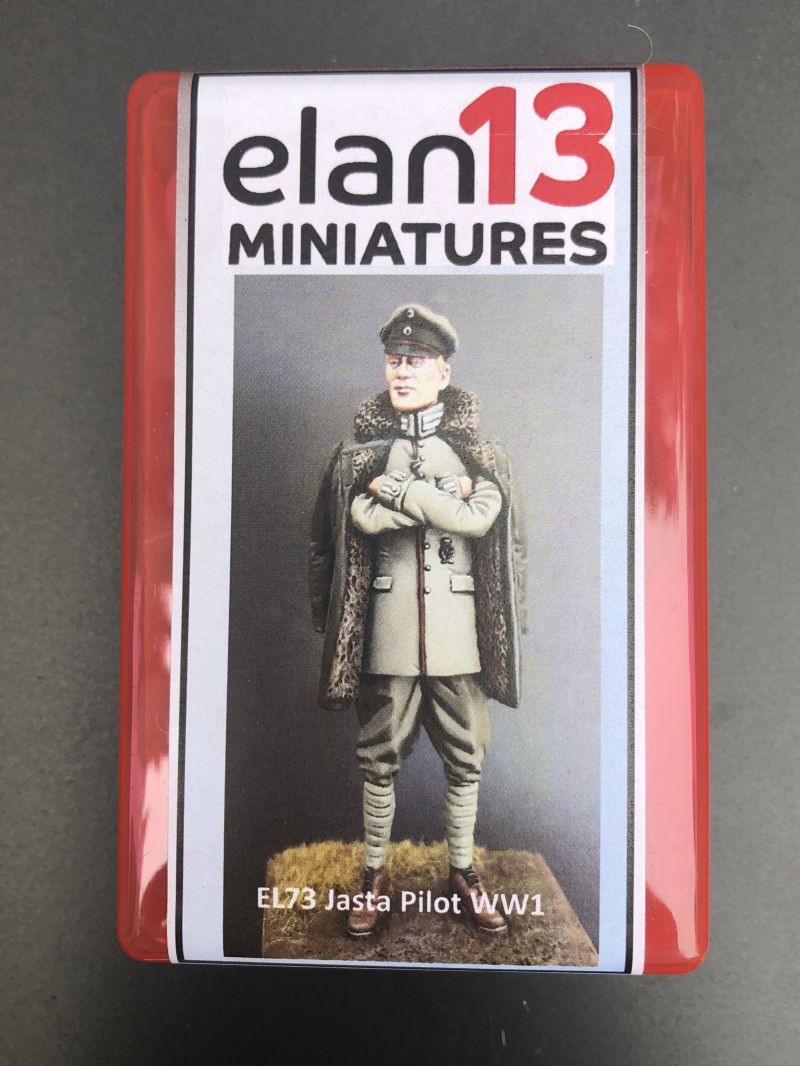 The pose and expression of the Jasta pilot to me really captures the "better than you" mentality of a spoiled child of wealthy aristocrats, which is not out of place for the German air forces during this period in time. He is sculpted wearing his uniform under a wool-lined leather jacket. I found this figure interesting as to me, the face looks oversized on the boxtop photo. Looking at the resin pieces, I'm happy to report that the head and face do not look out of scale. Just two pieces make up the Jasta pilot - full body, and a separate head.
---
#EL25 - German Pilot WWI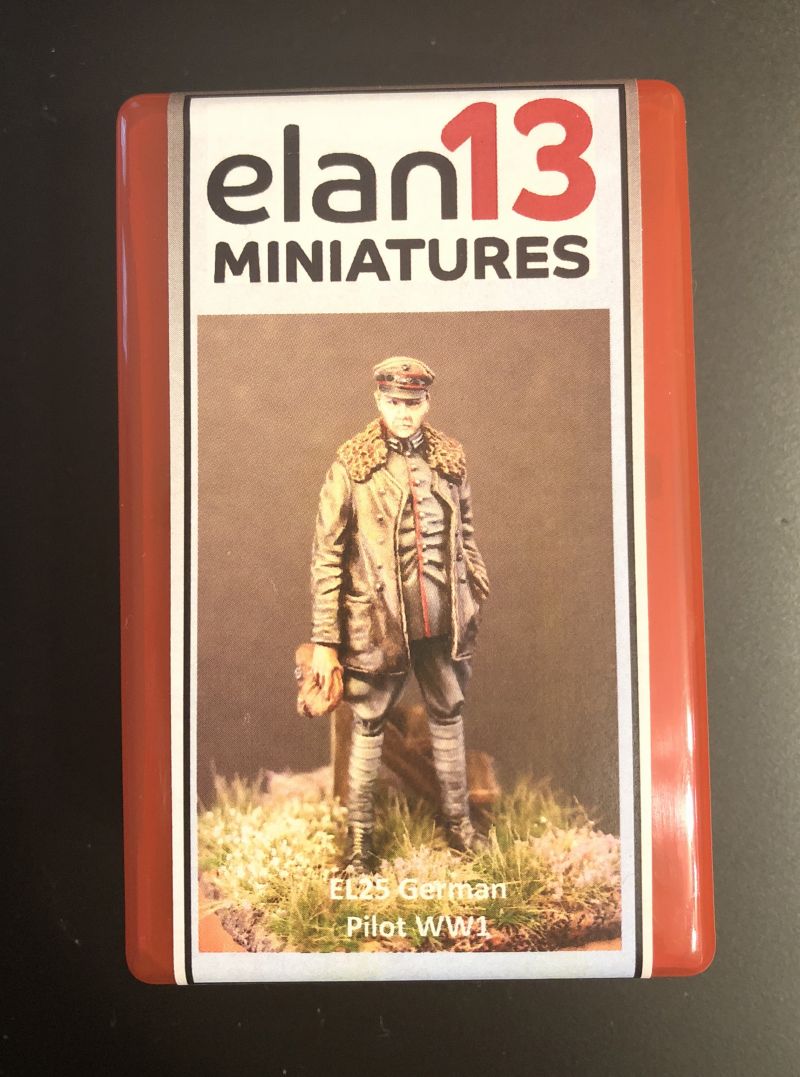 The German Pilot is wearing a wool-lined leather jacket and posed with one hand in pocket, the other holding his leather flying cap. I like the attention to detail as the wool detail continues inside the flying cap. The finer details are nicely sculpted and the fabric creases on the tunic look like it's stretching around the buttons - the pilot may have put on a few pounds!
---
#EL71 RFC/RNAS Pilot in Flying Coat WWI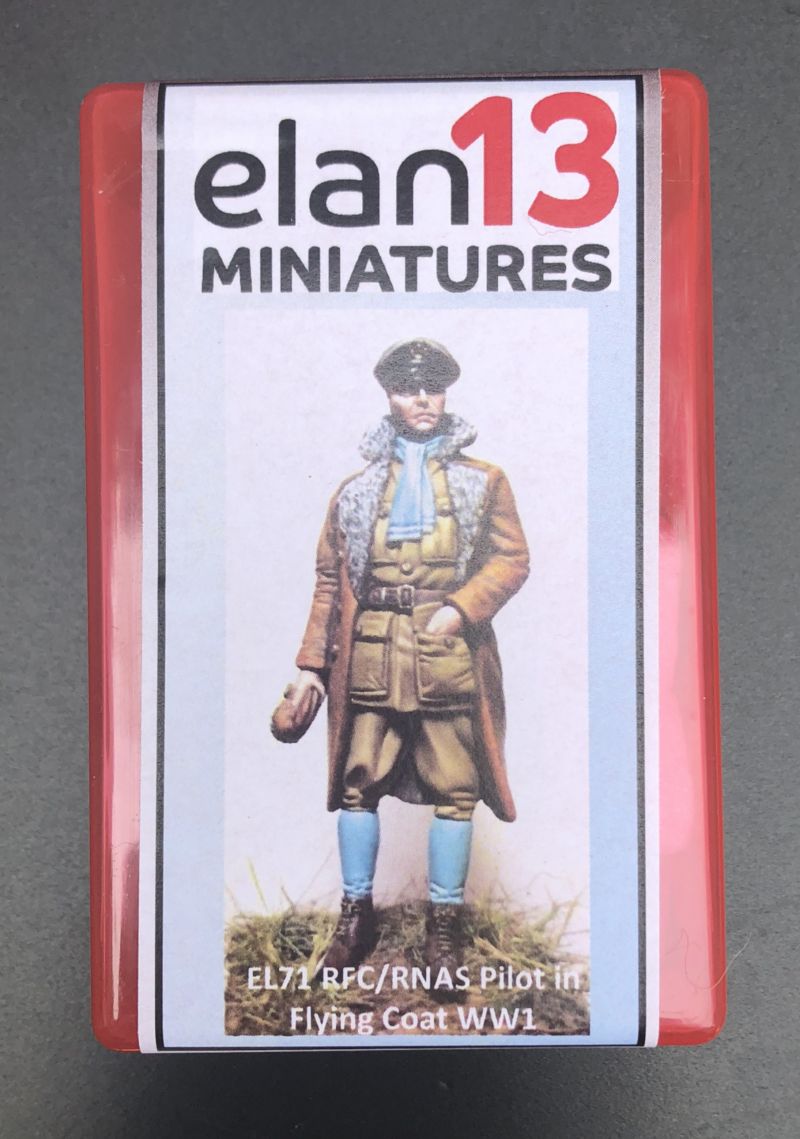 This figure is interesting to me as there are two similar but distinctly different heads included. Both wear the same cap in similar positions; the faces are noticeably different, one thinner than the other and one also with a moustache. Like the German pilot above, this one is sculpted holding a wool-lined leather flying cap, and has his other hand in the front pocket of his tunic. Also similar to the German pilot above, he is wearing a leather jacket over the tunic, along with a scarf. Details again are very nicely done, and the drooping belt at the back of the jacket is a nice touch also. The only small pour stub you need to pay attention to when removing is one on the flying cap, as this is not an area that will become a glue join. The plug is on a smooth area though so the builder should have no trouble removing and sanding without damaging details in the piece.
---
#EL63 RFC Pilot in Sidcot Suit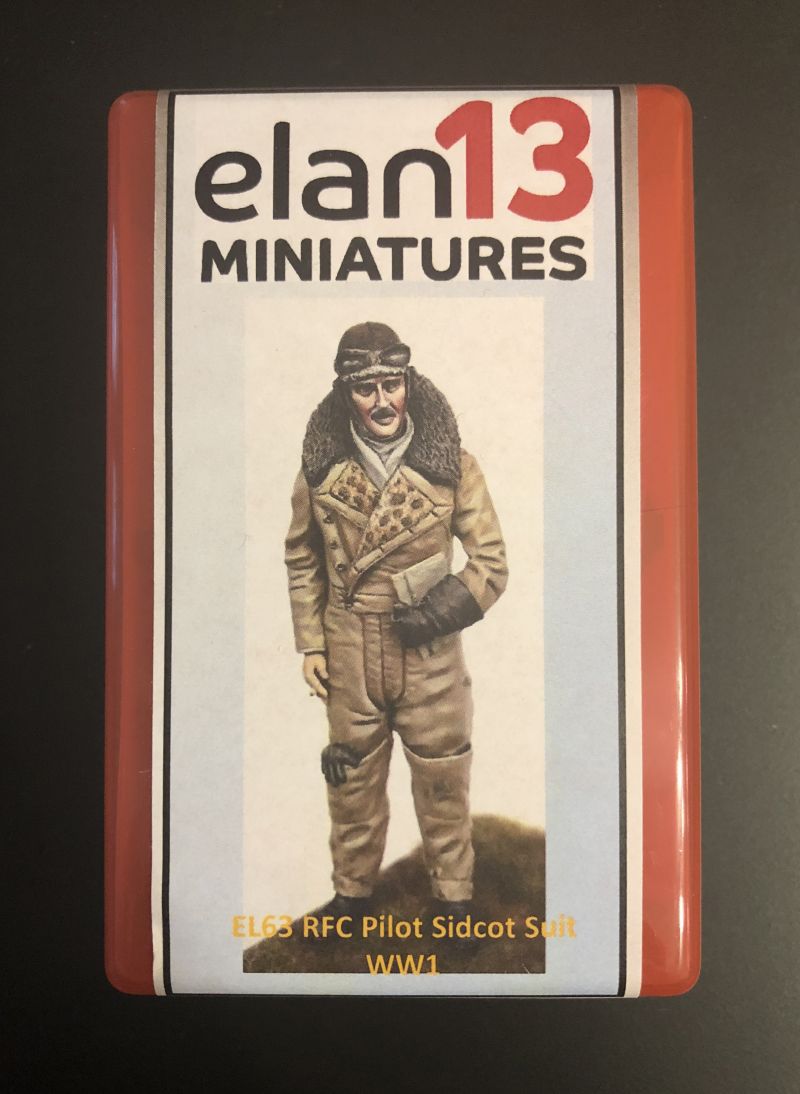 There aren't too many WWI figures out there who are depicted wearing a Sidcot flying suit, so here we are with exactly that. This pilot is ready to climb into his aircraft with flying cap on, goggles on his head, map in hand and a glove sticking out of a knee pocket. There's not much else to say about this one - separate head and arm with map, and again, very nicely sculpted details throughout - love it!
---
#EL48 Coat On! RFC Pilot WWI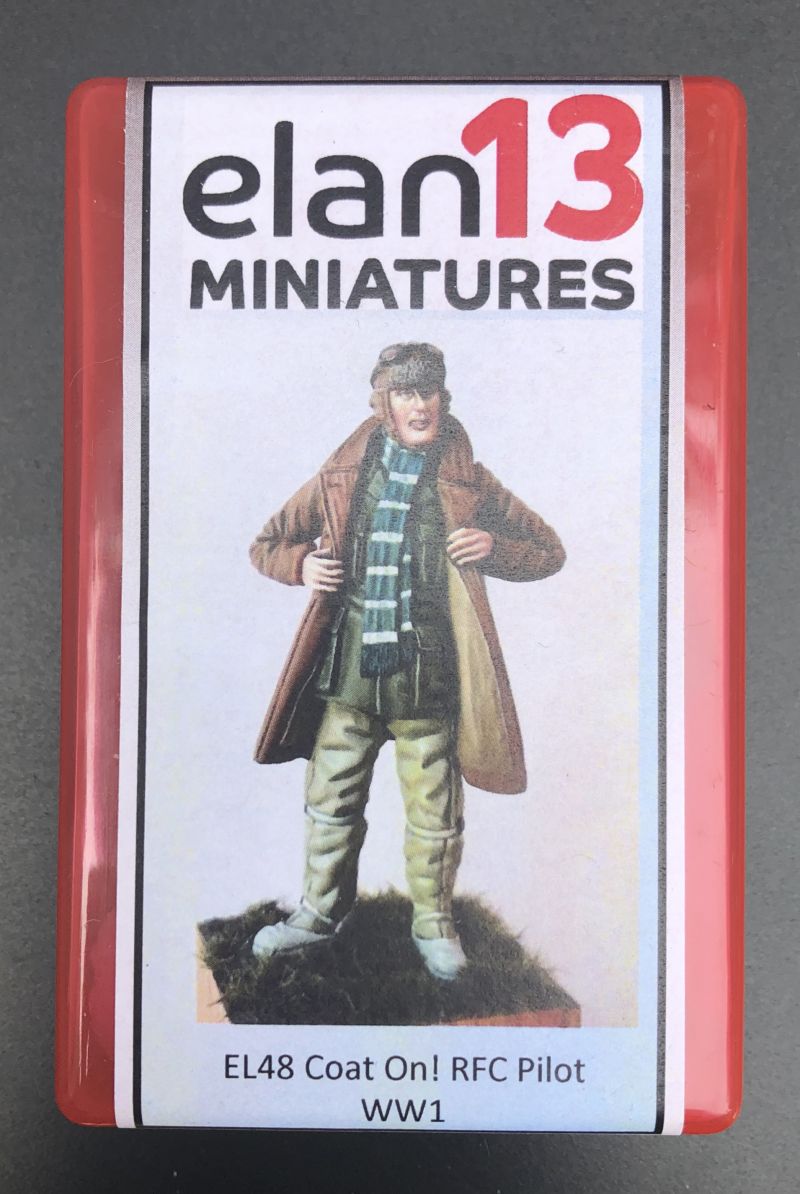 Four pieces make up this figure which has been sculpted pulling his leather jacket on over his tunic in preparation for a sortie. While the hands are sculpted in one piece with the torso, the arms and head are separate pieces. The figure appears to be bundled warmly with the wool-lined leather cap and scarf, the details are very convincing to this reviewer's eyes. One goggle lens may be slightly taller than the other but if it is, it's hard to detect with the naked eye (I only noticed it on the enlarged photo below) and it should not be difficult to correct if it's not to the modeller's liking.
---
#EL26 Anyone For Cricket?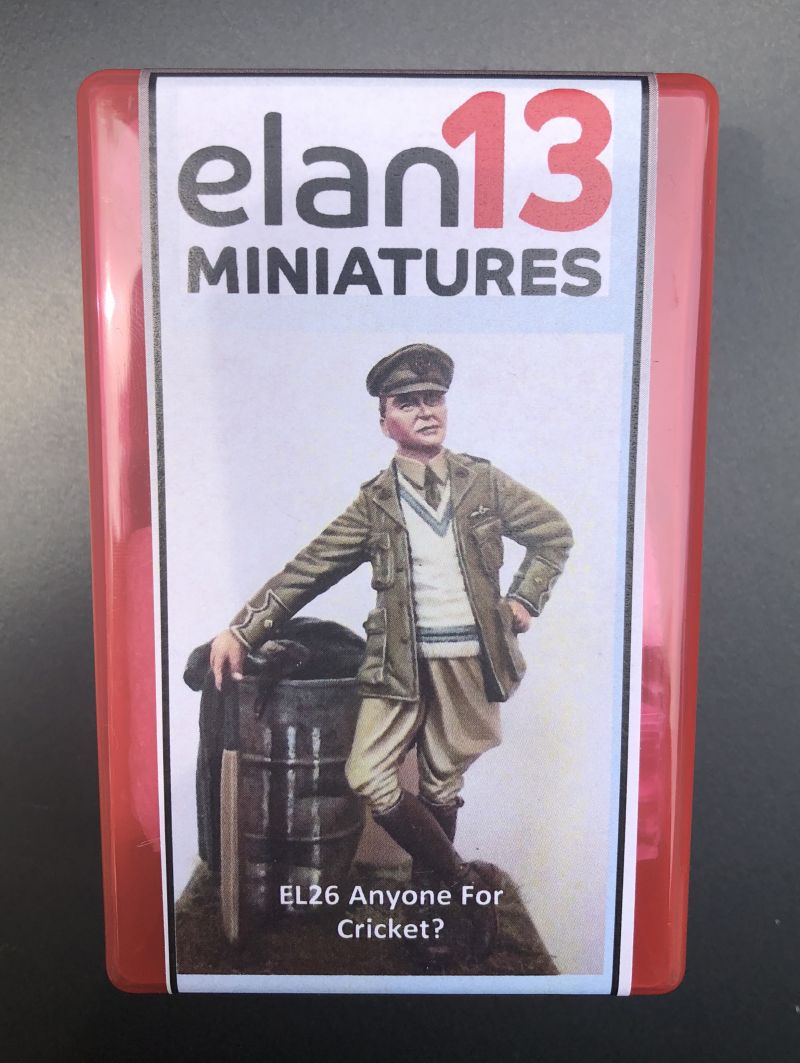 This figure is the type that you don't see too often in any scale or period, at least so far as aviation-related figures go. I'm referring to a depiction of relaxation and trying to go about normal life during deployment in wartime, and it's my favourite figure of all the ones reviewed here. A cricket bat and a convincingly dented oil drum with jacket are included with this figure. Leather jacket and flying cap are sculpted on top of the oil drum, and the separate bat includes an attached hand. The face appears to have a subtle smirk in the sculpt also.
---
#EL36 RNAS Pilot WWI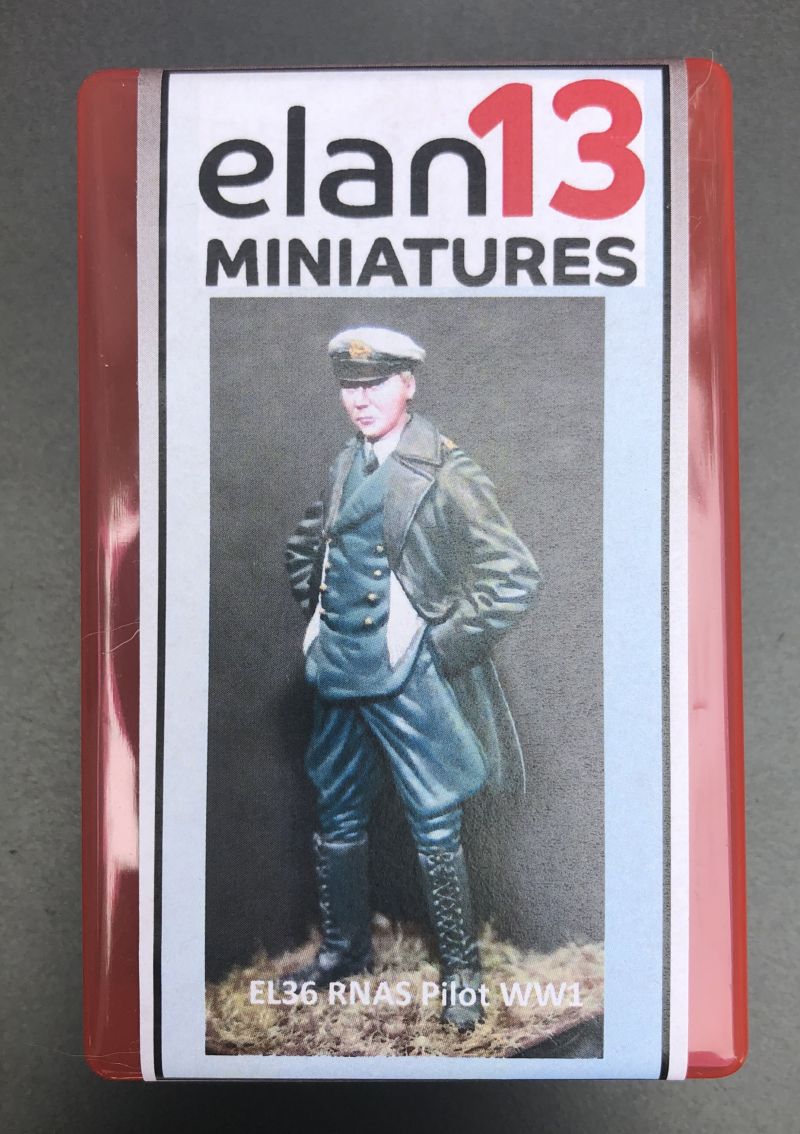 There aren't many options for Royal Naval Air Service figures, so this is a welcome addition that will look good with an appropriately-marked Sopwith Triplane or Camel, or even posed with a Felixstowe flying boat. The pilot is sculpted in two pieces (head and everything else), with hands in pockets of his uniform, black leather jacket on top. The details look very nice throughout, I especially like the face and lace details. Similar to the Jasta pilot above, the face looks oversized to me in the box photo but also like that figure, the resin part looks much more in scale to my eye.
---
Overall I'm very impressed with this assortment of figures and look forward to seeing what releases may come in the future. As I look over the photos of the various faces, it's clear to me that there has been a good amount of attention paid to the details. The faces in these figures are unique in each offering, not one or two "generic" heads repurposed for multiple products."
Some details in the figures may be slightly less refined than those of some other figures available on the market, but this is also much more noticeable in enlarged photos on a computer screen than they are on the products themselves. I find these details to be very convincing and still well within the range of what discerning model builders and figure painters can expect from quality products. The figures were kindly provided by Robert at Elan13 for review, and can be purchased directly from Elan13 Miniatures for £13.00ea plus postage, with the exception of "Anyone For Cricket?" which is £14.00 plus postage. Recommended!
© Mike Swinburne 2018
This review was published on Thursday, October 18 2018; Last modified on Friday, October 19 2018