Fisher Model & Pattern | 1/32 AD-5 Navy "Fat Face" Skyraider Conversion Kit
Reviewed by Mike Swinburne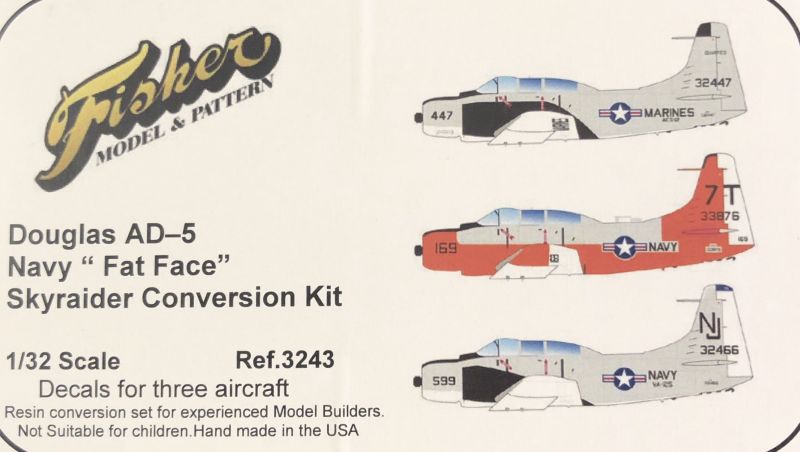 Following several months behind their popular A-1E conversion, Paul Fisher and Fisher Model & Pattern have released a resin conversion to produce the AD-5 "Fat Face" Skyraider flown by the US Navy and Marine Corps. The conversion set is designed to be used with the Trumpeter Skyraider kits but can also be used with the Zoukei Mura kits with a little extra work.
The AD-5 comes in a rectangular cardboard box with artwork on one of the box ends. Similar to the A-1E conversion, a fully new fuselage and interior are the highlights of this set. A resin cowling is included to correct the misshapen Trumpeter cowl along with insert to plug up the underside and complete the fuselage. Pieces are included to convert the landing gear wells, gear struts and covers, and centerline pylon, and various other detail parts complete the airframe. Small parts are packed in two zip lock bags, with the canopy pieces in a third zip lock. Large parts are wrapped in tissue paper and then all the empty space remaining in the box has been filled with tissue paper to safely package everything and protect smaller pieces from damage that could be caused by the large fuselage during shipping.
Turning to the donor kit, the builder will need the engine, propeller, horizontal tail, and all wing, pylon, and landing gear/arrestor hook pieces to complete the build. For those working with the Trumpeter kit as a base for this conversion, corrected naval wheels and A-1 propeller blades are available from AMS Resin (through LSP sponsor Sprue Brothers) if complete accuracy is needed.
Fuselage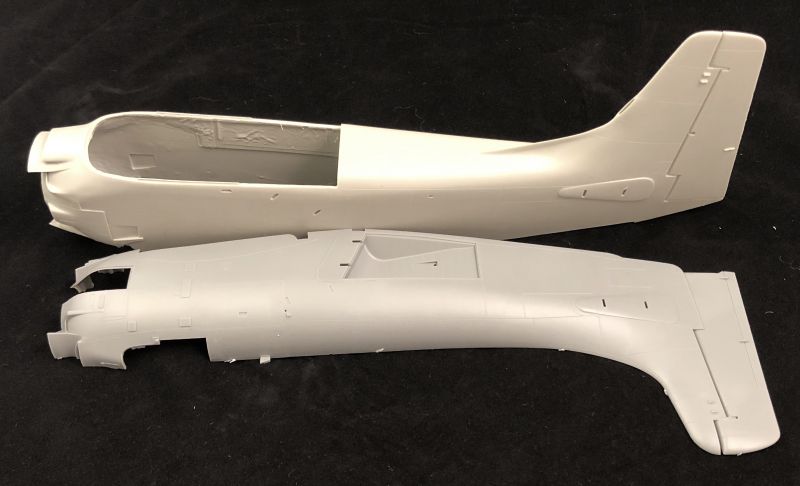 Despite only bring about a half inch longer than the single seat A-1 in this scale, the new fuselage looks and feels much larger. Sitting the new fuselage next to a 1/32 Spitfire, the size of this plane is immediately apparent. The panel lines are nicely recessed and match the plastic pieces perfectly. The sidewall padding in the interior is cast into this piece and looks quite convincing. Fisher has nicely captured the twist in the tail, a design feature built in to counter the torque of the plane's engine.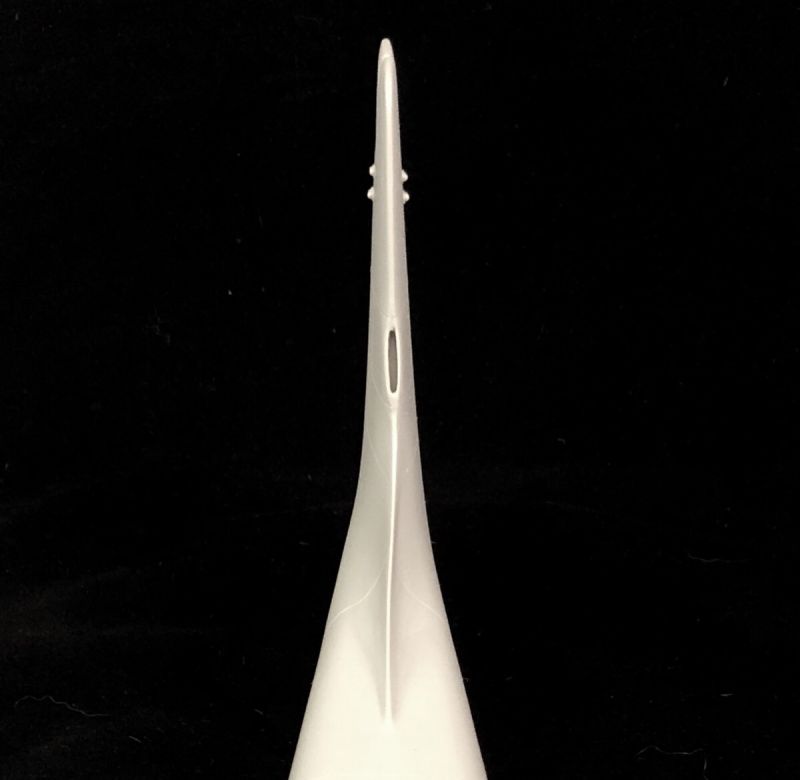 Mounting slots for the horizontal stabilizers are capped inside and will need to be opened up to allow the plastic pieces to attach properly. This should be quick work with with a drill bit, scalpel and small file. The canopy is molded in four pieces of beautifully clear and distortion-free resin. These are the windscreen, the two sliding portions, and a one-piece greenhouse (blue house?) rear canopy. Dry fitting points to a very good, if not perfect, fit for these pieces.
---
Interior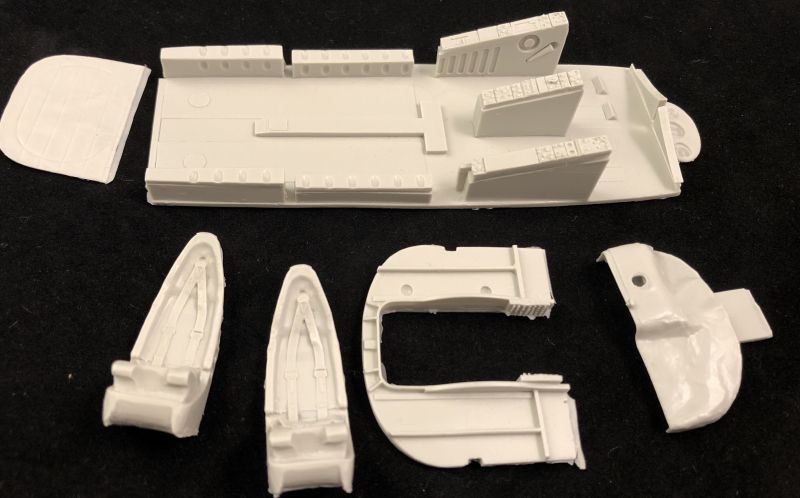 For those who have seen the A-1E conversion, much of the interior will look similar. Differences between the two variants have been captured accurately including a new control panel, coaming, and observer/instructor's foot rest in place of the later control column and rudder pedals that were added on the Air Force version of the plane. Two Douglas seats are included with harnesses cast in place, with all details sharp and well defined. Instruments are printed on thick glossy paper and should look great glued behind the resin control panel.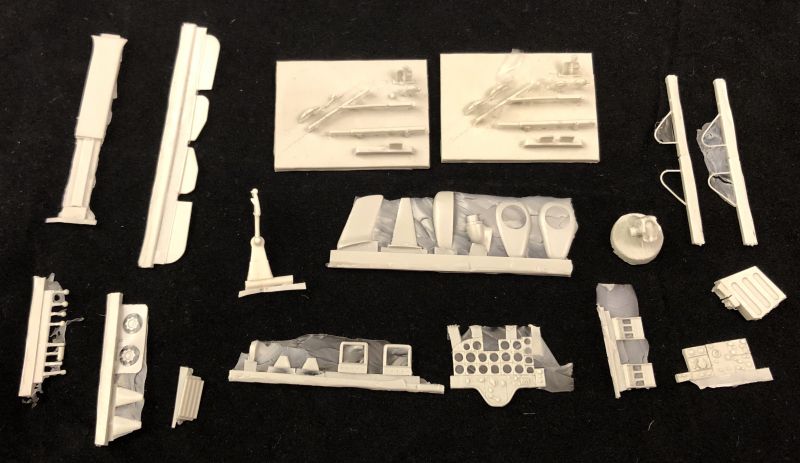 The padded surfaces on the Douglas seats, cockpit sidewalls, coaming and rear bulkhead all look quite convincing and should look great once painted. Various levers including throttle are cast on a separate pour stub and destined for the pilot's side console. Separate rudder pedals, control column, gun sight, sliding canopy pull cords also come on their own pour stubs, and a larger pour stub has some finer detail parts including windscreen wiper blades. This last item and the pull cords include backup copies in case the builder manages to break any of these small parts or inadvertently feed the carpet monster.
---
Wings and Exterior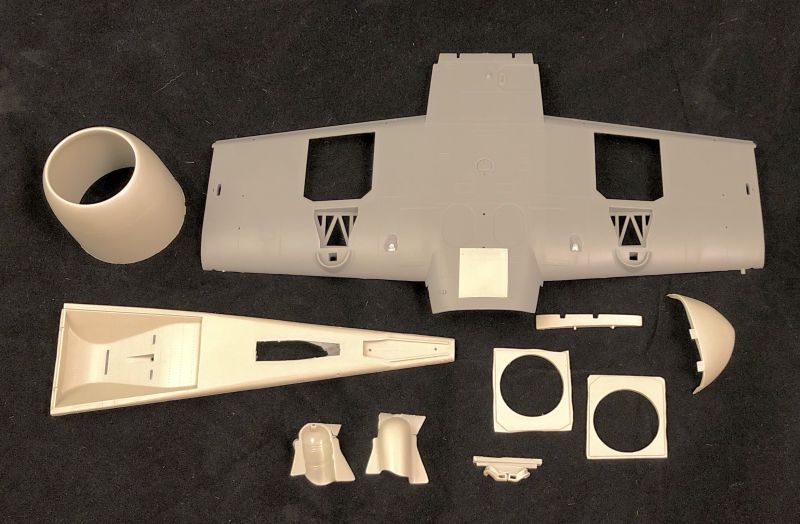 I let my enthusiasm get ahead of me and I did a bit of work on the kit before starting to work on the review. The resin plug for the oil cooler has been glued into place on the Trumpeter center wing in the photo above and gear bay inserts removed from their pour stub. The oil cooler plug fits great and sits with a little bit of a lip at the back side. I don't know if this should be a flush panel or not so check your references as you may need to sand it even with the rest of the wing surface. Gear well inserts seem to be a tiny bit too large to fit and the plastic will need to be sanded back ever so slightly to achieve a good fit. You may notice in the photo also the wavy edges of the gear well inserts - this was due to my whittling some of the "lip" away that is not seen once the part is glued in place, before realizing that the imperfect fit was not due to their being oversized.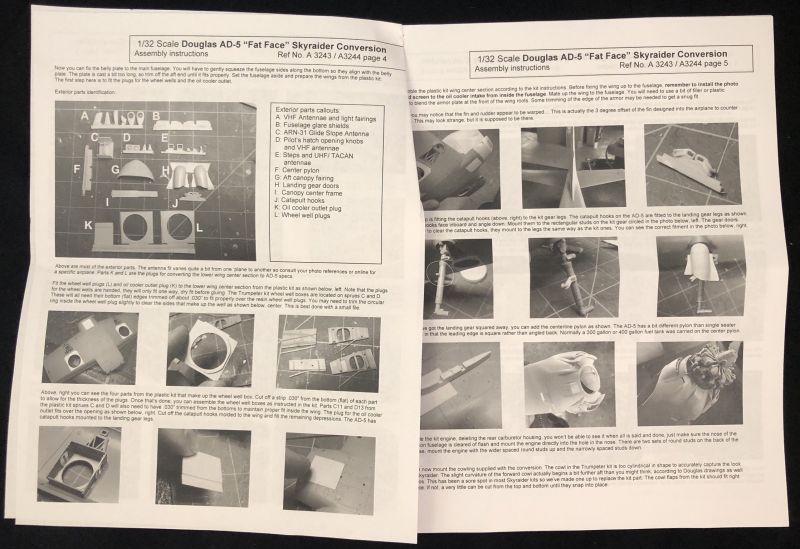 New front gear doors and strut-mounted catapult hooks are included along with a new centerline pylon accurate to the AD-5. The builder will need to remove and fill the catapult hooks from the Trumpeter wing underside. Fisher provides new flame shields for the nose as these have a different shape than the single seat A-1s. There are several parts included that may not be needed for the AD-5 conversion but are needed on the A-1E. Luckily the instructions are laid out in a way that will clearly show where each needed part goes and describes the assembly via photographs and text.
Marking Options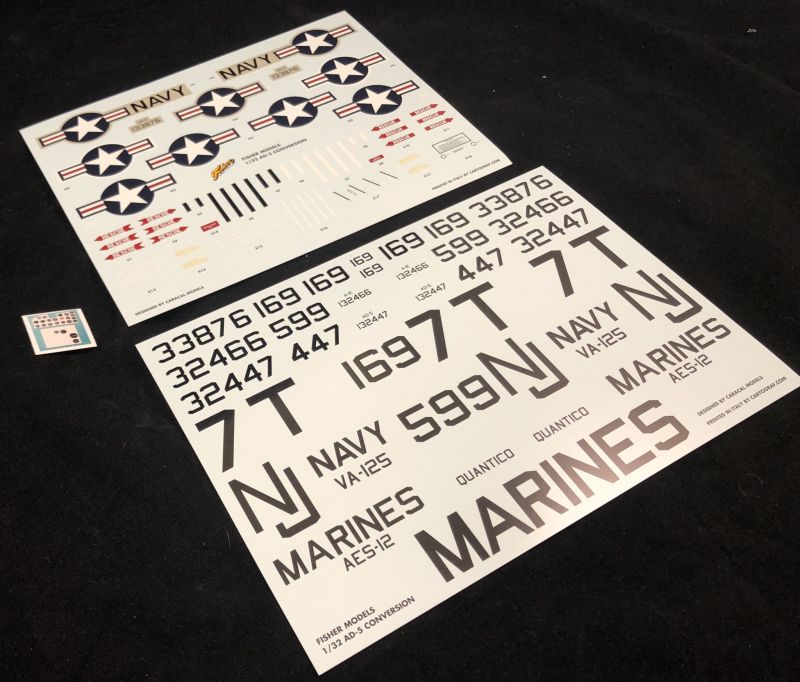 The conversion provides decals for three aircraft: USMC AES-12 in the 1960s gull grey and white scheme, USN VA-125, 1965, also in gull grey over white, and a trainer based at NAS Sand Point in fluorescent red, gull grey and white. Decals were designed by Caracal Models and printed by Cartograf. One decal sheet provides full-colour markings including the stars-n-bars and various stencils, while a second sheet printed only in black gives additional decals for aircraft numbers and codes. All decal artwork is very sharp and appears perfectly printed.
---
The fluorescent red called out in the paint diagram is FS 28915, which appears to only be available from Testors Model Master (#1775) and Vallejo Air (#71.082). Figuring that I needed a model in my collection that can be seen from the International Space Station, the trainer scheme is what I have planned to build from this set and so I picked up a bottle of each to determine which may be the better paint option when finishing this flying dump truck. It appears at first glance that the Model Master product will be best when comparing to the photos I could find online of these gaudy aircraft. Vallejo's fluoro red comes out a bit lighter and has a slightly more orange shade than the Model Master.
---
Conclusion
For those looking to try their hand at a fairly major yet fairly straightforward conversion, and any fan of the aircraft, FMP's AD-5 conversion will be a great choice. With large and relatively simple surfaces, there will be ample room for shaky or careless hands to build this one without much difficulty and I recommend it to anyone with a few large scale kits under their belt. Fisher's AD-5 conversion is available direct from Fisher Model and Pattern for $115 or $215 for two full conversions in one box, both prices plus shipping. Review copy is courtesy of my own wallet.
© Mike Swinburne 2018
This review was published on Wednesday, July 25 2018; Last modified on Friday, July 27 2018