Tamiya | 60325: Vought F4U-1A Corsair
Reviewed by Brian Leitch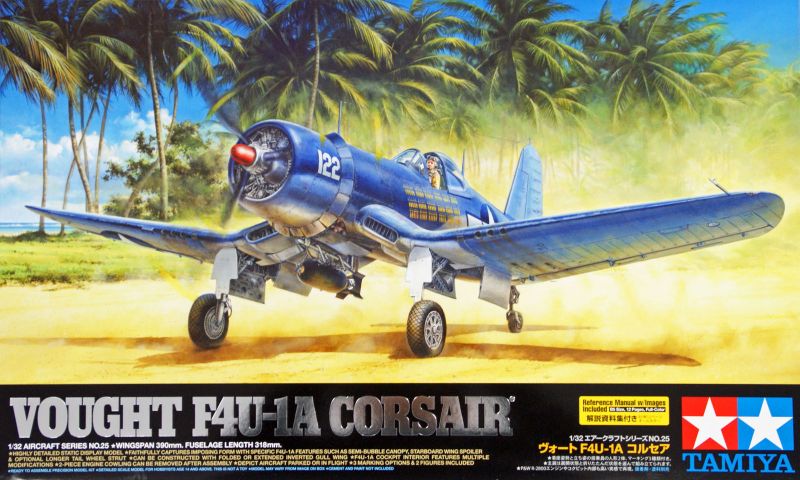 This is the excellent F4U-1A from Tamiya in 1/32nd scale. The kit was released in 2014, a year after their Birdcage Corsair. I won't get into the historical documentation of the F4U as there has been plenty written about the aircraft and its service history, so I'll dive right into the kit.
The 1/32nd Tamiya F4U-1A has a fuselage length of 318mm, and a wingspan of 390mm. The kit contains:
450+ parts in grey plastic (plus 11 for the two figures)
27 parts in clear (unless one includes the 22 limited edition clear cowl parts that some limited edition kits came with)
four black plastic pieces
two frets of photo-etched metal
one self-adhesive metallic name plate
a self-adhesive masking sheet
two vinyl tyres
two metal rods; one screw; one nut; one small screwdriver; one poly cap
two decal sheets with markings for three schemes.
The kit also contains a cowl with two separate panels that can be painted and removed after assembly. Tamiya has also done an excellent job with the supplied R2800 radial engine, so the ability to remove the cowling to show it off, will be a plus for a lot of modelers.
The kit also can be built wings extended or wings folded, and can also be build wheels down, or wheels up, with the included in flight stand.
The kit comes with decals for three schemes: one USN and two USMC.
Box/Packaging
First impressions of a kit often start with the box and box art, and of course Tamiya has generally done a very good job in the past with box art, and the -1A is no exception. Upon inspection of the box, it's typical Tamiya with a robust cardboard top opening box, with that great front cover art, and side view pictures of the schemes on the side of the box. Overall, the box and art are par for the course for Tamiya: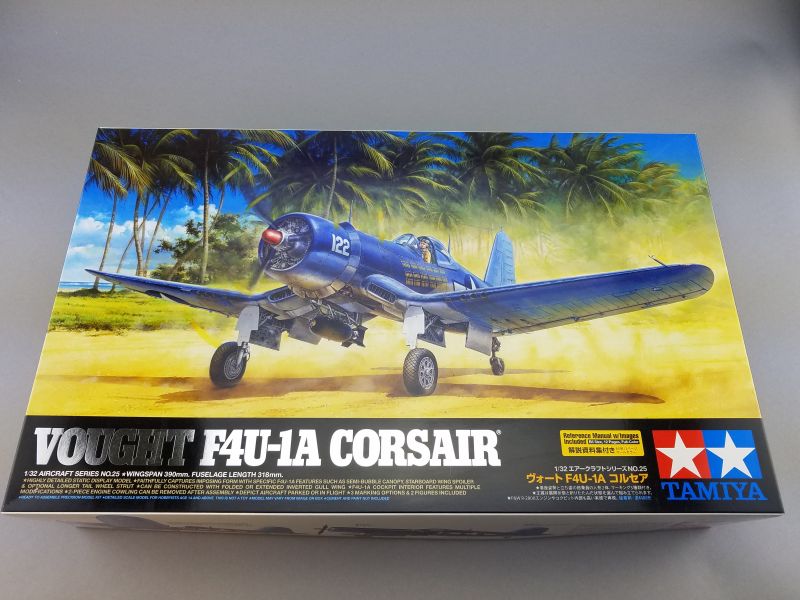 When you open the box, you will find it is still in keeping with Tamiya's style; a LOT of styrene packed very well, with some cardboard divisions to keep some of the parts separate, and each sprue separately packed in its own bag. The parts count of this kit is quite high, and the box is duly packed to the brim with parts: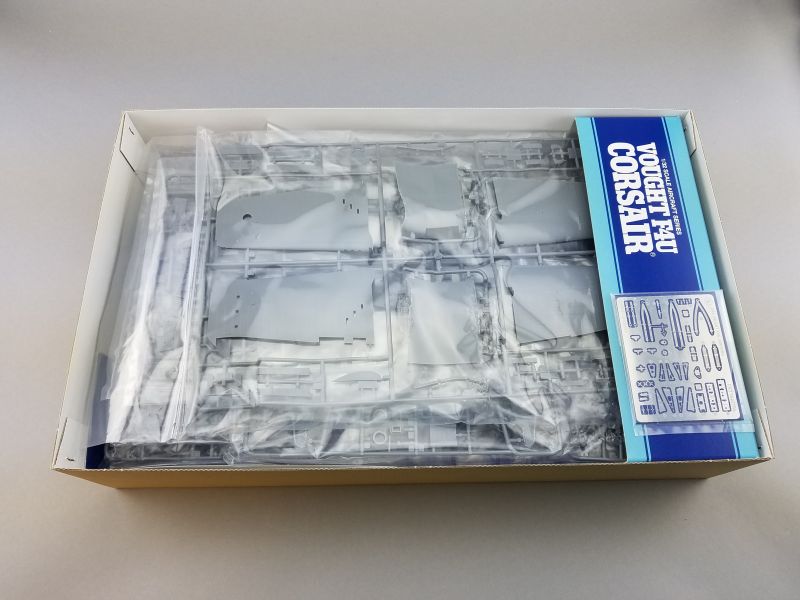 Sprues
After digging into the kit, you will find copious amounts of styrene packed each in their own bag, with the vinyl tires and other screws and hardware all packed in their own bag, as well as decals in their own separate bag. Tamiya has done a good job keeping things clean and nice in the kit itself.
The parts count for this kit is 450+, and nearly every single one is a little engineering marvel. The major kit pieces are really well done, and the detail is both well done, accurate to what I can tell, and very restrained. Tamiya's surface riveting is second to none as far as I'm concerned, and the Tamiya F4U-1A is no exception to this.
The main fuselage and wing panel parts are exquisite, and the riveting needs to be seen in person to truly be appreciated: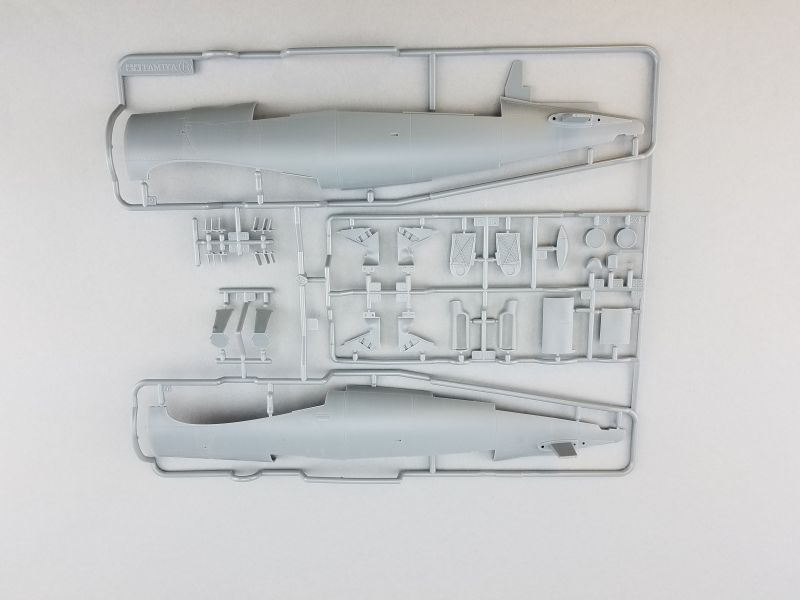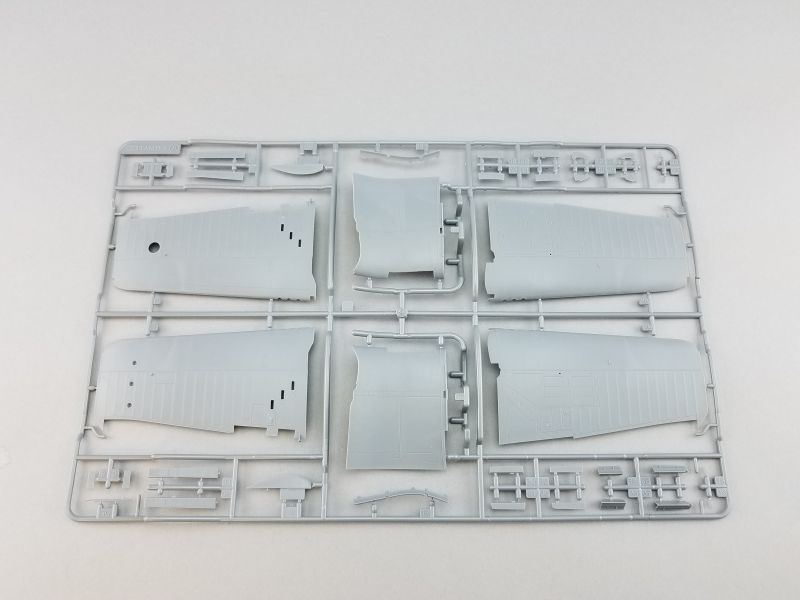 ---
The lower center wing section is a little work of art all on its own, and the engineering, molding and rivet detail is about at high as one could ever expect on a plastic model: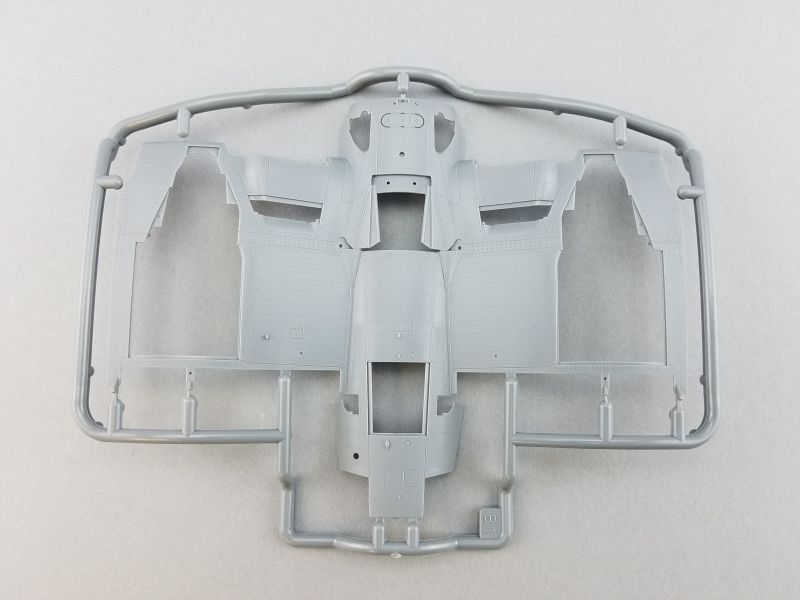 ---
Tamiya's fabric section detail on the wings and flying surfaces is about the only thing I think is not up to the "near perfect" standards we have come to expect, but is still very restrained, and decently done. Fabric representation is one of the most difficult things to get right, and while not perfect in my opinion, it's still done about as well as any mainstream manufacturer has done: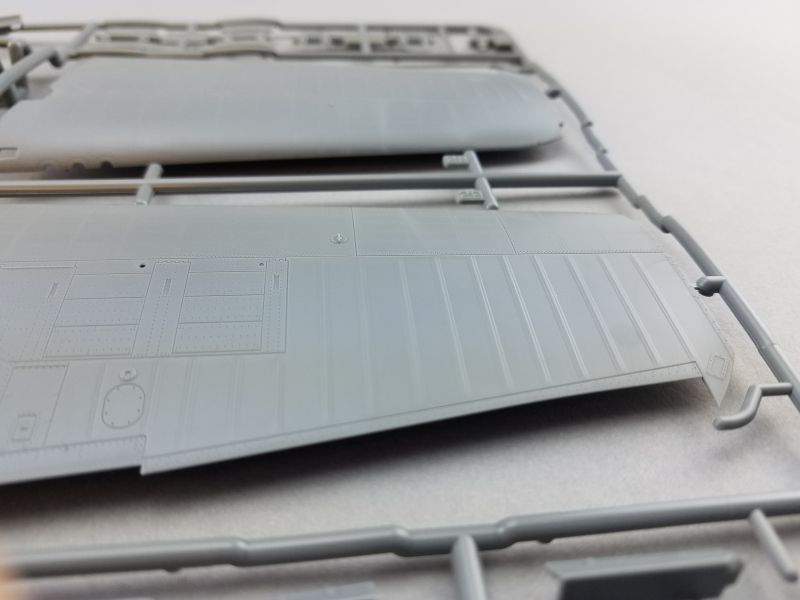 ---
Tamiya also includes an excellent P&W R2800 Double Wasp engine in the kit. This is very well molded and with Tamiya's provided removable cowling, they provide the ability to really show off this little marvel. Some choose not to have open panels, but even from the front only this engine will add a lot of scale realism to the model for sure. The exhausts that Tamiya provides are hollow, and also very well done, especially for out-of-the-box: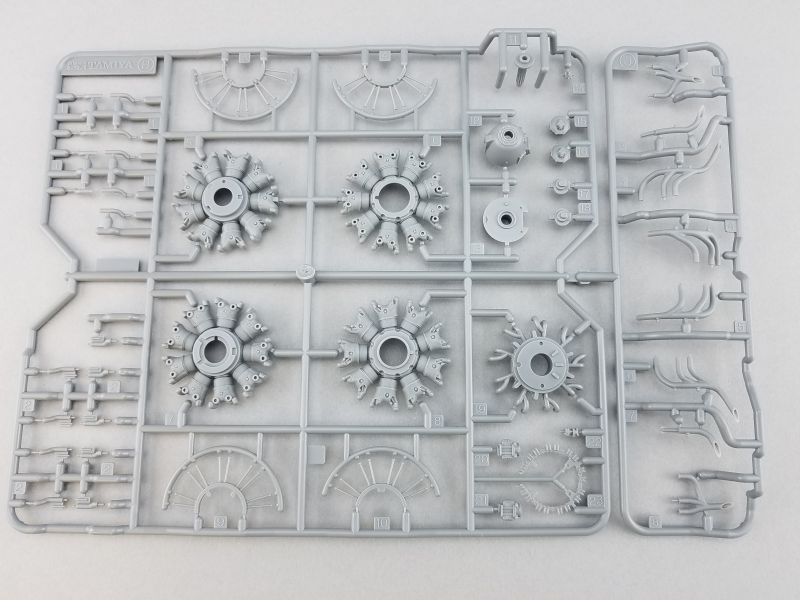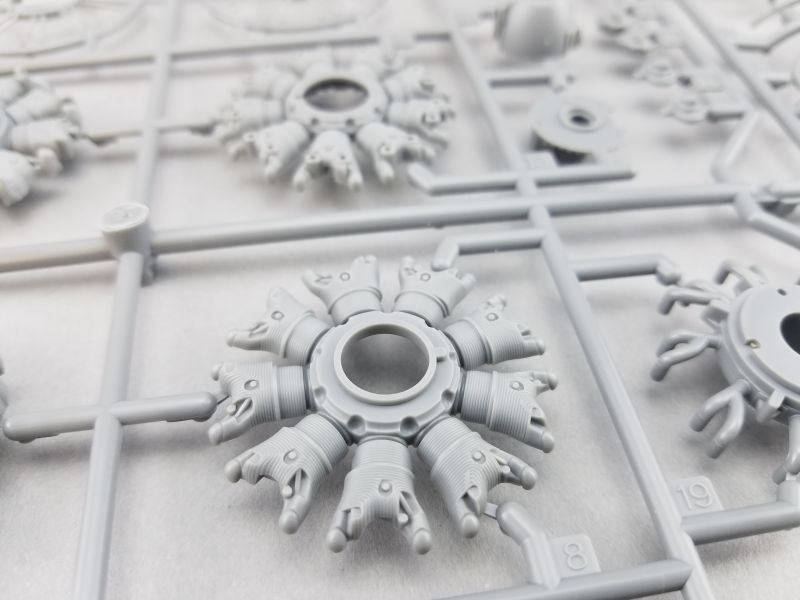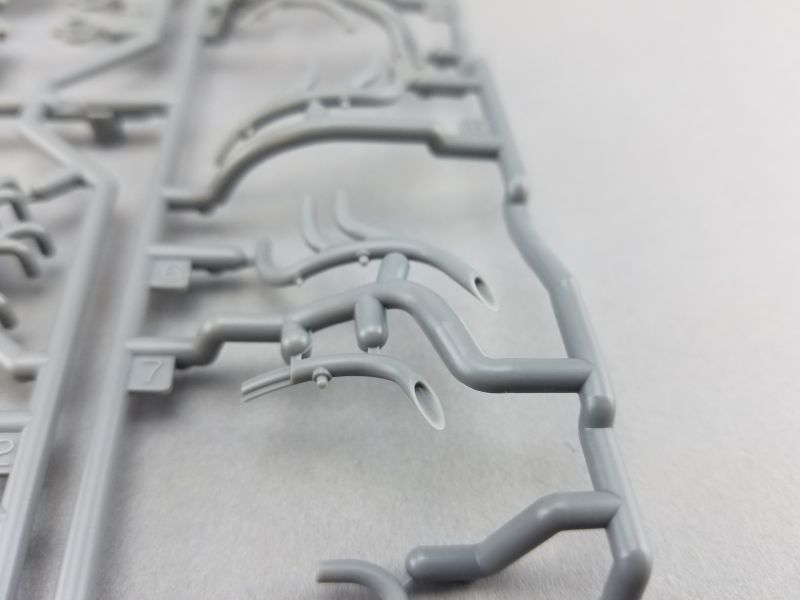 Tamiya also smartly gave the modeler an option for fixed folded, or fixed extended wings. They accomplished this with two different sets of internal spars for the model. This option does make the extended wings a bit stronger, but even with the folded spar inside, the folded wing option does appear slightly more fragile: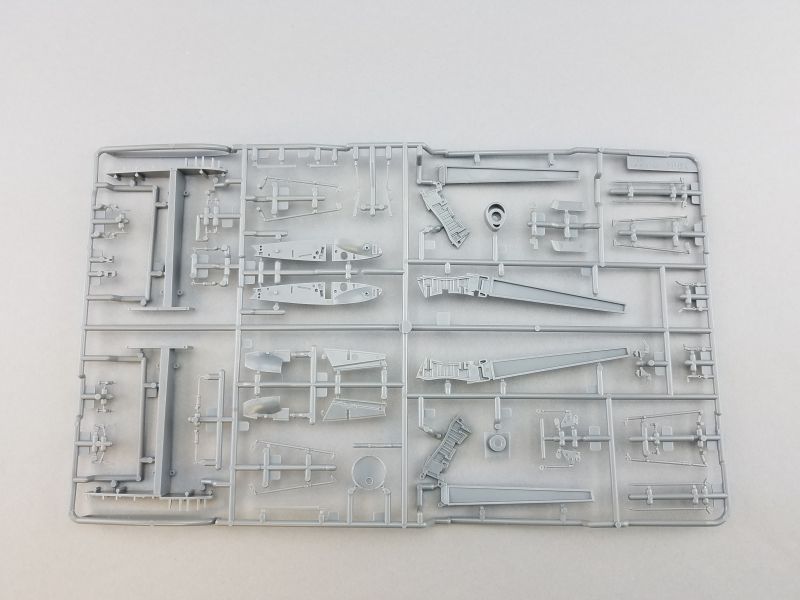 The main wing spar Tamiya provides for the center section is very much like the real thing, and makes that section of the model very robust in the end: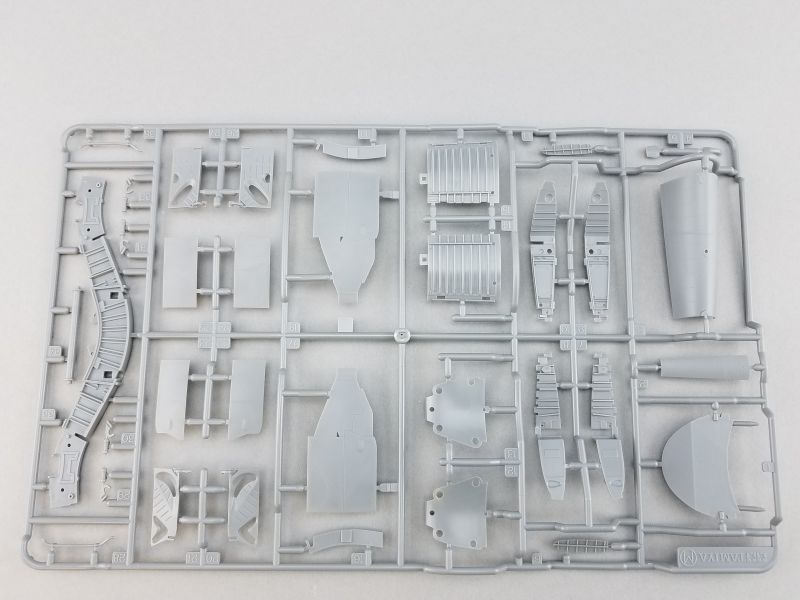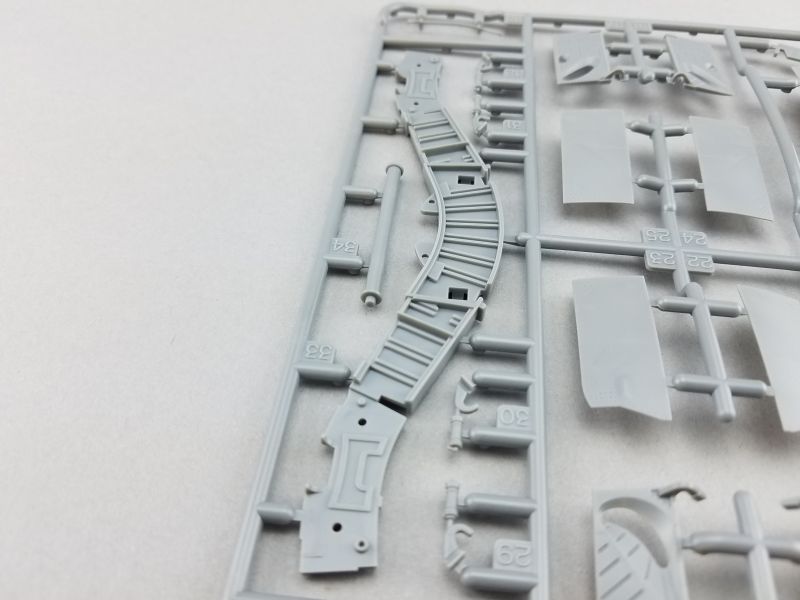 Tamiya also provides two pilots, one standing and one sitting for the gear up in-flight option with the included in-flight stand. The standing pilot has goggles and face mask off, and the sitting pilot has no goggles with face-mask on. The molding on the standing pilot in my opinion is slightly better, but both are well molded and would be appropriate looking in or next too the model: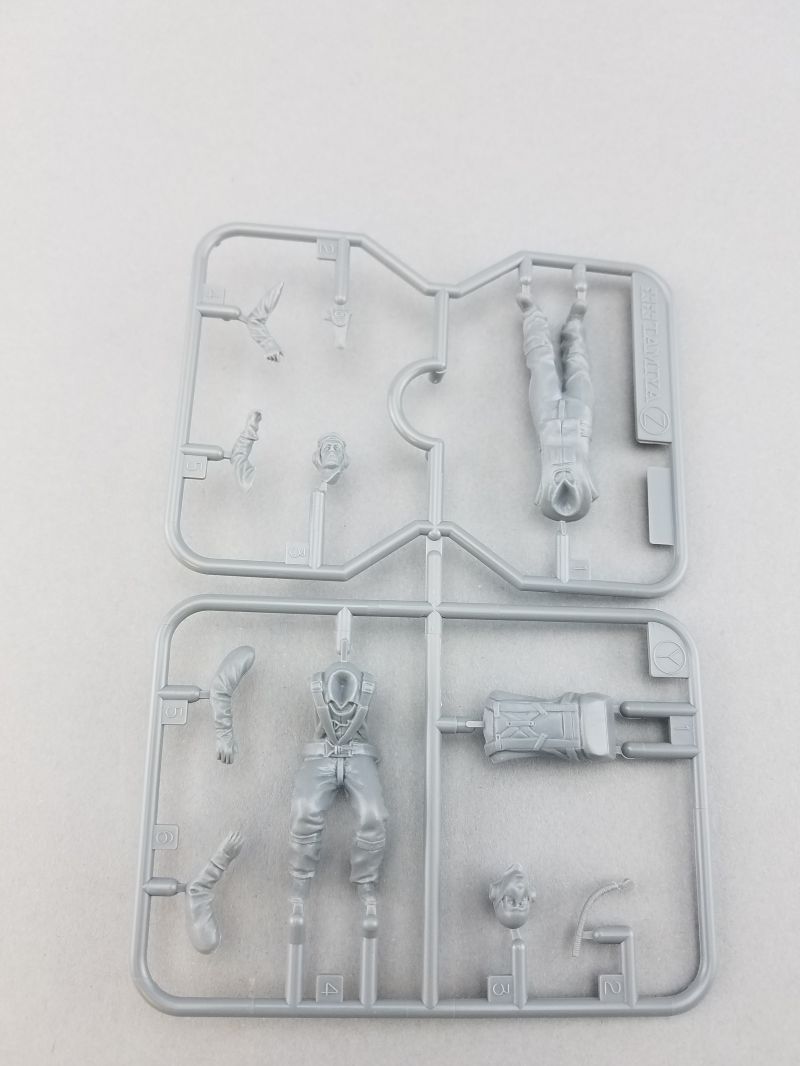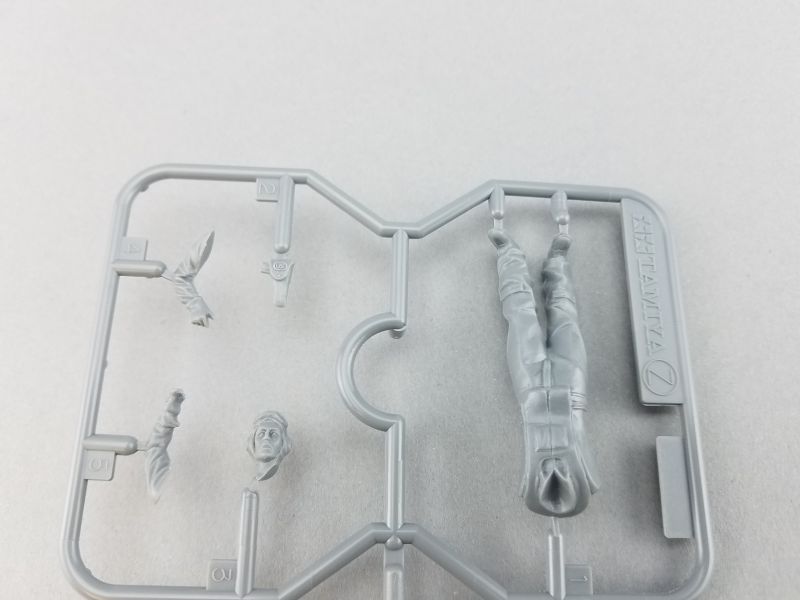 Clear Parts
Tamiya provides their clear parts in a separate clear bag, and they are some of the clearest, most blemish and distortion free clear parts I've seen come in a model: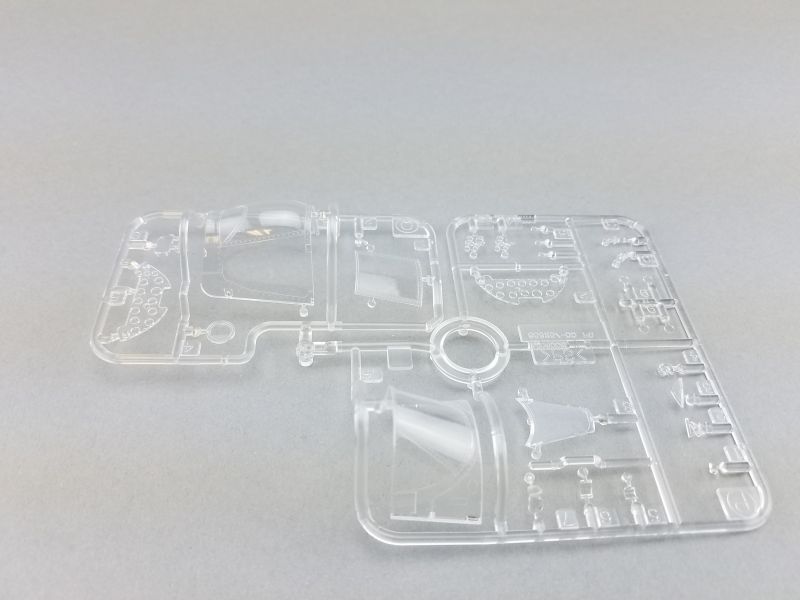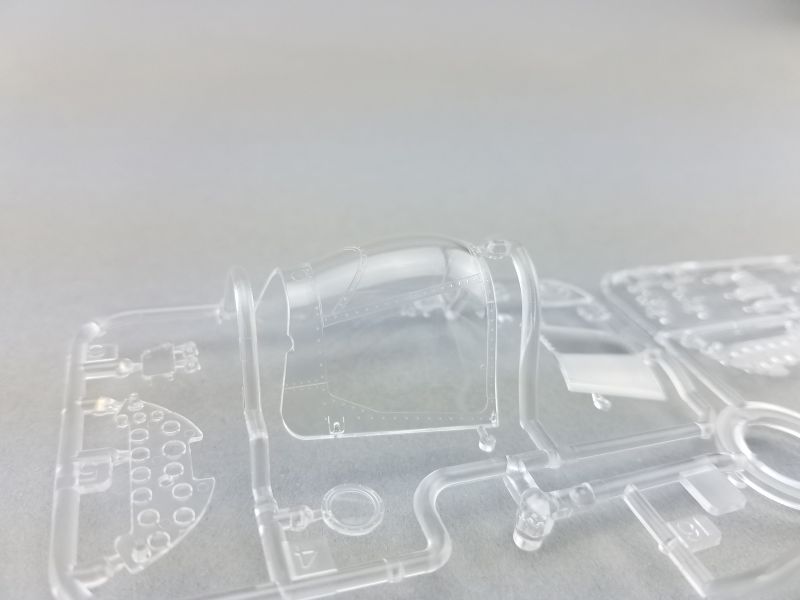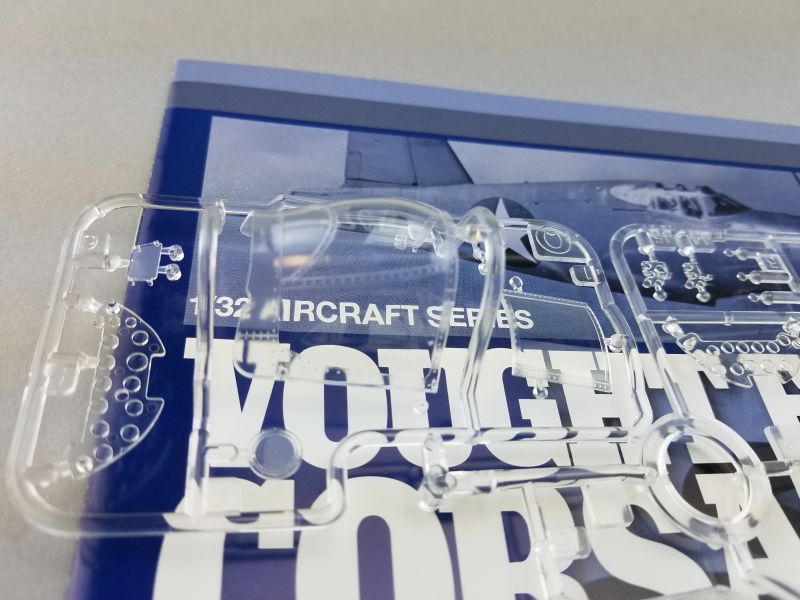 PE and Miscellaneous
Tamiya is still attempting to beguile modelers with vinyl tires, including them in most all of their kits, including their latest new-tool LSPs. In general I have found vinyl tires hard to work with, harder to paint, and hardest of all, to remove the center molding seem. I have found this to be one of the few let downs in what otherwise is arguably one of the best model aircraft kits on the market in any scale. Tamiya includes a small bag that contains some metal rods, screws and small screw driver as well as the aforementioned vinyl tires: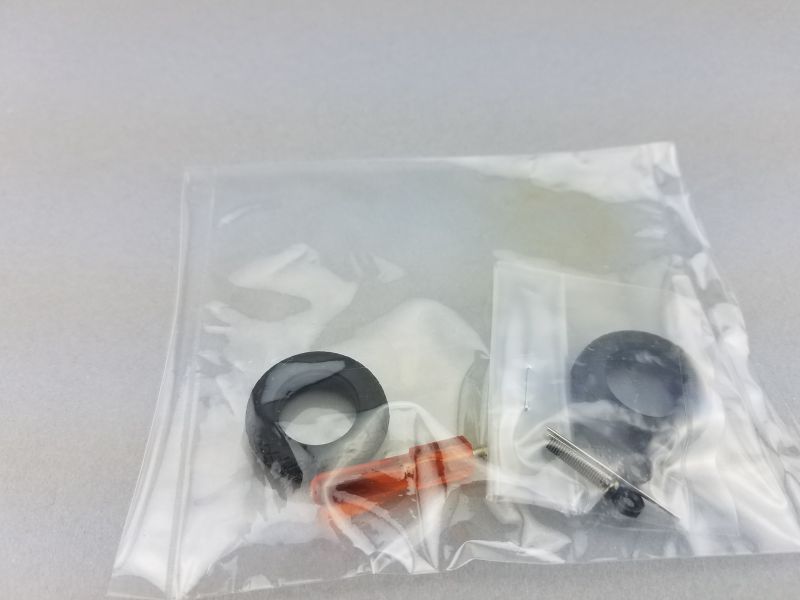 Tamiya also includes canopy masks in what appears to be Washi tape (I am still of the opinion that "Kabuki" is not the actual term used for Tamiya's rice paper style tape) as well as two smaller PE frets that contain seat-belts, some bracing pieces, and a second small sheet that contains oil cooler screens, and some PE weapons add-ons. Although it is nice for the modeler to have canopy masks included, this style requires the modeler to cut the masks out themselves. I am not a fan of this type of masks however, and personally prefer pre-cut masks whether vinyl or Washi style: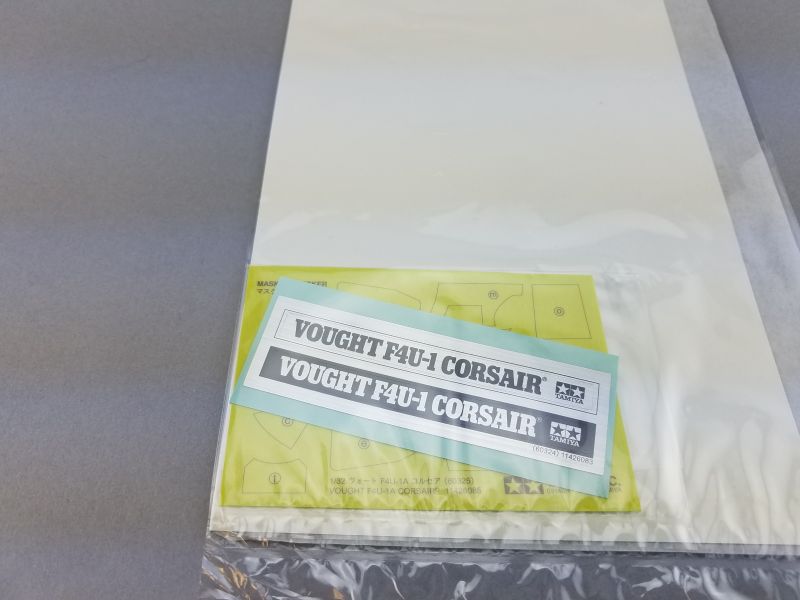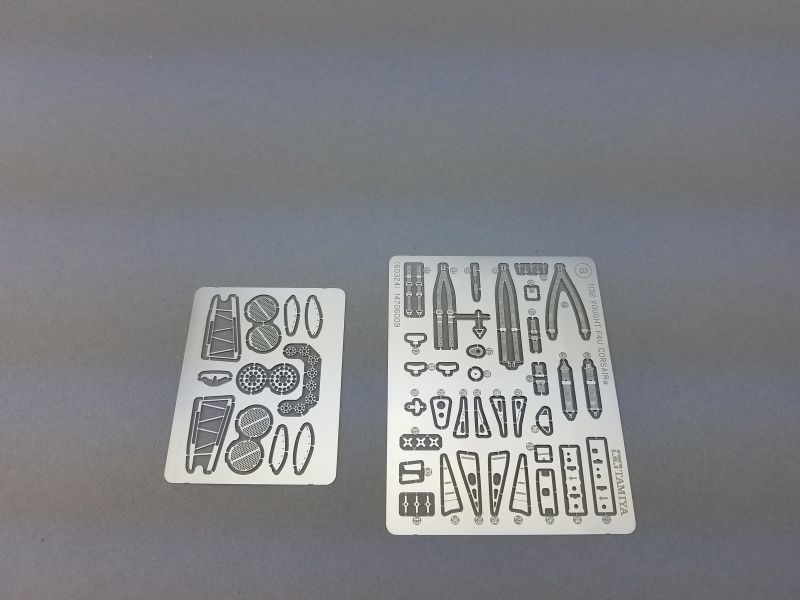 Instructions
Tamiya includes a Vought F4U Corsair series detail booklet with their kit. This has some excellent detail pictures of the 1A and also other versions of the Corsair as well. There are some very well researched pictures and detailed drawings in this that may aid the modeler in building the kit. The booklet has some really great walk-around style shots in it: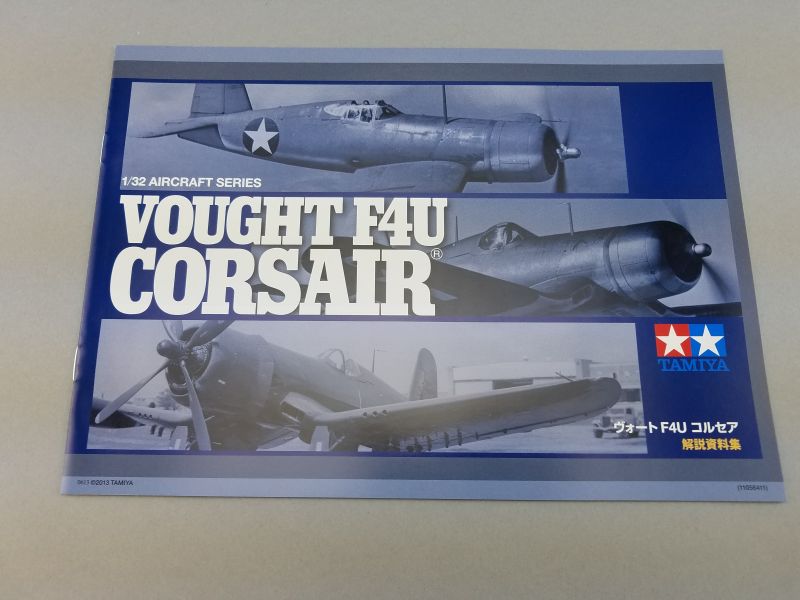 ---
The assembly instruction manual that comes with Tamiya's F4U-1A is typical Tamiya; An A4 sized booklet in black and white, with drawn assembly guides and exploded views of the parts to be assembled. The instructions seem to be well done and easy to follow, with very well laid out sections, including separate instructions to replicate wings folded or extended as well as gear up or in-flight options: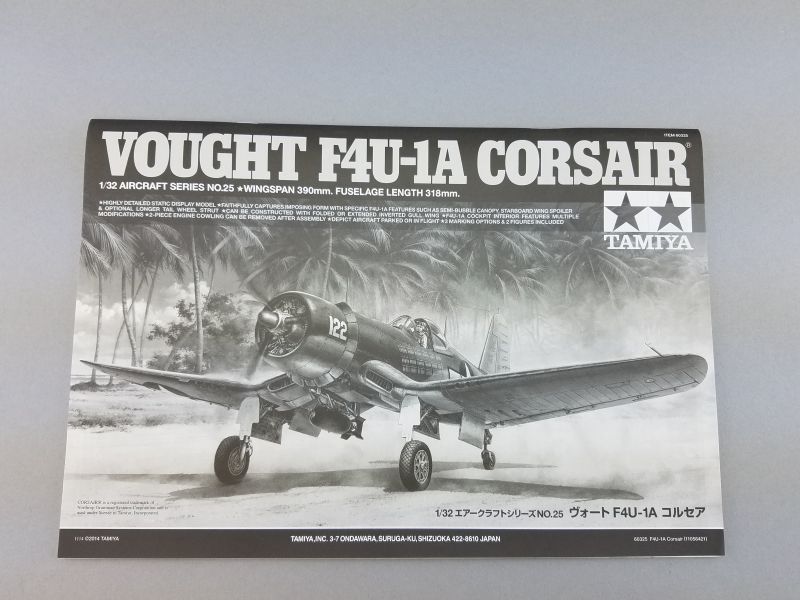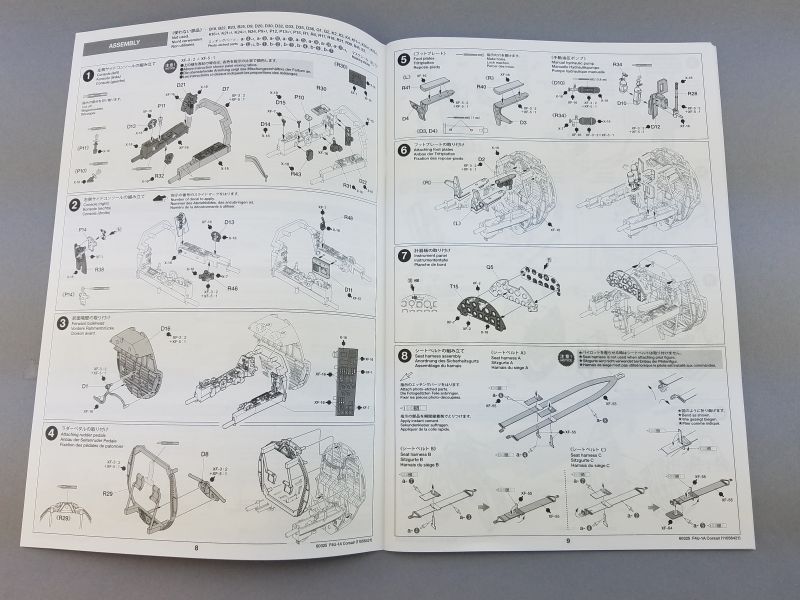 ---
Decals and Schemes
Tamiya has provided two decal sheets the come packed in their own clear bag with some wax like paper for separation so nothing gets stuck to the decals sheets. One decal sheet has all of the insignias and squadron markings including yellow prop tip warning decals. A second smaller sheet contains the stencils, walkways, kill markings and prop decals: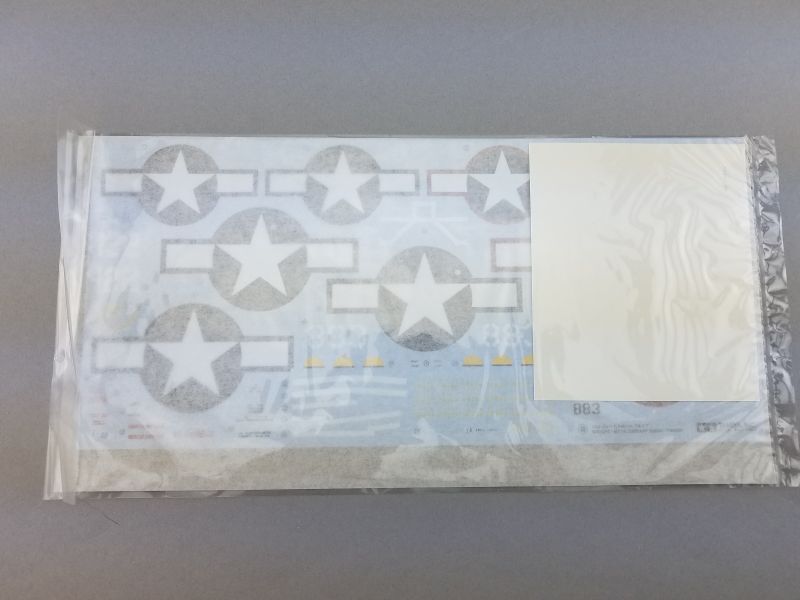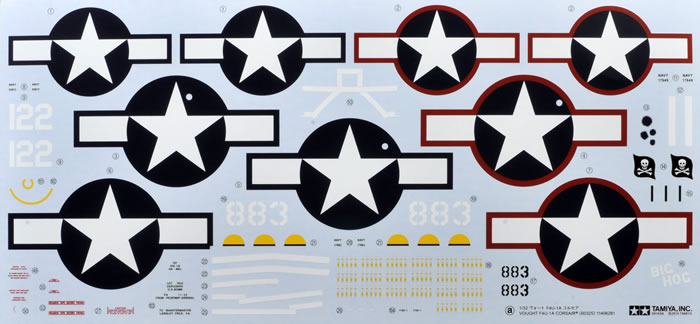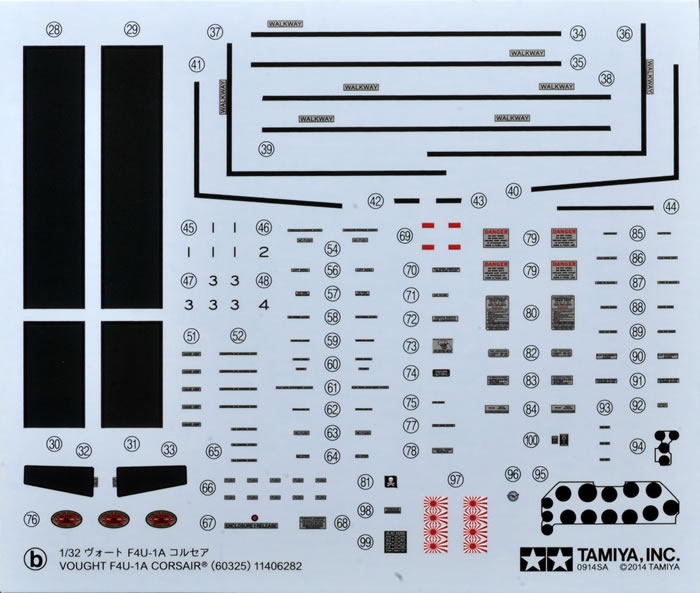 Tamiya provides decals for three separate schemes, one USN and two USMC:
1 - "Big Hog" - USN:

VF-17 Squadron Leader;
Solomon Islands, November 1943

883 - USMC:

VMF-214 - Maj. Gregory "Pappy" Boyington;
Vella LaVella Island, December 1943

122 - USMC:

VMF-111;
Gilbert Islands, 1944
Conclusion
Tamiya's F4U-1A has been on the market now for about 4 years, and I would say it is still arguably one of the best aircraft kits on the market available today. Its extremely detailed, very accurate, and it builds up like a dream right from the box with no additions. If I had to make a recommendation to anyone who has not built this kit before, I would highly recommend swapping out the vinyl tires with some aftermarket resin ones, and if you don't like dealing with annealing for PE seatbelts, I might also recommend some aftermarket seatbelts. Other than those two fairly minor things you really cant go wrong with Tamiya's F4U. It is to me, one of the easiest building (even with the high parts count of the kit), most accurate and detailed kits out there, and certainly the best Corsair kit available on the market today.
If you love F4Us, do yourself a favor and pick one up today!
Tamiya did an outstanding job on this kit, and if you love Corsairs, or WWII USN aircraft in general, this kit is a great choice. HIGHLY recommended.
Acknowledgment
Many thanks to HobbyLink Japan for the review kit, which can be purchased at the following link:
Tamiya 1/32 Vought F4U-1A Corsair
© Brian Leitch 2018
This review was published on Friday, August 10 2018; Last modified on Friday, August 10 2018