Lukgraph | 32-12: Macchi Ni.29
Reviewed by Kevin Futter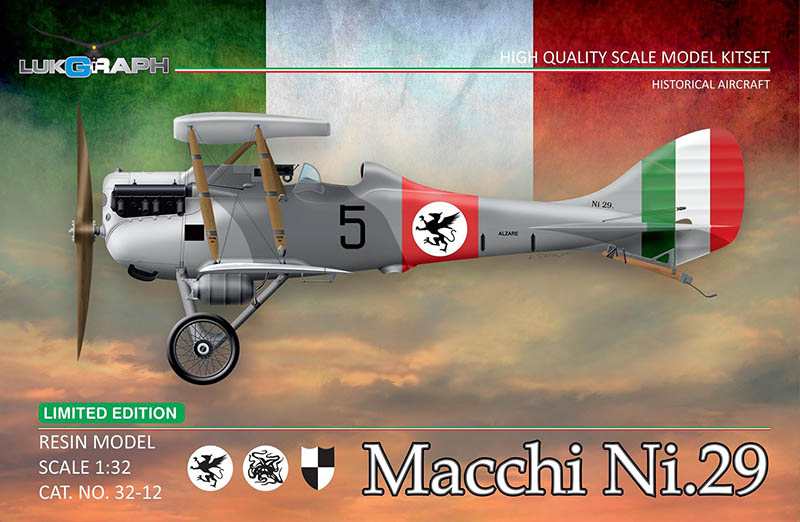 Lukgraph is a relatively new resin kit producer from Poland, specialising in esoteric between-the-wars aircraft. This kit of the Macchi Ni.29 is something like the company's twelfth entry in 1/32 scale. I find it both admirable and courageous that a manufacturer would release a boutique kit in 1/32 scale of a reasonably esoteric subject such as this. We certainly live in bounteous times!
Quoting from the Lukgraph website:
The NiD.29 was an equal-span biplane with ailerons on both upper and lower wings. It had a fixed tailskid landing gear, a nose-mounted engine and a single open cockpit for the pilot. The prototype NiD 29 was evaluated by the French Air Force in July 1918 and a pre-production batch was ordered on 21 August 1918. It was powered by a Hispano-Suiza engine. The Italian Regia Aeronautica bought 175 aircraft including 95 built by Macchi as the Macchi-Nieuport 29 and 80 built by Caproni. Sweden bought nine aircraft and designated them J 2. The Japanese company Kajmakana [sic] bought a pattern aircraft and built 608 for the Imperial Japanese Army as the Ko-4.
Lukgraph has approached this kit a little differently than previous releases, however, in that it has produced three different boxings of the base kit:
Lukgraph has kindly supplied not only all the standard components to build kit 32-12, but also the decals, instructions, box art, and additional parts required to build either of the other two versions. On that basis, this can be considered a review of all three kits. As each kit shares nearly all the same parts, it's mainly the decals and instructions that differ, so we'll just examine those differences in separate sections of the review, with the common components covered in the first section.
32-12: Macchi Ni.29 (& Common Components)
The kit itself ships in a small but sturdy cardboard box, with the contents parceled out into resealable bags: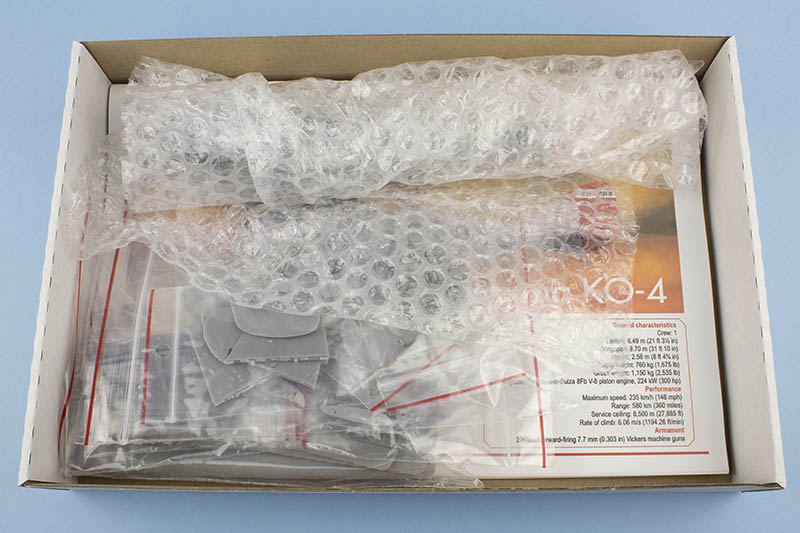 Resin Parts
Most of the resin parts come with their pouring blocks already removed, and the fuselage halves are taped together and wrapped in bubble wrap.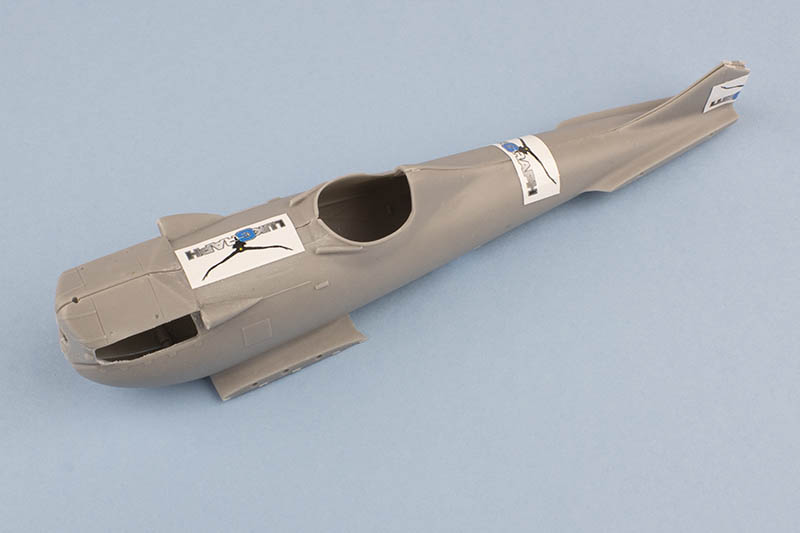 The fuselage internals feature some simple framing detail, in keeping with the nature of the original subject: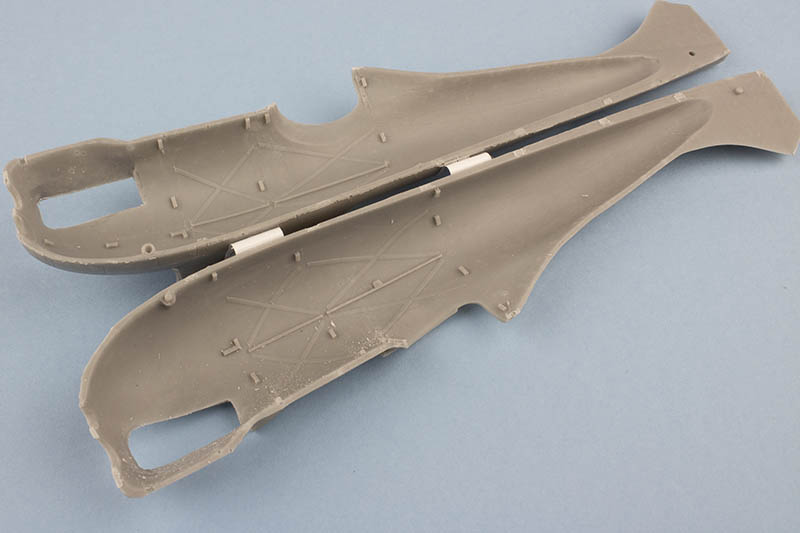 The wing roots have holes moulded in them to accept the metal reinforcing rods from the wings, allowing for a strong join: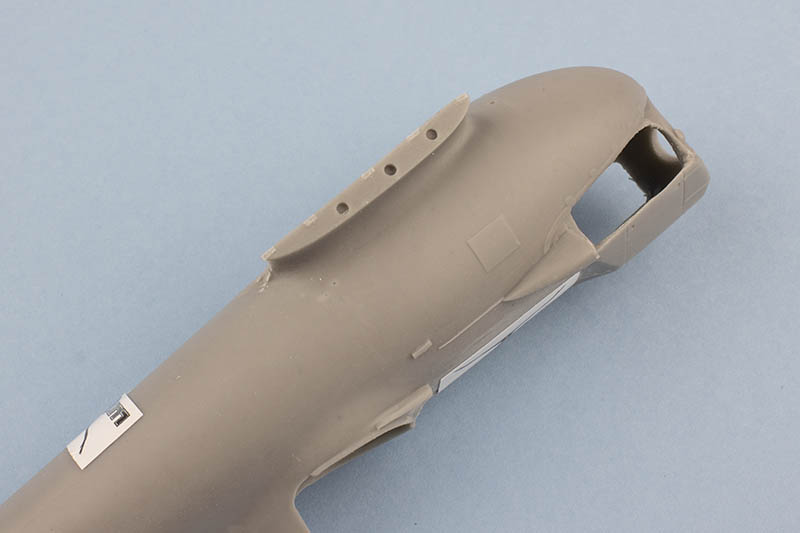 Despite the lack of pour stubs to remove, you will still need to clean up things like the join between the fuselage halves, where moulding quality is a little ragged: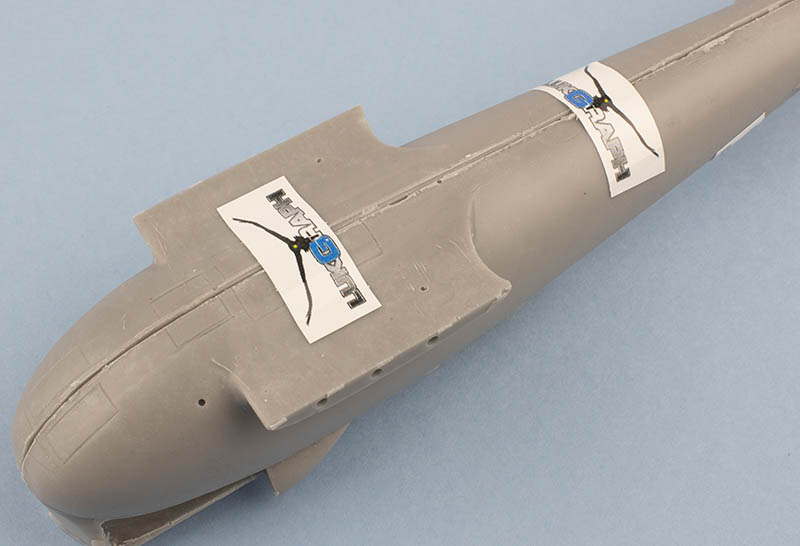 The wings are also free of pour stubs, and come moulded as four separate pieces: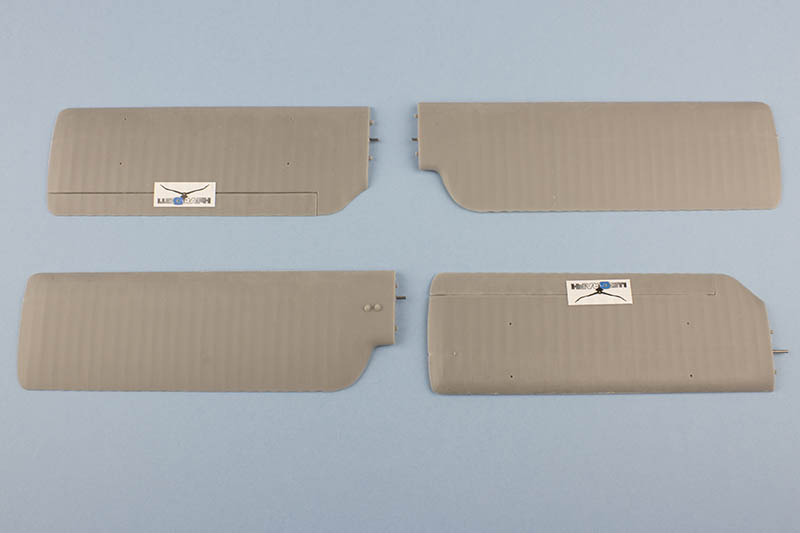 Note that the ailerons are also separate, held in place by some tape. It may be prudent to drill and pin these during construction, rather than risk the vagaries of a butt join.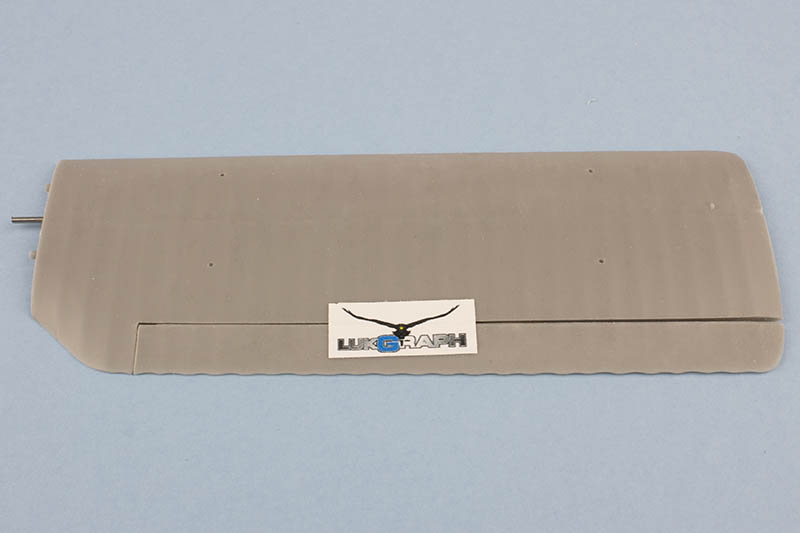 Some nicely chunky stubs and rods are including for alignment and strength: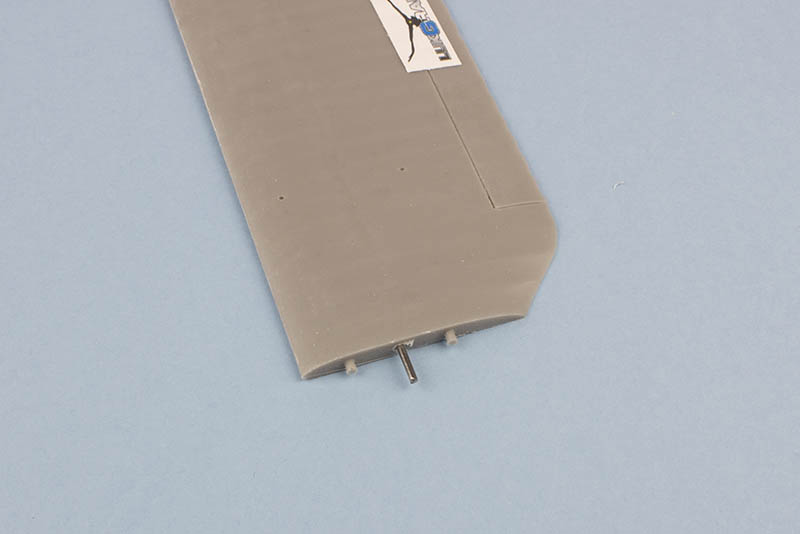 Here again the moulding is a little rough in places, and will require some minor remedial work, but nothing serious: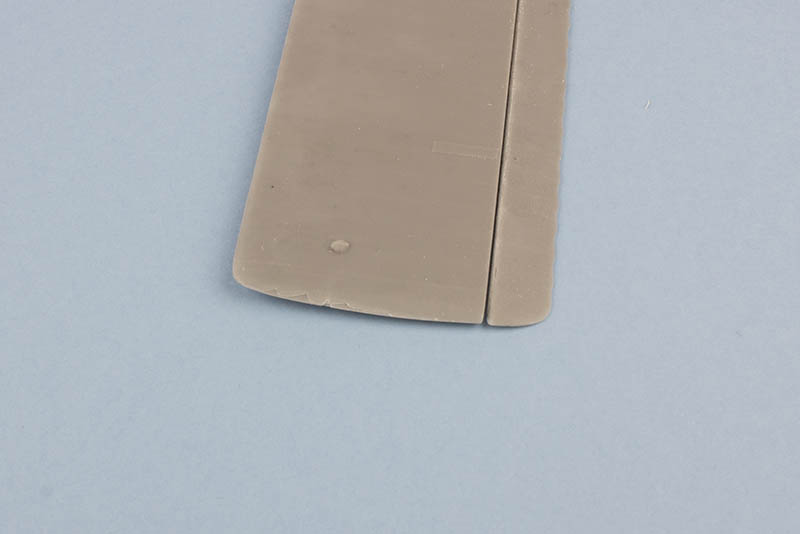 Below is a gallery of the other parts included in the kit:
---
As you can see, the parts count is relatively low, and probably Lukgraph's most modest kit so far in that regard. Two sets of wheels are included: one with moulded-in covers, and the other consists of tyres only. For the latter set, you need to combine the resin tyres with the spokes included on the photo-etch sheet (see below).
Photo-etch Fret
The kit comes with a fret of photo-etched details to supplement the resin parts: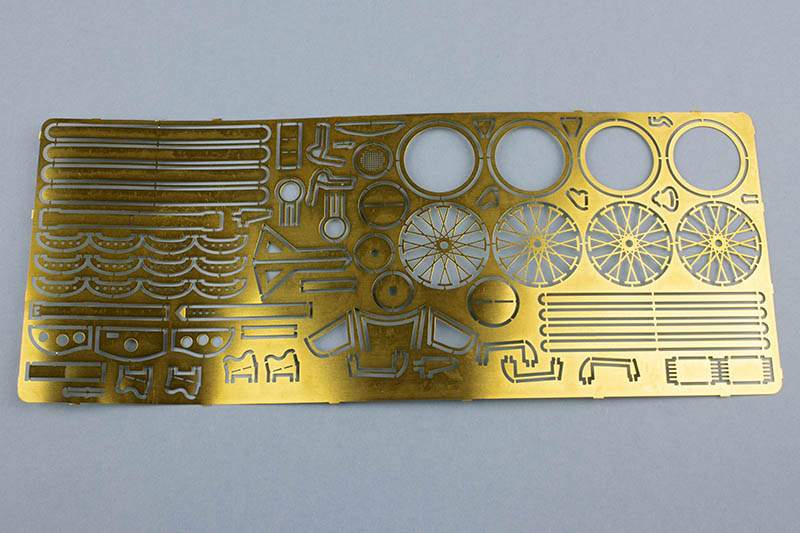 The instrument panel is fashioned by combining the photo-etched panels with the provided self-adhesive printed dials, and a small square of acetate sheet to represent the glass: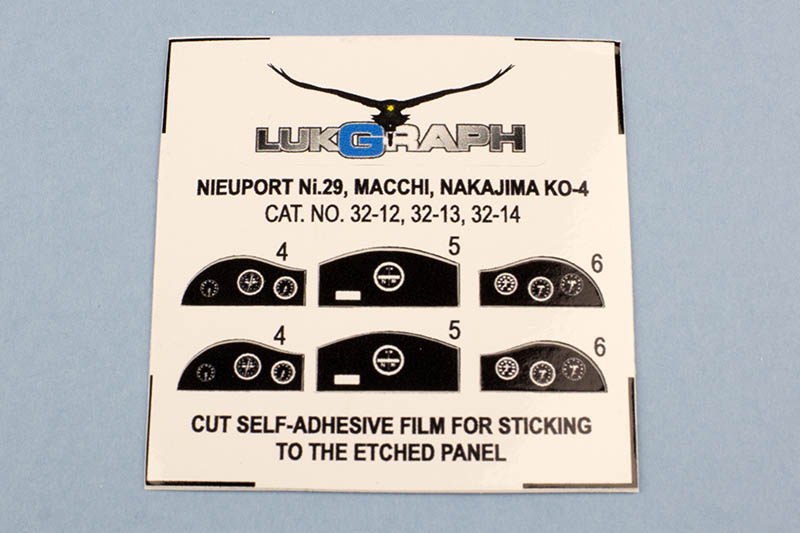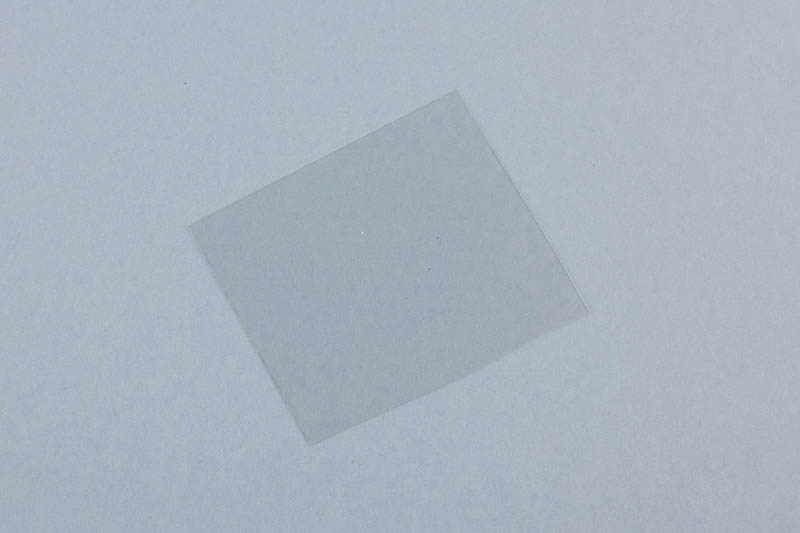 A spare set of the printed dials is included, which is a nice touch.
Instructions
The instructions are for each release of the kit are typical of Lukgraph's style, being printed on glossy paper in full colour. The landscape format is stapled in two places along its top edge.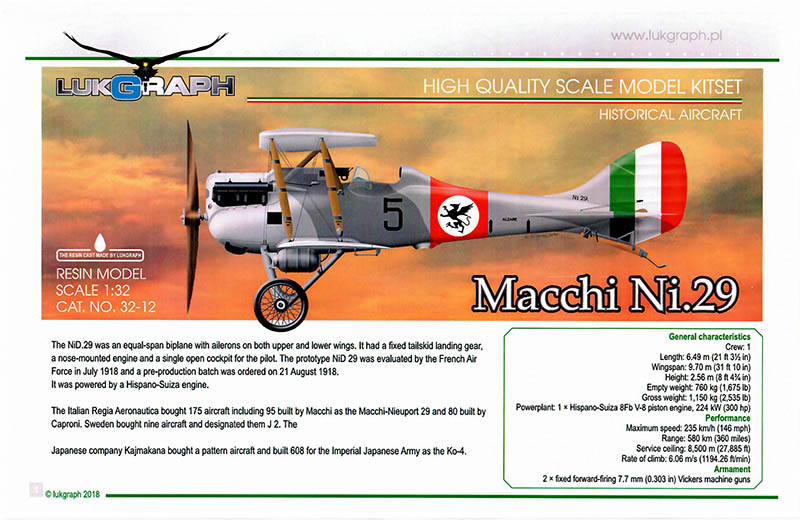 The assembly instructions follow the familiar approach of annotated exploded diagrams: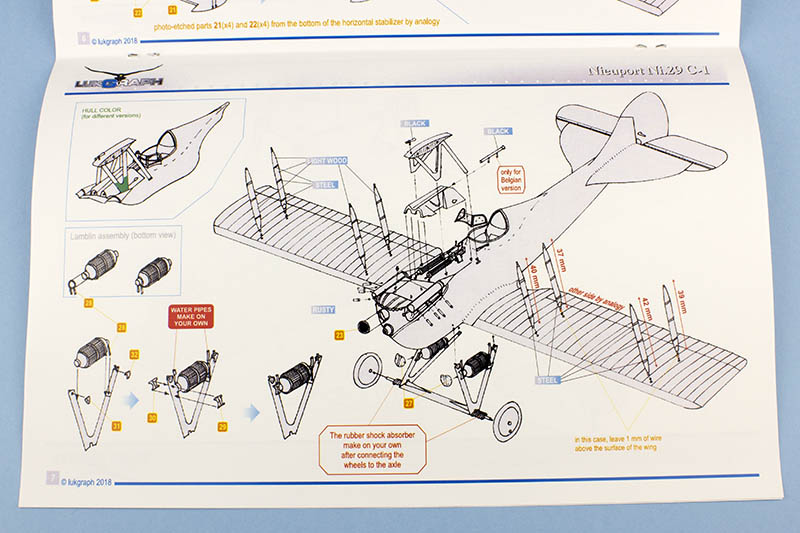 Helpfully, a rigging diagram is also included: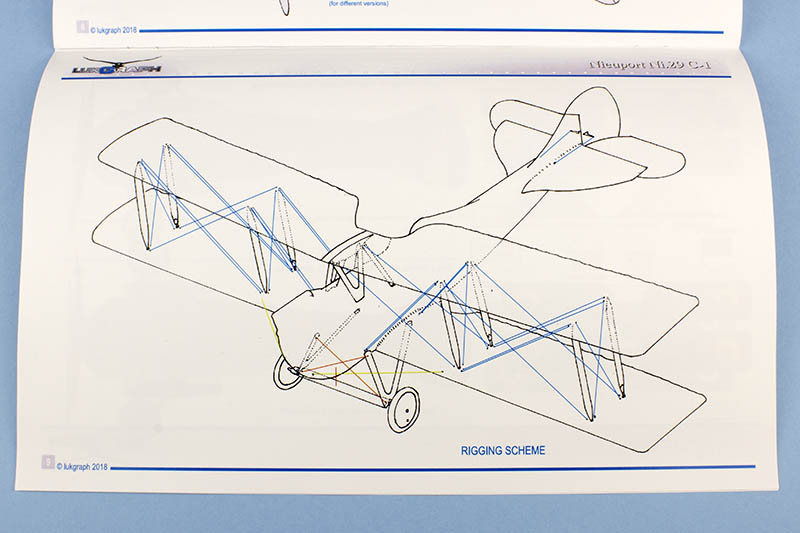 Decals and Masks
Naturally, each release features its own unique set of decals, but they all share a common set of self-adhesive paint masks. 32-12 includes a single small decal sheet for three aircraft: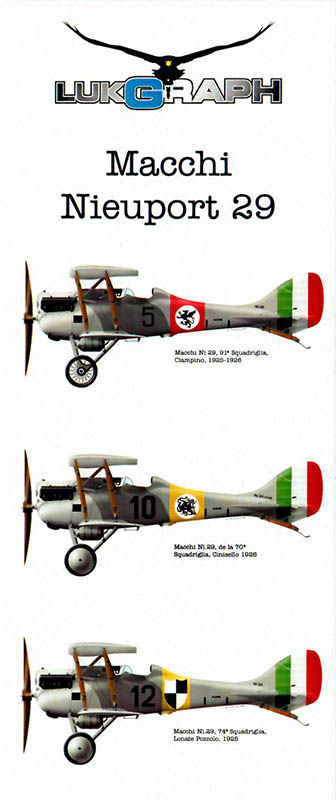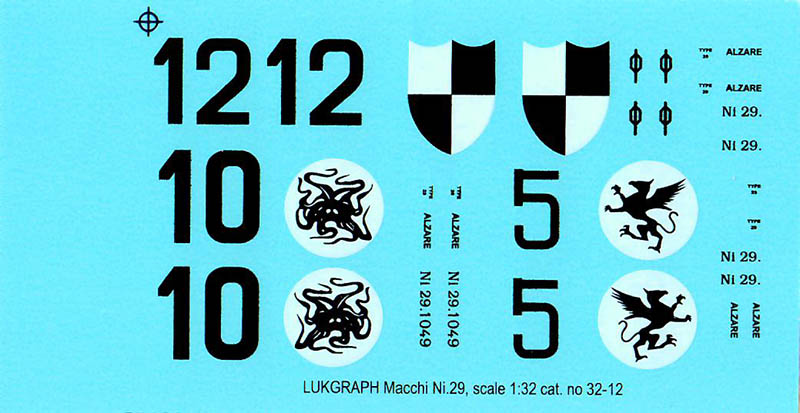 Print quality is excellent, with good colour density and perfect registration. My only concern is for the white areas, which have the potential to appear translucent over dark or changing backgrounds. Most white decals have this issue, so it's just something to be aware of.
The included aircraft are as follows:
Macchi Ni.29 91ª Squadriglia, Ciampino, 1925-1926
Macchi Ni.29 de la 70ª Squadriglia, Cinisello 1926
Macchi Ni.29 74ª Squadriglia, Lonate Pozzolo, 1925
Along with the decals, a set of paint masks is included, which is designed to aid with the painting of the stripes on the tail surfaces: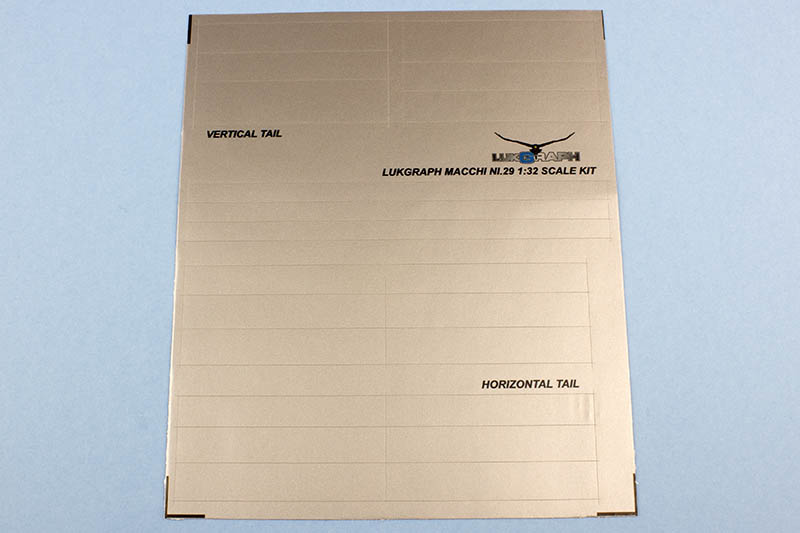 Painting and markings guides are including at the end of the instructions: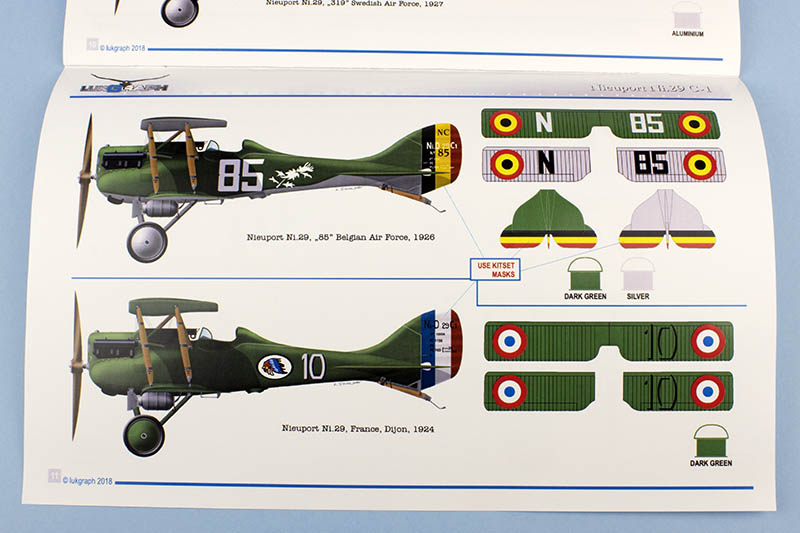 We'll now take a look at what's different in the other two releases, 32-13 and 32-14.
32-13: Macchi Ni.29 C-1 (France/Belgium/Spain/Sweden)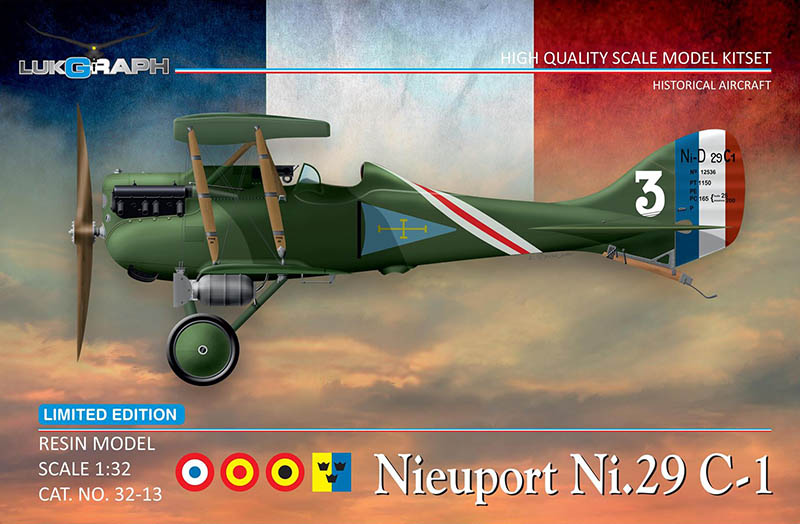 This version of the kit features no less than five schemes from four different countries, covering France, Belgium, Spain, and Sweden. Each country is represented by a single scheme apart from France, which has two.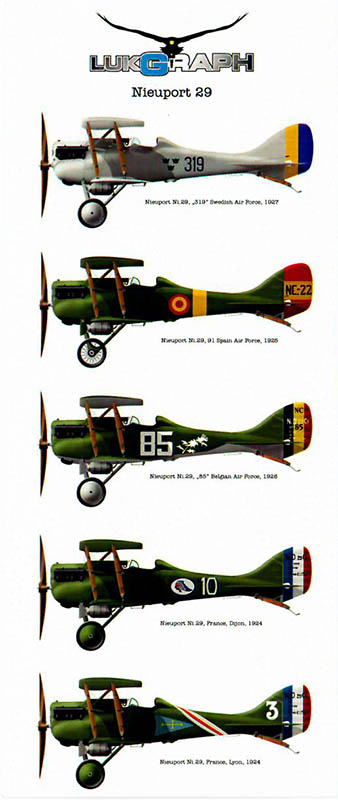 The included aircraft are as follows:
Nieuport Ni.29 "319" Swedish Air Force, 1927
Nieuport Ni.29 91 Spain Air Force, 1925
Nieuport Ni.29 "85" Belgian Air Force, 1926
Nieuport Ni.29, France, Dijon, 1924
Nieuport Ni.29, France, Lyon, 1924
This release include three decals sheets in order to cover all five options:
---
This version of the kit also includes an extra sheet of paint masks, designed to assist with painting the complex areas on some of the provided schemes: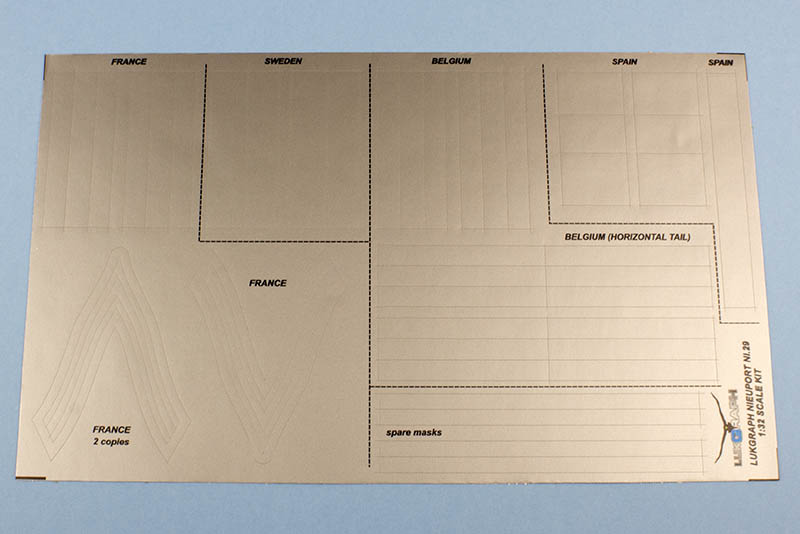 The instruction booklet has been customised to suit this version, with a new cover and painting guides.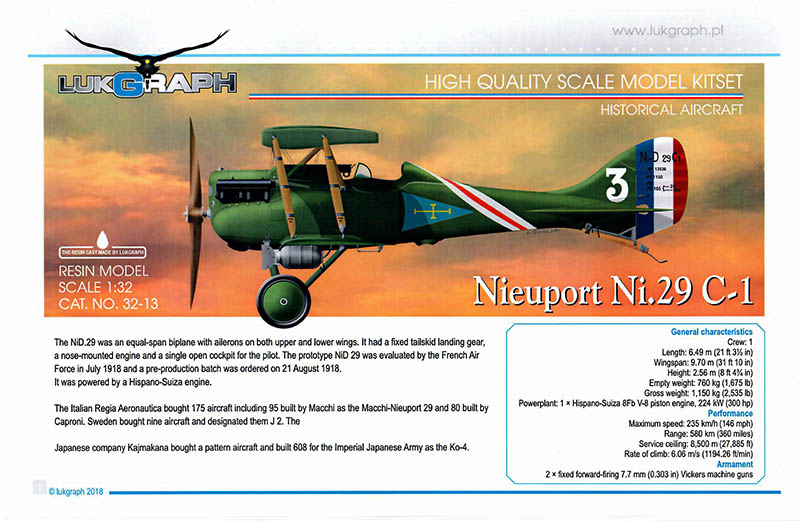 32-14: Nakajima Ko-4 (Japanese Version)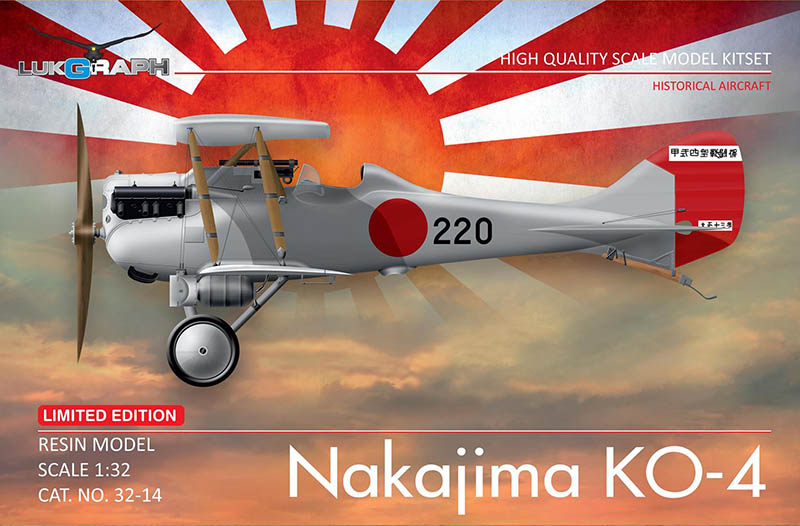 The dedicated Japanese version of the kit, labelled as Nakajima Ko-4 due to being license-built by Nakajima in Japan, features three similar markings schemes.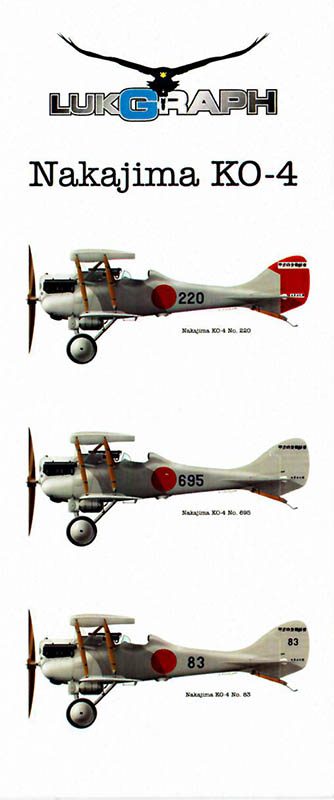 Unlike the other two releases, this one features some extra resin parts to support the Japanese version. They come in a small resealable bag simply labelled 'Japan':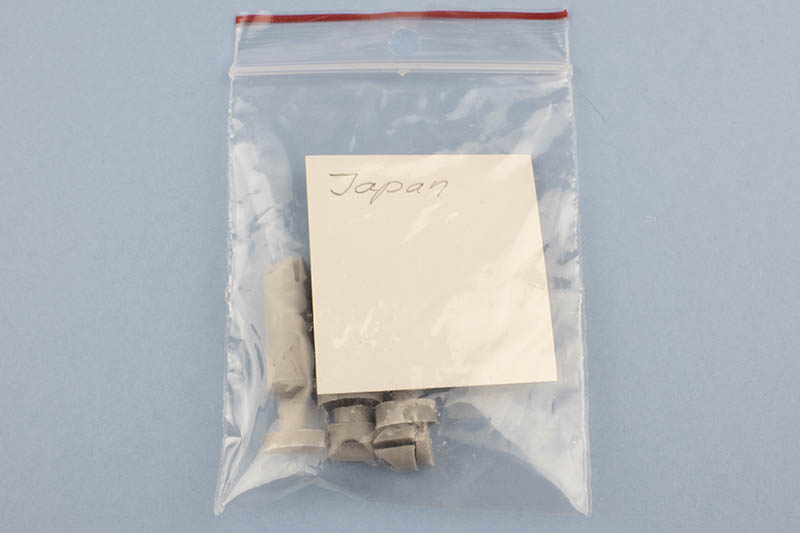 These are described as Longer lamblin cover version "83". (I suspect the third, standard part has been included in error.)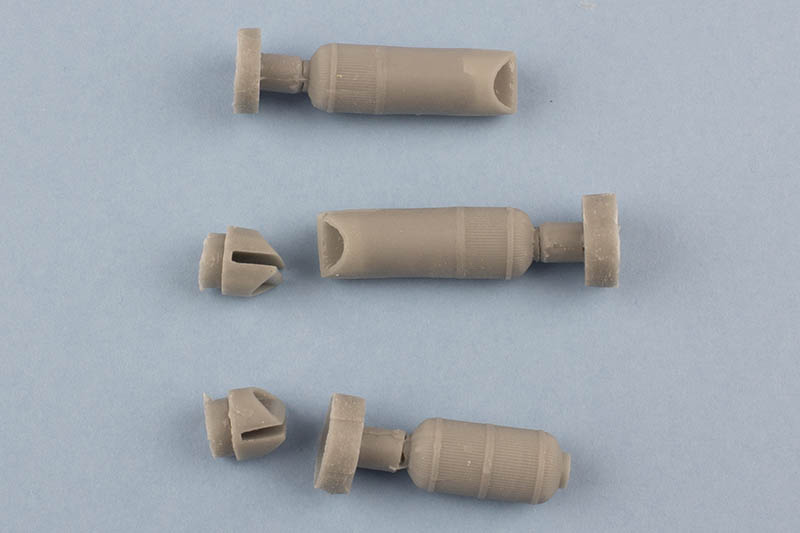 The included aircraft are simply listed as follows:
Nakajima Ko-4 No. 220
Nakajima Ko-4 No. 695
Nakajima Ko-4 No. 83
No details are given of operating units or service dates.
Two decal sheets are provided to cover the options (shown together in the image below):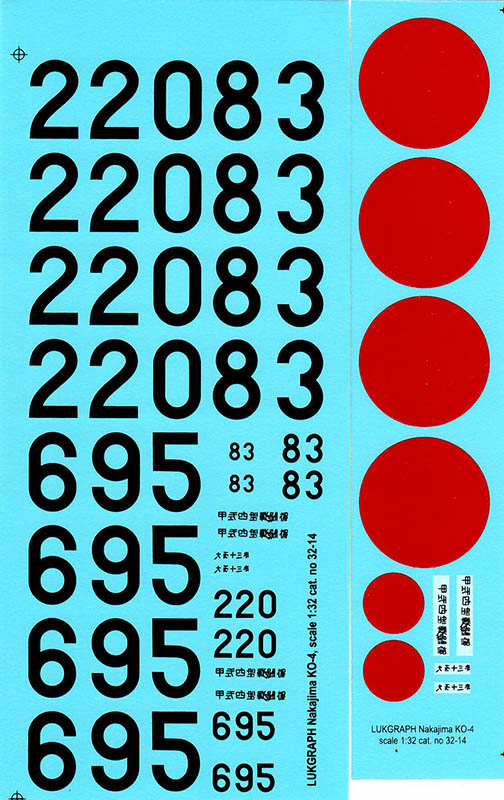 As with 32-13, the instruction booklet has been customised to suit this version, with a new cover and painting guides.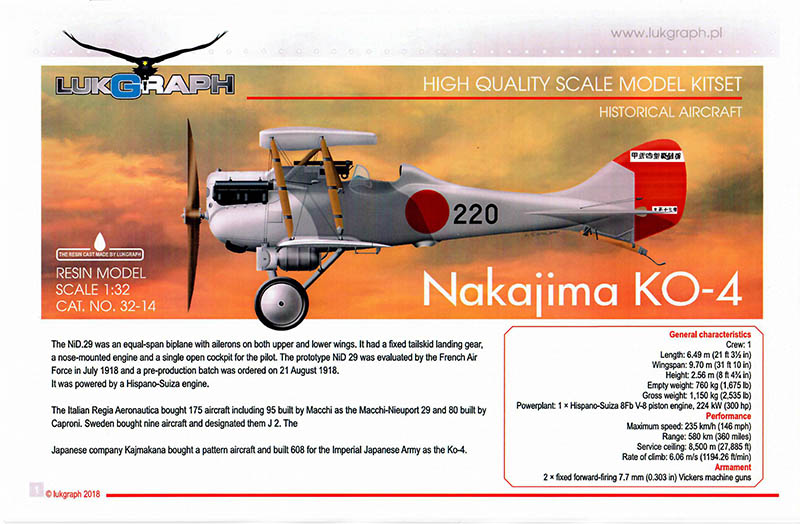 Conclusion
There's no doubt that this kit has some rough edges, but they're nothing an experienced modeller couldn't handle. The decision to release it as three separate versions is an interesting one, and will leave potential buyers with a choice to make. This kit will require some skills and experience to get the most out of it, however, and I certainly wouldn't recommend it as a first resin model. In the right hands, though, all the ingredients are here for a very fine model of an esoteric subject, and I'm sure the company's models will continue to improve with each new release. I hope Lukgraph continues its foray into 1/32 scale with further releases, and I can recommend this one to any modeller interested in aircraft of the period.
Thanks to Lukgraph for the review sample.
© Kevin Futter 2018
This review was published on Friday, November 23 2018; Last modified on Friday, November 23 2018