Wingnut Wings | 32062: Halberstadt Cl.II (Late)
Reviewed by Kevin Futter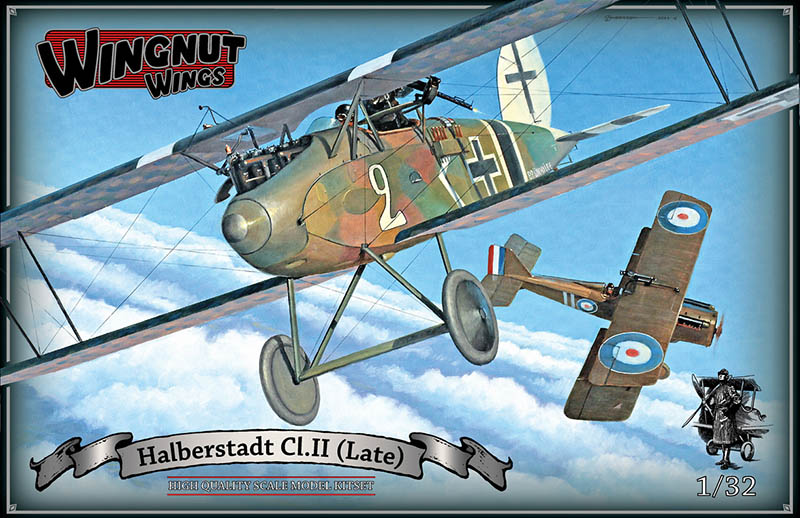 New Zealand firm Wingnut Wings continues its prolific release schedule with two kits of the sleek-looking Halberstadt Cl.II, in both 'early' and 'late' guises. Here we examine kit #32062, representing the Halberstadt Cl.II 'Late'.
Quoting from the Wingnut Wings website:
3 high quality cartograf decal sheets including fitted 5 colour lozenge and marking for 5 early production aircraft - 201 high quality injection moulded plastic parts including 22 exclusive to late production aircraft - 9 photo-etched metal detail parts - Optional 160-180-200hp engine & cowlings, radio, generator, propellers, armament and very late production gun ring - Fine in scale rib tape detail - Full rigging diagrams.
The full contents breakdown is as follows:
5 grey plastic sprues;
1 small clear plastic sprue;
1 small photo-etched fret;
3 decal sheets;
1 instruction booklet.
The Plastic Sprues
All of the plastic parts are contained on three large sprues, plus one small one, and supplemented by a smaller runner containing the company's generic Mercedes D.III engine.
---
The quality of the mouldings is everything we've come to expect from Wingnut Wings, being crisp and flash-free, with sharp details and a minimum of ejector pin marks.
---
Photo-etched Fret
As is usual for Wingnut Wings kits, a small photo-etched fret is included. It's confined mostly to a set of seat belt parts, and a pair of cooling jackets for the Spandau and Parabellum machine guns.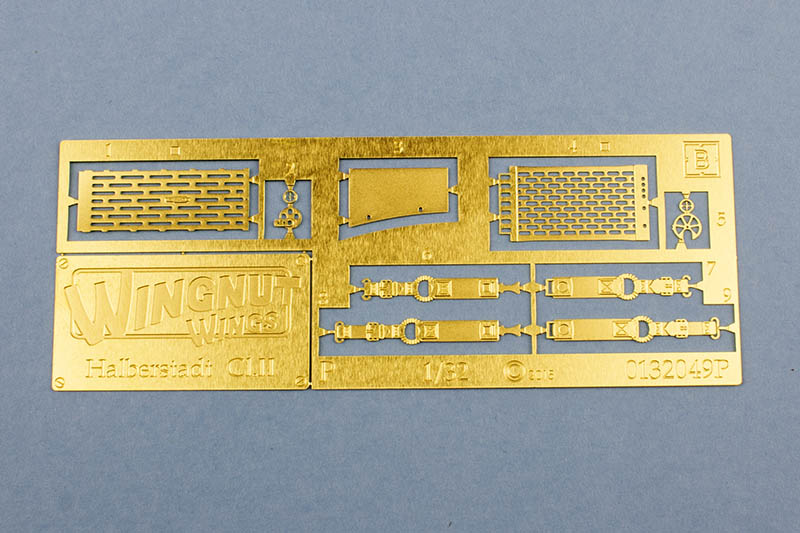 Decals and Markings
The decals are supplied on two large, box-filling sheets, along with a much smaller sheet containing the white horizontal stripes for scheme C. As usual, they're beautifully printed by Cartograf, with perfect registration and good colour density.
---
Markings are included for the following five aircraft:
Halberstadt Cl.II "V", Royal Prussian Schusta 13, March 1918
Halberstadt Cl.II "2, Brünhilde", Karl Prim?, Royal Bavarian Schlasta 27b, mid to late 1918
Halberstadt Cl.II, Friedrich Barchert, Royal Prussian Schlasta 21, June to July 1918
Halberstadt Cl.II "Löwe", Marine Schlasta 1, October 1918
Halberstadt Cl.II "Marichen", Schlasta 15?, mid to late 1918
---
Instructions
The instruction booklets supplied in Wingnut Wings kits have become legendary, and with good reason. The production values are equivalent to a glossy magazine, and to refer to them as mere instruction booklets does them a grave disservice.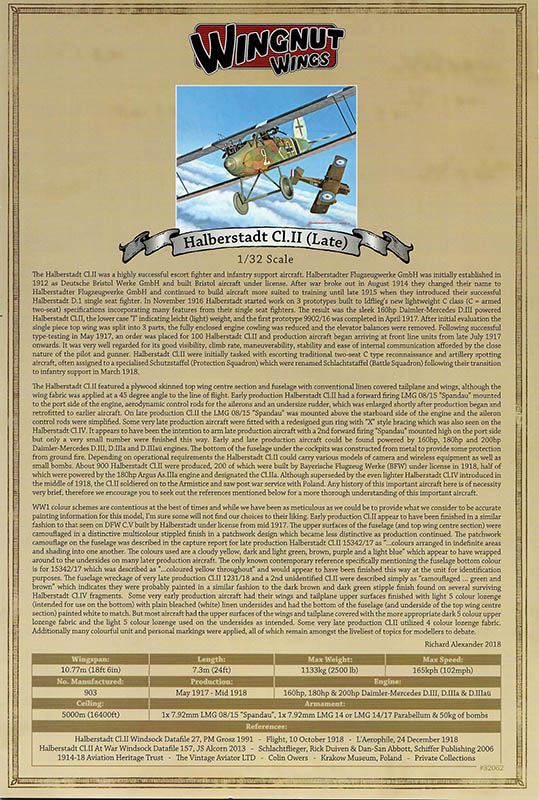 The cover features a potted history of the type, and a specifications table at the bottom. This material is also available on the Wingnut Wings webpage for the kit.
The content features colourful and highly-detailed annotated assembly drawings, complemented by captioned reference photographs and painting instructions.
---
Conclusion
This release represents everything we've come to expect from a Wingnut Wings kit: exceptional moulding quality, excellent detail, superb decals and industry-leading documentation. My only concern with this particular kit is that none of the markings options look easy to achieve, as each features lozenge decals on the wings and challenging camouflage patterns on the fuselage. This is hardly the fault of the kit however, but does suggest that experienced builders might have more success with it. That said, it's still a typically amazing kit from Wingnut Wings, and is highly recommended.
Thanks to Wingnut Wings for the review sample.
© Kevin Futter 2019
This review was published on Monday, January 07 2019; Last modified on Monday, January 07 2019