Special Hobby | SH32073: I.A.R.81 BoPi "Dive Bomber"
Reviewed by Kevin Williams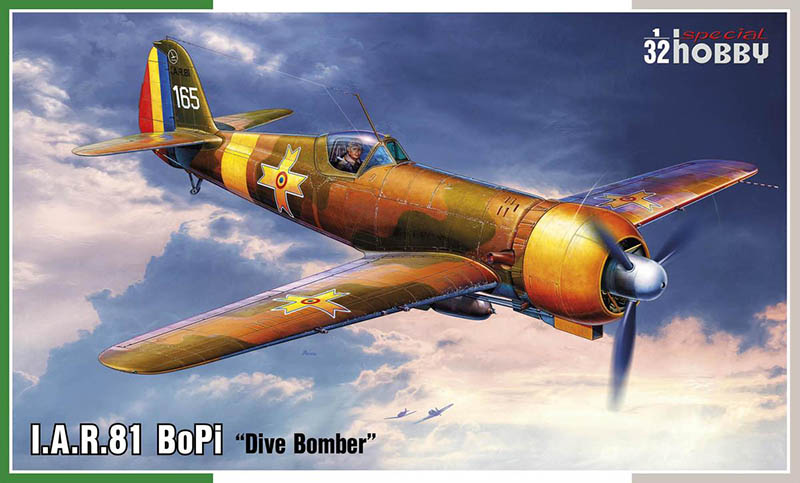 Prologue
Straight off I must admit to having virtually no knowledge whatsoever about this aircraft, possessing next to nothing in the way of references on it, so this will, out of necessity, be more of a "show and tell", rather than any dissection of accuracy issues, if indeed any are inherent.
I must also confess that the I.A.R (Industria Aeronautică Română) aircraft, have never held a high appeal to me, but this kit may well have changed my outlook about that.
I'm not 100% sure of the lineage of this kit, as it's a Special Hobby boxing of what could conceivably be either an Azur or Frrom kit origin.
(Since this is more of an in-box review than a build review, I have no photos of assembled sub structures, so my inputs should be considered more of an overview of the various areas I thought might be of interest to the masses.)
It's been quite a while since I've actually had my hands on a Special Hobby kit, and I must say that overall, I'm actually quite impressed by what I'm seeing here. The one thing that initially strikes me about the aircraft, is a vague resemblance to the Focke-Wulf Fw 190, though I actually see the Fw as a much more aesthetically pleasing air-frame design, but that's strictly my personal view. Also odd, at least to me, is the 'pit being located so far back in the fuselage, all the way behind the wing trailing edge. Also, this aircraft is literally a tail dragger, having a tail skid versus a tail wheel, a bit odd for a WWII design, as I see it.
Major Kit Sprues
---
Offered up here, are a selection of major sprue components, with more detailed photos and explorations in the categories to follow.
Instructions
---
Instructions are actually quite excellent, rivaling some of the best that I've seen elsewhere. A complete parts chart is provided, which I really wish would become a default standard for all manufacturers. Color references seem to be matched to Gunze aqueous paints, so matching them up with other paints should be a snap, I'd think.
The last page of the instructions are a full page ad for CMK products; interesting, inasmuch as they depict a nice set of resin wheel/tires that would be perfect for this kit (photo #22).
Decals
---
Markings are provided for four aircraft:
I.A.R.81 BoPi No. 165 of Escadrila 59
I.A.R.81 BoPi No. 91 of Escadrila 59
I.A.R.81 BoPi No. 101 of Escadrila 45
I.A.R.81 BoPi No. 169 of Escadrila 61
(A word on the included schemes: Any two of the four schemes are almost identical, one to another, so really not a lot of variety here to choose from, save for green/brown over blue, or green over blue, which I personally see as rather boring. None of the schemes include any sort of personalized markings, nor indeed reference to any one specific pilot, so again, quite dull in that regard.)
Decals appear to be in register, quite opaque, thin, with vibrant colors and well detailed, with some stenciling included. No mention is made of where these decals may have been printed, but they look quite acceptable to me, and will no doubt prove more than adequate for those wishing to depict one of the four included schemes. The red/yellow/blue vertical tail stripes are also offered up as decals, but I personally see that as a recipe for disaster, so will opt to just paint them on my example.
Fuselage & General Major Components
---
Most major fuselage & misc components are represented above.Wheel wells are nice and deep, though mostly devoid of any real detail. Since I don't really fret over wheel wells one war or the other, this is perfectly acceptable to me. Details are generally quite delicate and restrained, and look very nice. Fuselage detailing looks just excellent to my eye and the wings are done especially well.
As is typical on many of the kits produced today, several parts are included for other variants, but are not specific to this particular kit, so are greyed out on instructions.
The 'pit would seem to build-up well, with many parts and pieces adding to the complexity. To me, the side walls seem a bit barren, though with no adequate references to confirm or deny this, I'd just build it "as-is".
Flight control surfaces may be a tad overdone, but again, without decent visual references, I cannot say with any certainty.
Issues
---
Much as was the case with the IAR 81C that K1 reviewed, my kit suffered from a short-shot here and there, leading to, at least in one particular case, the breaking of a couple of tiny and delicate parts.
Canopy & Clear Parts
---
The clear parts are exactly that, crystal clear. Clarity is quite excellent, as the photos readily attest.
Engine
---
The Engine is very nicely represented, at least as far as I can determine (which isn't too far). Cylinders, gearbox, collector rings and exhaust assemblies all seem to be accounted for here, and once assembled, should make for a respectable looking engine. One thing I noted with great relief, is the complete absence of ejector pin marks inside the engine cowls and indeed throughout the remainder of the kit, which is most excellent and appreciated by this modeler.
Resin Bits
---
Included in the kit is a bag of resin bits and pieces; exhaust stacks (hollowed on exhaust ends, intakes (with and without filter), and misc. bits. No resin wheels/tires are included though, which is a bit of a letdown.
Photo-etched Items
---
Also included in the box is a fret of brass P.E. This set consists of the seat belts and associated hardware, trim tab actuators, engine cowl flap inserts (pretty cool), bomb fins, handles and other assorted bits.
Summation
All in all, I think this is a very commendable effort from Special Hobby, and I am very pleased with what I've found so far. The combination of the good looking plastic, nice resin parts and photo-etched bits, along with good quality decals, makes for a very worthwhile package and I look forward to the opportunity to begin working on my example.
(By reviewing this kit I may just have become a convert. Never in my entire life have I ever had a desire to build a Romanian anything, but I may just have to eventually give this model a go, which is something I really hadn't expected at all.)
This kit is highly recommended by this reviewer, for overall aesthetic appeal, and for giving us another version of this (to me) awkward looking, but still interesting aircraft.
Addendum
Some additional information has come to light, so I thought I'd share that here; The tail-plane struts (marked as unused item #'s F3 & F4 on the instruction sheets), should be attached, as the IAR 81 most certainly used them. Also, on aircraft tail numbers 165 and 91 (the two-color upper schemes), the topside colors should wrap around to the bottom of the fuselage, not remaining blue as depicted. Source: Radu Brenzan, author of two books on the IAR 80/81 (listed in the additional reference links below).
Acknowledgment
Many thanks to HobbyLink Japan for the review kit, which can be purchased at the following link:
Special Hobby 1/32 IAR-81 BoPi
© Kevin Williams 2019
This review was published on Sunday, January 27 2019; Last modified on Saturday, February 02 2019