Furball Aero-Design Decals | 32-004: Legacy Bug Bandits F/A-18A/A+/B/C
Reviewed by Fred Krause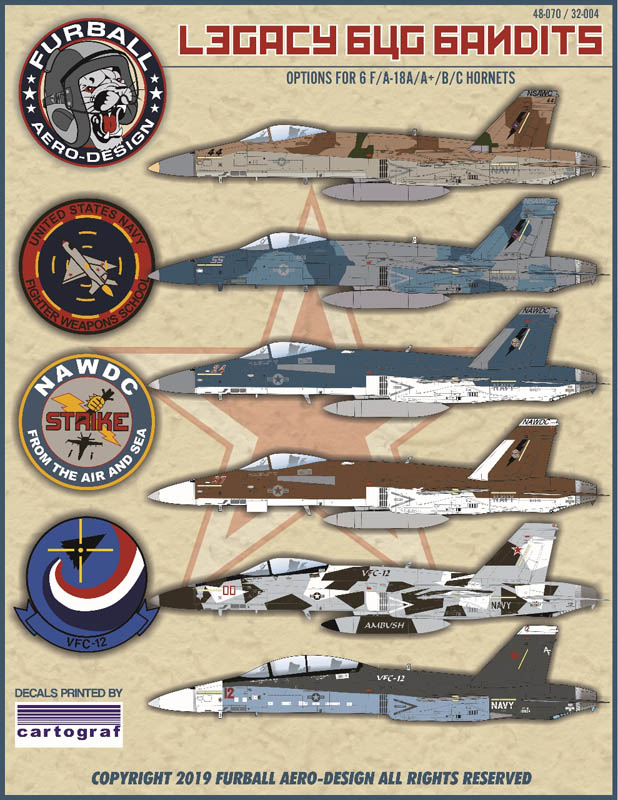 Fresh from the printer comes Furball Aero-Design decal sheet number 32-004. The sheet provides markings for two F-18A adversary jets assigned to the Naval Strike and Air Warfare Center (NSAWC) at NAS Fallon, Nevada. Two F-18Cs assigned to the Naval Aviation Weapons Development Center (NAWDC) which has succeeded NSAWC at Fallon, and one F-18A+ and one F-18B assigned to VFC-12 at NAS Oceana, Virginia.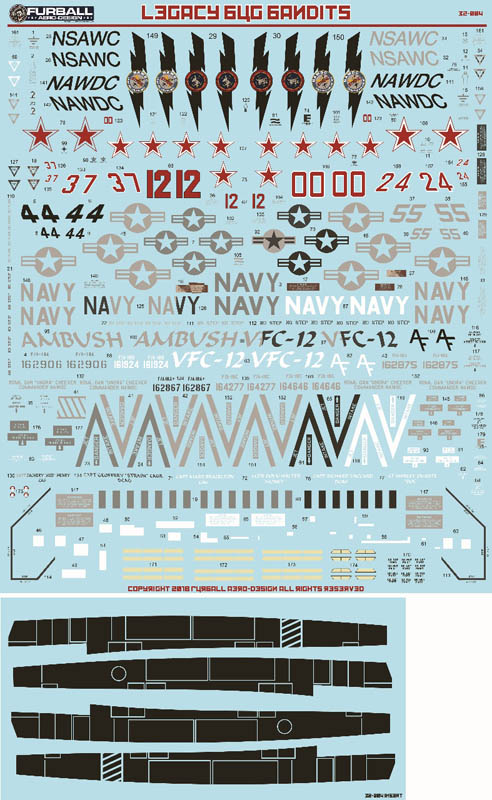 First up is F-18A 162906 NSAWC #44. This jet flew for several years in this very attractive tan, brown and green splinter scheme. Sister F-18A 162894 #46 was also painted in this scheme around the same time frame.
---
Next is F-18A 162875 #55 in a blue, light blue, and grey scheme. This jet was with NSAWC for a very short time, and I only managed to photograph it one time before it was gone.
---
VFC-12 F-18A+ 162867 #00 is the last Alpha model on the sheet. This one is in a very interesting dark grey, light grey, and white splinter scheme that adorns many of the Omar's aircraft.
---
The only F-18B on the sheet is 161924 VFC-12 #12 currently painted up in a "Fullback" scheme designed to simulate Russian Su-34s.
---
The first F-18C 164277 #24 painted up in a blue over white scheme.
---
The last jet is F-18C 164646 painted up in a brown over white scheme. This jet is sometimes referred to as "The Gazelle".
---
The decals are beautifully printed by Cartograf in Italy, and contains complete markings (minus wing walks) for all six jets.
Over the years there has been a handful of large scale adversary Hornet decals available, most notably from Twobobs, but all are out of production, and difficult to find. Now Furball steps up with a very nice sheet containing three older, and three current options. The sheet is also available in 1/48th scale as number 48-070.
© Fred Krause 2019
This review was published on Friday, February 22 2019; Last modified on Friday, February 22 2019