Mike Ashey Publishing | Detailing Scale Model Aircraft, Second Edition
Reviewed by Brian Leitch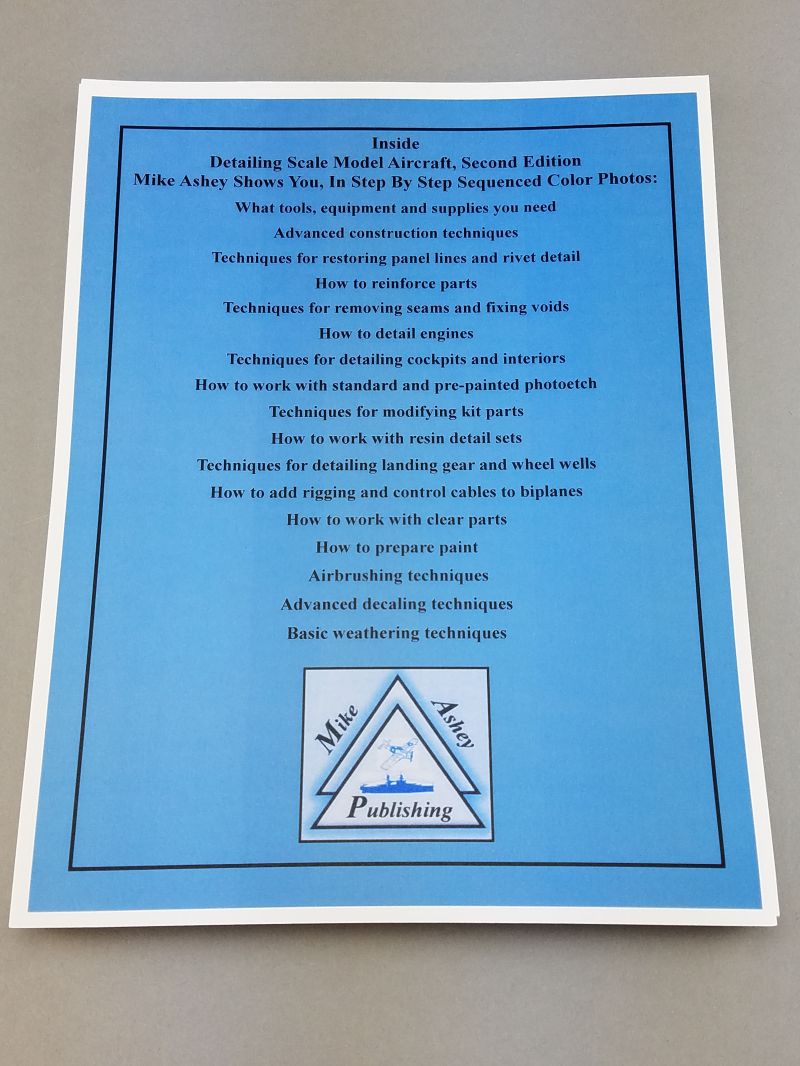 This is a review of a the new book from Mike Ashey Publishing (www.mikeashey.com) called "Detailing Scale Model Aircraft, Second Edition".
This book consists of 184 pages on thick glossy paper, with 850 sequenced color photos organized effectively into 6 separate chapters. This book is organizationally designed to be logically referenced throughout the model building sequence. The book includes non-punched heavy card-stock front and back covers, with the added nice touch of 3 different sized side sleeve covers to choose from depending on the thickness of your 3-ring binder. The paper the book is printed on is very thick and feels nice to the touch when perusing the book.
It's quite apparent that Mike has put a lot of thought and preparation into this new scale modeling book. This book covers a myriad of topics, including assembly, detailing, painting, decaling and weathering. There are step by step printed guides with clearly thought out instructions and tips, that coincide with clear glossy photos of each step, printed on thick industrial feeling paper. Mike also offers a PDF version of the book on his website. This book also offers the advantage of not only coming pre-punched for a 3-ring binder to lay flat on your work bench, but also being designed to be expanded with future chapters could make this book very handy to a variety of modelers of all skill levels.
What You Get (Hard Copy)
As a scale modeler myself, this book has a number of aspects I like, not the least of which is the manner in which the book is laid out. The book is laid out in such a way that makes it easy to reference, and even add your own folder flags to if you wish. Since it comes double-sided and pre-punched for a 3-ring binder, it's also easy to lay flat and read, and later easy to expand. Mike has also indicated he has several upcoming expansion chapters. The text in the book is well written and the photos clear and glossy.
The first update to Mike's book is scheduled for late fall 2019 entitled "Removing and Reattaching Parts".
My book came in a sturdy, well packed cardboard reinforced pack with bubble wrap around the book, and the book itself sealed tightly (but not too tightly as to effect the condition of the paper) with a cellophane like wrap.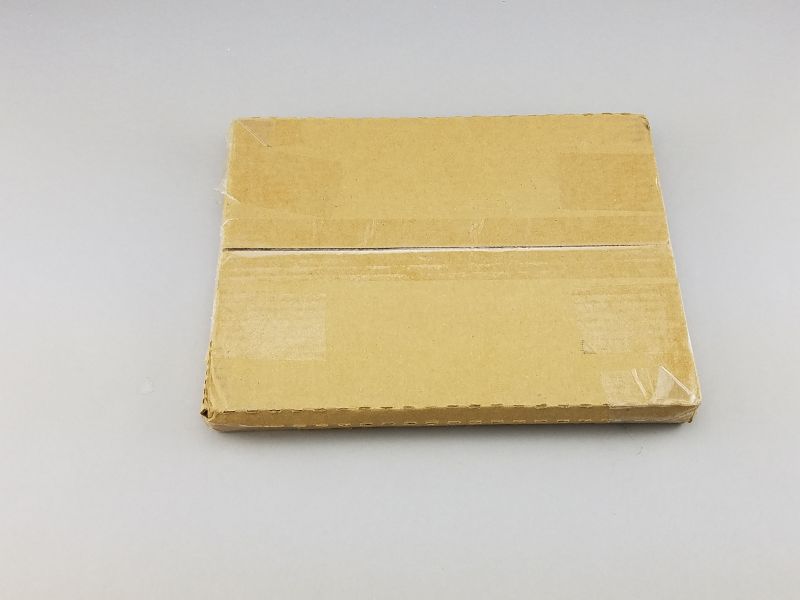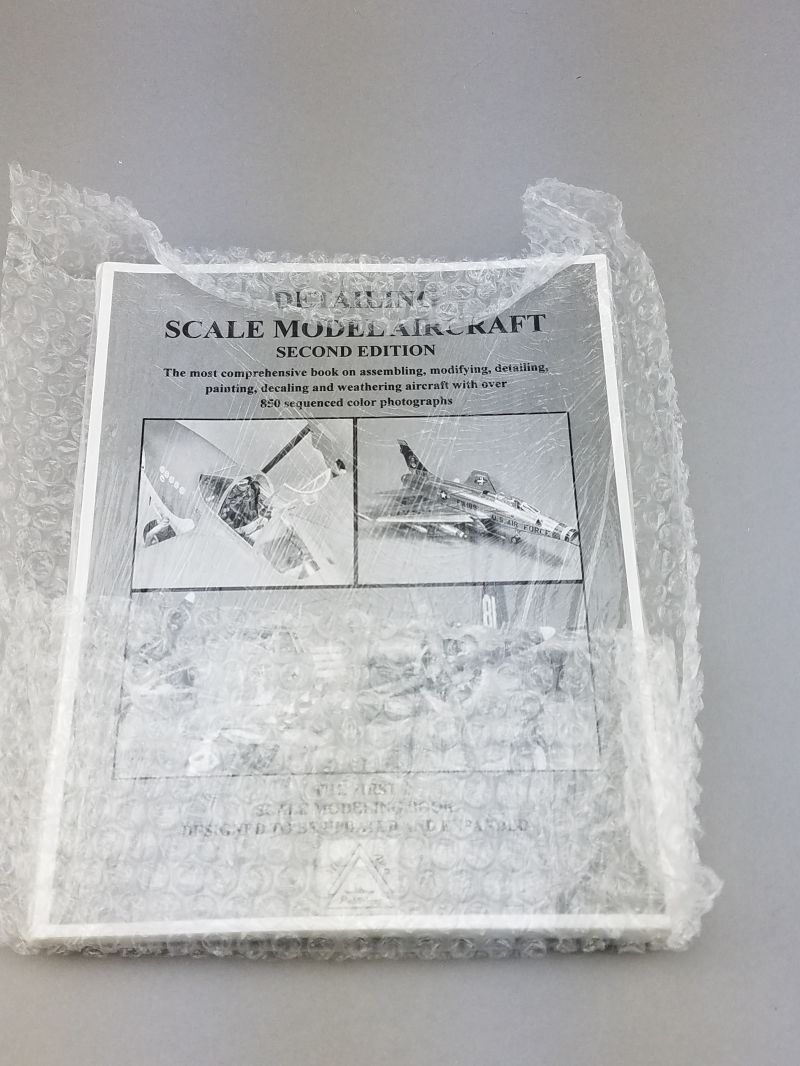 The book starts off with an introduction, as well as some opening tips, with a nice segue into required tools and equipment (I don't want to give the whole thing away, as it's a pleasure to go through). Each picture coincides with a description on technique or tip, and there are different models used in the pictures, so you get a wider view of more diverse situations you may find yourself in as a scale modeler.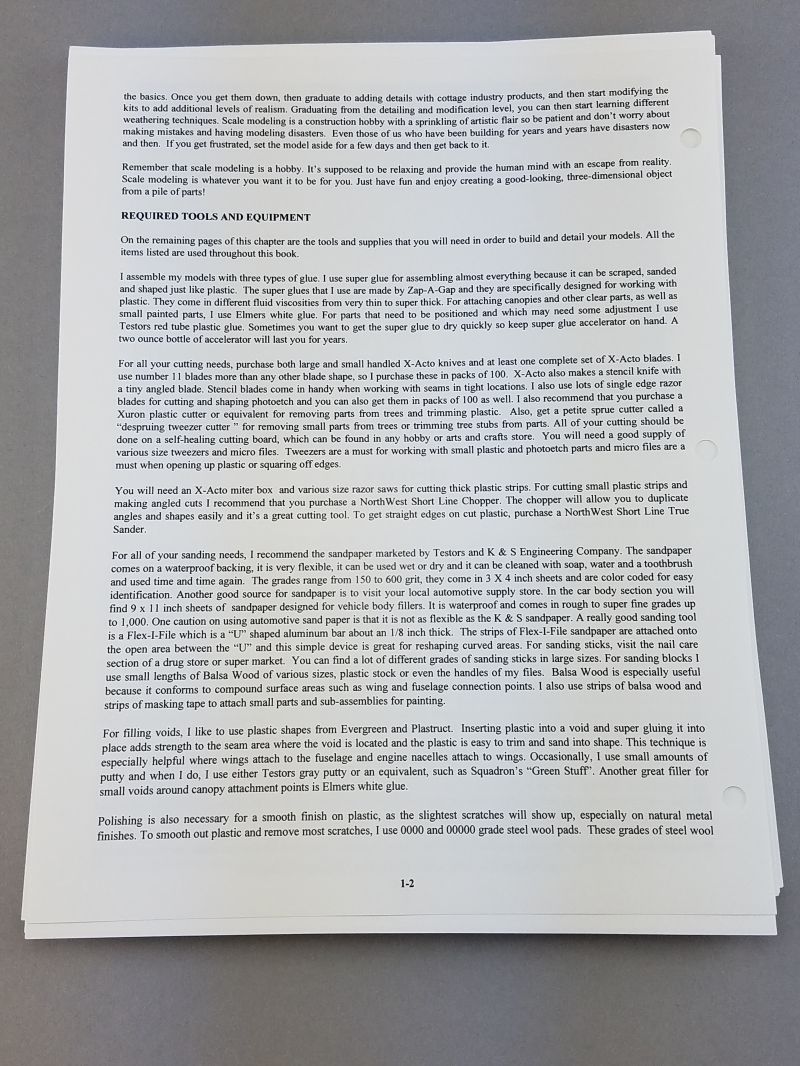 As you get into this book you will find the paper is very thick and glossy feeling, with well proportioned in focus clear pictures to go along with each description and technique. These sequences are easy to follow and seem to have a natural progression from the beginning of the modeling process, up to advanced techniques. As an avid aircraft only (generally but not as a hard rule) model builder, I can also appreciate the book's concentration on the construction, paint, detail and surrounding steps involved with model aircraft only. This is not to say as a scale modeler I can't appreciate a well done model of a tank, it's just here Mike concentrates on aircraft only, and in the context of a guide, I think that is a good thing. In my view, this will make it easier to make this a usable guide while building so that you are not having to spend the majority of your modeling time flipping through pages attempting to find what you want. I think in today's hobby, time can be one of THE most precious commodities, and I don't think we should undervalue anything that can potentially help us utilize our bench time for building.
Chapter 1 - Scale Modeling Tools and Equipment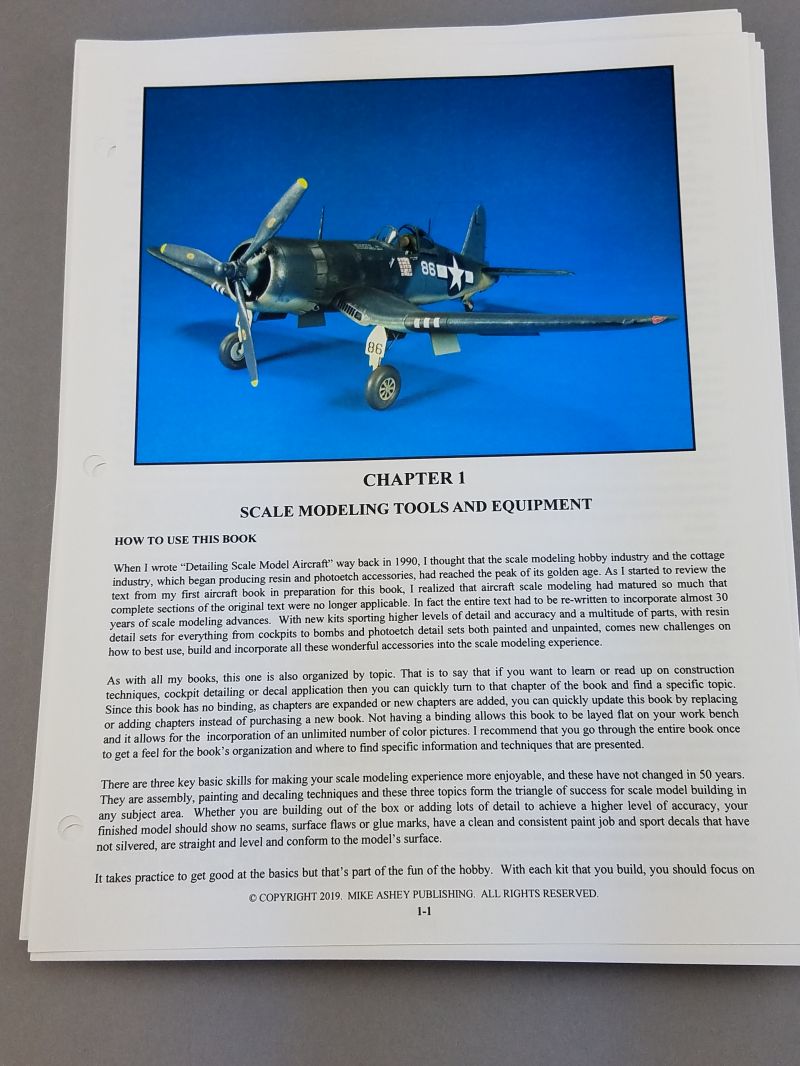 Chapter 1 covers some basics, but I think even experienced modelers can take a look at themselves and this book and can sharpen their current skill set, and maybe even learn some things. This opening chapter covers a logical start to the modeling sequence, and provides the reader with useful tips for getting started as well as what skills the modeler needs to progress through said sequences. This chapter also covers an intro to larger pieces of modeling equipment like a spray booth, which can be very handy when space is more limited and you still like to paint in doors.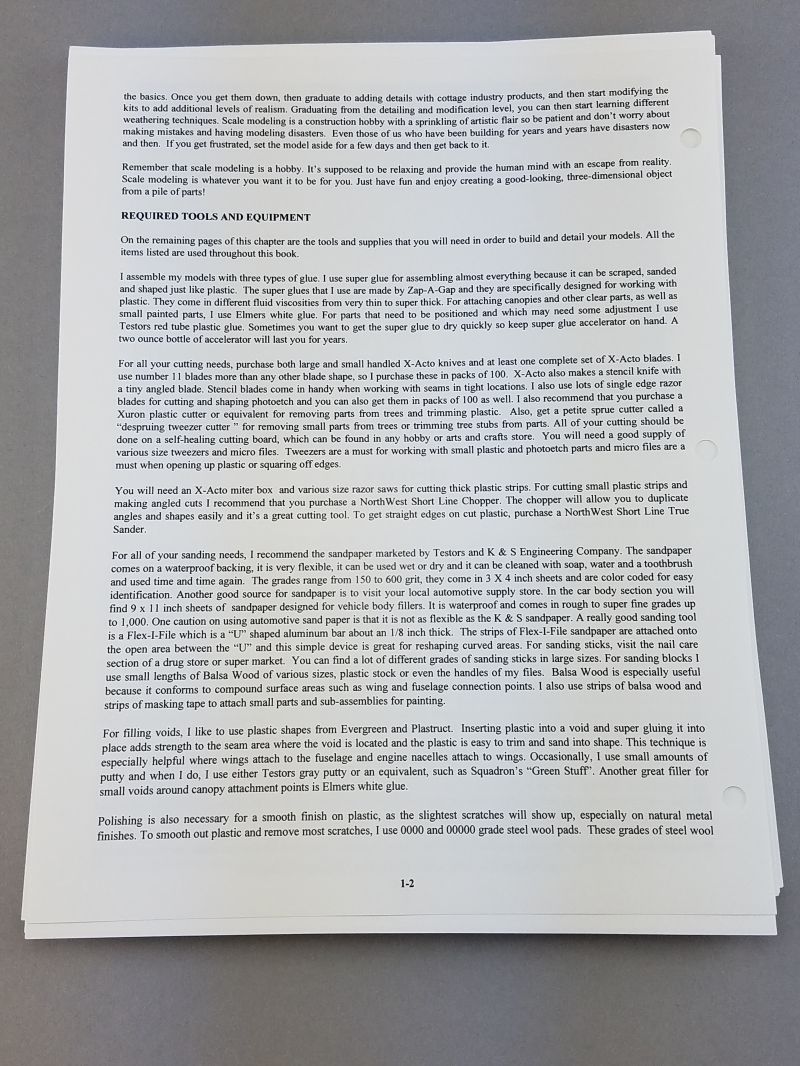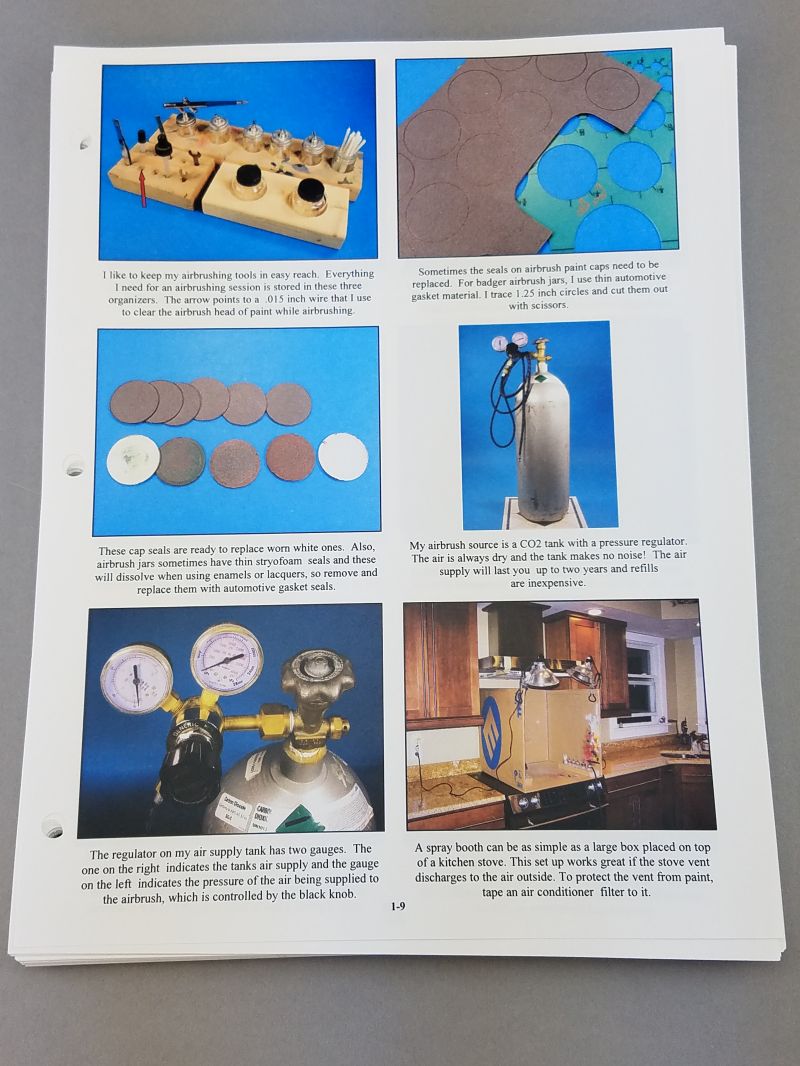 Chapter 2 - Assembly Techniques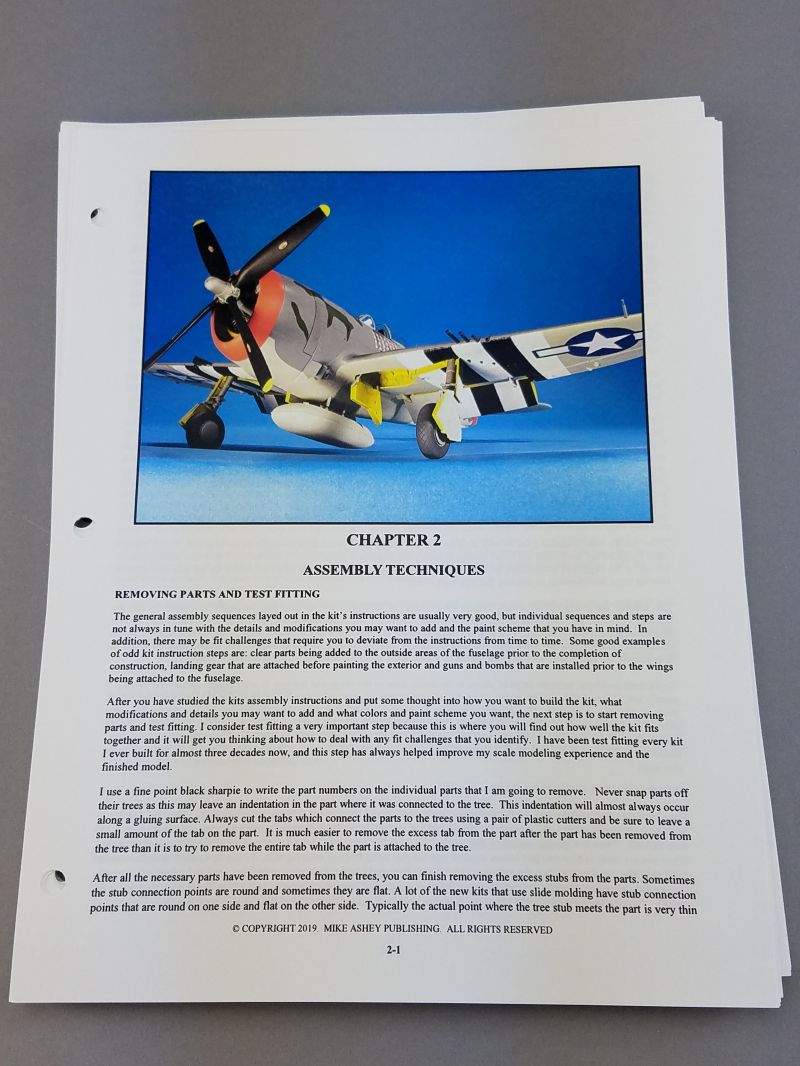 Chapter 2 is exactly as described, a wide variety of techniques for assembling scale model aircraft. This is a very handy section, as in today's world even in scale modeling, it seems we are loosing the basics of our craft, and the techniques and descriptions here go a long way to not only helping you at the bench, but will go along way to keeping your basic modeling skills sharp. This chapter also covers things that sometimes modelers forget; internal structure. There is a tipping point between realism (having to sand/scrape/fill/sand repeat) and having to potentially modify your model to even stand up to the rigors of its own weight, let alone being moved about to/from a show or contest. This chapter covers insight on beefing your model up so that when you encounter things like butt joints, you have proven techniques to make your model strong.
---
Chapter 3 - Cockpit and Interior Construction, Detailing, Painting and Basic Weathering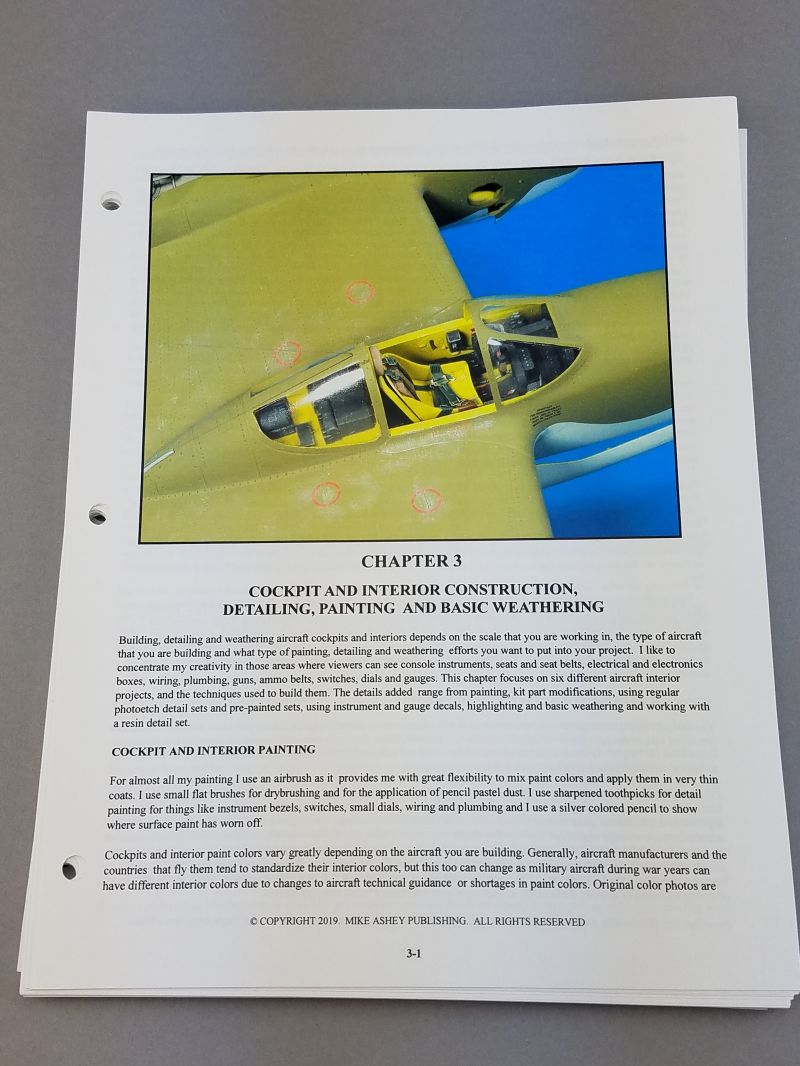 Chapter 3 is of course a bit more advanced for those who enjoy the more finite aspects of scale aircraft modeling. Interiors can really bring a model together or all but ruin an otherwise excellent one. This chapter covers a lot of useful techniques for interiors and cockpits. Weathering is a subtle art, and sometimes less equals more so it's an art that takes time and practice to get it looking effective. The art of weathering a scale model aircraft is really one best learned by guided experience, and this book can be a good guide. There are some very handy tips here about fine interior masking, detail painting, dry brushing and aftermarket detail sets.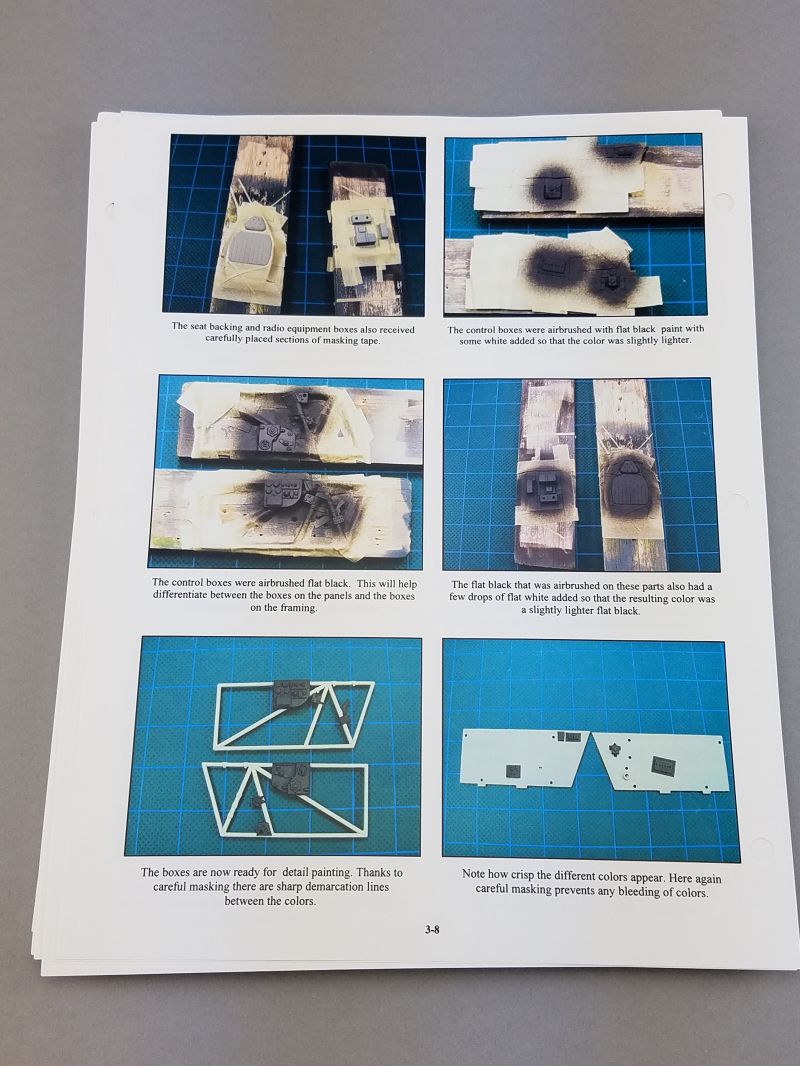 ---
Chapter 4 - Building and Detailing Engines and Landing Gear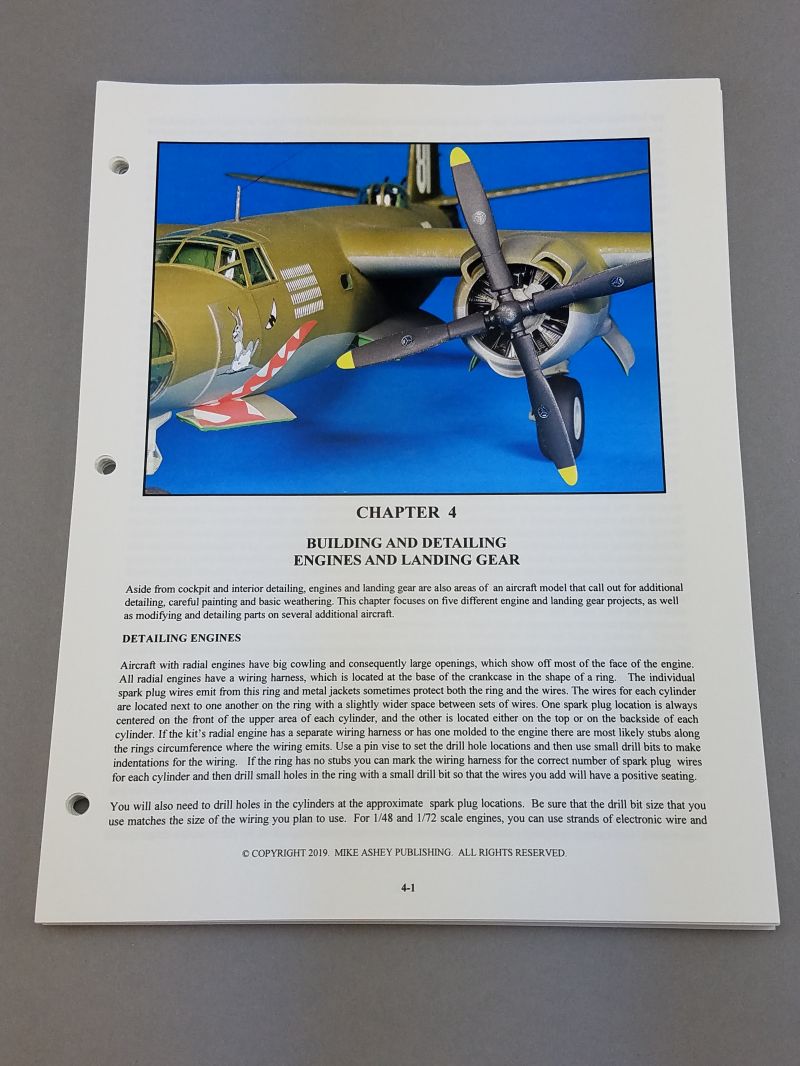 Chapter 4 is all about engines and landing gear. These two details on any scale model aircraft along with clear parts, can be some of the very first things to draw your eye to a model. If these are poorly done, expect that it will get seen pretty quickly. Techniques covered in this chapter include how to "tape up" your model prior to actual assembly to check fit, how to add minute detail to not just engine bays, but bulkheads, oil tanks, bearers as well as the associated plumbing, adding counter balance weight to tricycle gear aircraft, and restoring lost tread detail to tires.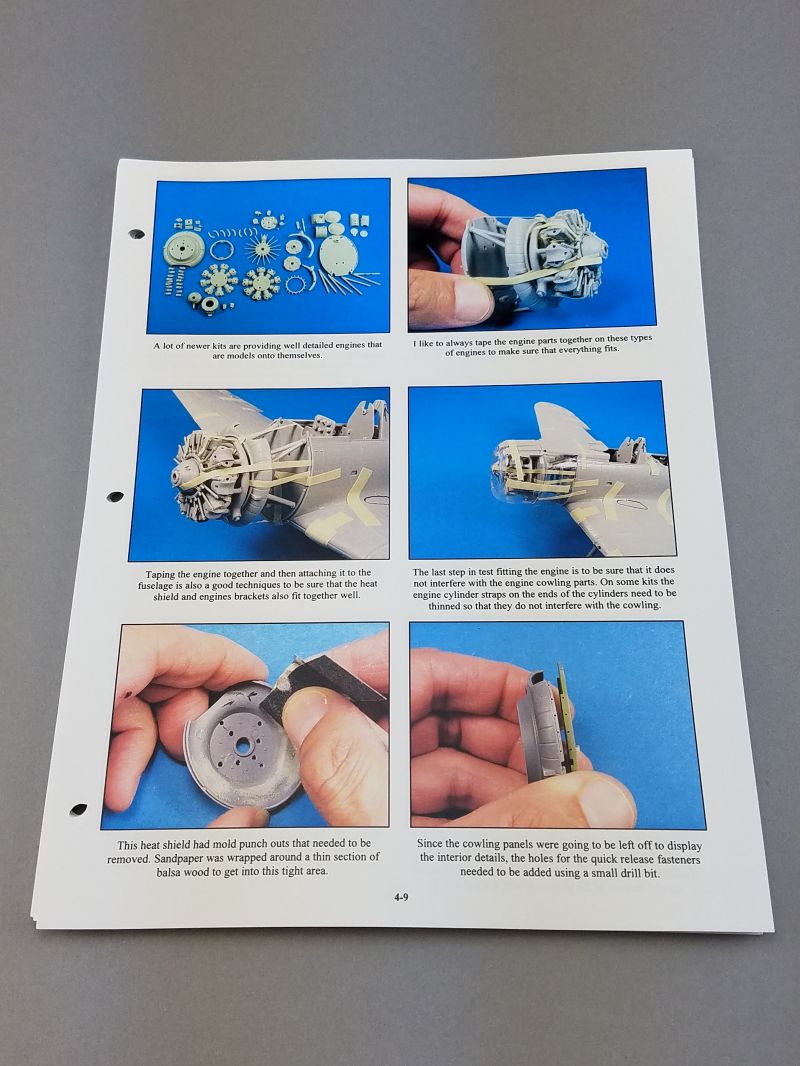 ---
Chapter 5 - Guns, Flying Wires, Antennas, Bombs and Control Surfaces
Chapter 5 is all about the details. Things like guns, bombs, flying wires, and antennas can be the difference between a good model and a great one. This chapter gets into techniques to improve them. Recommendations on equipment such as "The Chopper", a Dremel press and DIY ways to improve small details like gun barrels are excellent techniques to know. Rigging is another topic covered here. There are wide and varying techniques to approach rigging and depending on the material used, these can apply well and be a good weapon to have in your skills arsenal. Fine details like bomb painting are also covered in this chapter, and go to some length to make painting them quick, easy and realistic.
---
Chapter 6 - Painting, Decaling and Basic Exterior Weathering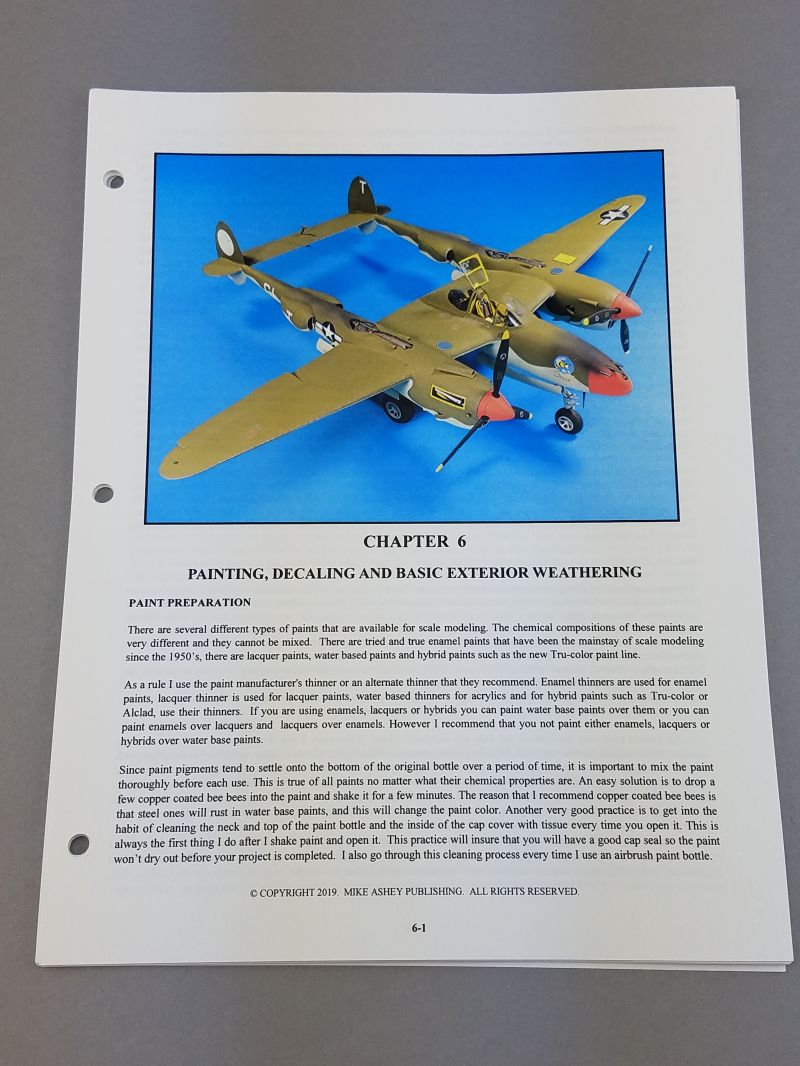 Chapter 6 gets into a lot of neat modeling tricks and traits. Some of the descriptions, and history of how aircraft are assembled are covered in this chapter, including advanced masking techniques, paint fading and weathering, as well as paint layering. Details also covered are joints and panel lines and their types, different paints and their types, as well as how well or not well they work together. Understanding the chemical relationship between paints and the different reactions they can cause is critical to becoming a good all around modeler. The chapter also reminds one of good habits to get into so that your tools and paint always look and work as good as they should. Modeling like most any modern hobby can get expensive, and getting into the habit of taking care of the equipment and supplies you use can go along way to saving you money and time in the long run.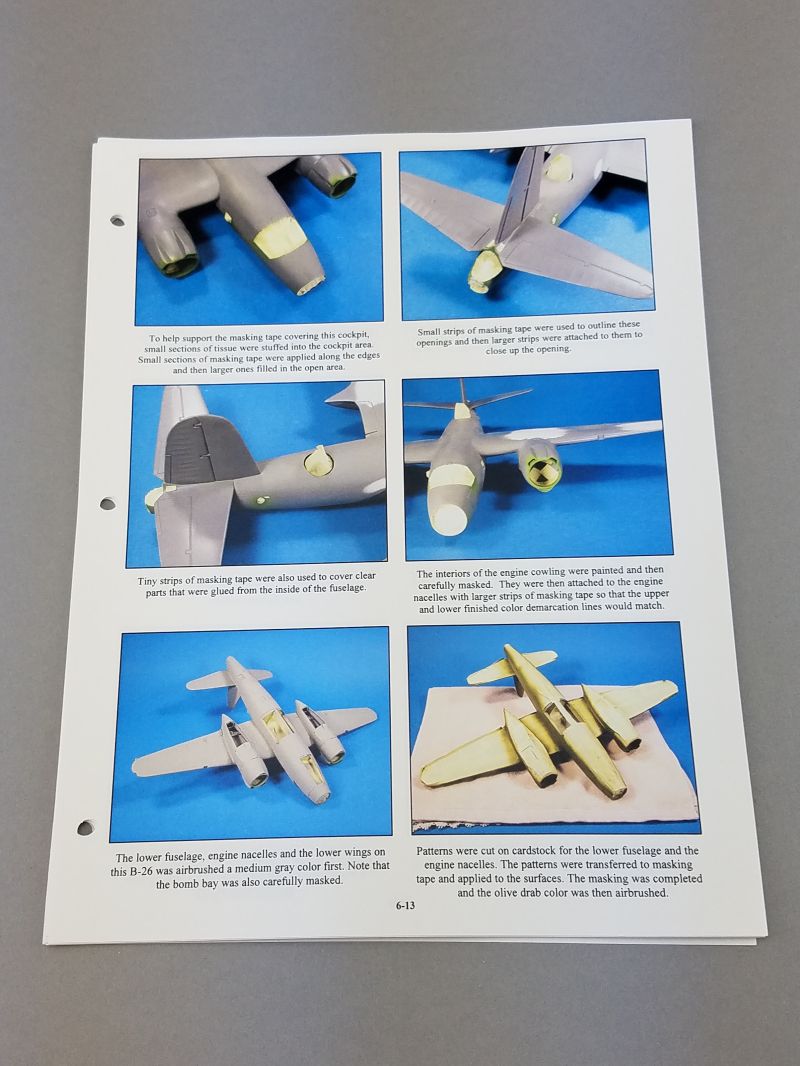 ---
Workbench Quick Tips
This section is not really a chapter so much as a handy on-bench quick reference tip guide. This section can be put right at the end after chapter 6, or at the front for quick reference. Again, one of the nice things about this book being set up for a typical 3-hole punch is that you can arrange, or rearrange the book to suite your own tastes and what you are trying to accomplish with it.
Like most all of the book, there are some very handy tips and tricks in this section applying generally over the scope of things, and in my opinion may best be served put toward the front if you are keeping this book handy at the bench, which is exactly the place I would recommend you use it.
This quick tip section can also keep the modeler on task, and remind him of the basics that need to get accomplished on every model. You can also use these tips and make your own model checklist based off of them, so you have a matching list you can physically check off prior to and during any model build.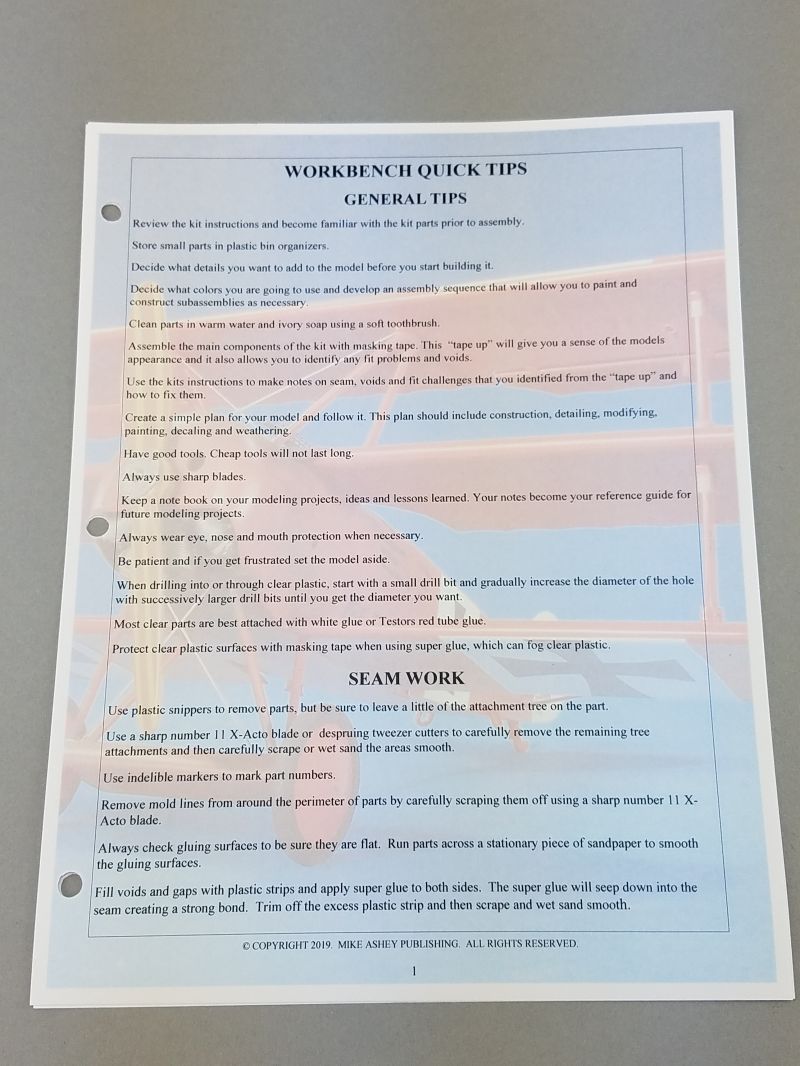 3-Ring Binder
I found a nice white 3-ring binder, and slipped the supplied non-punched color cover sheet into the front, the B & W cover on the back, and used the thinnest of the 3 provided spine inserts, and put all the chapters in order, with the Workbench Quick tips in the front.
Putting the book all together in the dual page format, in conjunction with the high quality photos and thick glossy paper, really gives you a sense of how well the book is done and its overall quality.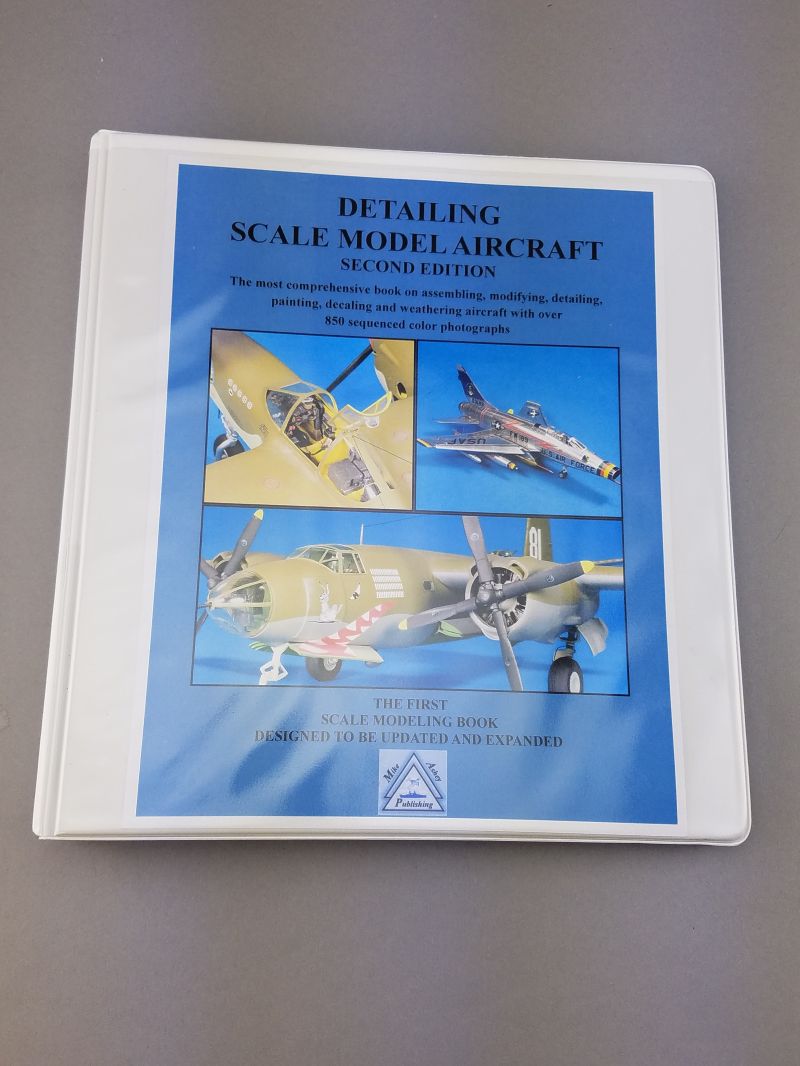 ---
Conclusion
I have gone over a lot of "how to" type books in the past 35 or 40 years of modeling, and this one ranks right up at the top. It's well sequenced and written with topics that genuinely apply to what we do as model aircraft builders, and they apply across the board to not only our scale but any scale.
It should be a great help visually to the modeler with lots of sequenced, quality, focused pictures that follow along with well written tips and tricks. I believe this book could be exceptionally handy to a variety of different aircraft modelers.
"Detailing Scale Model Aircraft, second edition" is priced at $34.25 USD with all shipping done via USPS media mail. The USPS media mail is tracked, and the cost of shipping the book is $4.90 USD for all US and associated territories. The book is also available on their website (www.mikeashey.com) and eBay as well. Mike also sells this book in a PDF version for $26 USD for those modelers who prefer digital media. The PDF version is just as nice as the hard copy as far as clarity, and sequence, and you get every single page via PDF that the hard copy comes with.
This book will be an excellent tool for your work bench, and could be as handy as any we use. This book will also be a great start for anyone looking to get into the hobby, with plenty to get them involved and prepared for high level modeling. Good books like this in my view can also make the hobby more enjoyable and rewarding all around, because I think we can all stand to add to our modeling arsenal of techniques. HIGHLY recommended!
Acknowledgments
Many thanks go out to Mike for the hard copy/PDF review sample from www.mikeashey.com.
© Brian Leitch 2019
This review was published on Saturday, March 02 2019; Last modified on Saturday, March 02 2019