HMH Publications | Aircraft in Detail #005: Panavia Tornado
Reviewed by Kevin Williams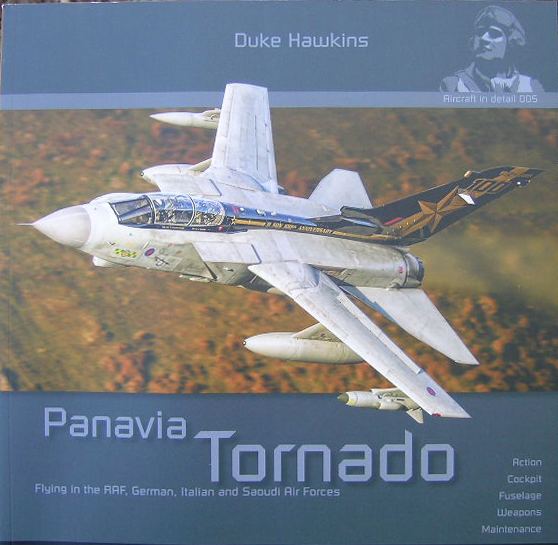 Publisher: HMH Publications
Author(s): Duke Hawkins
Publishing date: 2018
ISBN: None
This particular book (No. 005 in the series), depicts the rather iconic Tornado, an aircraft that has been a personal favorite of mine for quite some time, and it's geared toward both modelers and aviation enthusiasts alike, being very much a detailed, walk around overview of the type, and I couldn't be happier about that.
For me, this series (Aircraft in Detail) from HMH Publishing, is new, though they currently have several volumes available, that I had previously been unaware of. Sent to me for my library and to review for the site as well, by our own Nic C.D. (co-author of the splendid Daco book, Uncovering the Lockheed Martin F-16A/B/C/D), my first impression was very, very favorable indeed, as it's chock full of wonderful high resolution detail photos, just what the doctor ordered, and will prove especially useful when I finally crack-on with my own Revell kit.
It's all here, from the tip of the pitot tube, to the exhaust can thrust reversers, and everything in between;.. just perfect for the modeler or general aircraft enthusiast.
I cannot emphasize enough the amazing overall quality of these publications; great quality color photo paper and wonderfully clear, sharp color detail photography. Just great stuff. I'd also venture to say that you'd have to look long and hard to find so much comparable quality at a similar, and very competitive price. In point of fact, these books really seem under-priced, not that I'd urge them to raise prices, as I certainly would not, but they're really just such a great value. I hope in the long run that they're able to do many, many more in the series, like the F-111 Aardvark. Wouldn't that be sweet!
Photo Samples
---
The myriad photos obviously form the backbone of this book, and for me, this is a true blessing, as I can never seem to get enough details, and this book certainly has them in great abundance.
Even if you have just a passing interest in the Tornado, you can't go wrong with the purchase of this book. You may just become a fan.
Summation
On a scale of 1 to 10, I'd rate this book as a solid 10, no question about it. Topping out at over 100 pages, it's packed wall-to-wall with details, details, and more details, and is therefore highly recommended.
At present, I know of no other volume on the Tornado that delves into such extraordinary detail, so if you're a Tornado fan (as I surely am), you really need to grab a copy for yourself, as this book (as far as I am concerned), is the definitive work to date on this aircraft.
(Volume 001 in the series, dedicated to the Sepecat Jaguar, will definitely be added to my ever growing book collection, and that can't happen soon enough, as far as I'm concerned.)
My review copy compliments of Nicolas Deboeck and HMH Publications. Thanks a ton, Nic, it's a truly awesome piece of reference work.
© Kevin Williams 2019
This review was published on Sunday, March 17 2019; Last modified on Friday, December 03 2021