Border Model | Black Flame Ver. 2.0 Airbrush
Reviewed by Mitko Nikitov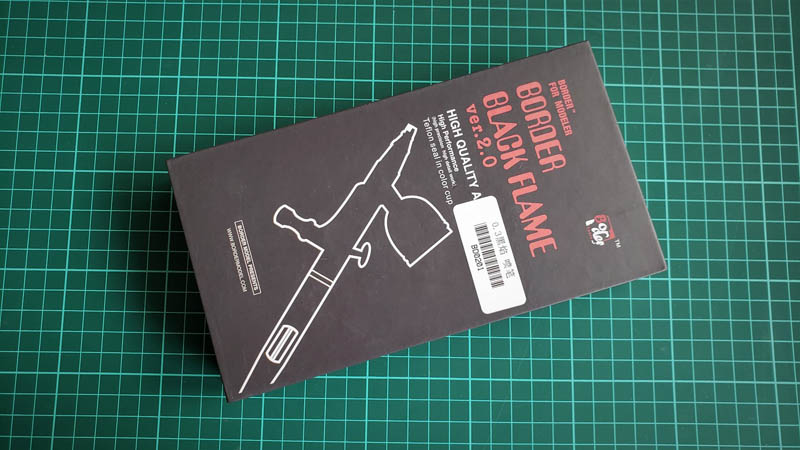 Introduction
Border Model is a Chinese company that is yet to be recognized widely. It is far from the fame that Trumpeter, Hobby Boss, Takom or RFM already have. Border just released their first kit, which is armor in 35th scale and aside from that there are some tools available, but that is all. That shouldn't surprise you, especially with the abundance of new producers appearing every year last decade.
Border however, are aiming high and from what I've seen so far from them, they are here to stay. Their Panzer IV in 35th scale, although not an LSP subject, is a kit worth praising and worth checking out. Their tools are very useful and nicely crafted as well. The quality that the new Chinese maker demonstrates is surprisingly good and obviously, they are spreading quickly, although with limited number of products.
By spreading I mean that beside the basic tools and the kit, Border offers airbrushes. One of which will be a subject of today's review. The airbrush is not the most precise gun out there, nor is the simplest tool of all, but something right in the middle. Something, that should be useful for every modeler out there, covering all the basic needs that one might have.
Packaging
Border airbrush in question is called Black Flame and this sample is apparently version 2.0. It comes packed in a nice and sturdy cardboard box, made from quality materials. It is thick and it is far better than the regular box that you get your airbrush in. At least visually.
---
On the sides and the back of the box there is additional information about the airbrush, including basic airbrush parts guide on the bottom of the box from the outside. Inside, there is some foaming insulation, separating the airbrush from the top of the box and of course, a bed designed specifically to hold this particular airbrush.
There is a semi-transparent front end cap, covering the business end of the airbrush, and a small plastic container holding an additional crown cap. There is also a wrench and a braided transition for those who use regular pneumatic hoses and not specifically airbrush-oriented ones. Aside from that there are instructions on the bottom of the box, beneath everything else.
Instructions
The instruction sheet is double sided and is more like a leaflet with basic info. On one of the sides everything is written in Chinese and on the other there is a translation in English. Unfortunately, the translation resembles the old Trumpeter box descriptions. Something that was being done without the proper attention.
---
There is also a QR code with additional information about the airbrush, which hopefully you'll be able to use scanning directly from the pictures here.
The instruction sheet in general is a let-down, but bear with me for a little longer to see the overall conclusion. It is quite different in the end.
Add-ons
As mentioned above there is a transition for attachment to a standard pneumatic hose, which many will find useful. Somehow this became a standard for many airbrush producers and Border did their part accordingly. In my opinion this is clever, because it allows for quick connection of more than one airbrush to a single compressor and with minimal investment. Besides, with the clear pneumatic hose any moisture is quickly visible, unlike with the braided non-transparent airbrush hoses that most of the companies offer.
The wrench included is something that does not need any comment or attention, especially considering that most of the people reading LSP articles are already experienced enough and know their way around airbrushing and modeling in general.
There is a crown cap on the other hand, which is something that I value in an airbrush set. It costs some decent money if we are talking major airbrush brands, and only few others offer their sets with one provided for free. However, this is indispensable add-on, especially for those who like to spray fine lines.
Many will remove everything and spray with bare needle tip, but that is too risky and in time, it will cause some mishaps. Here the crown cap comes to the rescue and luckily, we have some in this set, packed neatly in a small transparent container. It allows for the air to escape around the cutaways, permitting close and more precise work. Also, it keeps the distance from the needle to the surface protecting the most precious thing in any airbrush: the needle tip.
Airbrush
Border Black Flame ver. 2.0 looks very attractive because it comes in black. Aside from the color though, it is pretty much the standard looking airbrush, which you can get from Iwata, Sparmax, Grex, Mater or any other airbrush maker.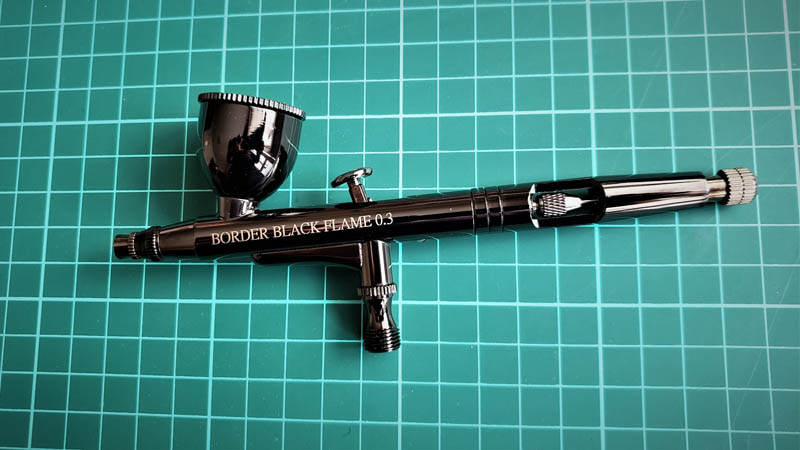 There is a standard nozzle cover at the front, a tail cover with a cutaway on the back and removable paint cup on top. The paint cup has a lid and an interesting addition, non-typical for other airbrushes. That is the Teflon O-ring that you can find once you remove the main cup. A smaller /part of the main body/ color container is embedded, which can be used for short and quick spray sessions, holding only few drops of paint. Not sure how exactly the Teflon seal will help with that, but probably when some time passes, it will help sealing better the connection in between the body and the color cup.
The cup itself has a nice coating, although I can only speculate about its service life. Some coatings look brilliant but they are worn out quickly, while others are not-so-good looking, however they seem indestructible. Only time will tell which one of those is applied here.
The lid of the color cup fits nicely and compared to any Chinese cheapo, you can immediately tell that there is significant difference in quality.
The other thing interesting is the tip of the nozzle cover, where you can find the needle. It has somewhat different appearance compared to the regular airbrushes that I use. They are more round, while with Black Flame, we have flatter surface, just where you can find the needle tip. It might be just an appearance trick, or a designer's decision. All I can tell is that it looks different.
---
Overall craftsmanship is very good and once you put the color cup in and get the airbrush in hand, you can hardly tell that the cup is removable. There are no gaps in between parts and everything looks pretty nice. Which leads us to the next part:
Trigger, Stopper, Ergonomics
The trigger is round, without cutaways for position orientation. It resembles a single-action airbrush trigger. It moves freely and again, good craftsmanship can be felt from the get go. This might not be the case for each and every Black Flame airbrush, but just for the sample that I have. However, considering the quality of the rest of Border's products, I would say that probably they will do just fine.
The tail stopper is something that is valued in an airbrush. Last airbrush that I had for review had a faulty one and it was quite annoying. On the contrary here, the stopper works perfectly fine and the threads are nicely done. The movement is smooth and trouble-less. The trigger is stopped properly once you set it up and you shouldn't expect any surprises.
With the above mentioned, I can only say nice things about Border. However, I have to add that in order to get the best out of your airbrush, you should not forget to lube it and fine tune it before starting the work with it. Especially if this is going to be your main airbrush.
Ergonomically, it is pretty standard. I cannot say much more, because I am used to this type of airbrushes and I have no troubles working with it what so ever. It is heavy enough to provide you with nice grip, but not overly heavy to tire your hand in long spray sessions. Also, removing of the cup does not cause any significant imbalance, which is very important from my stand point.
Coating
Why it was made black? Who knows? It looks lovely, that is for one. And it looks different than the rest. Probably that was the reason MENG released their high-end airbrush in black too. Border is a fingerprint magnet, I can tell you that. You can probably see it on the pictures too.
How long the coating will stay there is not certain. The first two spray sessions were trouble-free, but on the other hand I haven't used any aggressive paints nor cleaners yet. Anyhow, there is nothing that lasts forever, but we can only hope that the coating of the Border Black Flame will stand the test of time, at least for couple of years.
Conclusion
I cannot comment on the price, because I got this directly from Border for review. However, I checked and it looks like it is reasonably priced, similar or lower to Sparmax, which are one of my favorite brands. If that is the case for all around the World, I think Black Flame will take a decent place in the top 10 options for a starter dual-action airbrush for general use. The .3 nozzle is capable of almost everything a modeler needs and some can master such airbrushes to fulfil all their needs. Black Flame seems to be ergonomic, well crafted and nicely looking airbrush. One thing I can guarantee is, that it looks a lot different than the rest. Initial observations and testing showed smooth movement of the trigger and the stopper, good handling and easy cleaning.
If you can find it a decent price near you or you are in for a new or first airbrush, Border's Black Flame is definitely a piece to consider. I will refrain for concluding how it will cope with the test of time, but feel free to remind me an year after this article is released. I will be able to tell you then. I decided to give it a go and for a while I will use it for daily purposes, which includes fine details as mottling and fine lines and up to clear coats too. I am pleasantly surprise with Border's effort and I trust that this is probably only the beginning.
© Mitko Nikitov 2019
This review was published on Friday, March 22 2019; Last modified on Friday, March 22 2019