AK Interactive | Real Colors of WWII: Aircraft
Reviewed by Kevin Futter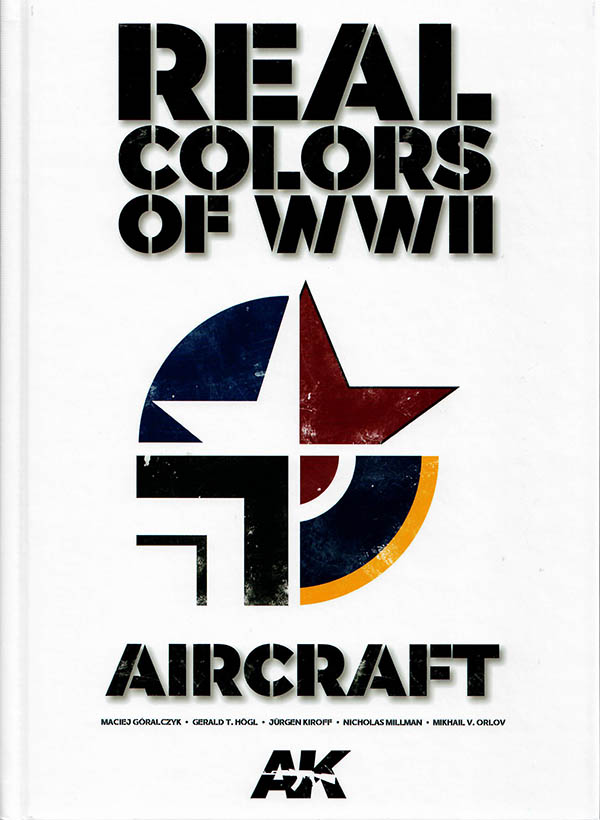 Spanish firm AK Interactive has, in a relatively short space of time, become quite well-known for its finishing and weathering products, of which it sports an extensive range. It also has a burgeoning selection of publications, and while many cater for armour and diorama builders, the company's latest title is aimed squarely at aircraft modellers.
Entitled Real Colors of WWII: Aircraft, the book is authored by an ensemble of renowned researchers, and clocks in at a hefty 294 pages. It's hardbound, and luxuriously printed on heavyweight glossy paper stock, and this results in a surprisingly heavy book. The web page for the book describes it as featuring "42 color profiles, several document reprints, and 390 b/w and color photos".
The authors are listed as Maciej Góralczyk, Gerald T. Högl, Jürgen Kiroff, Nicholas Millman and Mikhail V. Orlov, and the contents are broken down into four major sections:
German Aircraft Colours in the Second World War (Góralczyk, Högl, Kiroff)
U.S. Aircraft Colours in the Second World War (Millman, Góralczyk)
British Aircraft Colours in the Second World War (Millman, Góralczyk)
Soviet Aircraft Colours, 1940-1945 (Orlov)
The major surprise here is that there is absolutely no coverage of Japanese aviation colours during the Second World War. This is doubly surprising given Millman's involvement, who is a renowned researcher and expert on the subject. Note that none of the minor Allied and Axis powers are covered either, but Japan appears to be the major omission. Perhaps a follow-up volume is being planned, but nothing in the book itself or the AK Interactive promotional material suggests this is the case.
It's no surprise that the opening section on German aircraft colours takes up the lion's share of the book, coming in at just over 100 pages. By comparison, the U.S. section spans 69 pages, the British section is 41 pages long, and the Soviet section covers 56 pages.
One of the major positives of this volume is that much of the presented material is based on primary research, rather than being a summary of extant publications. The German section in particular contains some conclusions that will no doubt be contentious, but I won't spoil them here. All claims are supported by original documentation, however, and are convincingly argued.
Each of the major sections is broken down into a multitude of chapters, which cover the various branches (air force, navy, etc), theatres, and operational jurisdictions (land, sea, day, night, etc) that each of the nations covered found themselves having to design and deploy camouflage for. Training, experimental and prototype aircraft are also considered where appropriate, providing as thorough a discussion as practicable.
The content itself is a nicely balanced mix of period photos, scans of primary documents, colour profiles, and colour chip reproductions. The latter do suffer from the limitations of the printing process, and will probably be of limited practical value.
The text itself suffers a little from a very dry, academic tone, and can be a bit ponderous in places. It also has its share of typographical errors, though no more than any other hobby publication I've read. Given that only one of the five named authors has English as his primary language, I think the team has done remarkably well overall.
Sample Pages
The following sample pages have been borrowed from the AK Interactive website.
---
Conclusion
This is a book of no small ambitions, and it is, for the most part, successful in achieving its goals. As noted earlier, the text can be hard work at times, but there's no doubting the sincerity of the effort, or the veracity of the research that supports it. Given the sheer size of the book, and the breadth of material covered, I would like to have seen an index included. There is, at least, a comprehensive table of contents at the beginning of the book.
The material itself is detailed, arcane at times, and not afraid to break with established notions where there is evidence to support doing so. Contentious topics such as late-war Luftwaffe colours, or U.S. interior coatings, are discussed in detail, and conclusions presented where applicable. The section on Soviet colours will be of special value to those with an interest in the subject, since it is so rarely discussed in such detail. Note that, apart from some fleeting mentions of the new AKI Real Colours paint range that accompanies the release of this book, no paint matches for existing model paints are given anywhere.
I see the omission of any coverage of the Japanese situation as the book's only major shortcoming, but if you have a serious interest in any of the areas that are covered, this book will serve you well. It's not for the casual observer, or anyone with only a limited interest in the minutiae involved, but I can otherwise very much recommend it.
Thanks to AK Interactive for the review sample.
© Kevin Futter 2019
This review was published on Saturday, April 13 2019; Last modified on Saturday, April 13 2019