Revell | 03875: Messerschmitt Me 262 A-1/A-2
Reviewed by Andrew Birnie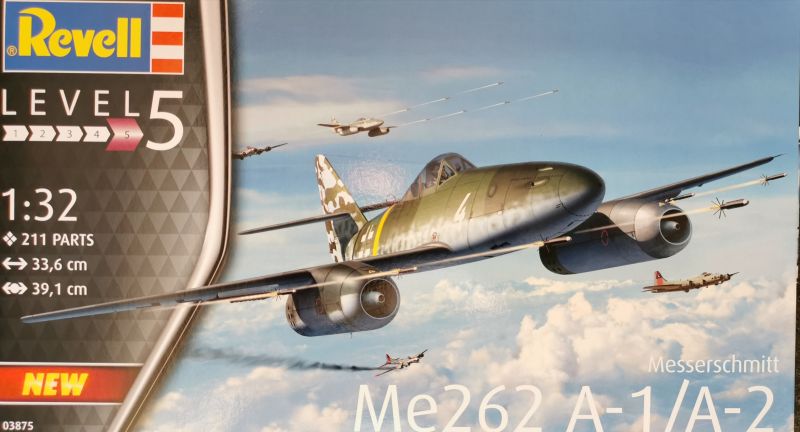 Aristotle said "one swallow does not a summer make", well if he was experiencing a typical Mancunian summer's day - it's raining, a lot! - and he'd just received the new Revell Me 262 A-1/A-2 I do believe he'd think differently.
Following on from their Me 262 B-1/U-1 Nightfighter kit of a couple of years ago, Revell have finally released the single seat version, and like a nice pint of Guinness, it was worth the wait. Consisting of thirteen sprues, two clear, eleven typical Revell light grey, and a decal sheet with two options.
The instruction booklet is in the now standard Revell style. There is one anomaly, in step 75, it appears to have been influenced by step 80 in the Nightfighter kit in that it illustrated the rear most portion of the canopy having the option of being posed open, this is incorrect, and indeed part 157 has no tabs to facilitate this, it should be placed as per the illustration in step 77.
---
The exterior detail is impressively subtle, and the detail throughout is superb, with not a sink mark in sight, though there was a bit of flash - the first I've seen on a kit for a long, long time - thankfully this was just restricted to being on a sprue.
---
Sprue A consists of the fuselage, wing and tailplane parts.
---
Sprue B contains the corresponding fuselage, wing, tailplane, and also the rudder.
---
Sprue C has parts for undercarriage, upper forward fuselage, bomb racks, gun bay, undercarriage doors, cockpit interior.
---
Sprue D provides parts for the lower fuselage, and engine nacelles.
---
Sprue E - of which their are two - consists of the Jumo 004 engines.
---
Sprue F - again two of - the wheels, two types for the front, and Mk 108 cannons.
---
Sprue G forward windscreen.
Sprue H rear canopy.
---
Sprue I upper fuselage, cockpit sidewalls, and R4M rockets and mounts.
---
Sprue L - two of - SC500 kg bombs.
---
Sprue M - two of - drop tank.
---
The decal sheet provides options for an A-1a, Werk no. 130017 of Erprob.Kdo 262, based at Lechfeld 1944, and A-2a, Werk no. 170122 of 2.KG 51 "Edelweiss", Rhine 1944. The sheet is designed by AirDoc, printed in Italy (Cartograf), the instrument panel decal lacks the clarity of detail provided by airscale options, and in line with German law, the Swastika is missing, seat belt decals are provided, but an aftermarket option would be a must.
---
Conclusion
This is a very impressive model, that would only require a smattering of aftermarket products; airscale/Yahu to bring the instrument panel up to the level of the rest of the kit, as would seat belts, resin wheels - to solve the seam problem. There are also a great many decal/mask options already available allowing you to make a top drawer model of the worlds first operational jet fighter.
© Andrew Birnie, 2019
This review was published on Thursday, August 01 2019; Last modified on Friday, August 02 2019