HMH Publications | Aircraft in Detail #SLE-001: F-16 "Dark Falcon"
Reviewed by Kevin Williams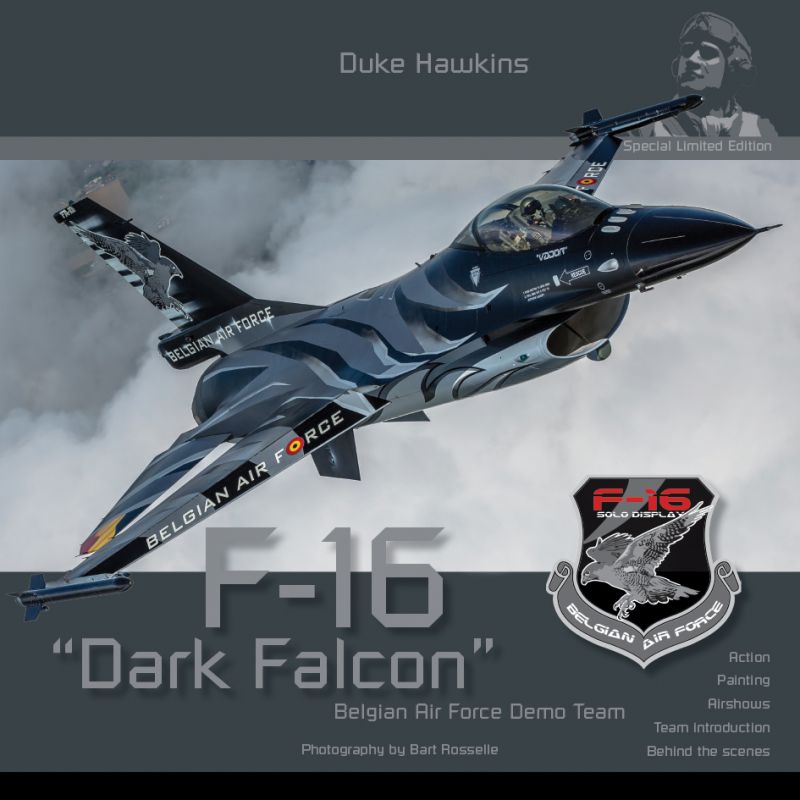 Publisher: HMH Publications
Author(s): Deboeck
Publishing date: 2019
ISBN: None
This particular book (a deviation from the now standard "Aircraft in Detail" series, the first that I'm aware of), depicts the rather cool F-16 Viper (Fighting Falcon), from the Belgian flight demonstration team. While the term "demo team" is somewhat misleading to me (I generally regard a team as meaning more than one aircraft), it still qualifies as a team with respect to the number of individuals behind the scenes that perform maintenance, coordinate the flying schedules and whatnot. The Viper has been a personal favorite of mine for quite a long time, so I'm very happy to add this book to my personal library. While not being a heavily detailed walk around type book, the very nature of this single volume is specifically dedicated to one particular Viper, FA-001, flown by Sr. Cpt. Stefan Darte ("Vador"), and is not a heavily detail leaning volume, though the photography of the Viper is still quite exceptionally nice.
Don't despair, HMH also does a volume (#002), specifically dedicated to the details of the Viper.
Sent to me for my library and to review for the site as well, by our own Nic Deboeck (co-author of the splendid Daco book, Uncovering the Lockheed Martin F-16A/B/C/D), my first impression was very, very favorable indeed, as it's chock full of wonderful high resolution photos, just what the doctor ordered.
I cannot emphasize enough the amazing overall quality of these publications; great quality color photo paper and wonderfully clear, sharp color detail photography. Just great stuff. I'd also venture to say that you'd have to look long and hard to find so much comparable quality at a similar, and very competitive price. In point of fact, these books really seem under-priced (not that I'd urge them to raise prices, as I certainly would not), but they're really just such a great value. I hope in the long run that they're able to do many, many more in the series, like the F-111 Aardvark. Wouldn't that be sweet!
Photo Samples
---
The myriad photos obviously form the backbone of this book, and for me, are a true joy to behold, as I can never seem to get enough great photos. (Several of the photos here were graciously supplied by Nic, and are used here with his permission.)
Even if you have just a passing interest in the Falcon, but have a particular "thing" for demo team markings, this book may well be just for you.
Summation
On a scale of 1 to 10, I'd rate this book as a solid 10, no question about it. Topping out at over 100 pages, it's packed wall-to-wall with excellent crystal clear Viper photos, and is therefore highly recommended.
(Volume 002 in the series, dedicated to the Viper, will definitely be added to my ever growing book collection, and that can't happen soon enough, as far as I'm concerned.)
My review copy compliments of Nicolas Deboeck and HMH Publications. Thanks a ton, Nic, it's a truly awesome piece of reference work indeed.
© Kevin Williams 2019
This review was published on Monday, September 09 2019; Last modified on Tuesday, September 17 2019