Doyusha | Type 93 Akatombo Advanced Trainer - K5Y2 "Willow"
Reviewed by Brian Leitch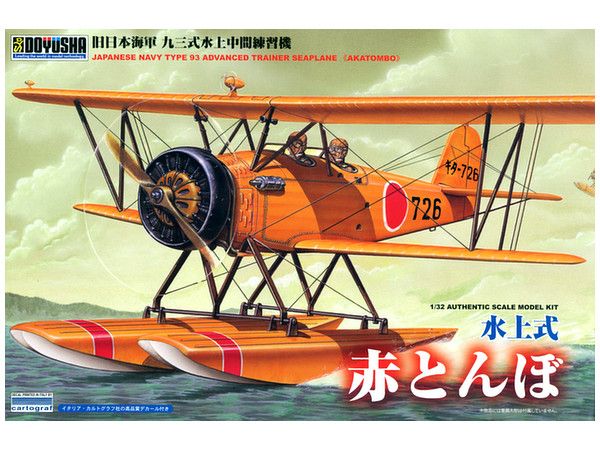 This is the recently re-released 1/32nd IJN Type 93 Akatombo Advanced trainer from Doyusha. The land and seaplane trainers were both first released in 1973, with the plastic being virtually identical to this latest release. The seaplane kit was then re-released in 1974, 1991, 2006, and finally again in 2018. My copy for this review is the 2018 release of the kit. This release does come with up to date Cartograf decals as well.
The K5Y2 was a two-seat biplane trainer (Allied reporting name: "Willow") that served in the Imperial Japanese Navy during World War II. Due to its bright orange paint scheme it earned the nickname "aka-tombo" or "red dragonfly", after a type of insect common throughout Japan.
The Type 93 Intermediate Trainer entered service in 1934 as the K5Y1 with fixed tail-skid landing gear and remained in use throughout the war. Floatplane types K5Y2 and K5Y3 were also produced. These aircraft were the mainstay of Imperial Japanese Navy Air Service's flight training. As intermediate trainers they were capable of performing demanding aerobatic maneuvers as well as normal pilot training skills. Two further land-based versions, the K5Y4 with a 358 kW (480 hp) Amakaze 21A engine and the K5Y5 with a 384 kW (515 hp) Amakaze 15, were projected but never built.
The 1/32nd K5Y1/2 kit has been around a long time, and still to this day continues to be re-released. I received my copy damage-free from the good folks at HobbyLink Japan and I'm quite impressed with this little seaplane kit, especially for being more than 45 years old.
The kit contains
4 orange sprues
2 gray sprues
1 small clear sprue
1 legal size fold out instruction sheet
1 decal sheet by Cartograf
My K5Y2 kit came in a top opening box with all sprues in their own individual bags and the decal sheet in its own bag with a wax sheet cover. The kit is molded as the original with raised panel lines and fabric tie ups, with a very decent overall fabric representation where appropriate.
Box/Packaging
The little Willow biplane has been repackaged many times over the years, and this 2018 box art from Doyusha is very appealing to my eye: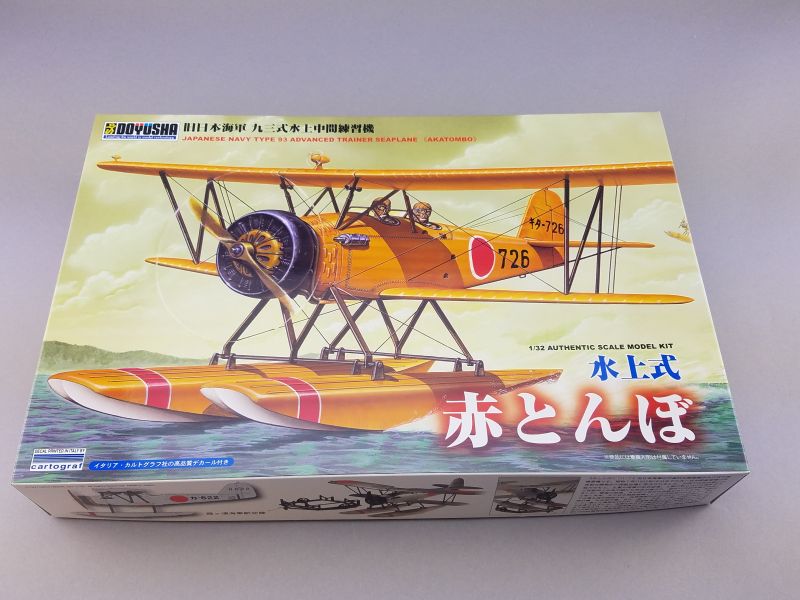 The supplied decals from Cartograf are most welcome in an older kit like this.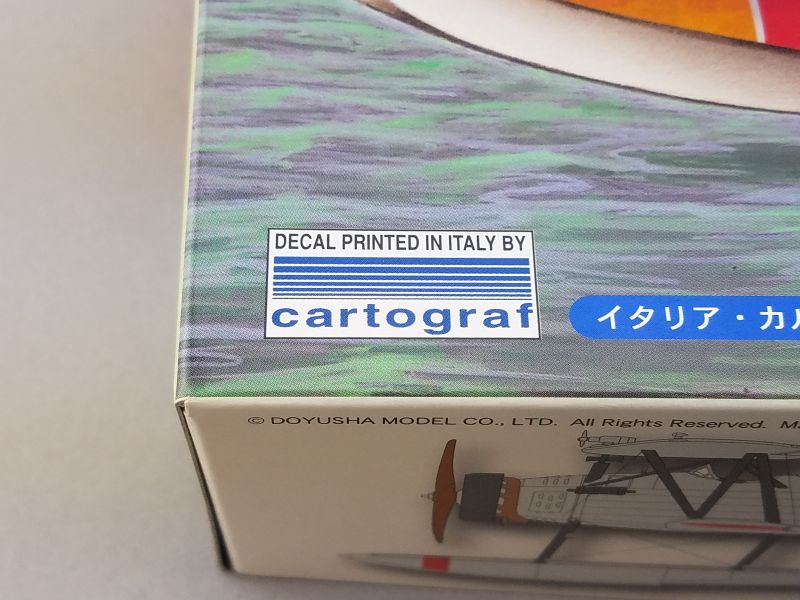 When you open the box, you find a nicely packaged model, with every sprue getting its own bag, and a nicely packaged decal set.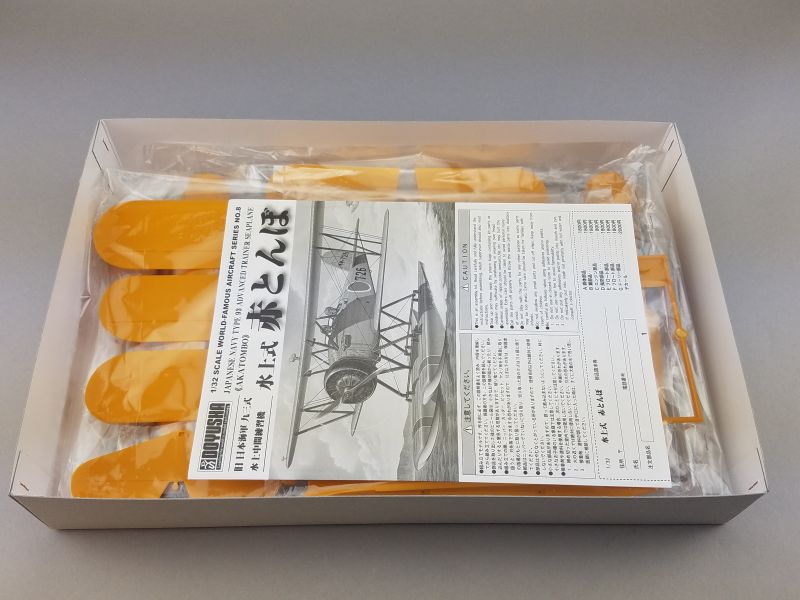 Sprues
There are not a lot of parts in this kit, especially when considering today's modern new tool super kits in 1/32nd scale. With a total of only seven sprues overall, and one of those being a very small clear sprue, this kit is quite simplified by today's standards. That does not however preclude a good kit. The kit while simple, is well modeled for its age, and looks to be fun to put together.
The dull orange sprues contain the majority of the airframe parts like both fuselage halves, wing halves, elevators, floats and cockpit sections. The gray sprues are very reminiscent of the old 1970s Monogram plastic, and contain the engine, float connecting parts, dashboards and beaching dolly parts.
I can't speak to the overall accuracy of the kit as walkaround pictures are rare and the ones there are, are not the best for modelers. The plastic overall is softer, and there is some minor flash. The fabric representation is actually fairly dainty and care and the right angle must be taken to even see it.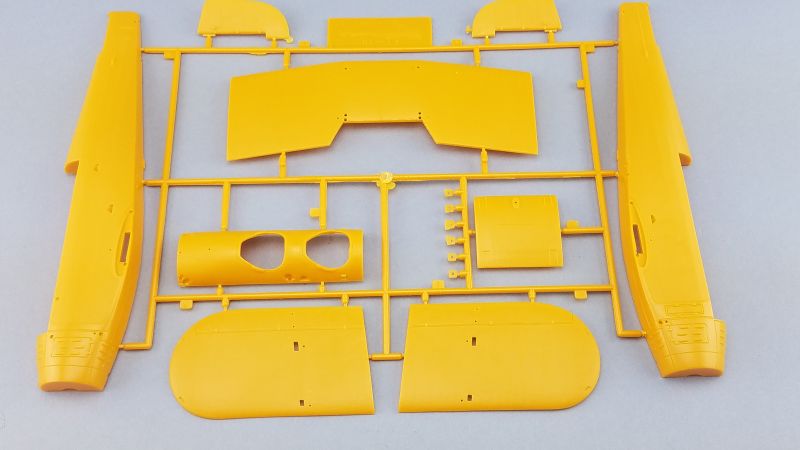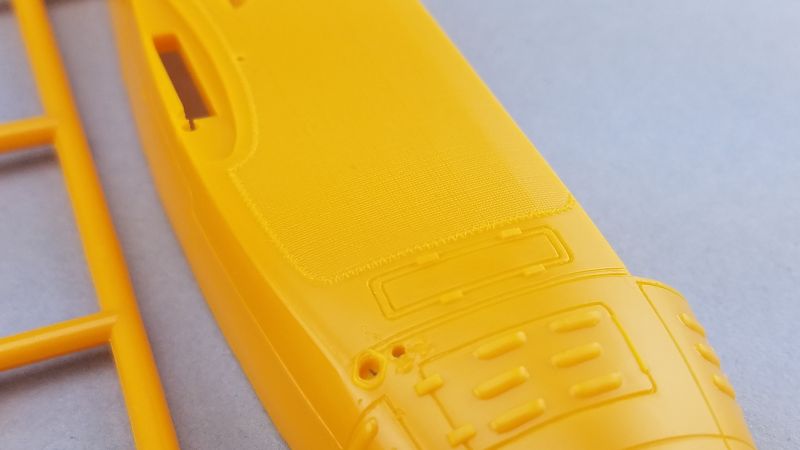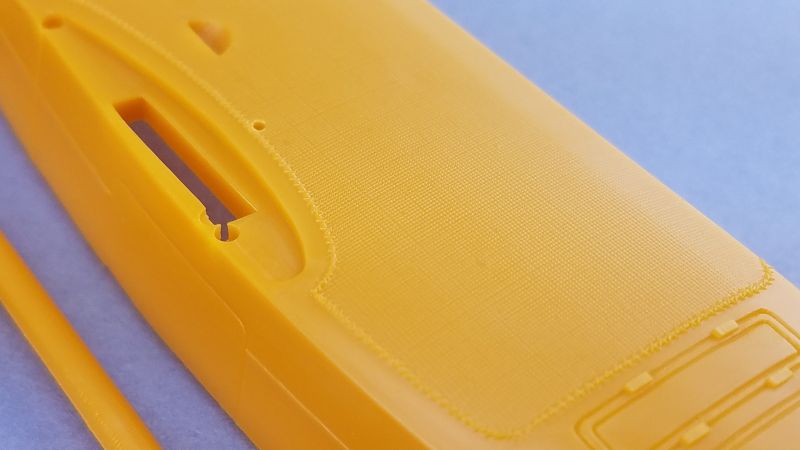 The wing sections and floats also come on separate sprues. The wing sections also have the same raised fabric representation. This may take some thought by the crafty modeler to reproduce when sanding away seams.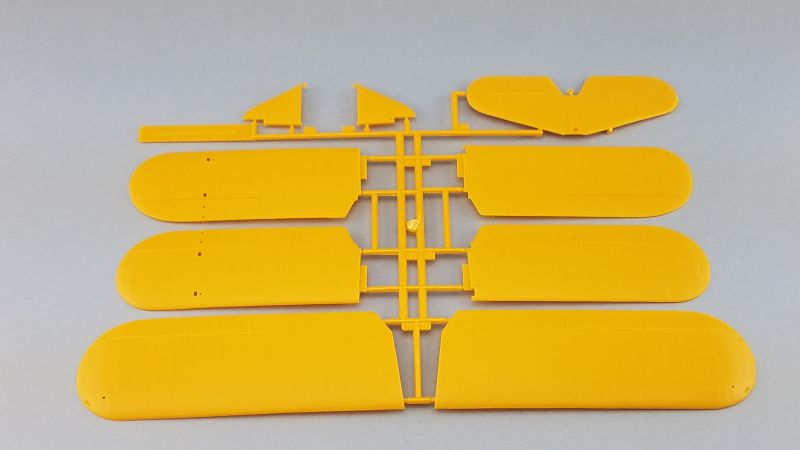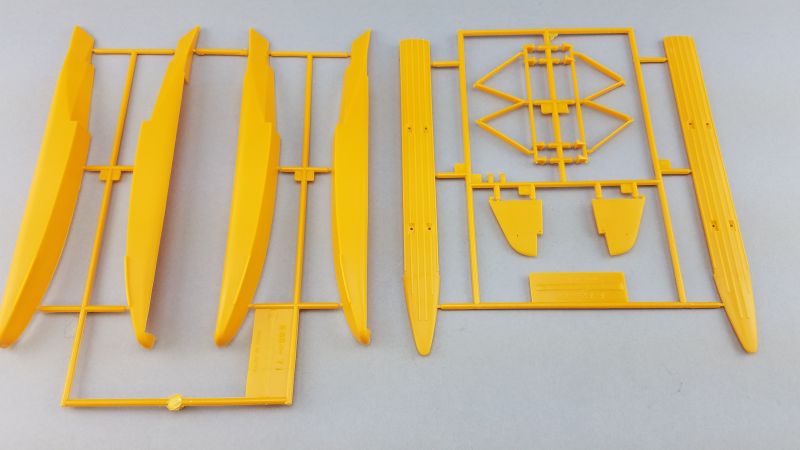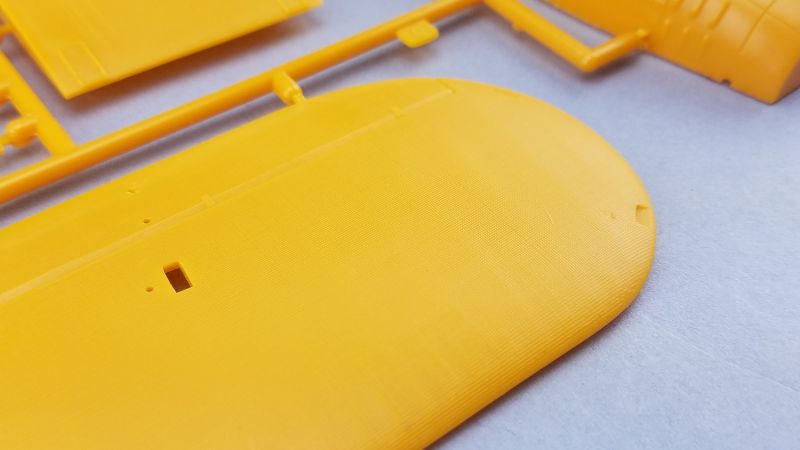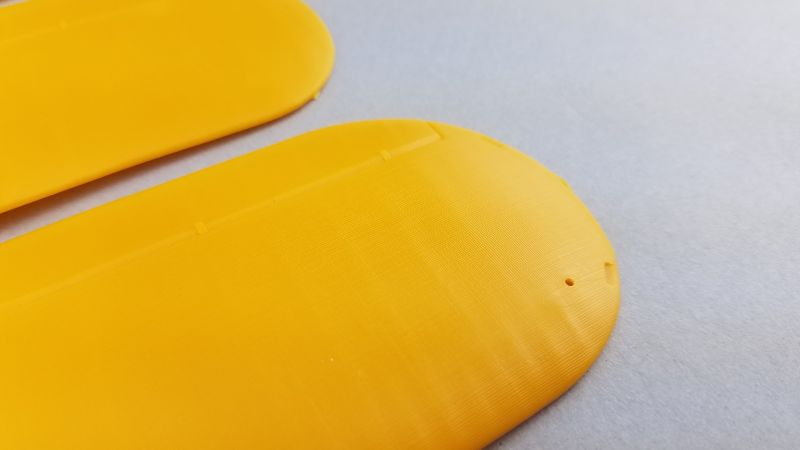 The only flash I found was one minor spot on one of the elevators. This should present no issue to any modeler of even average skill.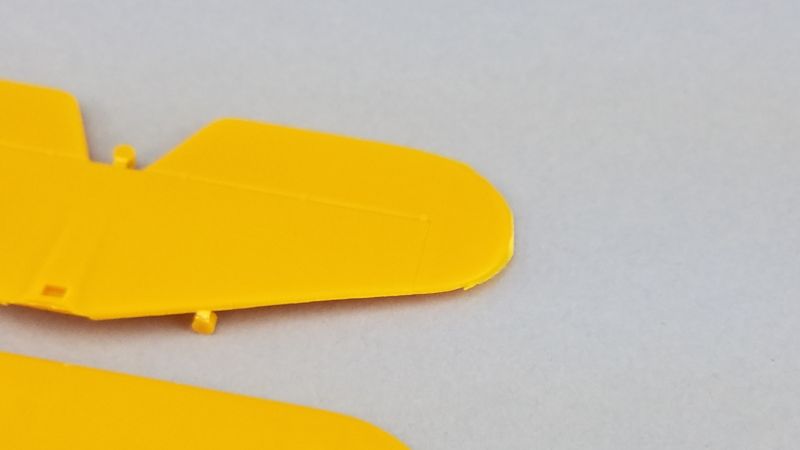 I do want to clarify in this review that my photo setup and camera does slightly change the look of oranges and yellows. Knowing this I took the opportunity to take a picture under less harsh lighting. As you can see here the kit is a bit less bright orange than my photo setup makes it appear. The plastic is actually much more of a darker dull orange.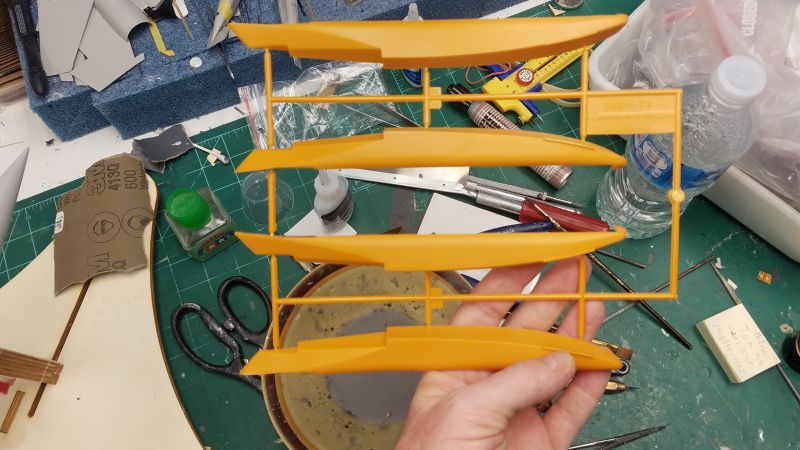 The kit also contains 3 dull silver colored sprues not unlike the old Monogram plastic of the 1970s. These sprues are also well modeled and contain parts like the cowl ring, landing gear, float connections parts, engine, instrument panels, seats, cabane struts and parts to make a beaching dolly. The beaching dolly is actually very nicely done, and will give the Willow a very stable spot in the display cabinet. No pilots sitting or standing are included with the kit.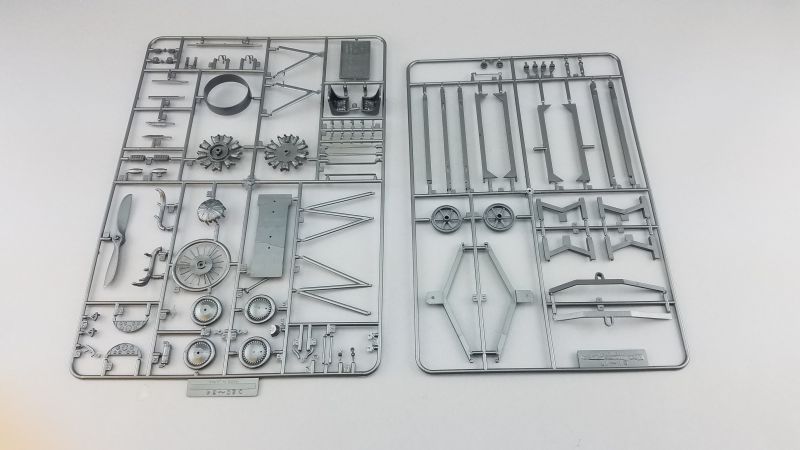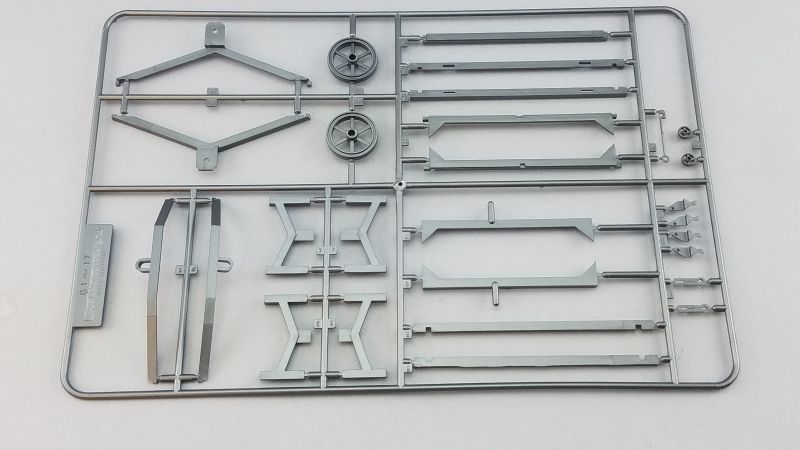 ---
Clear Parts
The clear parts Doyusha provides for this kit is really just a very small 2" x 3" sprue with two basic windscreens along with landing and recognition lights. The windscreens are a bit thick, but could be scratched up and replaced if the modeler so desired.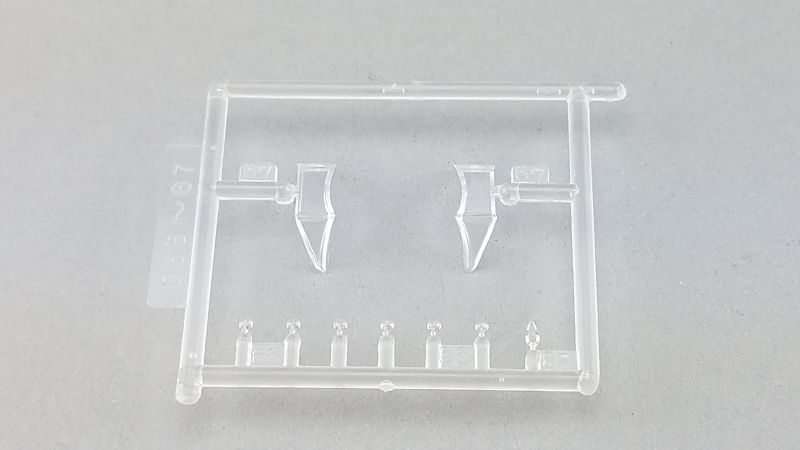 Instructions
Doyusha provides an 8x11 legal sized black and white fold out instruction sheet. This sheet while not nearly as comprehensive as some of today's modern kit instructions, is sufficient for the simplified Type 93 trainer kit. There are some simplified drawings including a rigging drawing and some of the steps I personally feel would be counterproductive (I would change the way the kit is assembled and assemble the fuselage in a single step all together prior to putting the wing on), and the modeler might be better served doing this a different way, but this would be up to the individual modeler.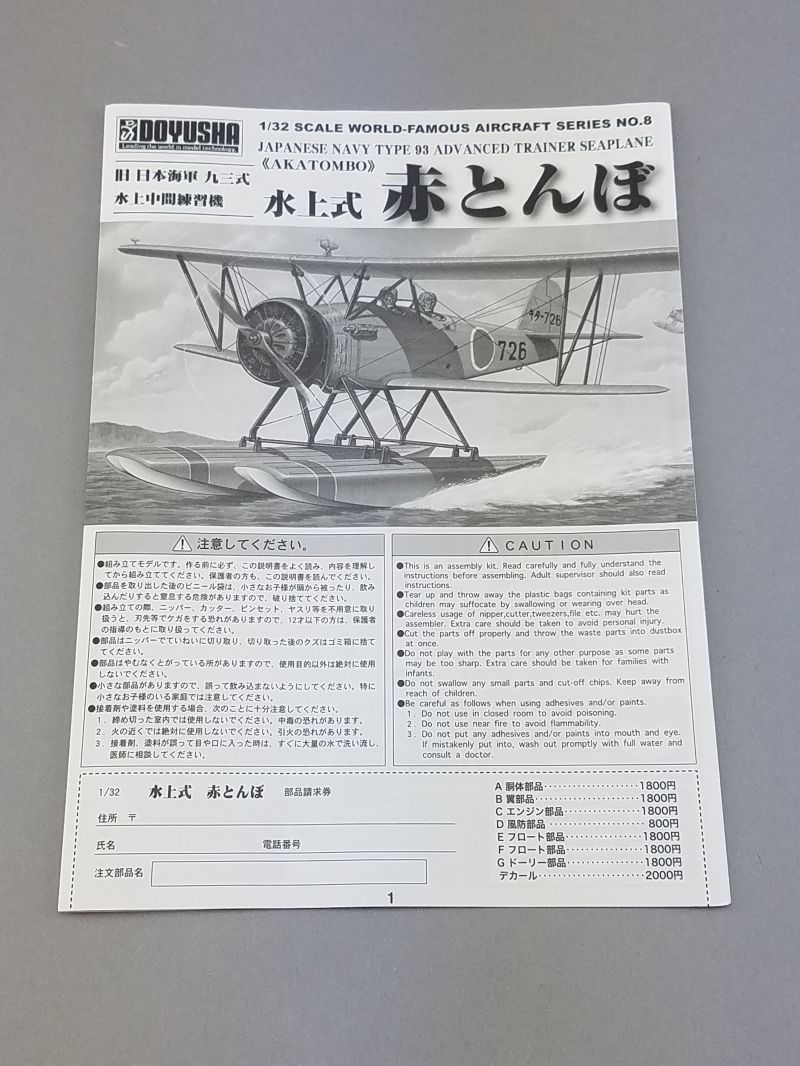 ---
Decals and Schemes
Doyusha provides decals for 2 airframes: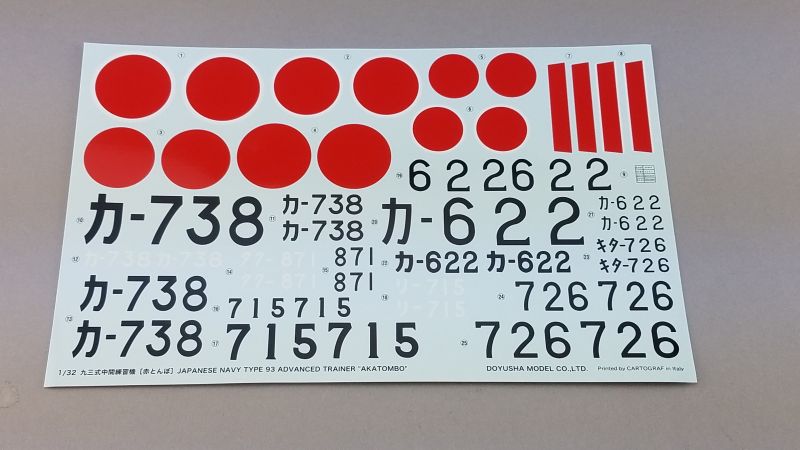 622 (Silver dope)
726 (Orange Yellow)
Conclusion
Doyusha's venerable K5Y2 Type 93 trainer kit is still going strong after 45 years, and does hold up in the realm of classic kits. It is not up to the standards of today's super detailed new tool kits, but I think it also allows the modeler to take the kit to whatever level they would like and still have fun with it. The addition of Cartograf decals also helps this latest release.
If you love like classic kits, and or seaplanes, do yourself a favor and go to HLJ and pick yourself up a copy of this older but still nice kit. To me, the subject is timeless and appealing in many ways, with opportunities abounding for the scratch-builder and super-detailer.
The old Type 93 trainer kit is still to this day a desirable and viable kit that can have broad appeal to many modelers for a variety of reasons. HIGHLY recommended.
Acknowledgment
Many thanks to HobbyLink Japan for the review kit, which can be purchased at the following link:
1/32 Kawanishi K5Y2 (Willow) "Akatombo" Seaplane
© Brian Leitch 2019
This review was published on Sunday, October 27 2019; Last modified on Sunday, October 27 2019