Mitches Military Models | 120mm Modern Fighter Pilot
Reviewed by Kylie Newton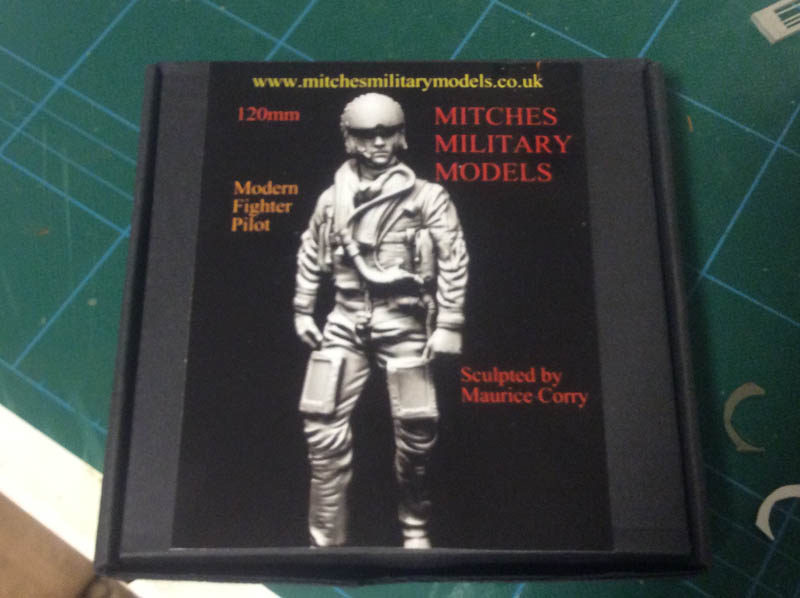 I am a 1/35 modeller with a growing collection of 1/16 armour and figures. I have a 1/32 A-10 in the stash, waiting patiently to be built, along with a number of 35th helicopters. I brought this figure not because I have a 1/16 Typhoon fighter anywhere, but because it is original, very well done, and, to me, reasonably priced.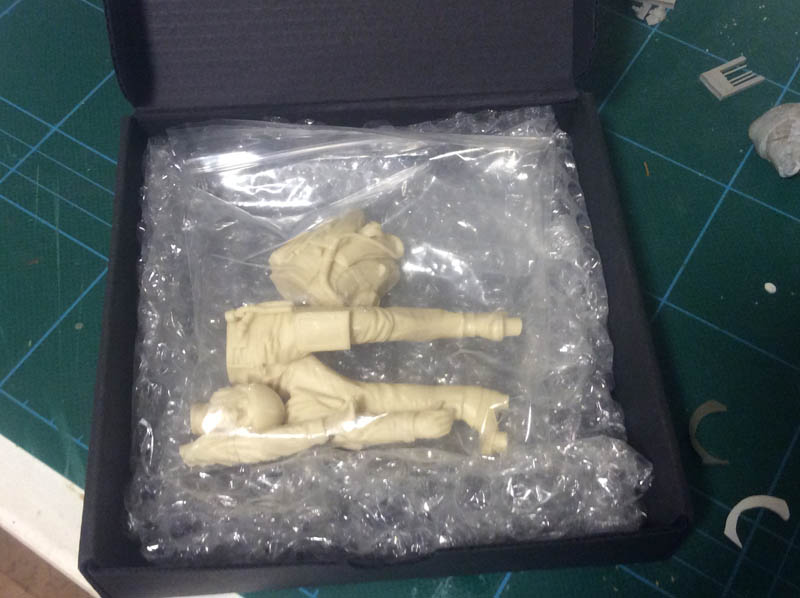 The figure arrived in a smallish cardboard box with a photograph of the assembled, unpainted figure on the front. On opening the box, the figure is well protected in bubble wrap. There are no instructions, no painting guide, and no decals. I like instructions, not because I need to know where the left arm goes, but that I know I have everything I should, and where everything should go when there is a multitude of loose parts. Which is not the case here. You receive five parts, being the basic breakdown of a person in 1/16 scale: head in helmet, torso, left and right arms, legs joined at the waist. That is it. All detail is cast in situ, and is finely done. The helmet features the nodules characteristic of modern helmets, the clear visor being moulded as a protective cover. The inflatable life vest is well defined, with slight undercutting where it sits on the person. The boots are rather simple, i.e. no laces or zip detail, as this is not seen with the trouser leg running over the boot top.
A painting guide would be helpful, otherwise it is shades of green. The various tubes and cords will have their own colour coding, which you will need to check your references for. No decals isn't a deal-breaker as none are worn, as far as I can ascertain from internet searches.
Clean up of the figure is very straightforward, and I achieved it whilst having a coffee – away from where I was working to avoid the resin dust. The shoulders feature a small pin hole, but there is no corresponding pin on the arms; notwithstanding, the arms are still a good fit to the body. The head sits well into a socket, and is looking slightly off to one side. The torso and waist took a bit of clean up with large pour blocks, and merely sit flush against each other. I'd prefer a more positive join to ensure I've aligned the parts correctly, but again, not a big deal. There was a slight gap at the back of the figure, which will need a small amount of putty to remedy. Also, there are a couple of images showing the join of the right arm to the torso, front and back. Very nice fit of the arm over the pouch, small gap at the back, just behind the shoulder.
---
Conclusion
Because large scale planes need large scale figures, and this is definitely a large scale figure, I'd recommend it without qualification to those who like accurate, easy to assemble figures of a modern subject.
© Kylie Newton 2019
This review was published on Monday, December 09 2019; Last modified on Monday, December 09 2019