Doyusha | Mitsubishi A6M2b Zero Fighter at Pearl Harbor
Reviewed by Kevin Williams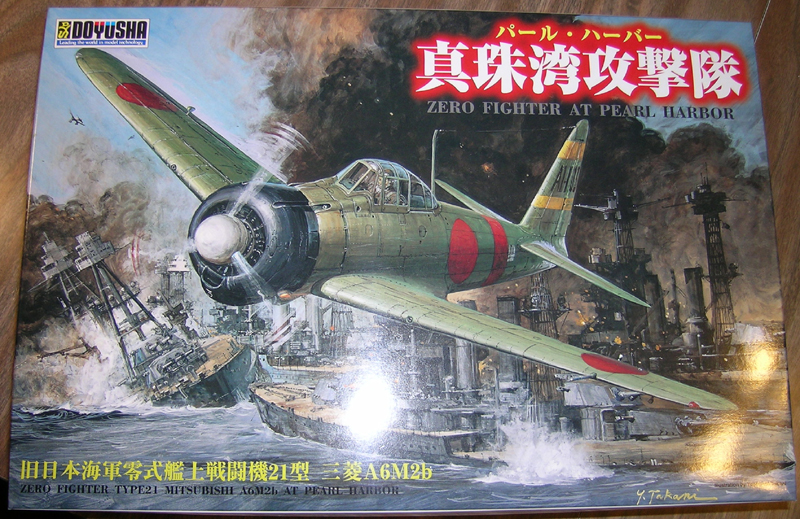 The old Tomy kit, while nowhere near to the standards of the newer Tamiya kits, is nonetheless a kit that I was more than anxious to get my hands on, and this (apparently) new release, really fills the bill nicely.
Note
This will be an in-box review only, focusing on quantity and quality of parts depicted, accuracy issues will not be discussed here, as to do so would require another two weeks of effort, and would defeat the purpose of an expedient review time-frame. For the most part, I'll let the images speak for themselves, and there are quite a lot of them.
Brochure(s)
---
A couple of small brochures are included in the box, naturally enough pushing Doyusha products; 1:3 scale Samurai swords, castles, tools and whatnot.
The Instruction Sheet(s)
---
Though I haven't read this in its entirety, seems very comprehensive, though as with all things modeling related, deviations from the recommended sequences are sometimes desired, so a thorough review of said instructions before beginning assembly, may save some pain later, and is highly recommended.
Decals
---
Six sets of specific air-frame markings are included, all on one sheet, depicting six different machines, one aircraft each from all six attacking carriers; the Kaga, Akagi, Soryu, Hiryu, Shokaku and Zuikaku. All aircraft depict a group or section leader machine from each one of the three carrier divisions (first, second and fifth). Decals (rather surprisingly) are printed by Cartograf, but appear to me to be a tad on the thick side. I also think the colors may be a bit off, especially in regards to the national insignia (Hinomaru), but since I'll undoubtedly use masks for these (as well as the carrier division stripes and whatnot), I'm not concerned at all. (Box cover art, depicts AI-103, from the Carrier Akagi, presumably on the way to attack Hickam field.) Decals are provided in their own bag, with a piece of wax paper for protection, a nice touch, as I see it.
Parts Trees (General)
---
There are 5 parts trees, each in its own sealed bag, save for the clear parts, which are included in one of 4 bags.
Clear Parts
---
Overall, clarity of clear parts is actually quite acceptable, though some polishing might enhance them further. (No wingtip lenses are provided, so these will need to be replaced or just painted.)
Wings
---
Wings are molded with very nice recessed rivets and panel lines. While slightly deeper/wider than on the excellent Tamiya kits, still quite nice, in my opinion, sort of reminiscent of the old Revell kit. The wings also contain the single largest weakness of the entire kit, main wheel wells that are ridiculously shallow (main wheels/tires would have to be about 2" wide to fit within these wells). While I don't personally care about wheel wells one way or another, some may choose to deepen these, or rely on AM items to address this issue. Ailerons are depicted in a grainy manner, supposedly to simulate the fabric covered nature, I assume, but no ribs are depicted.
Fuselage
---
Fuselage proportions again look pretty good, especially when one considers the age of this kit. While the cockpit area is somewhat lacking, once fully assembled and painted, should still look acceptable (see below).
Cockpit
---
Cockpit seems generally well detailed, at least acceptable, but pilot seat has huge raised ejector pin marks that will definitely need to be removed. No lap or shoulder belts are provided for the seat. IP instrumentation is supplied in the form of decals, which actually look quite good. One partial pilot figure is included, but greyed out on the instructions as not for use; just as well, as it's weirdly akin to something you'd see for an R/C aircraft that has no cockpit.
Landing Gear/Wheels
---
Main wheel/tire combinations are acceptable, but certainly not great. I may seek out AM replacements. Doors, both inner and outer, are detailed OK, but the purist may wish to embellish them somewhat. Tail wheel, again is OK, but not great.
Engine/Propeller/Spinner/Cowlings
---
As with many of the details in this kit, engine is an OK representation, but an aftermarket replacement (assuming one exists), might be advisable. Spinner and prop proportions look OK to my eye. There are a couple of ejector pin marks inside the cowl halves, but this is actually quite common, so I don't see this as any real issue.
External Stores
---
One centerline fuel tank is provided (all A6M's, prior to the attack, carried a centerline tank). There are two MG stubs to be installed in the upper cowl, but these might be better off replaced by Master or similar, brass barrels. There are no external bomb racks nor bombs included in the kit.
Miscellaneous Stuff
---
Here are a few parts that are undoubtedly relevant, but I had no specific category for.
Summary
All things considered, I see this as a pretty neat model of the early Zero, and I look forward to tackling the kit.
Note: While it's tempting to review a kit of this sort, based upon modern standards, that's not really fair at all to the kit, as it is produced from tooling that is actually quite old, so that should certainly be taken into consideration when comparing this against more modern kits. Given the overall quality of this model (minus the obvious shortcomings), I believe that a modeler who can avoid the temptation of spending a great deal of time (and money) on aftermarket corrections/updates, can end up with a very nice looking Pearl Harbor attacker, and that's exactly what I intend to do. If, however, you want to dump the cash into a model to make the ultimate Zero, I'd highly recommend use of the Tamiya kit instead.
This product is very highly recommended.
Acknowledgment
Many thanks to HobbyLink Japan for the review kit, which can be purchased at the following link:
1/32 Mitsubishi A6M2 Zero Type 21 (Pearl Harbor Attacker)
© Kevin Williams 2019
This review was published on Monday, December 30 2019; Last modified on Monday, December 30 2019