LEM/Ruporator | 32019: 1/32 La-9
Reviewed by Ray Peterson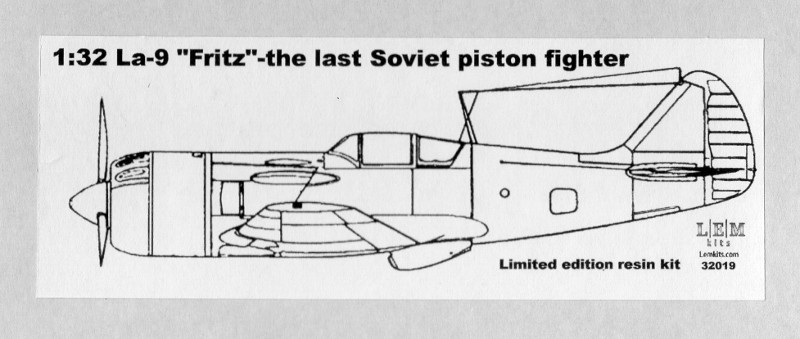 Introduction
A recent release from LEM Kits is the La-9, one of the last Soviet prop fighters, which was similar in appearance to the WWII era La-7 but was a totally new aircraft with all-metal construction and a laminar flow wing. They were used post-war and some saw action in the Korean War.
The Kit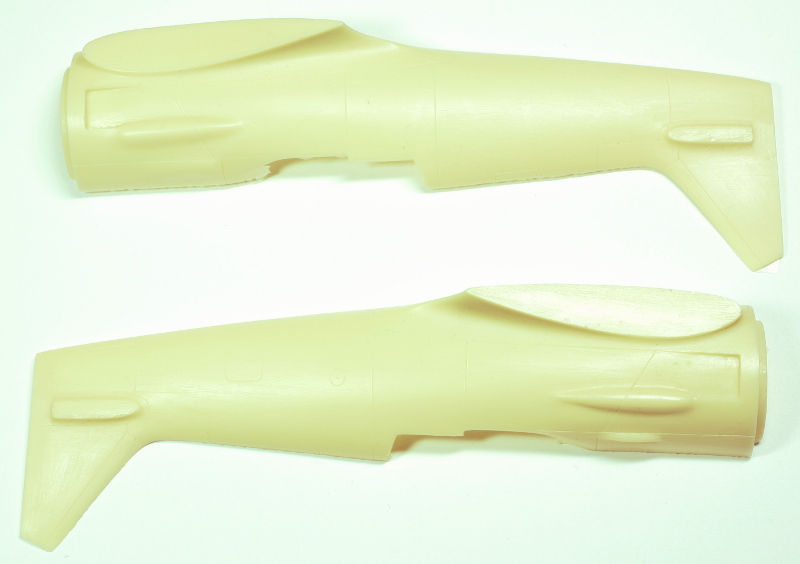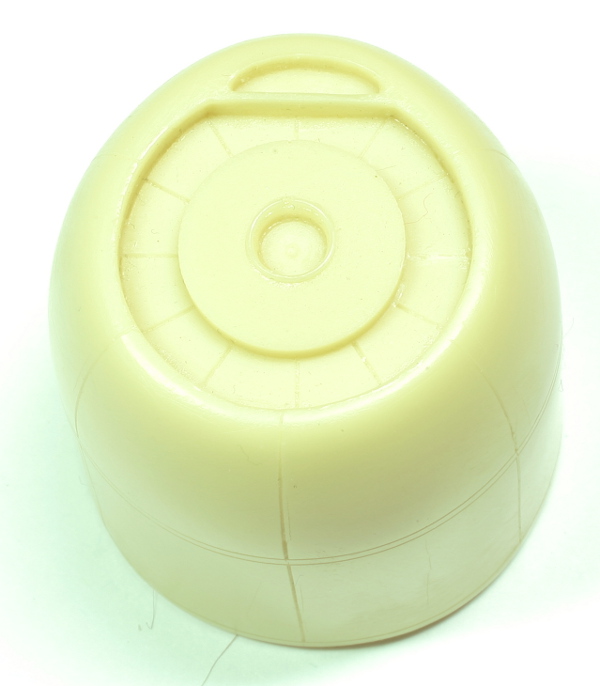 ---
Primarily a resin kit, it is composed of about 75 (by my count) resin parts, four lengths of brass rod, a screw(?), a pair of vac-u-form canopies, a piece of film with the instrument dials, a small square of acetate and a half sheet of generic decals. Most of the small diameter resin parts have wire reinforcement cast within.
---
The resin is well cast, just requiring the usual clean-up of flash and seams, plus the removal of a few casting blocks. The wings are cast as single pieces with about the first third hollow. Details look good for the most part though some repair of the odd bubble (not many in my example), small details, and panel lines may be required. Separate flaps, ailerons and elevators are provided.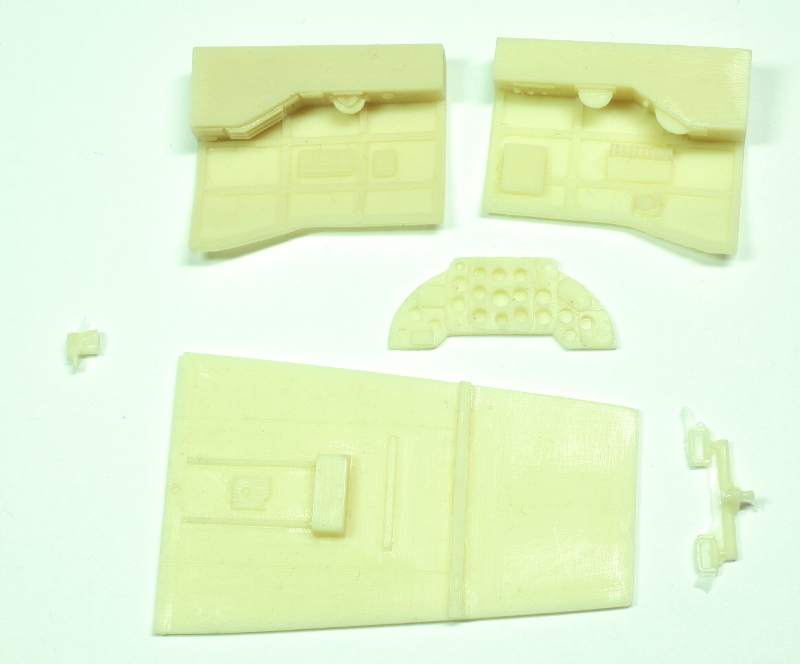 ---
The cockpit is pretty basic, consisting of about twenty parts including bulkheads, but then that is pretty much the Soviet style. The instrument panel is in resin and is puddle cast so you will have to sand down the back of the panel till the instrument holes open up. Then the film can be glued behind it. After painting the back of the film white, or gluing to a white backing material, the instruments will show. The two vac canopies look quite clear and should really sparkle with a dunk in Future. A delicate frame is supplied in resin in which you cut out the armored glass insert from the small acetate sheet. You may want to add some wiring and other odds and ends, depending on your taste for detailing. You will also need to add your own seatbelts.
---
The fuselage is in the usual two halves with a separate one-piece cowl. Ducts and other details are added as separate parts. Wings and tail plane are solid cast parts and are simply butt-joined to the fuselage. Main gear wells are also provided separately, as is the small tail gear well. Elevators, ailerons, and rudder are all separate. I recommend adding pins as reinforcement when assembling these parts.
The props are individual and quite thin. There are also individual scoops to be added to the airframe.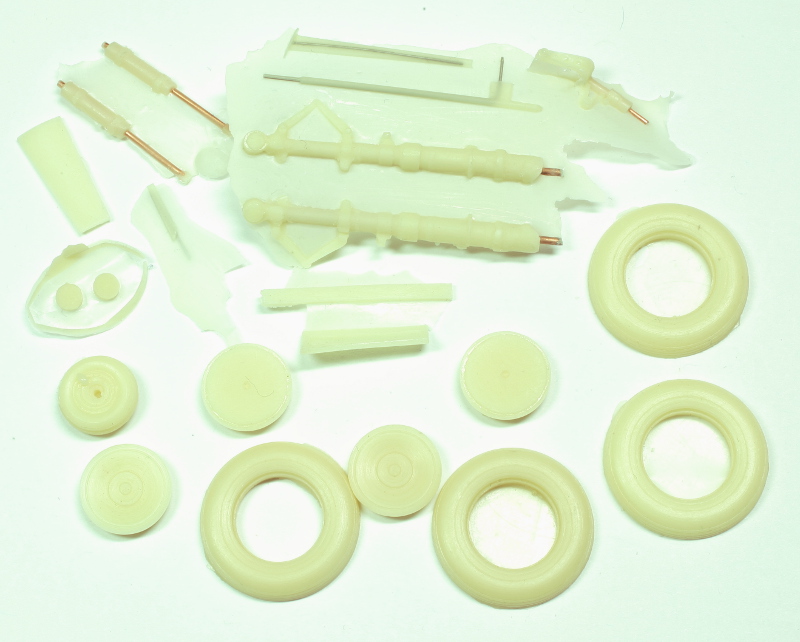 The landing gear consists of several parts. The gear itself is resin with metal wires cast inside for strength. You can see them in the photos, but it doesn't appear they poke outside the resin anywhere they aren't supposed to. There are various actuators to add to this gear. The wheels look pretty good but are cast in halves which I hate but hopefully it won't be too hard to fill the seams and still keep them round.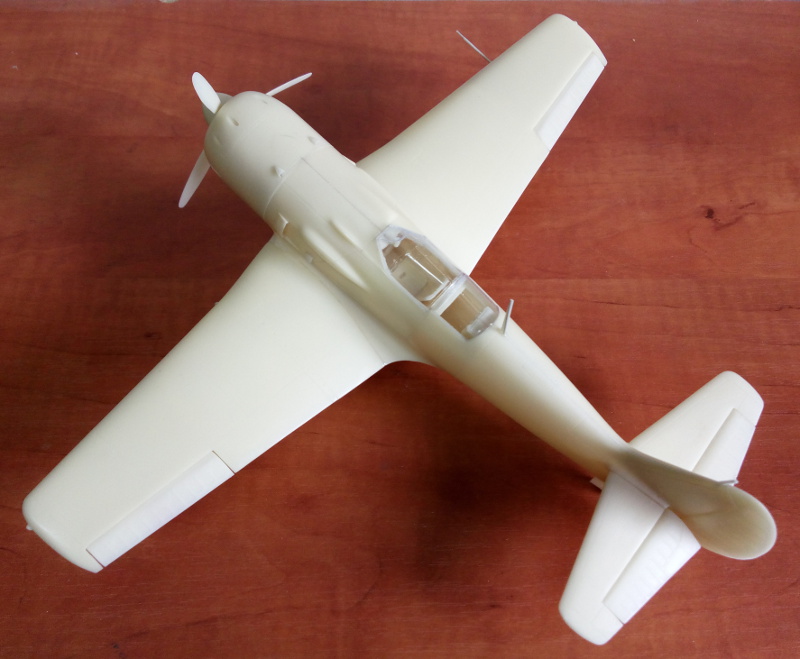 ---
Instructions are provided as a series of color photos on a CD. No written instructions are included, but the photos are pretty self-explanatory and with the relatively low parts count any experienced modeler should be able to negotiate assembly. Again, a generic decal set is provided with stars and Soviet-style numbers, as well as North Korean as Chinese national markings.
References
There are not too many references out there I am aware of, but the CD also includes several photos that look like they were pulled from the web. Besides several overall and in-flight pictures there also some pictures of the cockpit and a few detail pictures. I will not show any samples for copyright reasons.
Summary
It is nice to see some love given to these esoteric Soviet aircraft. The odds of seeing these large-scale offerings in injection plastic must be close to nil. So kudos to LEM Kits for taking them on.
Highly Recommended for Soviet aircraft fans!
You can find LEM kits on eBay by searching for seller ruporator, or from their website at http://lemkits.com.
© Ray Peterson 2020
This review was published on Friday, February 14 2020; Last modified on Sunday, February 16 2020