Wingnut Wings | 32607: 1/32 Sopwith Triplane "Raymond Collishaw"
Reviewed by Kevin Williams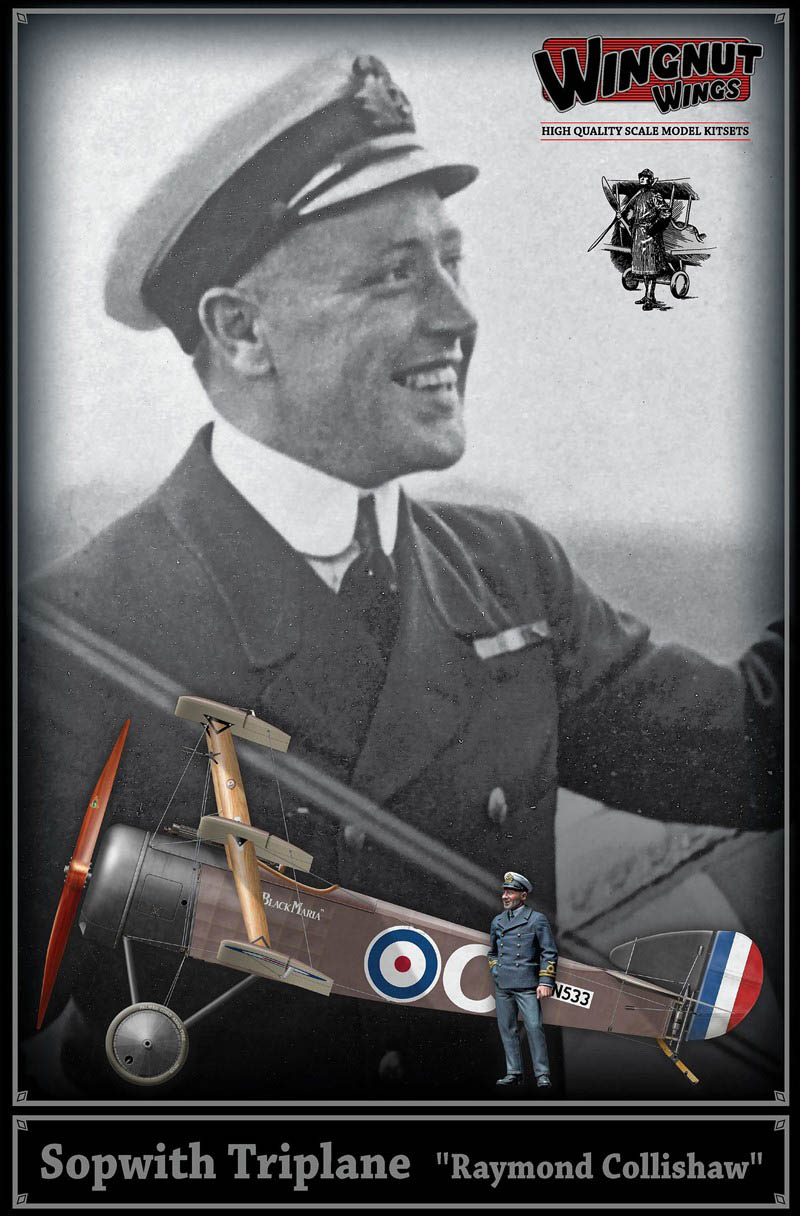 I decided at the outset to remove myself from the somewhat typical and lengthy description of the Sopwith Triplane technical development and operational history, as that information is readily available from a variety of other sources.
While clearly not a new kit, as such (first available somewhere around 2012, I believe), I just finally got my hands on one, so thought that I'd provide a look-see as to what's in the box. This kit represents one of the many special boxings of a previous Wingut Wings kit, and therefore has some features unique to this particular machine. (Since this is more of an in-box review than a build review, I have no photos of assembled sub-structures, so this look should be considered more of an overview of the various areas I thought might be of interest.)
As is all too typical of virtually all Wingut Wings kits that I've now been exposed to, detail is crisp and delicate, with wonderful attention being made to the very subtle fabric effects on the fuselage in particular, and miscellaneous details in general.
Instructions
---
Instructions are depicted in a sort of typical Wingnut Wings pictographic way, making assembly a rather straightforward process, including rigging diagrams where and as needed.
Decals
---
Markings are provided for but one pilot/machine; Raymond Collishaw's N533 of 10 Squadron, RNAS 1917, his "Black Maria".
Decals appear to be in register, quite opaque, with good coloring, well detailed and also include plenty of stenciling, mostly in the form of logos, data plates and whatnot. There are also cockpit instrumentation decals, as well as tire logo stencils, making for a very comprehensive package of markings. Printed by Cartograf of Italy, they're sure to work great, if one chooses to go with this particular machine (I may or may not).
Parts Trees
---
Just an overview of the complete parts sprues from the kit, pretty much self explanatory, really.
Fuselage & Miscellaneous Related Bits
---
Now that I have the kit "in hand", I can say that the surface detailing (not that I ever had any doubts), is very delicate and refined. The stressed fabric on the forward fuselage sides is really quite nicely done, a hallmark that I've now come to expect from Wingut Wings.
Wings
---
To my way of thinking, the wings are the items that really make this kit stand out from the rest. Detailing, especially when one looks into the area of the inspection windows at the aileron control pulleys and cables, is really quite breathtaking. Wing rib tapes and ever so subtle rib shapes are a beauty to behold, and will undoubtedly help to enhance the otherwise rather drab scheme(s) so common to these aircraft.
Fuselage Decking
---
Yet another area of the kit that deserves some doting on, in my opinion, are the really wonderful moldings in the vicinity of the 'pit. Some very delicate stuff going on here, quite in line with what I've now come to expect from the good folks at Wingut Wings. Again, only one version is to be used on this version, that being the one for the twin Vickers MG set-up.
Weapons
---
Speaking of the Vickers machine guns, the two provided examples are excellently portrayed, and will really look the part, once finished. These guns are about as good as we're likely to ever see in injection molded plastic, and, in my opinion, need not be replaced.
Cockpit
---
Not a lot to be said here, save for the notion that if one takes his time, the cockpit has the potential to be built into an outstanding representation right out of the box.
Engine & Cowling
---
The Engine is another area that seems to be very well detailed, incredible really, as the photos readily attest. The push rods are just amazingly delicate, are offset at the crankcase (as they should be) as well as featuring molded in lifters (mechanical or hydraulic, I don't really know which, probably mechanical though), and rounded tips where the pushrods interface with the rocker arms. WNW has even gone to the extreme here by also molding in individual spark plugs, which is a real hoot. Two different propellers are offered, but again, only one is used. The engine, much of which will be readily visible on the finished model, should look a real treat once carefully painted. (Bear in mind that the engine sprue is a somewhat generic Clerget sprue, which was also used in some other applications, so only one pushrod assembly is used on this machine; proof that Wingut Wings were definitely planning ahead when these components were originally designed.) This is a recurring theme with this kit (with one frame being specifically labeled Sopwith Pup), much in the same way the various Fokker D.VII boxings were done.
Clear Parts
---
All clear parts are just that, crystal clear, and look just great. Several items are offered, such as inspection windows for the aileron control cables and pulleys, and some items are not used at all.
Pilot Figure
---
One standing pilot figure (Collishaw) is included. Sculpted by well known sculptor Mike Good, this resin figure is certainly one of the highlights of this particular boxing, and is very nicely done indeed. Whether or not I can actually do this pilot figure justice (probably not), it's still a real nice option to have. The figure is molded in a white resin, so was somewhat awkward to photograph, but I believe I still caught the essence of it.
Photo-Etched Parts

One P.E. fret (brass) is included, and contain items such as lap belts, gun charging levers, MG jacket front plates, etc. This P.E. fret differs from that which was included in the original release (kit #32008), but does retain several common parts.
Miscellaneous Plastic Parts
---
There were a few portions of the kit that I photographed, but had no specific category for, so I decided to just lump them all together here, as they are undoubtedly relevant.
Summation
All in all, I think this is a fabulous effort from Wingnut Wings, with overall proportions looking good to my eye. I am very pleased with what I've found thus far, and anxiously await the opportunity to begin working on my example. I also expect that the aftermarket folks will jump on when and where needed, to provide us with additional enhancements for this cool kit.
Pros
Excellent detailing, great decals, wonderful instructions and interesting subject.
Cons
While not so much a con, as such, some of the parts here are extremely delicate, and that delicateness may offer some real problems if not dealt with very carefully. Other than that, there are no other cons of note, none that I've encountered anyway.
Acknowledgment
Many thanks to HobbyLink Japan for the review kit, which can be purchased at the following link:
1/32 Sopwith Triplane "Raymond Collishaw"
© Kevin Williams 2020
This review was published on Sunday, February 16 2020; Last modified on Sunday, February 16 2020