Aerocraft Models | Hellcat F6F-5N Night Fighter Conversion with Decals for Black Death
Reviewed by Andrew Birnie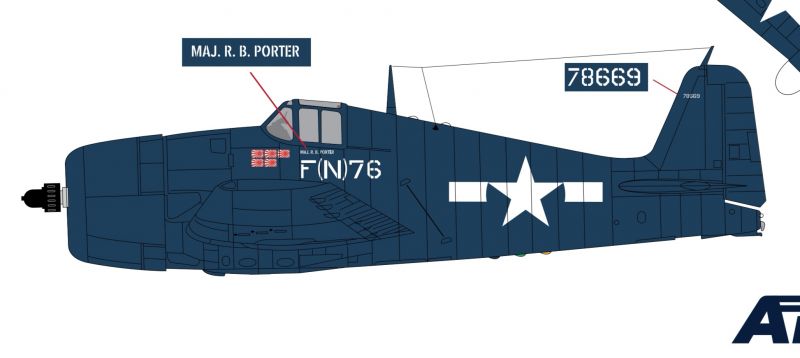 A notable omission from the decal options provided with the Airfix Hellcat was the lack of a US Marine Corps aircraft, righting that wrong comes this neat conversion, with appropriate decals, to model the mount of Major R. Bruce Porter, a rather colourful character, from when he was commanding VMF(N)-542, based at Yontan airfield on Okinawa in May 1945. He also co-wrote the book ACE! A Marine Night-Fighter Pilot in World War II, with Eric Hammel.
The small decal sheet provides all the necessary specific markings for Porters' aircraft, including kill markings, Black Death legend, and a picture of a bottle of Schenley's bourbon whiskey!
---
Also included are two extended gun barrels for those closest to the fuselage, they are hollow at the ends, though some might with to drill a little deeper.
The starboard wing-mounted radome is well designed in three parts, with just one notable casting block requiring removal, the other two should fit inside the central ring with little or no work.
---
This is a great set, allowing you to model the aircraft of a notable US Marine Corps Night Fighter Ace, Semper Fi.
Set kindly supplied by Ali at Aerocraft Models.
© Andrew Birnie 2020
This review was published on Saturday, February 22 2020; Last modified on Saturday, February 22 2020