Flying Leathernecks Decals | 35001: US Marine Corps AH1Z for Academy Kit 12127
Reviewed by LSP_Paul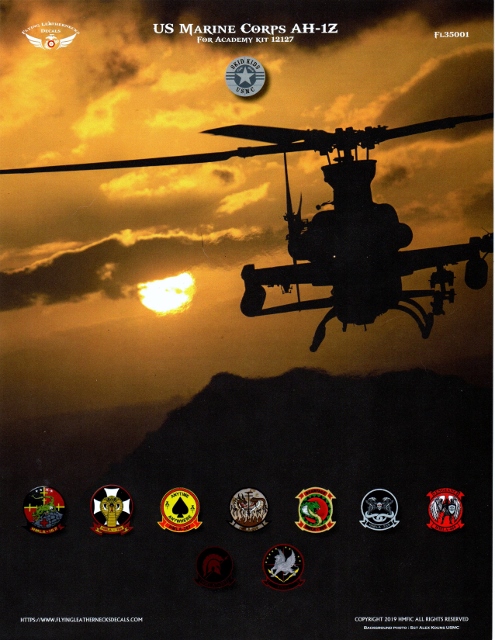 Academy's relatively recent 1/35th AH-1Z Cobra was a nice surprise when it was released in 2019 and has enjoyed much positive press, and rightfully so, it is a pretty impressive model of the latest evolution of the venerable Bell Cobra. The one area that the kit really falls short on are the decals, and its largely an issue of the kits gray decals being printed very close to the same shade of gray (FS 36375) most of the fuselage is painted in. The Academy kit decals provide you with mostly black markings and one for low vis gray and then the data stencils.
Flying Leathernecks not only give you 15 different and interesting markings options in the correct shades of gray,color, or black, but you also get markings for both types of rocket pods and the sidewinder rails, the interior pilot armor, and even full sized templates to use for making the pilot armor sections that go inside the opening canopy sections. There are also 3 different decal options to help the modeler represent the CHAFF and FLARE launchers in a loaded configuration, and an explanation of what each type is. The back page of the main cover in the set contains a list of items other aftermarket companies who make products designed for the Viper model as well. The list was current at the time of printing. There is also a color reference and information provided for the aircraft.
Finally, there are full sized dimensions and 1/35th diagrams including a section of printed scale ruler to help the modeler make an accurate set of FMV and mounts that the real aircraft are seen carrying frequently. The last and certainly appreciated thing I'd like to mention was the inclusion of a piece of holographic film with adhesive backing that will make a very convincing lens for the largest aperture on the aircraft's optics turret. Not just one pre-cut piece, but enough for 4 in case you have issues with the first one or are building multiple aircraft.
Let's take a look at what markings options are provided in the set: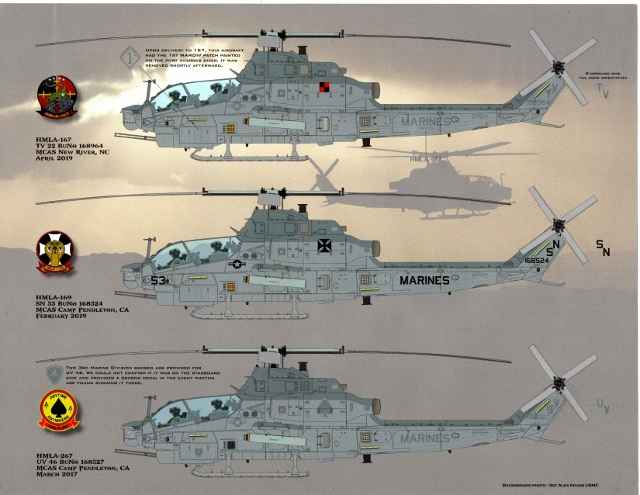 HMLA 167 TV 22 BuNo 168964 MCAS New River NC April 2019
HLMA 169 SN 53 BuNo 168524 MCAS Camp Pendleton CA February 2019
HLMA 267 UV 46 BuNo 168527 MCAS Camp Pendleton CA March 2017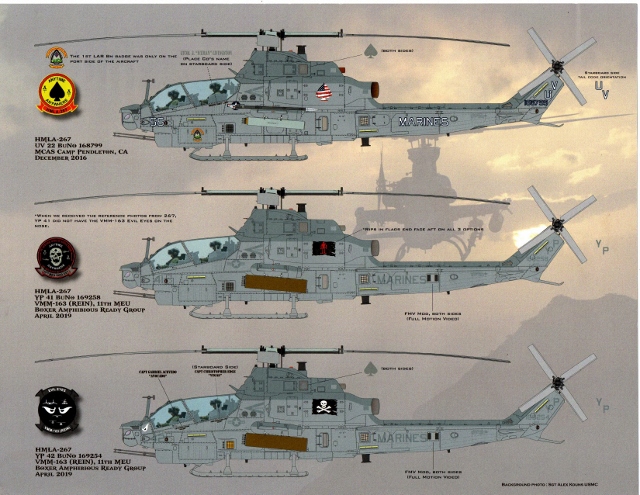 HMLA 267 UV 22 BuNo 168799 MCAS Camp Pendleton CA December 2016
HLMA 267 VP 41 BuNo 169258 Det to VMM 163 (REIN) 11th MEU USS Boxer ARG April 2019
HLMA 267 VP 42 BuNo 169254 Det to VMM 163 (REIN) 11th MEU USS Boxer ARG April 2019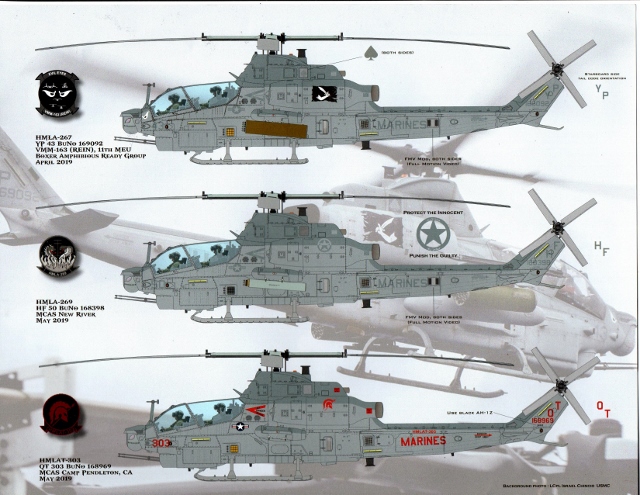 HLMA 267 VP 43 BuNo 169092 Det to VMM 163 (REIN) 11th MEU USS Boxer ARG April 2019
HLMA 269 HF-50 BuNo 168398 MCAS New River NC May 2019
HMLAT 303 QT 303 BuNo 168969 MCAS Camp Pendleton CA May 2019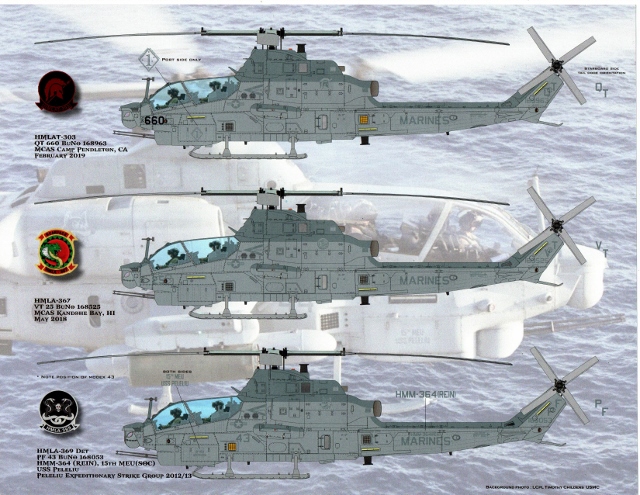 HMLAT 303 QT 660 BuNo 168963 MCAS Camp Pendleton CA February 2019
HMLA 367 VT 25 BuNo 168525 MCAS Kaneohe Bay HI May 2018
HLMLA 369 PF 43 BuNo 168053 Det HMM 364 (REIN) 15th MEU USS Peleliu ESG 2012-2013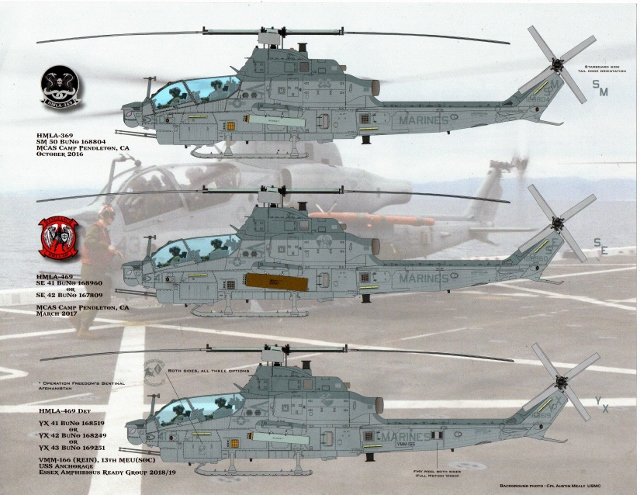 HMLA 369 SM 50 BuNo 168804 MCAS Camp Pendleton CA October 2016
HLMA 469 SE 41 BuNo 168960 or 167809 MCAS Camp Pendleton CA March 2017
HLMA 469 Det VX 41 42 0r 43 BuNo's 168519 168249 169251 VMM 166 (REIN) USS Anchorage 2018-2019
VMX 1 MV 44 BuNo 169275MCAs Yuma AZ March 2019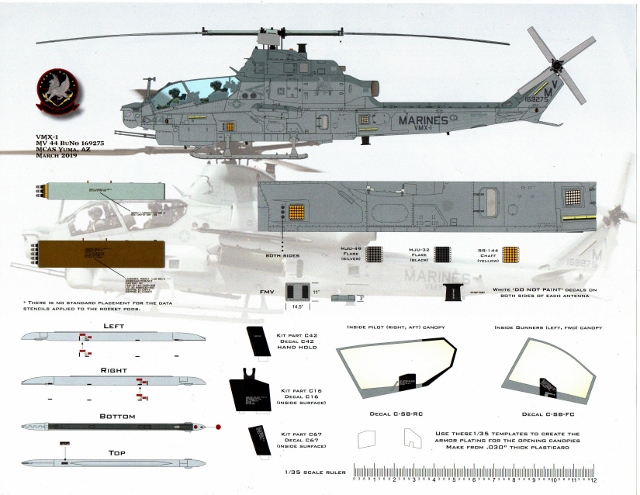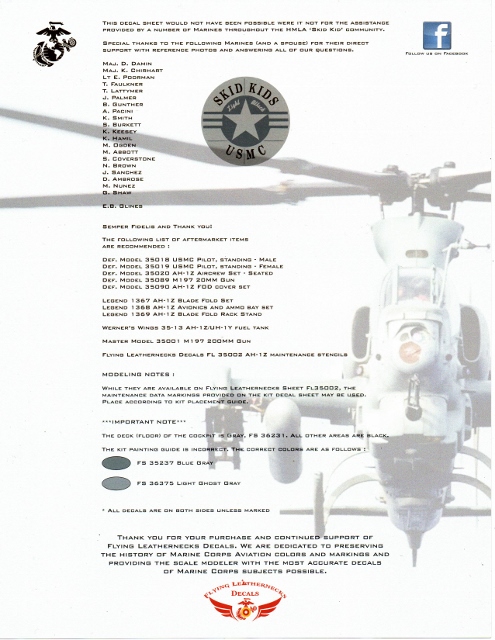 Conclusion
I would consider this decal set an excellent value for the money with many interesting marking options to choose from. The markings are printed by Microscale and are in perfect register, very thin and have a minimal amount of carrier film surrounding each image. The clear on the decals is somewhere between satin and gloss.
It's nice to buy something and feel like the manufacturer gives you a bit more than what you expect, and this set was exactly that.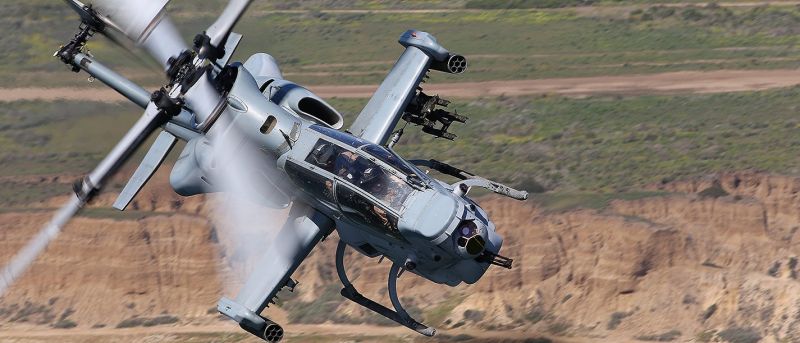 This decal sheet was provided courtesy of my wallet and is available from Sprue Brothers Models by clicking the banner below.
© LSP_Paul 2020
This product is available from the following LSP sponsors

This review was published on Friday, March 06 2020; Last modified on Friday, March 06 2020