REXx | New Galvanically Grown Metal Exhaust Sets
Reviewed by Brian Leitch
Here for review, we have four brand NEW and complete sets of metal "galvanically grown" exhausts from REXx courtesy of Bob at H & B Hobbies.
We have all heard the name "Moskit" when referring to some of the coolest metal exhausts you could get for plastic models. They came pre-packaged and complete, with no need to paint or weather since they came in a rusty/patina type metal. They were about as close to the real deal not only in looks, but in scale thickness as you could get. Moskit has long since disappeared from the modeling world, and a lot of us thought we would never see that same process being used for the scale aftermarket again. REXx has come to the rescue once again with these 4 brand new exhaust sets.
These exhaust sets from REXx are produced the same way as the Moskit exhausts were, using electricity to produce a chemical reaction that effectively "grows" the metal on forms. I am not a SME in this field but needless to say, it produces a product that to me is second-to-none in the looks and scale fidelity departments.
Packaging
REXx has done a nice job here. The exhausts come pre-packaged in a small clear plastic bag, surrounded by foam, and then packed in a small clear box with a cardboard surround. Bob from H & B Hobbies has sent me these 4 new REXx exhaust sets to review, all 1/32nd scale of course. We have here sets for the new tool Mk II Revell Spitfire, Tamiya F4U, Hasegawa P-40 E,F,K,L,M,N and finally a set covering both the Revell and Fly Hurricanes: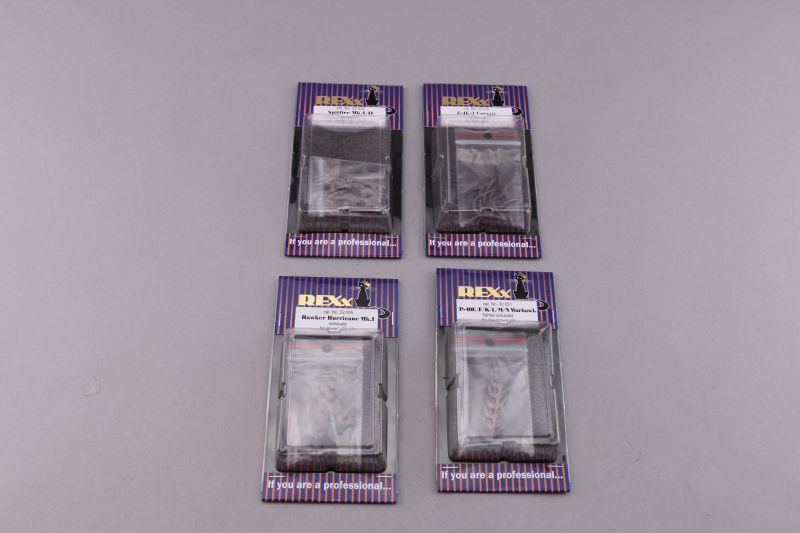 Let's take a look shall we?
Revell Mk I / II Spitfire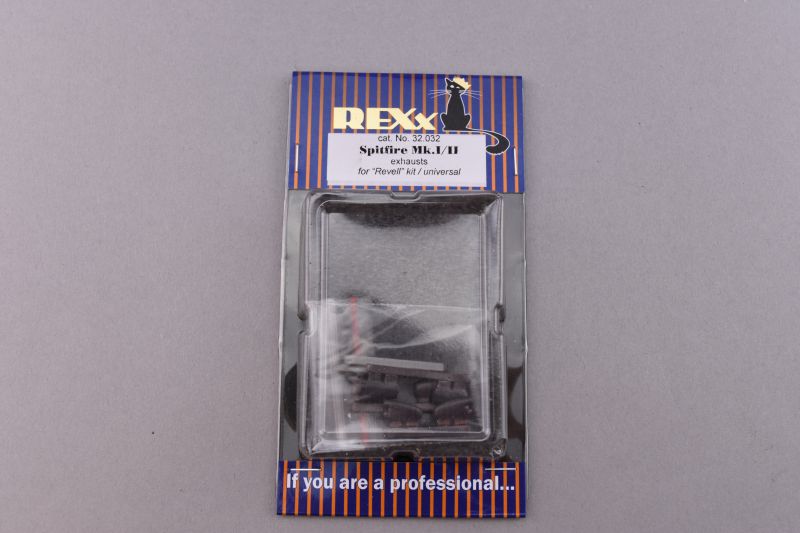 The new tool Mk II Spit from Revell now has one more piece of very nice AM kit in this set from REXx. The technology employed here is very high end, as evident by the way the exhausts are not only slightly more durable than previous Moskit sets (to my eye anyway), but also evident in the way the parts fit together.
The REXx Spitfire exhausts are manufactured in a way that makes them seemingly not only very easy to install, and also captures that signature "puzzle fit" look that the Spitfire exhausts had.
The spitfire exhausts from REXx come with each end of the middle section, and inside ends of the end exhaust parts with a small tube segment sticking out so they can be pushed together easily, and without glue. These, like all REXx sets come with that lovely rusty type patina that to me takes them over the top VS any kind of resin exhaust parts (part of the galvanically grown process that is one of the biggest appealing features to me) and they look very realistic to my eye. REXx alsos give you here a small resin copy of the engine exhaust ports, each with a tiny nub on it that will aid in getting the exhausts glued onto the model, by gluing the resin strip on first. :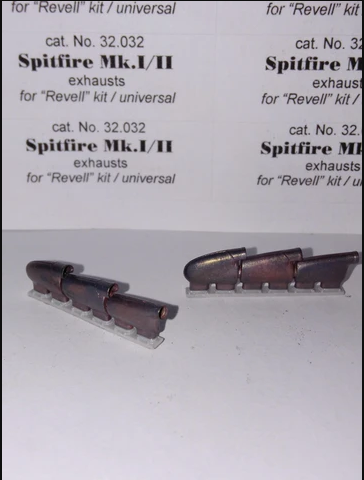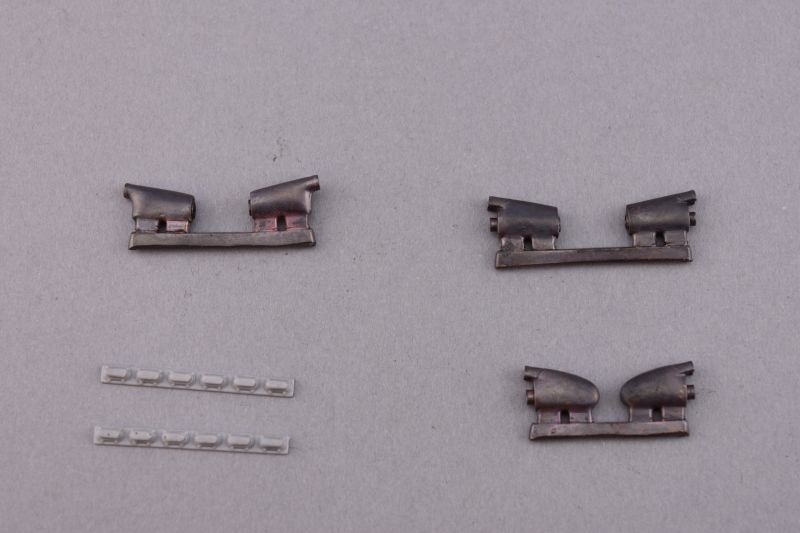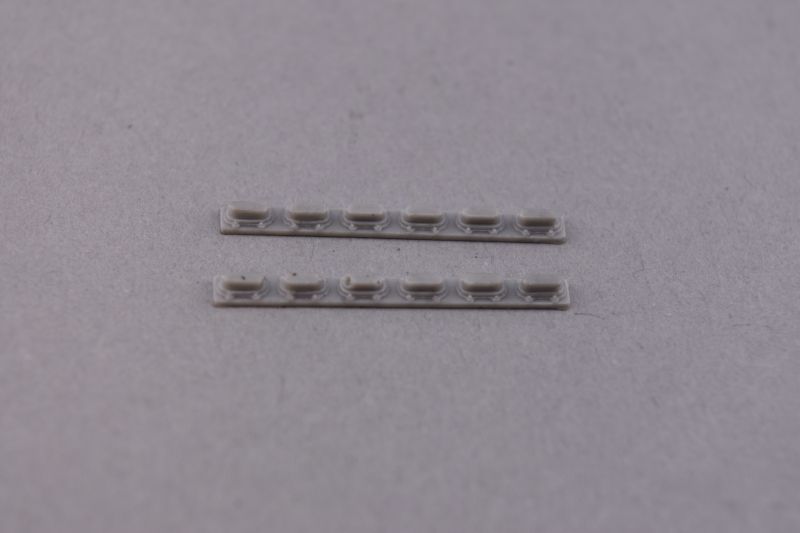 The REXx spitfire exhausts actually do fit together well, and IMHO will be a very welcome addition to any new Mk II spitfire kit, with extremely realistic looks and a scale fidelity that is really noticeable.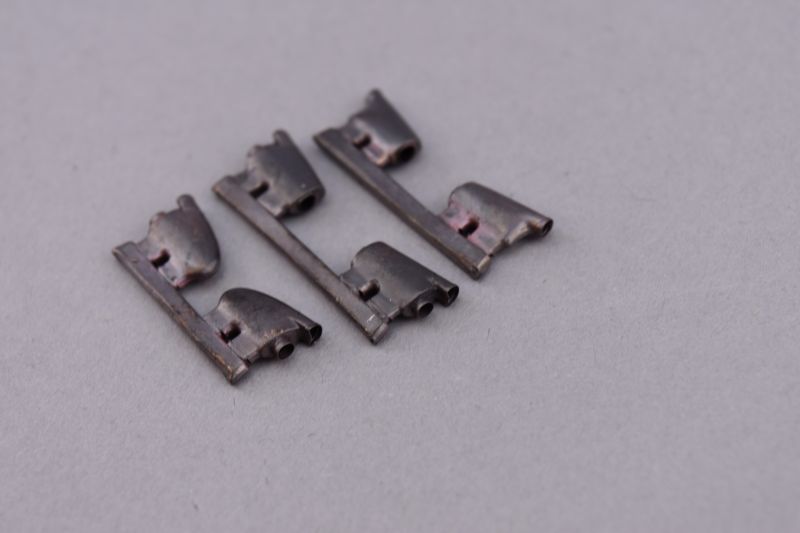 ---
Tamiya F4U Corsair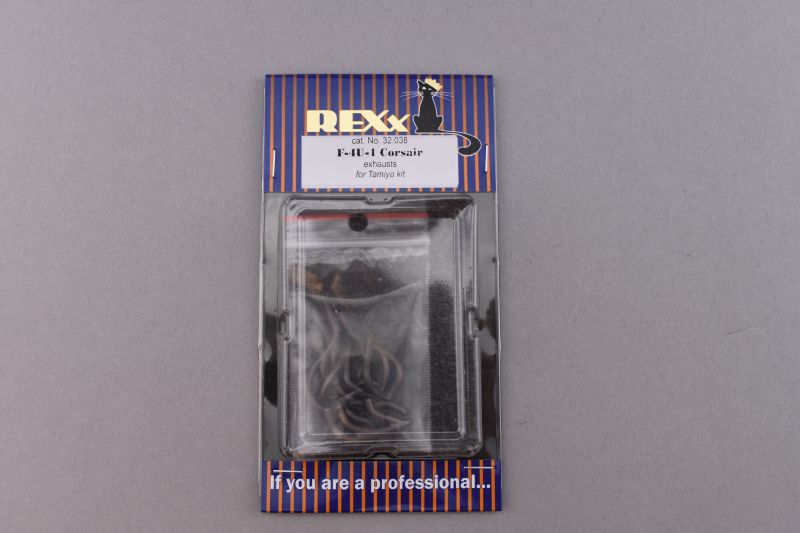 Next up is a set of exhausts for the venerable and extremely nice Tamiya F4U Corsair. With this particular REXx exhaust set, you get all the individual stacks already separated from any blocks, and ready to install. REXx also provides all of the kit attachment points and nubs as well. These, like the Spitfire set seem to be slightly more robust than previous sets. The individual stacks are very nicely represented and extremely thin looking. The patina on my Corsair set was IMHO very realistic looking. I like this set very much, and I think it will take the look of any Tamiya Corsair over the top: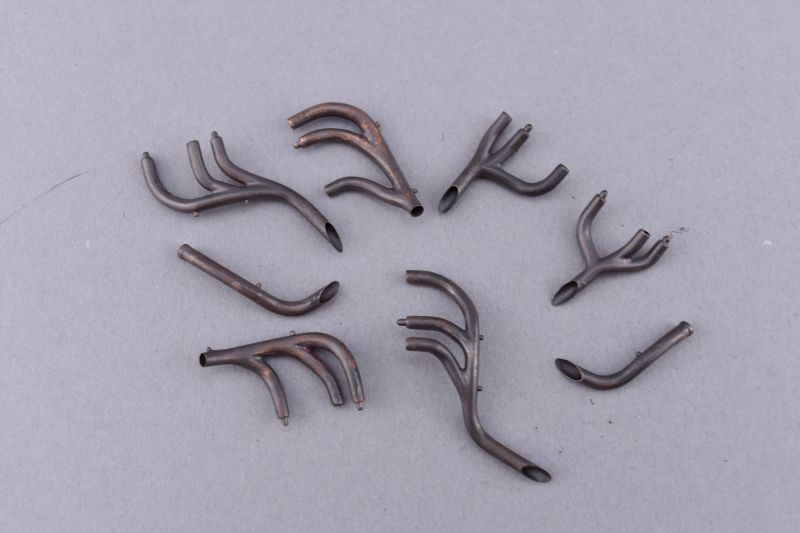 ---
Hasegawa P-40 E/F/K/L/M/N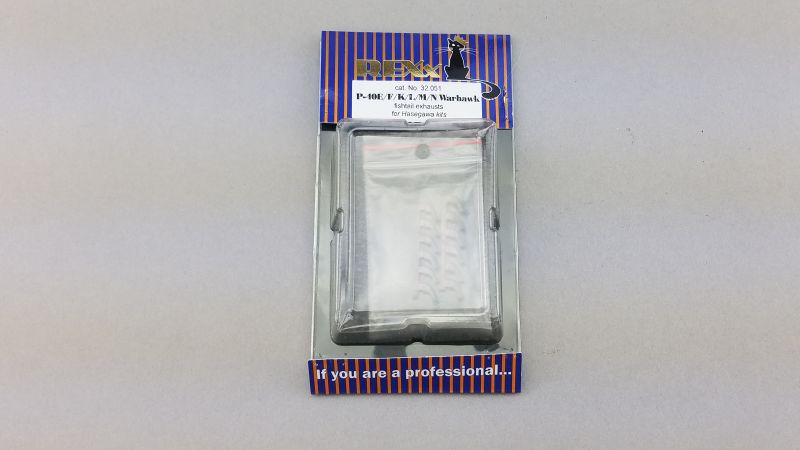 Next up is the Hasegawa P-40 series. These should be suitable for most any of the P-40 series of kits that Hasegawa makes. The REXx P-40 set in this case are the fish-tail type exhausts, and have some really tremendous detail to them, in and out. Their shape is very good, and there was no crushing or bent tips on my set. REXx also molded in the separator inside each exhaust stack, which shows up very well, and adds to the overall nice feel and fidelity of the set. This REXx set also seems slightly more robust feeling, and they will look terrific in place on any P-40. As with the other sets it will save lots of time and weathering because they look so cool right from the factory: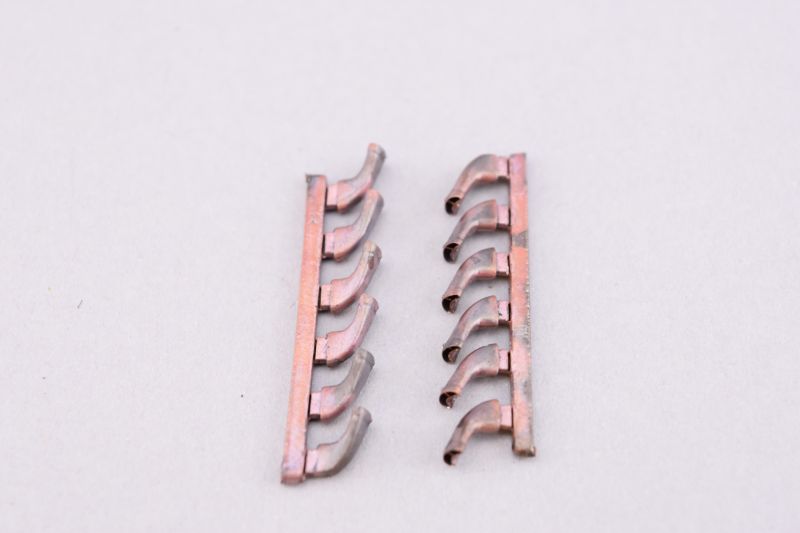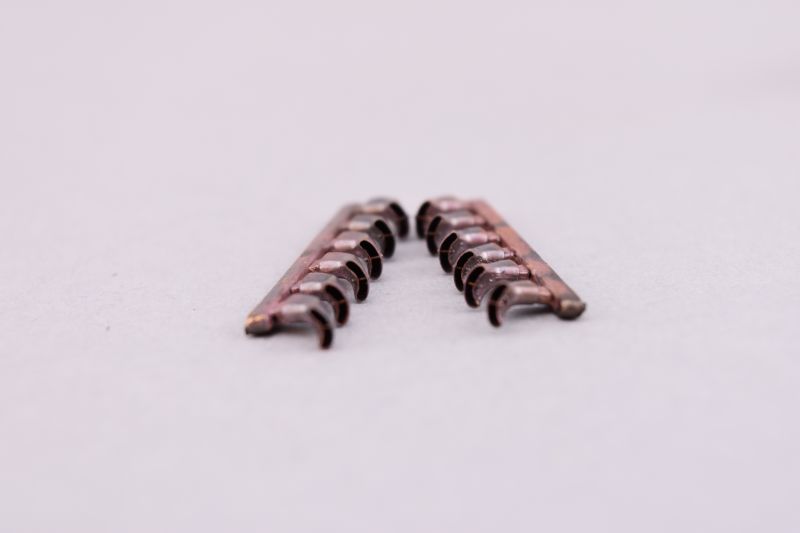 ---
Hawker Hurricane Mk I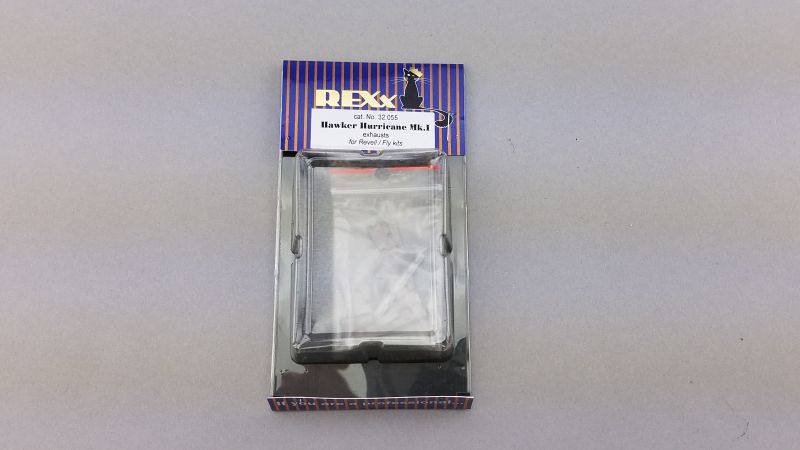 Finally, we have the REXx universal set for the Revell Mk I Hurricane, and the Fly Mk. I Hurricane. The REXx exhaust stacks like the Spitfire set, contains 3 parts per side, and one resin engine exhaust stack mount per side. This set, also like the Spitfire set fits very nicely together just like the set on the 1:1. With just some minor razor saw work, and a judicious application of some tweezers, this set will look tremendous in situation. The resin engine exhaust port strips REXx includes will be a great way to keep all 3 stacks on each side well in relation to each other on the Fly or Revell kit, as well as making them easy to mount with less danger of crushing them.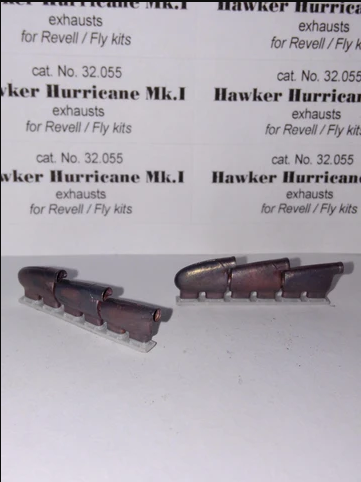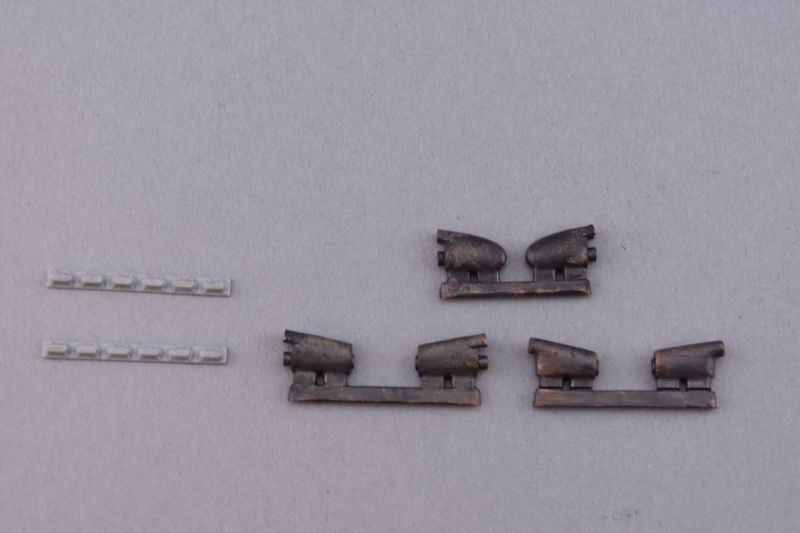 The REXx Hurricane set comes like the Spitfire set on a metal bar that will need to be cut away, and the parts attached to the resin mounting strip. The strip itself is again a welcome addition to making overall attachment much easier. My set came with some wonderful patina on it with a lot of variation in the look and pattern to each part. A lot of modelers spend a lot of time trying to replicate this kind of nice variation. All in all, I believe these is will be a terrific addition to anyone's Fly or Revell Hurricane Mk. I/II kit: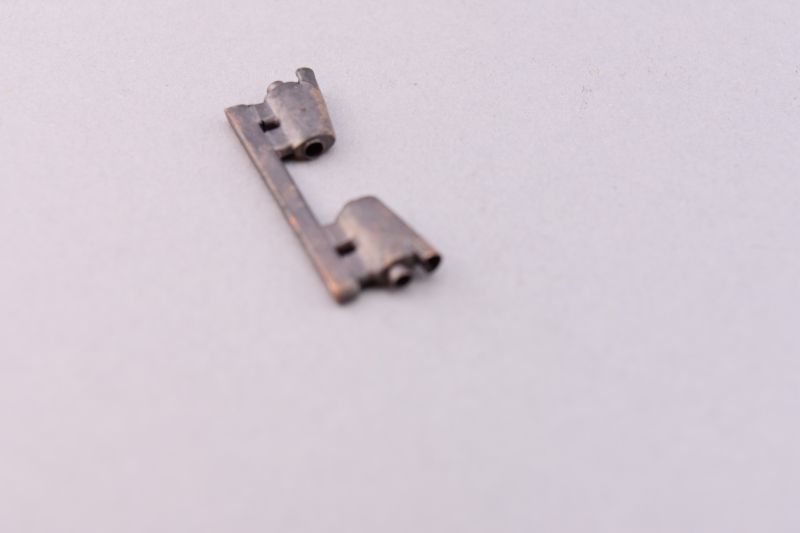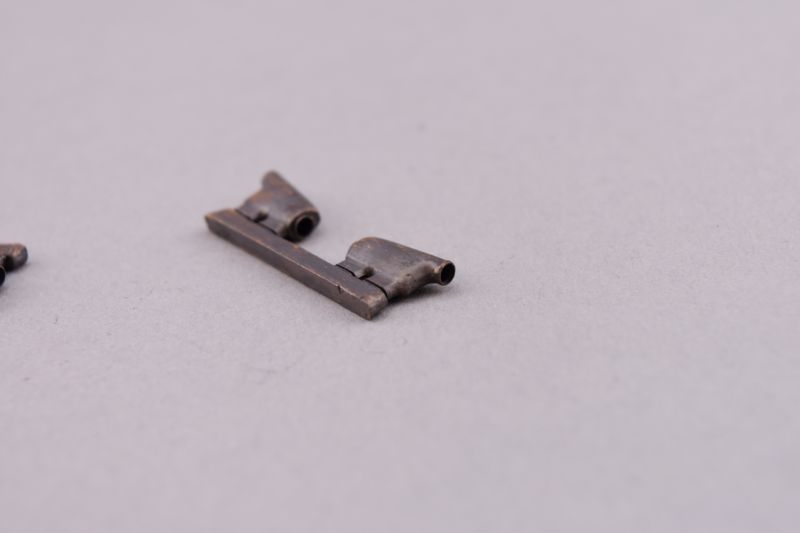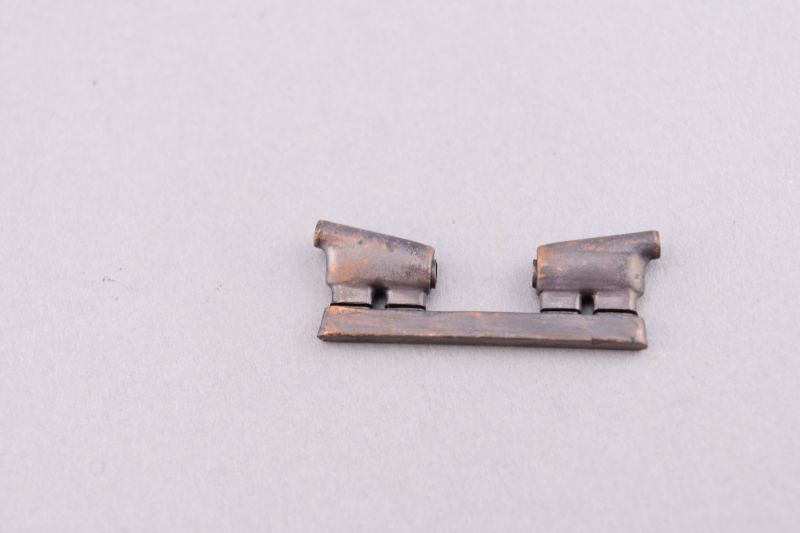 ---
Conclusions
These REXx sets are an excellent value for the money. They have high scale fidelity, a competitive price as AM goes these days, and without the need to paint and weather them, they really can add a lot to a model. One of the best parts of the REXx sets is the patina and ready made look of them, which in my book makes them a must have.
The only down side I can see to these is their delicate nature. These sets are not toys, nor should they be treated as such, and generally scale modelers are a particular bunch, normally wanting accuracy/looks over robustness. In the case of these REXx exhaust sets, if you treat them as any normal delicate modeling part you should have no issues what so ever. These sets will make any kit just that much better in the looks and scale realism departments. I can't recommend them enough!
With 10 being perfect and 1 being completely useless, I would give these REXx galvanically grown exhaust sets a strong 9. If they were not so delicate I might be apt for a 10, but we cant have everything, and I think most of us are willing to give up a bit of strength for scale realism. In the case of exhaust parts, these generally don't get handled at all once the model is completed anyway, so to me this is a good trade off.
HIGHLY recommended.
Acknowledgments
H & B Hobbies is the place to go if you want to pick up any of these lovely new exhaust sets from REXx. Many thanks to Bob at H & B Hobbies for the review samples, which can be purchased at the following link:
REXx Exhaust sets @ H & B Hobbies.
© Brian Leitch 2020
This review was published on Monday, March 16 2020; Last modified on Tuesday, March 17 2020