ANYZ | Universal Labels and Stencils
Reviewed by Kevin Futter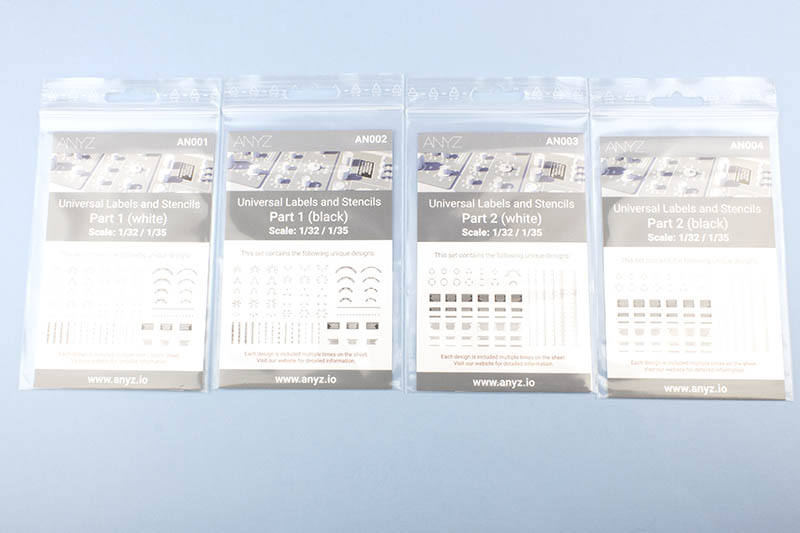 ANYZ is a relatively new firm operating out of Germany, and producing a range of aftermarket resin and decal accessories. The company's catalogue largely features generic utility products, and in this review we'll be taking a look at Universal Labels and Stencils sets AN001, AN002, AN003, AN004. These feature two types of stencil decals, with one set of each in black, and the other two in white. They're quoted as suitable for both 1/32 and 1/35 scales.
Each set comes in a small, resealable plastic envelope, which contains a small decal sheet and an insert card. The rear of each insert card is the same for all four sets: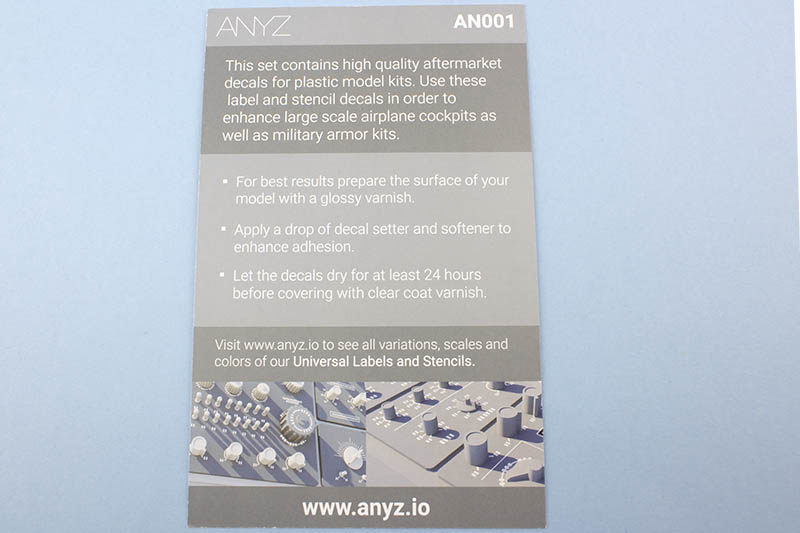 The decals themselves are expertly printed by Cartograf, so you can be assured of their quality.
AN001: Universal Labels and Stencils Part 1 (white)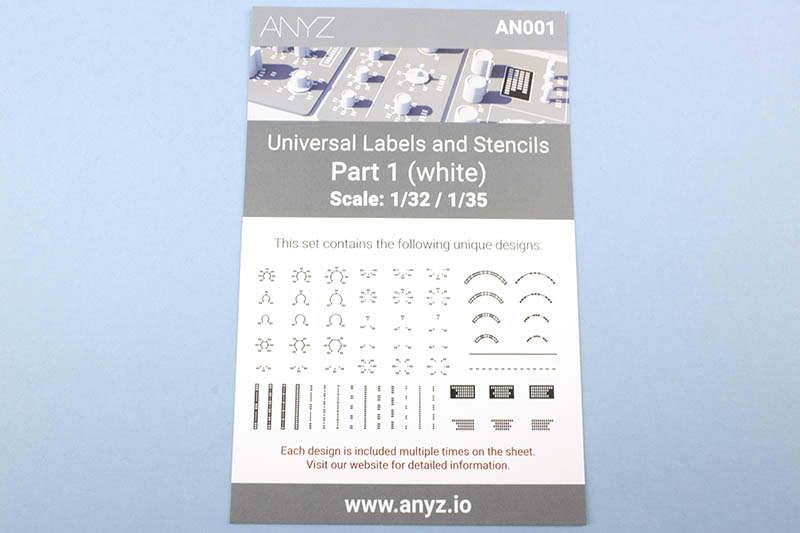 While this set is listed as containing white stencils, some are printed as white on a black background, as dictated by the nature of the stencil being replicated: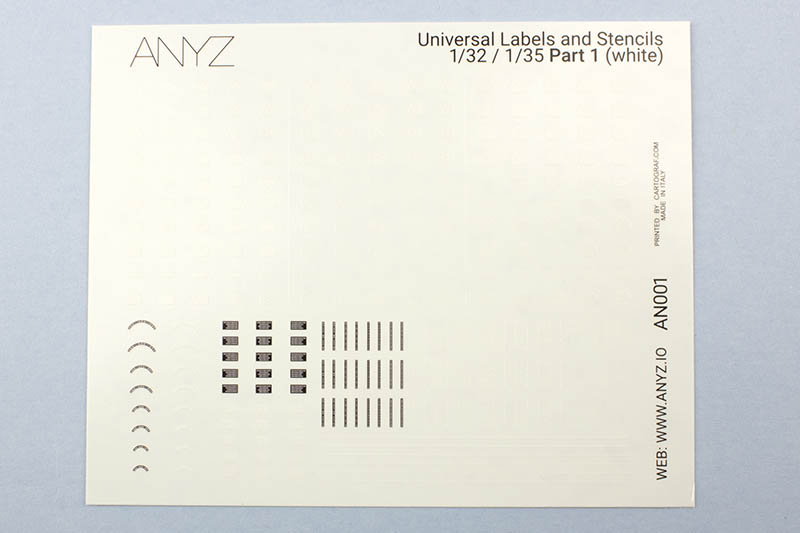 As you can see from the photo above, the pure white stencils are almost impossible to see on the sheet. Since the black version contains identical designs and layout, I'll refer you to that image to see what's actually on the sheet. You can also refer to the diagrams on the front of the insert card.
The close-up isn't much more revealing in that respect, but the black sections do show the high quality of the printing overall: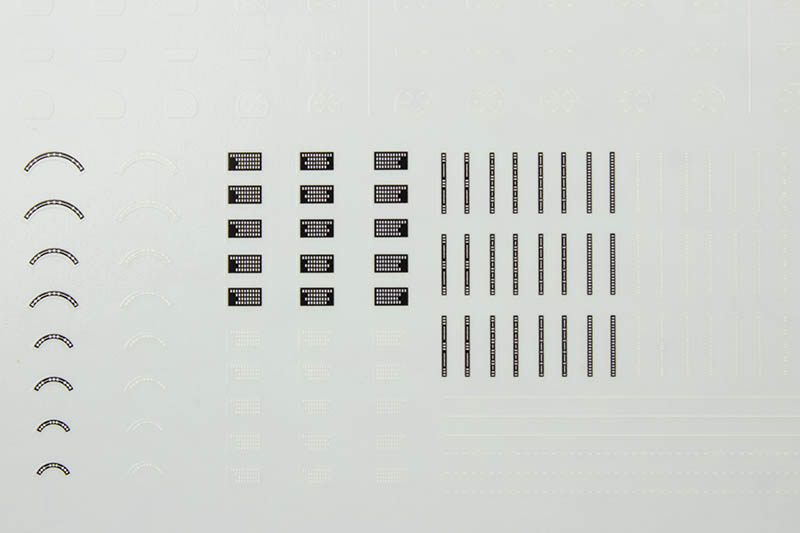 Note that no real text is actually reproduced on the decals; instead, generic geometric shapes are used to give the impression of busy-ness, and nothing is intended to be readable. Personally I don't find this to be an issue, as I think they'll produce the intended effect without anyone noticing the difference.
AN003: Universal Labels and Stencils Part 1 (black)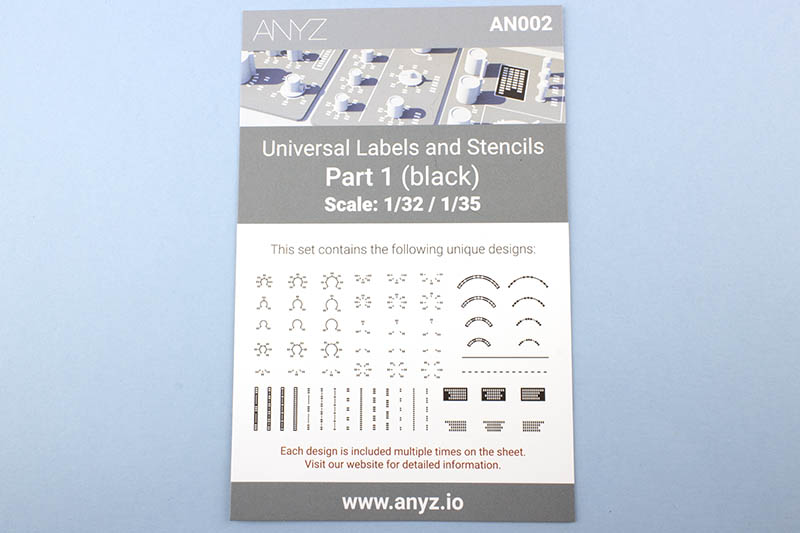 This set is practically identical to the previous one, other than the all-white areas being printed in black: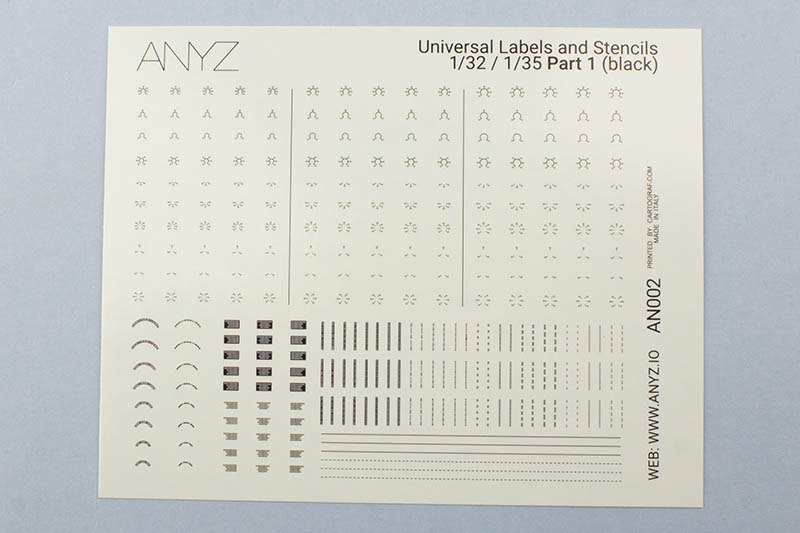 This gives us a chance to get a better look at the designs themselves: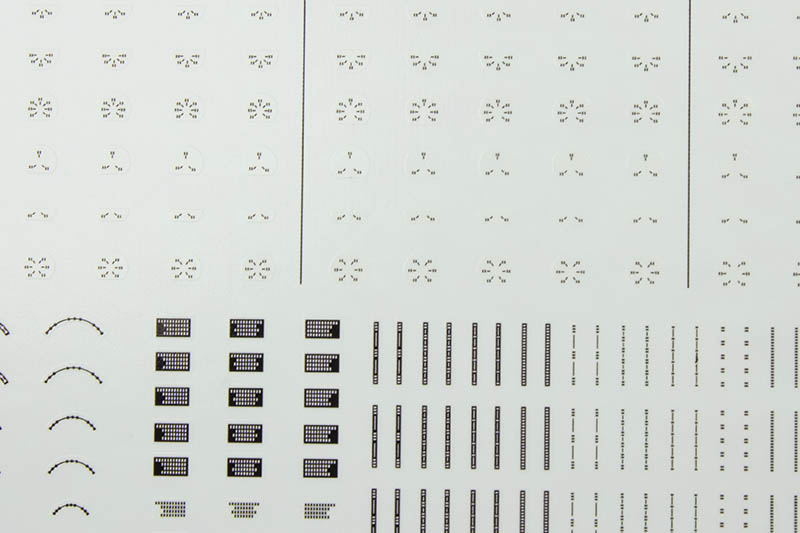 The same comments apply as before: quality printing, generic busy-ness.
AN003: Universal Labels and Stencils Part 2 (white)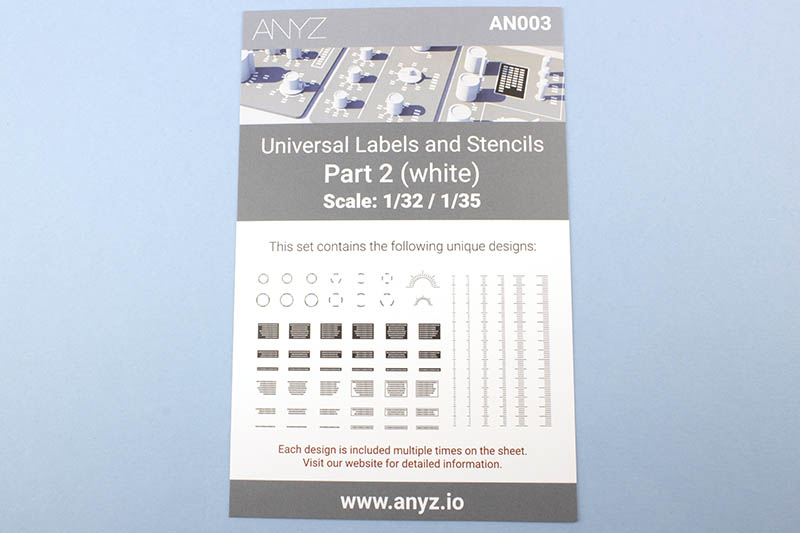 This sheet contains a different set of designs to the previous two, but the same comments I made about AN001 apply here, also.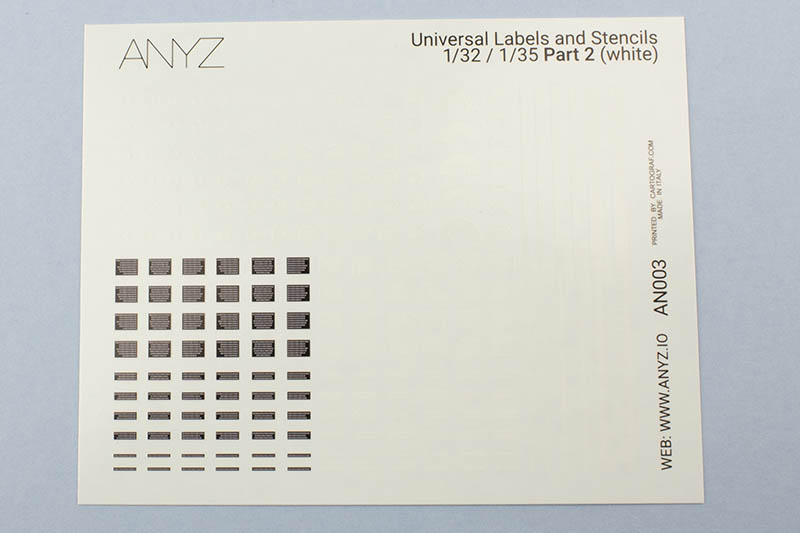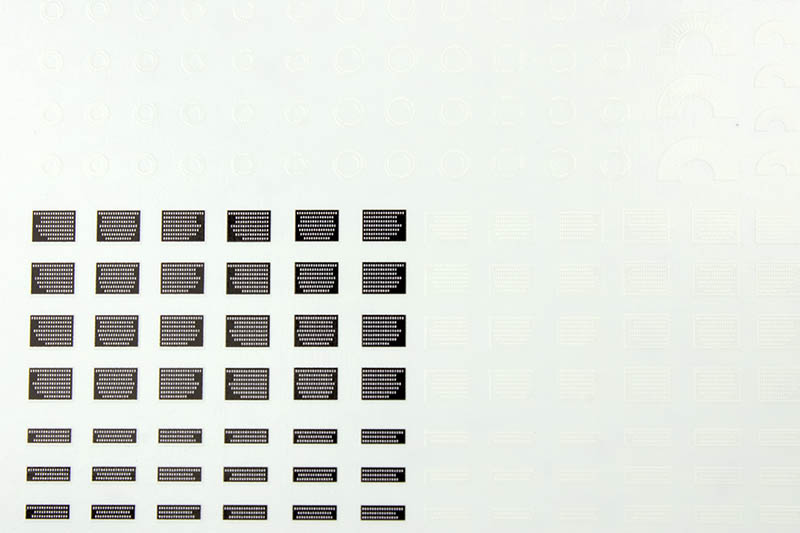 AN004: Universal Labels and Stencils Part 2 (black)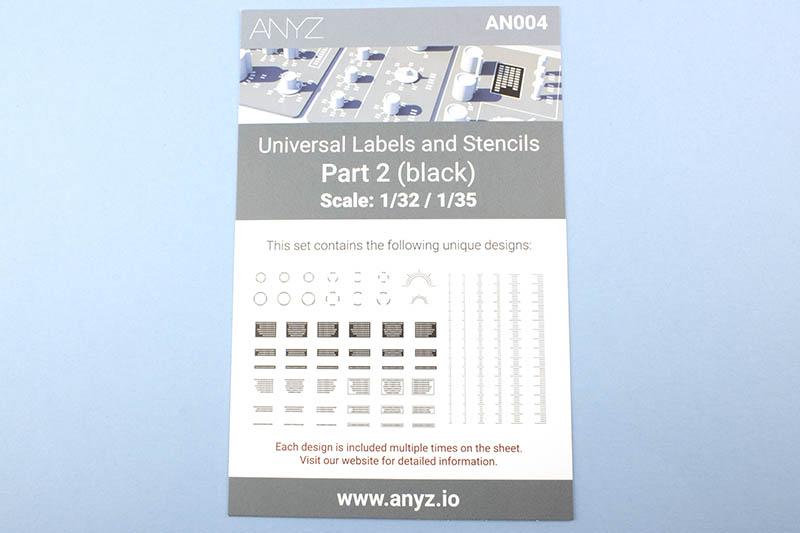 Just as with the AN001/AN002 combination, this one represents the black version of the previous set, and is otherwise identical in design and layout: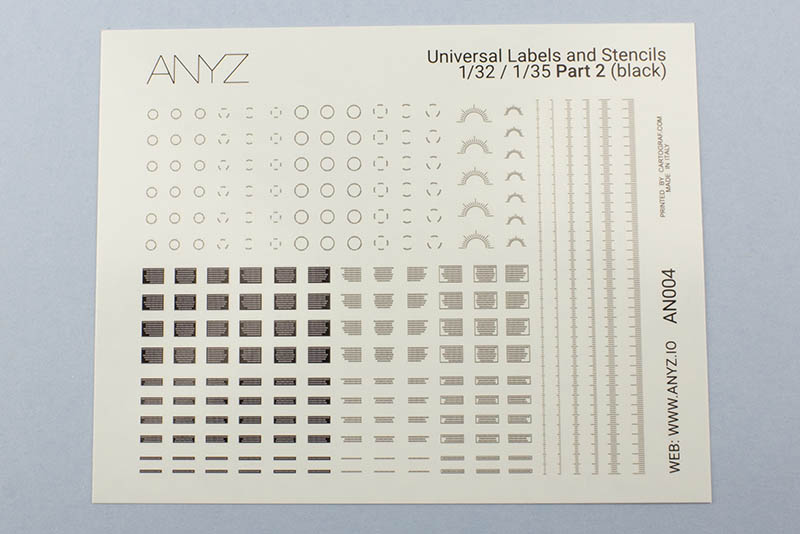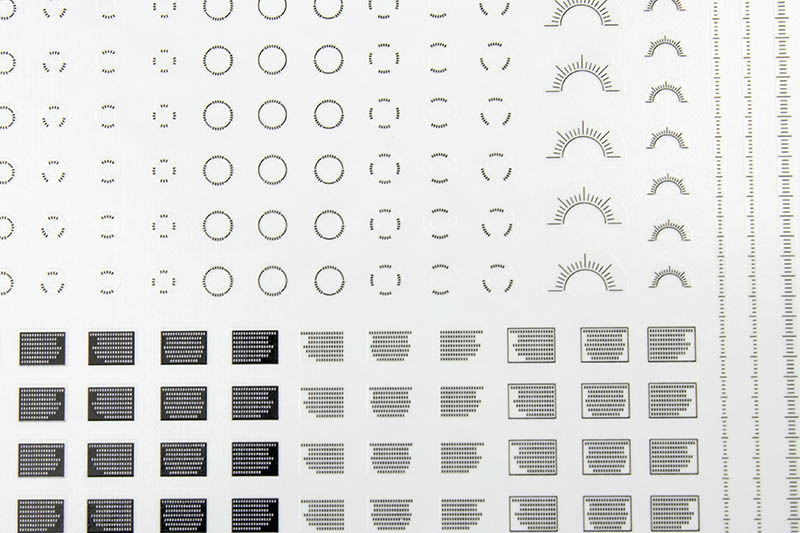 Conclusion
These sets allow you to add some busy detail to your cockpits, without necessarily fretting about absolute accuracy. This might not suit everybody's approach, but one of my modelling mantras is representation over replication, and these sheets service that aim admirably.
The print quality is excellent, and there are plenty of styles to choose from on each set, and more broadly across all four of them collectively. Cockpit stencil decals are nothing new, but I've not come across generic labels for knobs and switches before, so these should be a great boon for modellers wanting to add that level of detail to their builds.
Highly recommended!
Thanks to ANYZ for the review sample.
© Kevin Futter 2020
This review was published on Saturday, March 14 2020; Last modified on Saturday, March 14 2020