Warbirds | 1/32 scale Hawker Hurricane Early Mk.I conversion
Reviewed by Peter Roberts
This set comprises eight parts all crisply moulded in light grey resin. Parts are provided for new wheel/tyres (X2), new main undercarriage doors, new exhausts (X2), a tail wheel and early two blade propellor.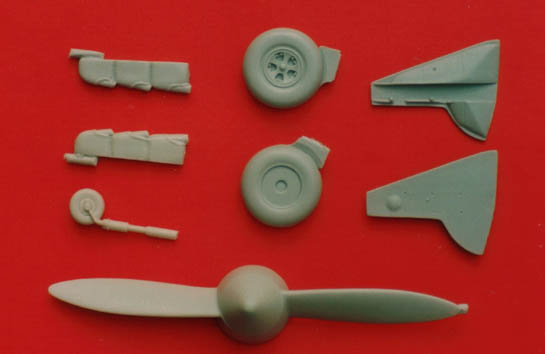 The wheels have a five spoke pattern, and bear a striking resemblance to the Hasegawa Spitfire wheels. These make for a big improvement to the kit items. A small mould plug on the circumference of the tyre needs removal, but this doesn't pose much of a problem.
The main undercarriage doors have excellent detail moulded on the inside and outside surfaces, and replicate well their unusual profile. The smaller door panels will need to be added from card. Again, these items are a significant improvement over the kit items in detail and accuracy.
The exhausts are for the earlier version Hurricane Mk. Is, and also replicate these items well. They have acceptably hollow ends to the pipes, although some modellers may wish to drill these a little more for more depth. Nevertheless, a wash of black or dark grey paint would give an excellent impression of depth to the pipes. Clever casting has left a small mould plug to be removed from the surface that will ultimately be glued to the kit, so should cover up any efforts at removal.
The spinner and two blade prop are moulded together, and provide a beautifully accurate representation of the prop that was found on the initial production aircraft. The subtle lines of the spinner have been well captured. A small mould plug needs to be removed from the propellor tip; this will require some care and careful filing to avoid damaging the propellor. These items were usually painted black, with a dark earth tip to the spinner ahead of the prop.
Finally, the tail wheel is an accurate representation of the Dowty "oil-spring" unit found on early Hurricanes. The wheel has been integrally moulded with the fork and leg, with some definition incorporated between the two. The more fastidious modeller may want to carefully remove the material around the wheel to give better definition, or complete separation of the two. However, this unit appears quite fragile, so it may be better to run with the item as supplied in the interests of better strength, and use a dark wash to define the wheel.
This set provides the modeller with parts to significantly improve the appearance of the Revell Hawker Hurricane in Mk. I form. Other sets offer different, later type propellors, so you may want to check the Warbirds listing for the set that best suits the plane you intend to model. Highly recommended.
© Peter Roberts 2004
This review was published on Saturday, July 02 2011; Last modified on Wednesday, May 18 2016