Fantasy Printshop | Euro Decals ED-32109 Messerschmitt Emils Part 1
Reviewed by Iain Ogilvie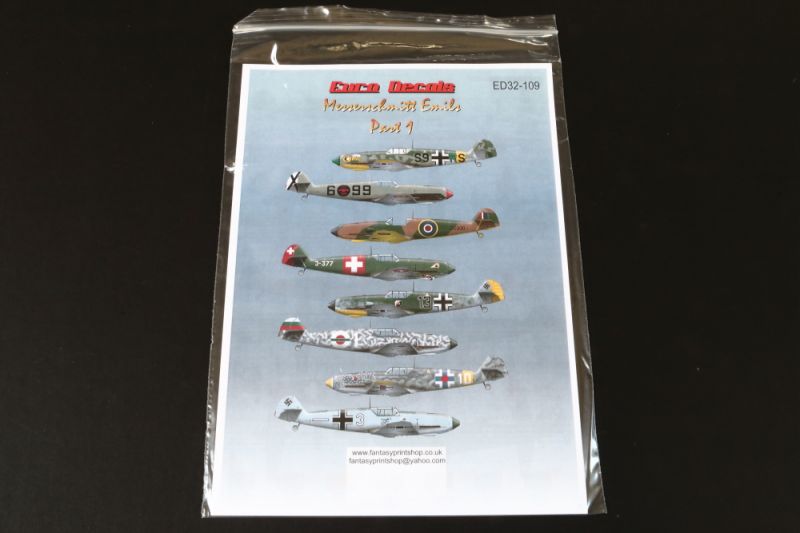 The latest set from Fantasy Printshop, in their Euro Decals range, comprises two large sheets of decals for an exotic mix of Messerschmitt Bf 109E subjects - with some very different schemes to the norm.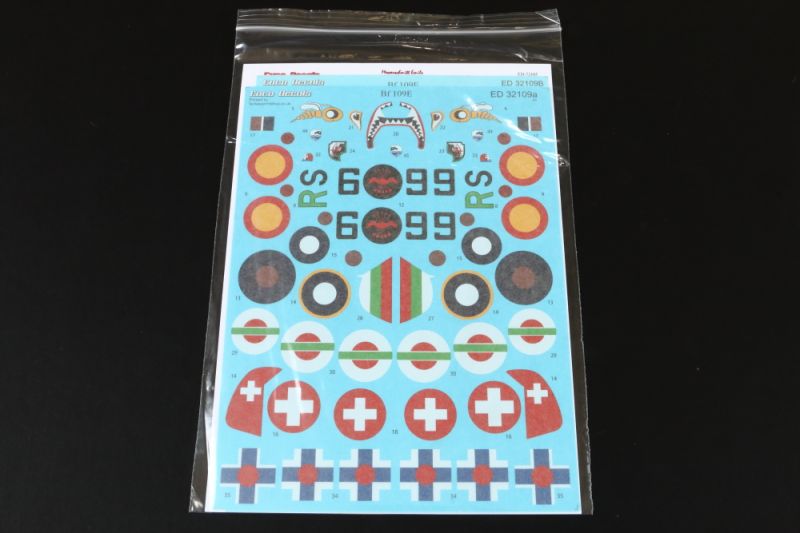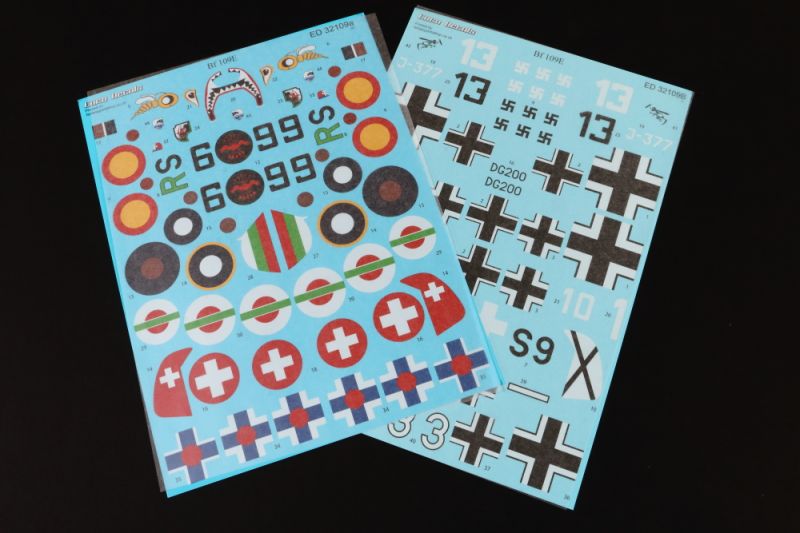 ---
Quality looks excellent: perfect register, good colour and, by the look it it, commendably thin.
As with other sheets in the range, printing is on a blue ground making it easier to see all the white printed areas.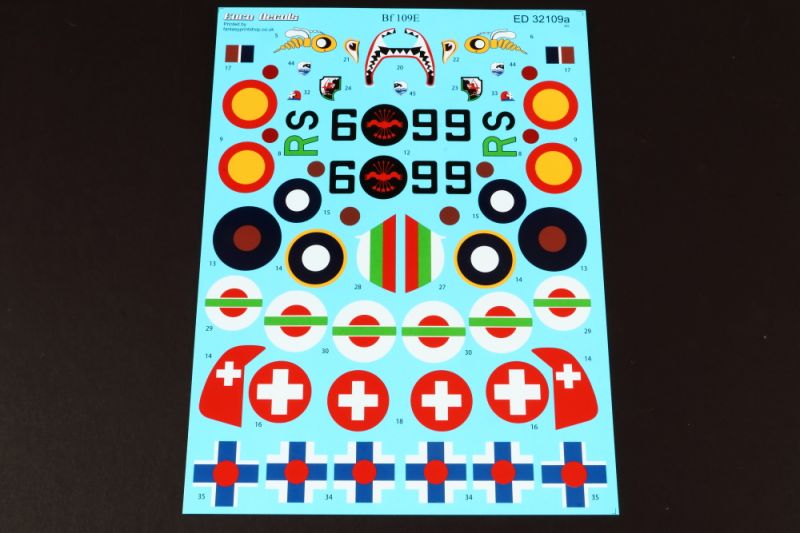 ---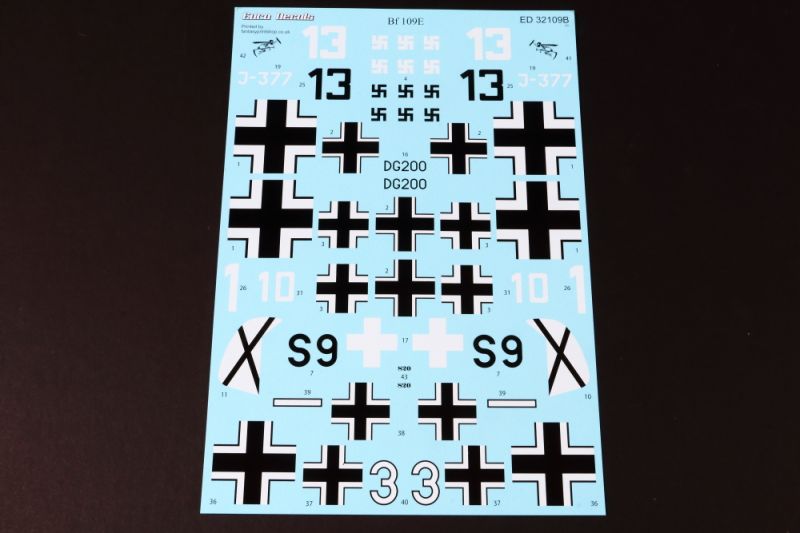 ---
Options
8 options are included:
Bf 109E-7/B S9+RS of 8./ZG.1, Russia, Summer 1942
Bf 109E-3 6-99 of Grup 25, Spanish Air Force, 1939
Bf 109E-3/B DG200 of 1426 Flight, RAF, 1941
Bf 109E-3 J-377 Fl. Kp. 21, Swiss Air Force
Bf 109E-4 Black 13, 8./JG 1, 1941
Bf 109E-4 White 1, Royal Bulgarian Air Force, Winter 1944/45
Bf 109E-4 White 10, 13 Squadron, Slovak Air Force, April 1943
Bf 109E-3 White 3, 4./JG77, Norway, October 1940
Placement Guide
Printed in colour, the set includes detailed placement instruction that include the relevant RLM colour references.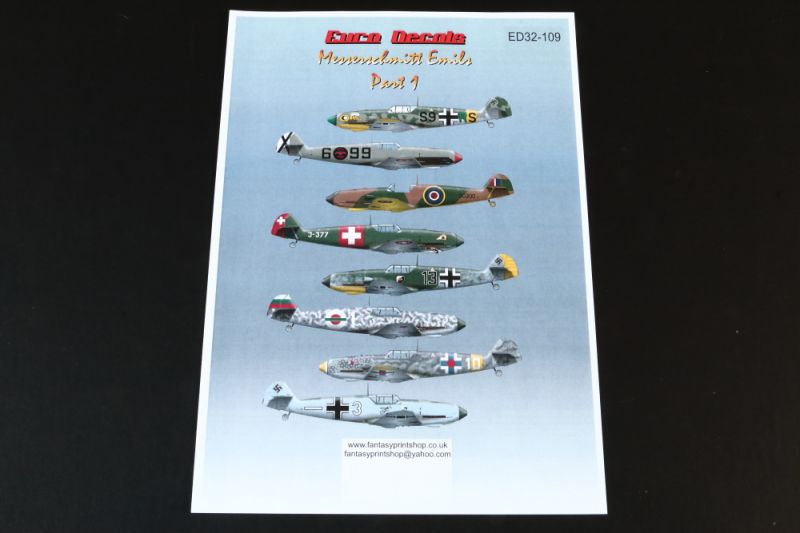 ---
Conclusion
This is a a varied and interesting set of markings for Bf.109Es: particularly good to see the Royal Bulgarian Air Force and Slovak Air Force markings.
Highly Recommended!
Availability
This sheet is available directly from Fantasy Printshop.
Our thanks to Ray Horwell at Fantasy Printshop for the review sample.
Iain
© Iain Ogilvie 2020
This review was published on Sunday, November 15 2020; Last modified on Sunday, November 15 2020