Barracuda Studios | BR32393: Bf 109G/K Tall Tailwheel Set
Reviewed by Kevin Futter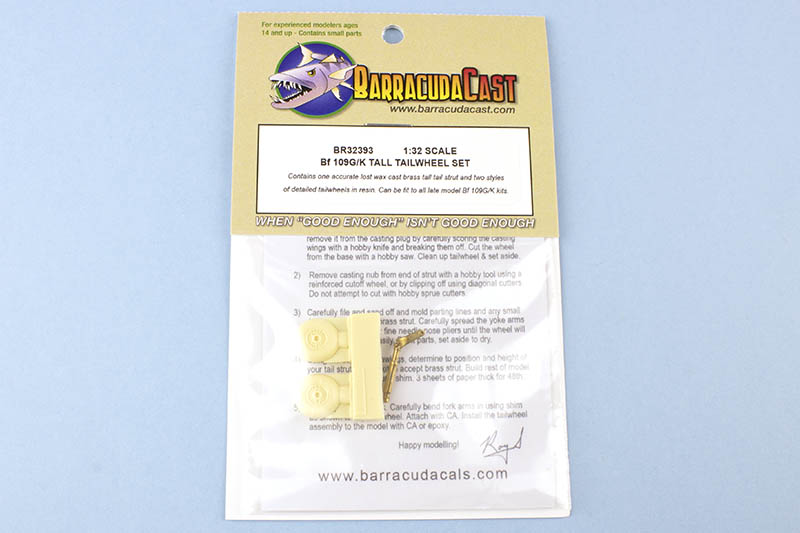 Barracuda Studios continues to expand its BarracudaCast range of resin upgrade and detail sets with a tall tail wheel set for 1/32 scale Bf 109G/K kits. Quoting from the packaging:
Contains one accurate lost wax cast brass tall tail strut and two styles of detail tailwheels in resin. Can be fit to all late model Bf 109G/K kits.
The two resin tail wheel parts are nicely detailed and crisply moulded: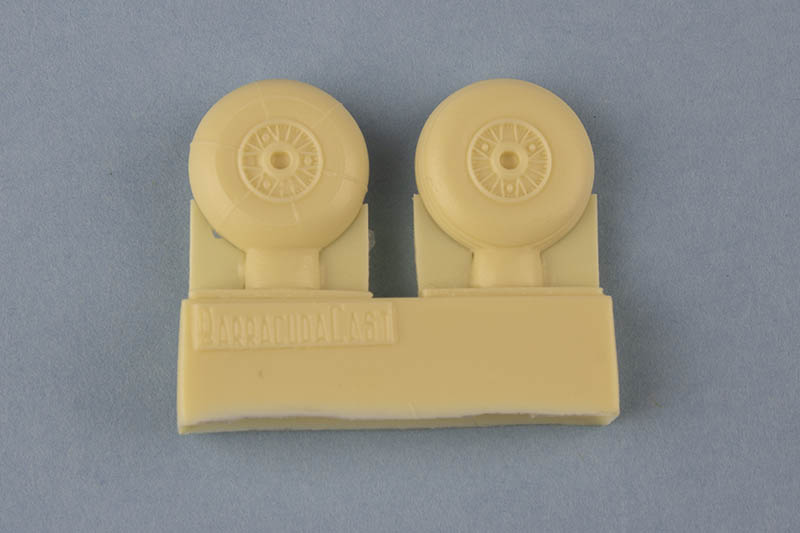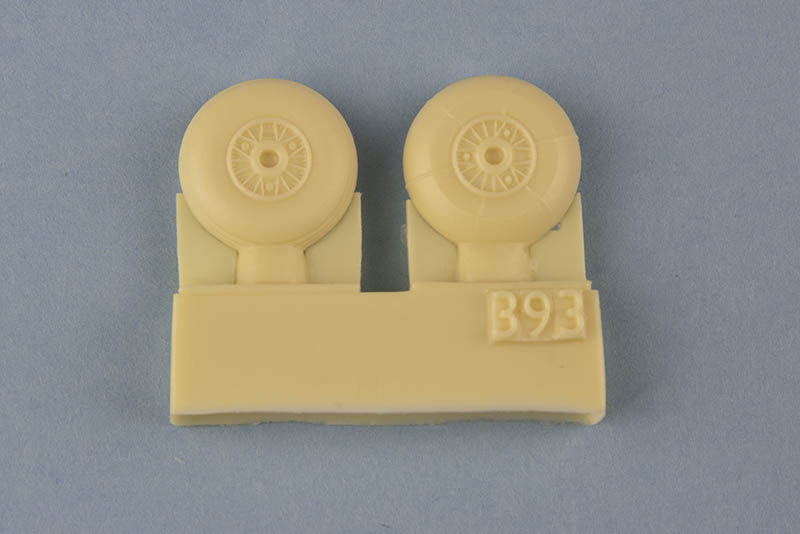 Being rather small pieces, at first glance the two wheels look identical, but a closer examination reveals that one has a grooved tread pattern, while is the other is smooth with rubber ridges radiating out from the hub: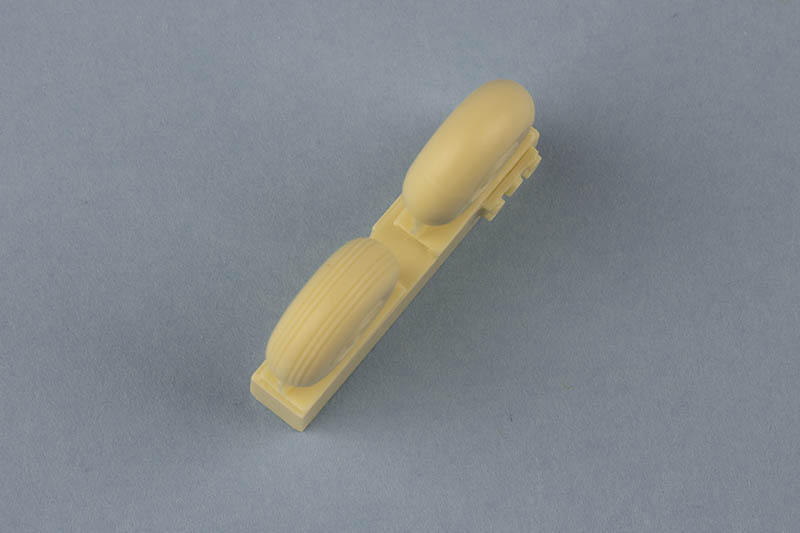 The interconnecting mount that attaches each wheel to its main pour block creates a flattened section on the tyre, which will handily represent the natural sit of the tyre with an aircraft parked on it. Nice touch, Barracuda!
The main focus of this set, and also its main point of differentiation from similar sets, is the included cast brass tall tail wheel leg: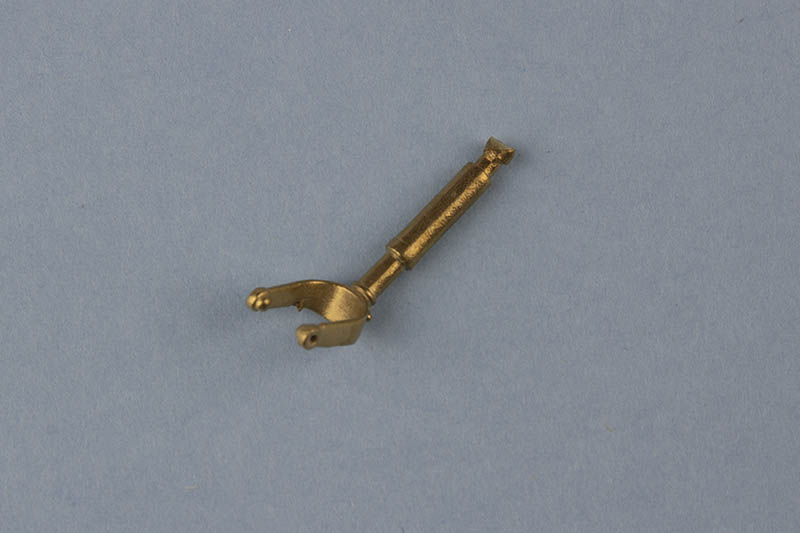 This piece is very nicely cast indeed, and unlike white metal alternatives, is very strong. My sample has a small moulding flaw in the form of a protrusion on the inside of the left (port) fork segment, but this will easily be removed with a few swipes of the appropriate file.
The last element of the package is the small folded instruction sheet, which tells you all you need to know about preparing and installing this set: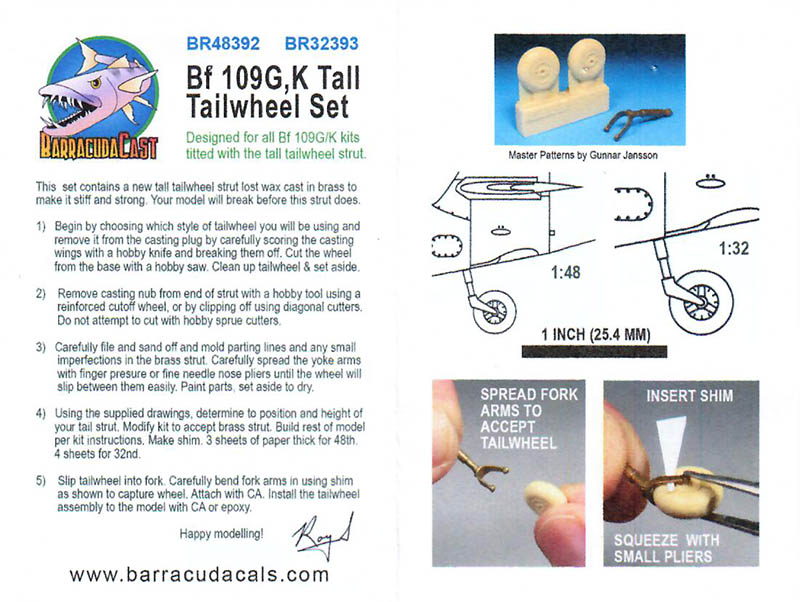 Conclusion
While not a simple plug-and-play replacement for a kit tail wheel, this set should present no major difficulty for even a moderately experienced modeller. And if you're looking to depict a late model Bf 109 G or K with a tall tail wheel, it's a must. The resin parts are very nicely moulded, while the brass strut is also excellent, and will give you all the strength you need. Well done, Barracuda!
Many thanks to Barracuda Studios for the review sample.
© Kevin Futter 2020
This review was published on Friday, December 11 2020; Last modified on Friday, December 11 2020