Warbirds | 1/32 scale Hawker Hurricane Wheel well and Seat
Reviewed by Peter Roberts
Crisply moulded in light grey resin, these parts will help add further detail and accuracy to your Revell Hawker Hurricane. There were no visible air bubbles in either part.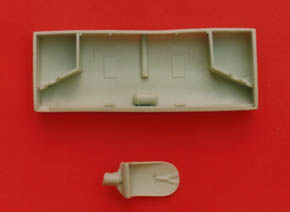 The seat has a large moulding plug on it that will require careful removal, but this has been cleverly located underneath the seat, so your efforts at removal will be hidden, unless you choose to remove panels from around the cockpit! The seat is commendably thin and will need careful handling when cleaning up. Detail includes moulded straps on the back of the seat and the hollow for the pilots parachute in the seat pan. The only addition to be made is some etched seat belts and you have a great addition to your Hurricane cockpit. No painting guide is given, but I believe most of these seats were finished in interior green.
The wheel well is an excellent addition for the kit, and more accurate than the kit representation. You first need to remove the boxed in wheel wells on the kit before using the resin replacement. Some filing may be required to get a good fit. The fastidious amongst us will want to add a little extra detail with plumbing for hydraulics and engine cooling, but this resin part can be added "as is" for a significant improvement to the basic kit. Again, no painting guide was included, but I believe most Hurricane wheel wells were painted aluminium.
These parts are essential for anyone contemplating making a Revell 1/32 scale Hawker Hurricane, and are highly recommended.
© Peter Roberts 2004
This review was published on Saturday, July 02 2011; Last modified on Wednesday, May 18 2016