Exito Decals | ED32010: 1/32 Eastern Front Fighters
Reviewed by Andrew Birnie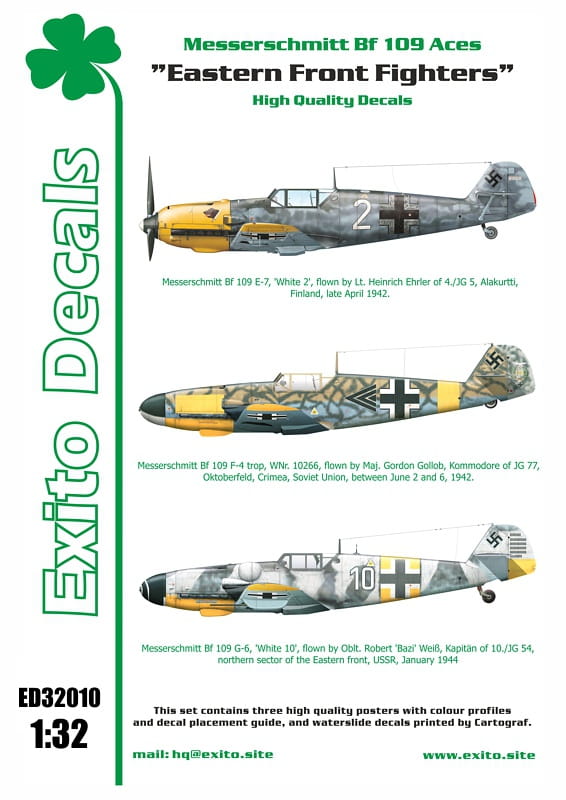 There are decal packages, and then there are those from Exito Decals. The first thing that hits you is the quality of the profiles, just pure inspiration. The set includes an A4 cover sheet with all three options in side profile, then, also on top quality A4 gloss paper, is a sheet with side profiles of each specific aircraft on one side, and the plan views, with instructions, and a photograph or two of the actual aircraft on the other side.
Those options are:
Messerschmitt Bf 109 E-7, 'White 2', flown by Lt. Heinrich Ehrler of 4./JG 5, Alakurtti, Finland, late April 1942.
Messerschmitt Bf 109 F-4 trop, WNr. 10266, flown by Maj. Gordon Gollob, Kommodore of JG 77, Oktoberfeld, Crimea, Soviet Union, between June 2 and 6, 1942.
Messerschmitt Bf 109 G-6, 'White 10', flown by Oblt. Robert 'Bazi' Weiß, Kapitän of 10./JG 54, northern sector of the Eastern front, USSR, January 1944.
---
---
It should come as no surprise that the star of the show, the decals, are also of the highest quality, the graphic work on them is outstanding, not just on images like the kill marking, but the white 2 markings in particular look a little rough as they would on the actual aircraft, a lot of thought has gone into the production of this wonderful set, not least the subjects, each a different version of the Bf 109, which makes a nice, refreshing change, so there should be no excuse at not using all the options, as far as I know, none of them have been produced in 1/32 before, and it is apparently the first time a 4./JG 5 emblem has featured on a decal sheet, with the bonus of a spare.
---
---
The decals are printed by masters of the art, Cartograf in Italy, the illustrations by exceptionally talented Janusz Swiatlon and Anders Hjortsberg.
Decals kindly supplied by Exito Decals.
© Andrew Birnie, 2021
This review was published on Saturday, January 30 2021; Last modified on Saturday, January 30 2021