Trumpeter | SBD-3 "Dauntless" Midway (Clear Edition)
Reviewed by Kevin Williams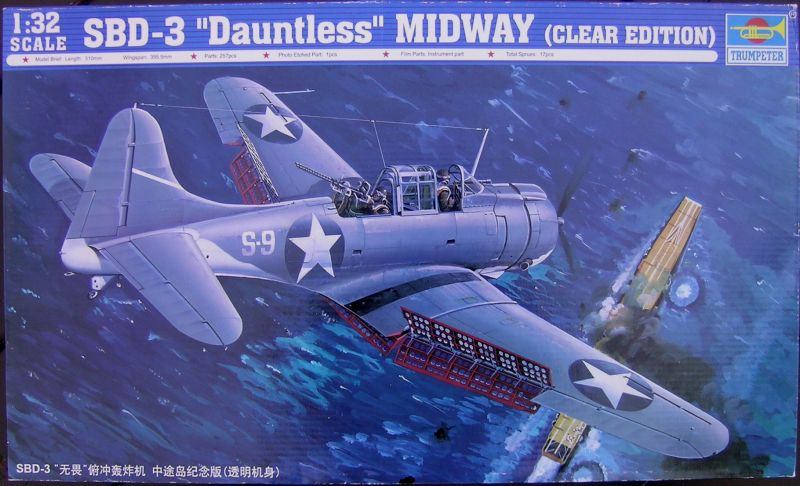 I decided at the outset to remove myself from the somewhat typical and lengthy description of the Dauntless technical development and operational history. I will however say that I personally believe that for all the work the Dauntless squadrons performed, that they deserve to be recognized for the tremendously important role they had to play during the war, and the fact that they performed in that role quite admirably.
While clearly not a new kit by any definition (first available somewhere around 2006, I believe), I just finally got my hands on one, so though I'd provide a look-see as to what's in the box. (Since this is more of an in-box review than a build review, I have no photos of assembled sub-structures, so this look should be considered more of an overview of the various areas I thought might be of interest.) It was also imperative to me at this time to see if the aftermarket parts offered by Avionix, for the cockpit in particular, are an actual improvement, or just a replacement. My first look shows some additional detail, that seems to have just been added to the kit parts themselves, but do indeed "dress up" the cockpit area even more, so may be very much worth using, though the kit 'pit, as presented, still offers up a quite nice rendition of the complexities of the area, and Trumpeter is to be highly commended for this, in my opinion.
Personal Note
I must say that I don't quite "get" the relevance of the clear fuselage concept. With all of the locating tabs and whatnot that are present on the interior, specifically in the 'pit area, this will inevitably make for a highly unattractive outcome. If painted (inside or out), this action itself, nullifies any advantage there might have been from using the clear parts to begin with. Fortunately for me, my kit has a spare solid colored fuselage tree (not included in the standard boxing), which will eliminate the need to use the brittle clear parts.
Major Parts Trees
---
Just provided as an overview of the major parts trees you can expect to find within the kit, save for the solid fuselage halves, which were sourced elsewhere, and are not included in this boxing.
Instructions
---
Instructions are depicted in a very clear fashion, and should go a long way toward an easy assembly process.
Decals
---
Markings are provided for two machines:
SBD-3, S-9 of VS-5, USS Yorktown
SBD-3, B10 of VB-3, USS Yorktown
Decals appear to be in register, quite opaque, with good coloring and well detailed and also includes plenty of stenciling. I'm really not sure who prints the decals for Trumpeter, and though these do not appear to be the same "thick and chunky" offerings I've seen in the past, they still look just a wee thick to me. None of this really matters much anyway (at least to me), as I'll more than likely only ever do one kit, and I'll be seeking out AM decals for it.
Markings Layout
---
A fairly large markings guide is provided in the form of a two page layout, showing profile views, plan & inverse plan views and data placement. Only the port profile is given for B10.
Air-frame/Wings
---
The fuselage and wing detailing, overall, is very nicely depicted, consisting of both raised and recessed details, and actually looks quite nice to me. The only real issue I see here, is the preponderance of recessed rivet detail, when the Dauntless was actually peppered with raised rivets. Aside from that, I'm quite pleased with the overall appearance of the moldings.
The Real Deal
---
Flying Surfaces
---
All of the flying surfaces display the same refined and great looking surface detailing that is common to all other areas of the kit.
Cockpit
---
Here's where this kit really comes into its own, with gobs of nicely detailed parts, that once assembled, should leave very little in the way of needing improvement. I do have an Avionix cockpit at the ready, and will have to determine what might be worthwhile additions or replacements. Certainly the seats, both pilot and gunner, could benefit from some 3D belts in lieu of the provided photo-etched items. Given the rather large combined area both positions occupy in the aircraft, some nice detail painting here, will add a lot of character to the finished model.
Engine & Cowlings
---
The Engine is another area that seems to be very well detailed, and will look excellent on those models where the builder decides to leave it exposed (I will not). When all assembled, this will appear to be a quite respectable looking bit of hardware for the kit. While some additional detail would undoubtedly enhance the appearance, I don't personally see it as "needed".
Clear Parts
---
All clear parts are just that, crystal clear, and look just great. Seperate parts are provided for the various canopy sections, so that they can all be depicted closed or open, a real nice touch from Trumpeter.
Landing Gear, Wheels, and Doors
---
Main landing gear bay is comprehensively detailed, and should really look the business once assembled and painted. I don't generally find myself being too impressed with wheel bays one way or the other, but I believe these will be way more than satisfactory for me.
Main wheels look to also be molded acceptably, though tires are again, another weak point in my opinion, being molded in a soft rubbery material, that quite frankly, is probably the weak link in this entire kit. Why Trumpeter chose this particular option is anyone's guess, but mine will certainly be replaced with aftermarket items.
Bombs/Pylons
---
Both wing mounted and centerline bombs are provided, and appear quite adequate, though all three would benefit from more delicate fuse arming spinners. Otherwise, bombs, racks and cradle (used to swing the centerline bomb clear of the propeller in a dive, similar to the Ju 87 style), seem more that ample to add some cool weapons to the aircraft.
Photo-Etched Parts
---
One P.E. frets (brass) is included, and contain items such as belts, ring-type sights, etc.
Miscellaneous Plastic Parts
---
There were a few portions of the kit that I photographed, but had no specific category for them, so I decided to just lump them all together here, as they are undoubtedly relevant.
Summation
All in all, I think this is a great effort from Trumpeter, with overall proportions looking good to my eye. I am very pleased with what I've found thus far, and anxiously await the opportunity to begin working on my example. I also expect that the aftermarket folks will jump on when and where needed, to provide us with additional enhancements for this cool kit (and several items have in fact already begun to appear since this kit was released).
My review copy compliments of a really good forum pal, and now..."it's mine, all mine"!
© Kevin Williams 2021
This review was published on Friday, April 09 2021; Last modified on Friday, April 09 2021