Eagle Editions | Wings of the Black Cross Special Number Three: Messerschmitt Bf 109
Reviewed by Kevin Futter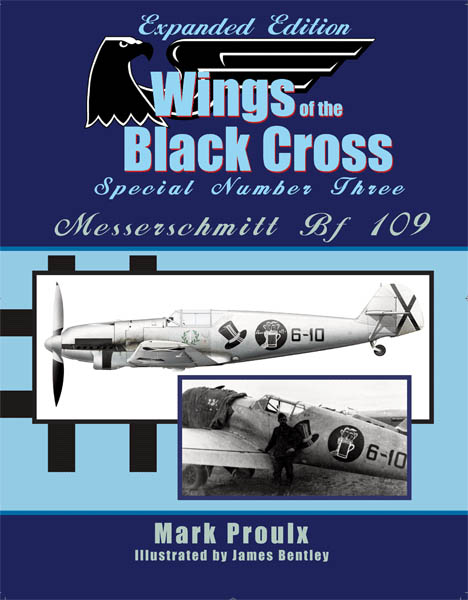 The latest entrant in the Wings of the Black Cross series from Eagle Editions is actually the third in a new series of specials. Written by long-time LSP member Mark Proulx, and entitled Messerschmitt Bf 109, this title takes a look at the camouflage and markings employed by this iconic German fighter, supported by some very nice profile artwork by James Bentley.
The book is essentially a captioned photo essay, and its concise 64 pages cover all variants that saw service, from the earliest pre-war Bf 109A to the last-gasp Bf 109K. Things kick off with a preface, followed by a two-page précis on the history of the type. We are then treated to a brief discussion of the colours, markings, and heraldry worn by the Bf 109 during its service career, followed by a handy breakdown of the Jadgwaffe command structure. Despite the relative brevity of this section of the book, it's surprisingly packed with useful information.
The rest of the content is arranged chronologically by variant, and many of the photos appear to be unfamiliar, and possibly new to print. In any case, they're well selected and informatively captioned.
The 14 colour profiles are excellent, bringing some of the included photos to life. The sample page images below are taken from the Eagle Editions website:
---
The print quality is also impressive, being printed on heavy, glossy stock, and enclosed a glossy card cover. It should withstand the rigours of heavy handling and ogling admirably.
Conclusion
Though a relatively small volume, it's amazing how much information is packed into its 64 pages. It's main focus is on the camouflage and markings of the Bf 109, and is definitely an exercise in quality over quantity. With a great selection of photos, supported by clear text and high-quality original artwork, this title is a must-have for anyone with an interest in the Bf 109.
Many thanks to Eagle Editions for the review sample.
© Kevin Futter 2021
This review was published on Wednesday, March 24 2021; Last modified on Wednesday, March 24 2021