Revell-Germany | Focke Wulf Fw 190D-9 (Late)
Reviewed by Kevin Williams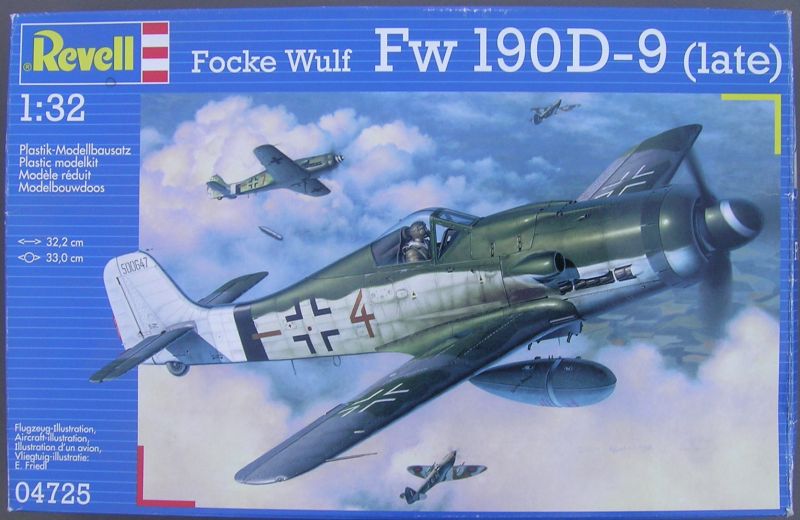 I'll start out here by saying that in my opinion, this is the definitive Fw 190D-9 presently available in this scale. For those in the know, this is actually the Hasegawa kit in a Revell-Germany box (yes, one of those boxes).
(Since this is more of an in-box review than a build review, I have no photos of assembled sub structures, so my inputs should be considered more of an overview of the various areas I thought might be of interest, rather than an analysis of any accuracy issues, if indeed any are inherent.) All egregious errors (if any), I will try to point out.
Note: No photo-etch is provided in this kit, so for things like lap belts and whatnot, those will need to be sourced elsewhere.
Instructions
---
Instructions are depicted in the typical Revell-Germany pictographic way (using cheap paper), making assembly a fairly straightforward process. Much to my happiness, a complete parts chart is provided within the provided instruction booklet. The usual disclaimers/warnings are also included; don't stick sharp objects in your eye, don't sniff the glue, don't feed the parts to your child, etc.
Decals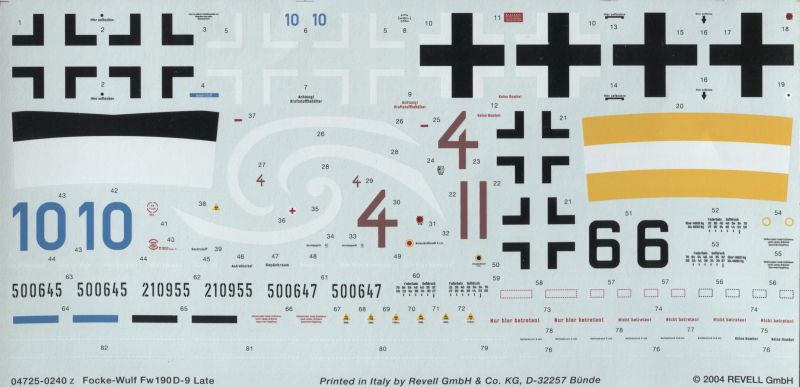 Markings are provided here for three D-9 air-frames, those being:
Fw 190D-9, Red 4, of I/JG 26, 1945
Fw 190D-9, Black 6, of III/JG (Richthofen), 1945
Fw 190D-9, Blue 10, of 4/JG 26, 1945
Decals appear to be in register, quite opaque, and well detailed, with plenty of appropriate stenciling. Decals, printed in Italy, may well be Cartograf, but without them having explicitly stated such, I really can't be positive.
Major Kit Sprues
---
Offered up here, are a selection of major sprue components, with more detailed photos in the categories to follow. (Clearly visible (in the detail photos below), is the scratching/abrading, resultant from all of the sprues, with the exception of the clear parts, being dumped into one bag, a practice that I certainly don't understand or approve of.) While the surface damage that's been done using this method is certainly not insurmountable (a few swipes with some Scotch-Brite pads will certainly smooth things out just fine), it mars the otherwise gorgeous moldings.
Fuselage Major Components
---
Most major fuselage components are represented above. Proportions and detailing are done to a very high level indeed. One note: it would seem that Hasegawa used a slightly deeper tooling for panel lines and rivet/fastener detailing here, and I highly approve of this approach. Even after several coats of paint, one should still be able to easily get a wash to snuggle down into these recessed areas. Without a direct comparison to other Hasegawa tooling, this may just be my imagination run amok, but I don't believe so. Either way, the tooling is some of the best yet that I've seen from this company, and that's saying quite a lot.
Two vertical tail types are included, which represent alternatives fo that those that may choose varied schemes and therefore may require one or the other style, a real nice touch.
Wings
---
Again, wings are very well detailed, and to a high standard. The molded-in gun bay doors look just excellent, a far cry from the "kidney bean shaped" abominations on the earlier examples of the A & D-9 kits. Under wing area (flap well, for lack of a better term), has some small (and typical) ejector pin marks, but not too horrible.
The Cockpit
---
All in, the 'pit would appear to build up into quite an acceptable representation of the real McCoy. No P.E. belts are included, so those, if desired, will need to be sourced elsewhere. Two separate control sticks and corresponding boots are also provided. The seat and molded-in seat cushion, really catch the eye.
Pilot Figure
---
The kit includes one seated pilot figure, that looks OK, a more or less acceptable figure. The pilot, with rump parachute, may have to be modified to actually fit in the seat, assuming it will fit at all.
Canopy & Clear Parts
---
The clear parts are exactly that, crystal clear. Clarity is astounding, as the photos readily attest. Also note: two different styles of canopy (and corresponding headrests) are also included.
Fuel Tank
---
One centerline fuel tank and mounting pylon is provided, and all in all, looks quite acceptable to my eye. Provisions are also made for the stenciling that is frequently seen on the tank. I must say that I'm completely unfamiliar with the style of the bottom of the fuel tank, but there may have been variations that I've just never encountered before. Still, I'd recommend studying some photos before committing to using it.
Landing Gear, Wheels & Tires
---
Landing gear is actually reasonably well detailed, with the main wheels themselves looking exceptionally good. The MLG doors (interior), have some pin marks that will need to be dealt with, but are actually not all that bad at all. The two piece tail wheel assembly (wheel/tire molded integrally with the tail wheel fork), is a bit of a pain, but does not pose an insurmountable problem either, and once painted, should look just fine. Perhaps the worst of all, are the many tiny ejector pin marks in the wheel well roof area. Other than that, the area actually looks quite splendid.
Plumbing Between Wheel Wells
---
Hasegawa thoughtfully supplies plenty of "stuff" to busy up the area between the main wheel wells, simulating the busyness of this area on the real aircraft, and I see this as a very nice touch.
Engine
---
No engine is provided, as such, but the kit does provide some nicely rendered front and rear radiator faces for this area. Once painted and some washes added, this detail has the potential to really pop.
Prop/Spinner
---
Nothing really special here at all, save to say that proportions (diameter, chord, twist, etc.) look good, as does spinner, at least to me, and is therefore good enough to use, "as is".
Miscellany
---
As is somewhat typical for me, I ended up with a few photos for which I had no convenient category, so I've dumped them all here, as they are undoubtedly relevant.
Summation
All in all, I think this is a very commendable effort from Hasegawa, and I am very pleased with what I've found so far. I anxiously await the opportunity to begin working on my example. I'd also like to make the point that the contents within, constitute the great kit quality that one might tend to expect from Hasegawa, a handsome kit indeed, and is quite desirable as a consequence, as well as unquestionably being the best Fw 190D-9 on the market today, at least in this particular scale, and in my personal view.
This kit is highly recommended by this reviewer, for overall aesthetic appeal, and for giving us another choice by which to display the brute force, and yet elegant appearance of this truly iconic aircraft.
Acknowledgment
Many thanks to my pathetic wallet for providing the review kit.
© Kevin Williams 2021
This review was published on Friday, May 28 2021; Last modified on Monday, July 12 2021