HMH Publications | SIAI Marchetti SF-260
Reviewed by Kevin Williams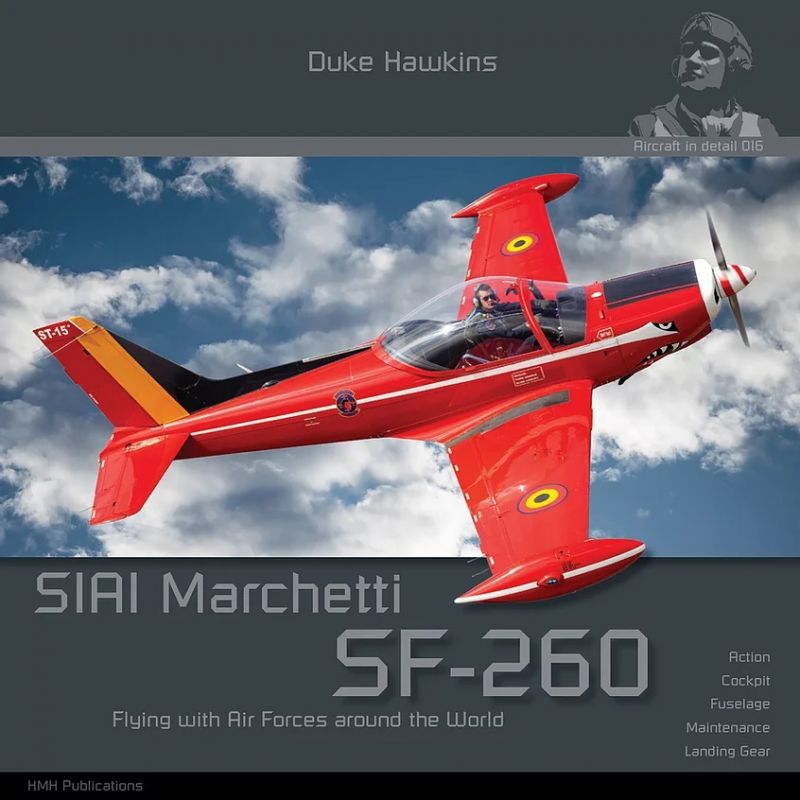 Publisher: HMH Publications
Author(s): R. Pied, Nic Deboeck
Publishing date: 2020
ISBN: 978-2-931083-06-2
I have to be honest and proclaim no previous awareness of this particular aircraft. Designed as a trainer/light attack aircraft, my first thought was of the venerable A-37 Dragonfly; compact layout, dual side by side seating, straight wings and places to hang weapons. It took no time at all for me to develop a like for the overall looks of the aircraft.
For me, this series (Aircraft in Detail) from HMH Publishing, is no longer new, and they currently have several interesting volumes available, a few of which I've reviewed here on LSP. Sent to me for my library and to review for the site as well, by our own Nic C.D. (co-author of the splendid Daco book, Uncovering the Lockheed Martin F-16A/B/C/D), my first impression was very, very favorable indeed, as it's chock full of wonderful high resolution detail photos of the sleek aircraft, just what the doctor ordered. At present, there are no 1:32 kits of this subject that I'm aware of, but perhaps that void will be filled one day.
As with the majority of titles from this publisher, this is very much a collaborative effort, using photos from many varied sources, each with appropriate photo credits given, and there are quite a substantial number of them. Printed on good quality glossy stock, the photos are nothing sort of magnificent, highlighting many areas of the air-frame, giving both modelers and aviation enthusiasts alike, a wealth of eye candy on this fascinating little plane.
This particular book (No. 016 in the series), depicts the rather interesting SIAI Marchetti SF-260, operated by several air forces around the world, and it's geared toward both modelers and aviation enthusiasts alike, being very much a detailed, walk around overview of the type, and I couldn't be happier about that.
Note: While the aircraft certainly has the potential to be used in the light attack role, there are scant few photos of weapons attached. I suspect that the primary role as a trainer generally supersedes any frequent attachment of the pylons and weapons.
Photo Samples
---
The myriad photos obviously form the backbone of this book, and for me, this is a true blessing, as I can never seem to get enough details, and this book certainly has them in great abundance.
Even if you have just a passing interest in the SF-260, or trainers in general, you can't go wrong with the purchase of this book. You may just become a fan.
Summation
On a scale of 1 to 10, I'd rate this book as a solid 10, no question about it. Topping out at 90 pages, it's just packed wall-to-wall with details, details, and more details, and is therefore highly recommended.
(Several additional volumes; F/A-18 Hornet, A-4 Skyhawk, F-4 Phantom II, will definitely be added to my ever growing book collection, and that can't happen soon enough, as far as I'm concerned.)
Note: Book cover image directly from HMH Publications (used with permission).
My review copy compliments of Nicolas Deboeck and HMH Publications, (via Casemate Publishers). Thanks a ton, Nic, it's a truly awesome piece of reference work.
© Kevin Williams 2021
This review was published on Friday, July 02 2021; Last modified on Friday, November 04 2022