HMH Publications | Sukhoi Su-25 Frogfoot
Reviewed by Kevin Williams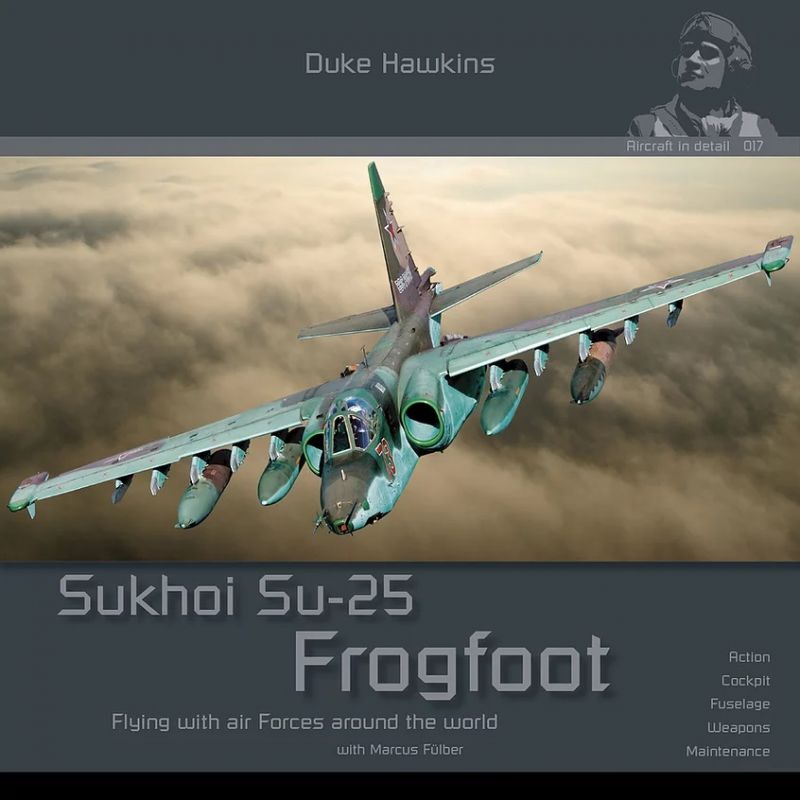 Publisher: HMH Publications
Author(s): R. Pied, Nic Deboeck
Publishing date: 2021
ISBN: 978-2-931083-07-9
Now we're talking. This particular volume covers the Soviet built Su-25 Frogfoot (Russian A-10, for all practical purposes), and I'm thrilled silly to get my hands on this. I've been searching long and hard for better references than I already have on this machine, and now here it finally is. Everything the Frogfoot enthusiast could want, and gobs of it. This volume, I don't hesitate to state, will set the bar for any and all future Frogfoot references.
The Trumpeter Frogfoot kit(s), at least from what I've read, form a solid foundation for a 1:32 Frogfoot, and this reference can only help in that endeavor.
As with the majority of titles from this publisher, this is very much a collaborative effort, using photos from many varied sources, each with appropriate photo credits given, and there are quite a substantial number of them. Printed on good quality glossy stock, the photos are nothing sort of magnificent, highlighting many areas of the air-frame, giving both modelers and aviation enthusiasts alike, a wealth of eye candy on this fascinating plane. If there's a detail of the Frogfoot that you'd like to see, it's more than likely in this book.
This particular book (No. 017 in the series), depicts the rather interesting and iconic Soviet built Su-25, close air support/attack aircraft, and it's geared toward both modelers and aviation enthusiasts alike, being very much a detailed, walk around overview of the type, and that pleases me immeasurably, as it's the major reference type that I seek these days.
Photo Samples
---
Photos are broken down by section; forward fuselage, air intake, fuselage, wings, aft fuselage, cockpit (numerous pages, covering both single and dual cockpit arrangements), front landing gear, main landing gear, vertical tail, speed brakes, horizontal tail, maintenance (the majority of detail photos are located in this section), engine, defense systems, brake chute, ordnance (mostly rockets, missiles and small bombs, though the Frogfoot is certainly capable of carrying a wide array of weaponry), pylons and finally, Action!!
The myriad photos obviously form the backbone of this book, and for me, this is a true blessing, as I can never seem to get enough details, and this book certainly has them in great abundance.
Even if you have just a passing interest in the Frogfoot (or attack aircraft in general), you can't go wrong with the purchase of this book. You may just become a fan.
Summation
On a scale of 1 to 10, I'd rate this book as a solid 10, no question about it. Topping out at a whopping 114 pages of Frogfoot glory, it's just packed wall-to-wall with details, details, and more details, and is therefore highly recommended.
(Several additional volumes; F/A-18 Hornet, A-4 Skyhawk, F-4 Phantom II, will definitely be added to my ever growing book collection, and that can't happen soon enough, as far as I'm concerned.)
Note: Book cover image directly from HMH Publications (used with permission).
My review copy compliments of Nicolas Deboeck and HMH Publications, (via Casemate Publishers). Thanks a ton, Nic, it's a truly awesome piece of reference work.
© Kevin Williams 2021
This review was published on Friday, July 09 2021; Last modified on Tuesday, September 14 2021