Griffin International | The Mighty Eighth: A Glimpse of the Men, Missions & Machines of the U.S. Eighth Air Force 1942-45
Reviewed by Kevin Williams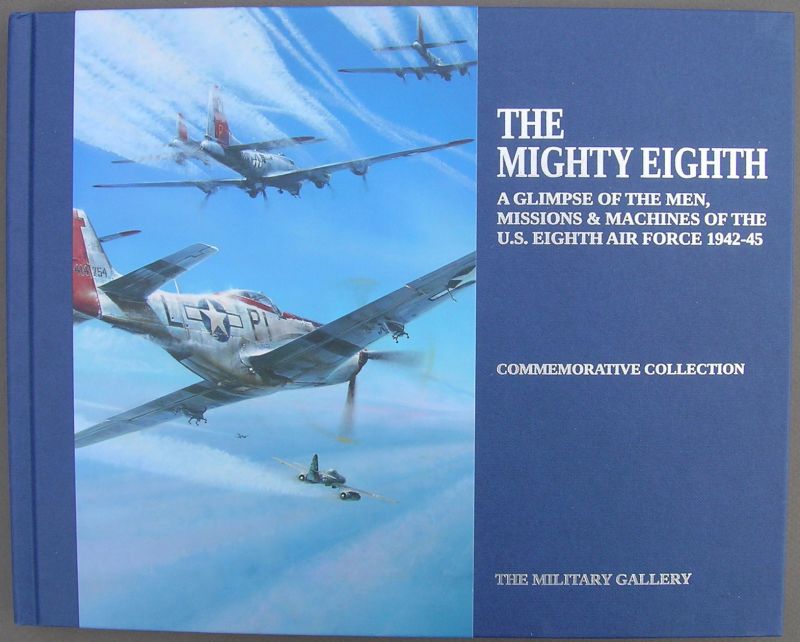 Publisher: Griffin International
Author(s): Michael Craig
Publishing Date: 2021
ISBN: 978-0-9549970-8-3
This volume from Griffin, much to my surprise, is exclusively artwork, both color and some black/white sketches, though rather nice art work it is, I must say, and several prints are available of that art through the Military Gallery website, for those that may be interested in adding some nice WWII aviation art to the ol' man cave.
Featured artwork is primarily, but no exclusively, by Robert Taylor, but some of the art from others (Robert Taylor, Anthony Saunders), are equally well done, and the artwork in total, is just superb.
Obviously, kits are available in our scale, of many of the aircraft highlighted in this book.
There exists, near the end of the book, a listing of all Fighter Groups and Bombardment Groups (primarily heavy) associated with the Eighth air Force in World War II, along with some ancillary special groups and support units, as well a a complete list of the 17 known Medal of Honor recipients of the Eighth. All in all, quite a handy gathering of reference indeed.
There are also Acknowledgments, Bibliography and an Index.
Photo Samples
---
The numerous Art illustrations obviously form the backbone of this book, and for me, this is a true blessing, as I can never seem to get enough beautiful artwork, and this book certainly has them in abundance.
For any and all fans of WWII aviation art, this book is bound to please.
Summation
On a scale of 1 to 10, I'd rate this book as a solid 10, no question about it. Topping out at 128 pages of iconic WWII American fighter & bomber aircraft, facts, anecdotes and history, it is highly recommended.
My review copy compliments of Casemate Publishers. Thanks a ton to Casemate, it's a truly awesome piece of reference work, and one that will surely fill the bill for any WWII aviation enthusiast/modeler that has a passion for US fighters and bombers from the WWII time-frame.
© Kevin Williams 2021
This review was published on Monday, August 09 2021; Last modified on Tuesday, October 05 2021