Stampe & Vertongen Museum | Walk Around FOUGA MAGISTER
Reviewed by Thierry Laurent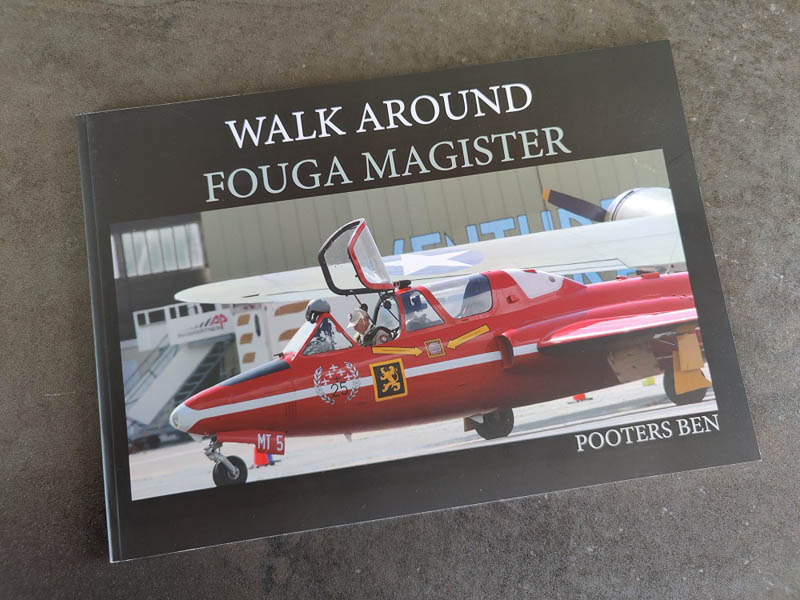 TITLE : Walkaround FOUGA MAGISTER
AUTHOR: Ben Pooters
PUBLISHER: Stampe & Vertongen Museum (?)
ISBN: None
PUBLISHING DATE: Unknown (but the publication looks to be recent in 2021).
I found this very nice 68 pages landscape-shaped booklet as I was wandering between the stands of the IPMS Belgium national convention. I got it for 15 euros from IPMS Antwerpen people. Fortunately, it looks it is also available from the Dutch Aviation Megastore webshop for a similar price as there is no publishing date, nor ISBN and this surely does not facilitate the process to get such a gem!
Printed on good gloss paper, this soft bound walkaround book is really focusing on modellers. It is literally crammed with detailed pictures of the airframe restored by the Stampe & Vertongen museum located in Antwerpen. It is not the book to get if you are interested in the technical development or history of the French Fouga Magister program. However, if you are looking after good pictures to detail and paint the future large scale Daco 1/32 Magister (or any smaller scale kit) you do not really need to go further! As you get a maximum of four pictures per page all of them are sufficiently large and clear to be really useful from a modelling perspective. Last, the lighting they used was very good.
The only limitation is the fact the book is giving pictures of a single airframe. Nonetheless, the other Magister books I own show that the plane configuration stayed quite standard in the different air forces in which that plane was used. The history of that single airframe is nonetheless interesting as that Belgian air force plane was registered for some years as a civilian aircraft in the US before her comeback and final restoration in Belgium.
With regard to the pictorial contents, here is what you can find in the 68 pages:
A short section describing the MT13 airframe history
16 pages showing all areas of the front and rear cockpits and canopies
5 pages of pictures of the front landing gear leg and well
7 pages of pictures of the main landing gear legs and wells
4 pages of pictures of one Turbomeca Marbore engine
29 pages of all the other sections of the plane. This includes the numerous antennas, external panels, scoops and other fuselage features, the air intakes, the exhausts, the tail and the wings details. Moreover, two pages are dedicated to the front bay when the upper nose cowling is removed and to the rear side of the front IP instruments as they are partly visible through the windshield.
One final page summarizing the plane technical sheet
The pictures in this review are showing a representative sample of the contents.
---
Highly recommended!
© Thierry Laurent 2021
This review was published on Sunday, October 31 2021; Last modified on Sunday, October 31 2021