Avonmore Books | Pacific Profiles: Volume Four
Reviewed by Kevin Williams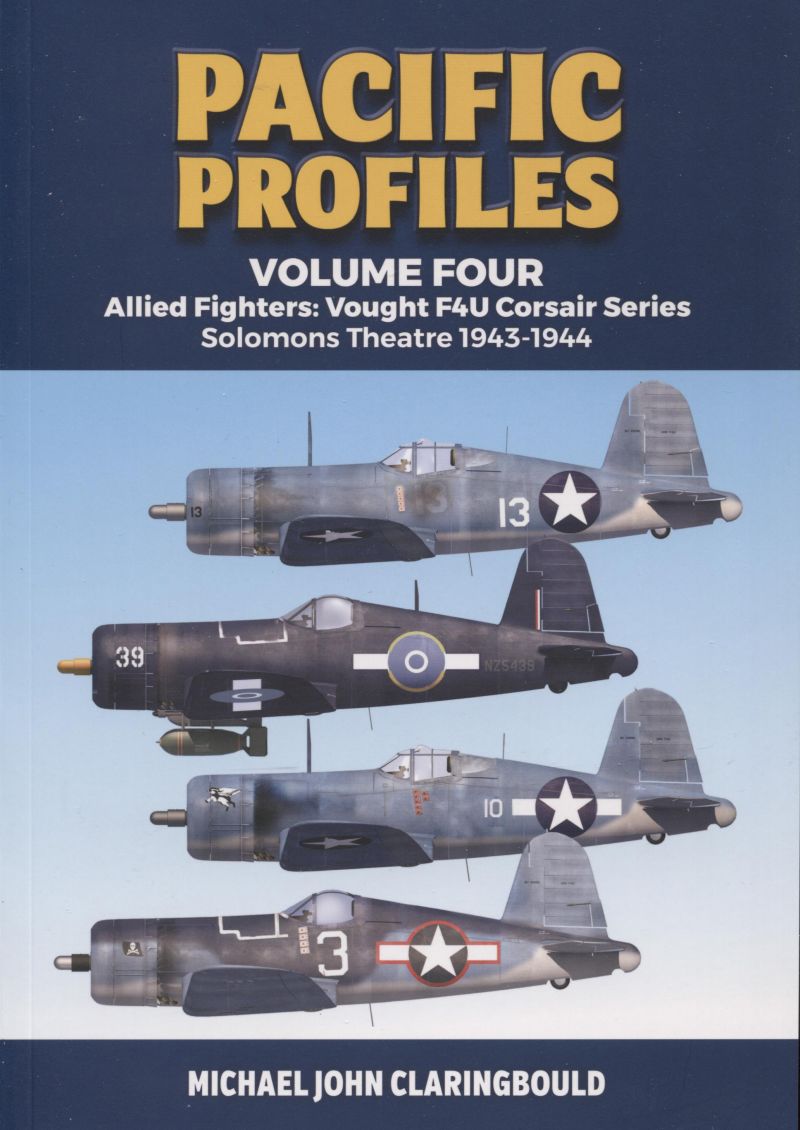 Publisher: Avonmore Books
Author: Michael John Claringbould
Publishing Date: 2021
ISBN: 978-0-6489262-3-8
Pages: 120
This series was an unknown entity (to me) prior to the arrival of this particular volume, but is very well presented, all printed on nice quality gloss stock, with quite a few very nice illustrations of chosen and representative subjects, along with a choice few color photos as well. I'll probably have to seek out the companion volumes as well, as coverage of the air campaigns in the Pacific, is something that I find fascinating, but don't seem to have much of.
This particular book (Volume Four in the series), depicts the rather well known Pacific combatants, specifically the F4U Corsair, and it's chock full of representative material; plenty of ground shots, showing the incredible wear on the finishes of these Pacific birds, as well as (naturally enough) plenty of color profile drawings.
The Corsair, being a stalwart subject amongst modelers, is well represented here and I'm particularly pleased with the real "at work" type of photos presented, both black & white, as well as a spattering of color shots, again, many of which capture the spirit of the surface battering that these aircraft were subject to. Large scale modelers are blessed with having some choices here in the form of available kits, not the least of which is the incredibly delicious Tamiya F4U-1, F4U-1A, and F4U-1D.
Not having been previously familiar with the author, it seems that he has penned numerous other aviation titles over the years, and it's a rather prolific listing. As it turns out, he's also authored two Osprey "Duel" books (P-47 vs Ki-43 and Airacobra vs Zero) that I actually have in my own stash!
Typical Photo Quality to be Found Throughout
---
To me, the high point of this volume, is the overall appeal of the subject matter, combined with numerous interesting facts about the campaign in the pacific, all packaged in a smooth, attractive presentation.
I'll have to say that, to me, this book is very good value, given the overall intensity of the content.
Even if you have just a passing interest in the pacific air war (or the vaunted Corsair, "the whistling death"), you can't go wrong with the purchase of this book and you may just become a fan, as I most certainly am.
(Not a selling point, as such, but the cover has a nice tactile "feel" to it, reflecting, in my opinion, a dedication to overall quality of presentation that I very much like.)
On a scale of 1 to 10, I'd rate this book as a 10, no question about it.
My review copy compliments of Casemate Publishers. Many thanks to Casemate, it's truly an outstanding reference book for the Pacific theater of war and Corsairs in general, really top-notch stuff.
© Kevin Williams 2022
This review was published on Monday, January 24 2022; Last modified on Tuesday, March 21 2023